Nearly a decade ago, I briefly dallied in the realm of LLM. It's a daunting and difficult world, starting at the bottom with a strict set of rules to keep things as realistic as possible, but it's left a lasting impression or indelible scar on me, depending on your viewpoint. I've never been able to start in the top leagues and find any joy from it any more. I'm too alien to that world to be a success in it and the idea of it holds no lustre for me. A brief effort with Feyenoord when starting on FM17  confirmed it to me – when results started going against me and the team started to slip behind the high expectations, I realised I was out of my depth.
So I went deep. Very deep. The high point of that spell as a true LLM player (I've been a hybrid since, mainly finding joy in saves with my team, Gillingham) was a ten year spell in Indonesia with Persidafon Dafonsoro, nearly reaching the pinnacle of the top league (I never quite did) and taking the reins of the national team, before a bug that meant no youth players were being produced made it nigh on impossible to carry on. I got drunk and angry and left for a crap Malaysian team and that, in a moment, was the save killed forever.
Well now, I'm back, this time hopefully bugless and now drinkless.
I loaded all Asian leagues that are in the database, not fussing to grab any outside as once I'd started I'd be unable to stop myself, and headed straight for the basement in Indonesia.
With Persidafon Dafonsoro out of the running due to their being in an unplayable league, my main criteria for a team was that they be one of the few teams whose name doesn't begin with Persi, as being unable to remember my own team's name is probably poor form. So I was suckered in by the bright orange of Celebest Villa 2000 FC.
I've since learned that Celebest are a team formed initially as a community club, then as a youth setup and only recently established a professional side, aiming to give young players a chance. This is all well and good and a noble aim, but a preliminary glance at the squad told me it might not have been going quite that way…

Players
It was widely agreed by the coaching staff that my best player was our only right back, Glenn Poluakan.
As you can see, this is true due to the fact that he is an exceptional player, with many excellent attributes and no areas of weakness.
The man who would be getting the goals would be Ardiansyah Ardi, a lightning quick forward with a heavenly touch.
The rest of the team fairly picked itself. In some cases that was literally true, with only one left back as well as the single right back, and two players capable of playing central midfield, meaning injury prevention would be a priority.
Tactics
Ha ha. Starting with the basis that this is a collection of technically, mentally and physically defunct players, I did the only sensible thing and started from a base of 4-4-2. Then I tweaked and jiggered, messed and mussed, decided which players were most important to squeeze in, and came up with this: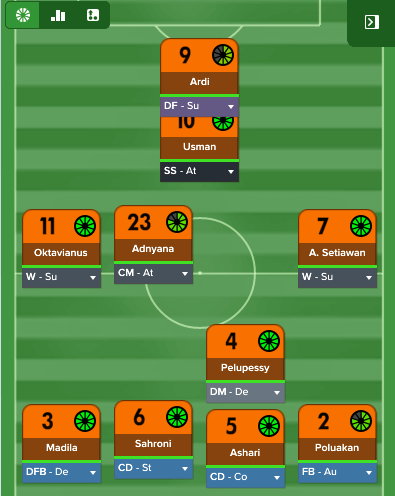 There are two reasons for this disgrace of a formation. One is the need for a DM due to lack of central midfield options and needing to give the defence a shield to have any hope, and the other is that I just couldn't abide the look of it when the DM, CM and AM were all lined up in a row. It needed to be assymetric for my sanity, not due to my being a tactical genius. I'm not. I'm not even a tactical could do better, I'm hopeless and basic is the only way I can go. This shape, setting up with a countering, direct style of play was the crutch that I would put all my weight onto for the season ahead.
Staff
All of an extremely high standard, especially the manager.

The scouts, fitness coach, physio and U21 manager are my additions, the rest were my inheritance, or thrust upon me as in the case of our HoYD.
I know I could just sack the useless DoF who can only be a drain on finances, but having done my research, I learned that he's been an integral part of the club from the start back in 2000, and I have a heart, you know, so he stays.
Aims and Expectations
We were predicted to do reasonably well and come 4th or 5th (I'm writing after the fact, forgive me), so I had vague hopes of not being a disgraceful failure and instead challenging at the top end of the the 12 team group.
In the longer term, this isn't a save aiming specifically to dominate the world with one club, rather looking for a kind of promotion of Asian football in general. My ultimate aims are to win an Asian Champions League and, well, one can dream of winning the World Cup with an Asian nation, can't they? Maybe that club can be Celebest and that nation Indonesia- don't hold your breath – but the least I can do is aim high.
@ytseliam