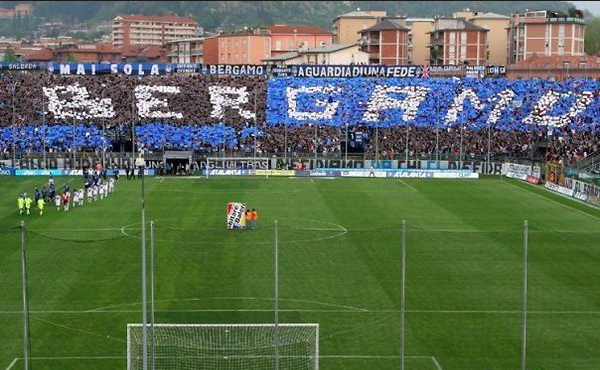 During my initial meeting with chairman Antonio Percassi, we discussed the expectations and budget for the season.
Feeling ballsy, I set a target of a top half finish which resulted in Percassi handing me a war-chest of £3.5m and a wage budget of £487k p/w.  A war-chest big enough to buy the equivalent of a peashooter and two bags of frozen Birds Eye peas to take on Juventus, Napoli et al's well oiled war machines.

With such a limited budget, I will have to do something I have never done before in FM; have my scouts watch players intensely (though not too intensely that it becomes a police matter or my scouts rupture retinas or anything) and then actually read and digest what the scouts tell me.  The horrors.
The scouting team at Atalanta is pretty good and I only had to make two additions; Alain Pascalou from Auxerre and Christophe Prudhon on a free transfer.  Once they had all assembled in my office, I told them to get out of my sight and find me some good, cheap players – preferably under the age of 26 so we could make a big, fat profit on them if they were in anyway good.  This money would then be reinvested in either the youth squad or trying to repeat the trick by bringing young players in, sell them on and rinse and repeat.

With the scouts now deployed, £3.5m burning a hole in my pocket and having evaluated the First Team (plus the Under 20s and Under 18s), I was forming a clear idea over where in the squad needed strengthened.  This would hopefully be confirmed in the circa 900 friendlies that have kindly been arranged for me to get through before we kick off our Serie A campaign at home to Chievo Verona on 23rd August.
One to note.  The friendly against feeder team Grumellese right between the cup game and first league game of the season is a real doozie – bravo to whoever arranged this apparently immovable match.
So in regards of strengthening, what exactly do Atalanta need for the 2015/2016 season?  With my more attacking formation (set out in part one of this pre-season extravaganza) I will be looking to the full backs to get forward and support, and at times overlap, our wingers.
Our full backs are solid enough but I would like to improve.  As you can see from the above friendlies, one of our full backs, Gianpaolo Bellini, has a testimonial coming up against his boyhood club (probably), Getafe.
This immediately implies he's been playing for the first team for at least ten seasons (confirmed below that he's 35; Bellini is a cult hero and has appeared for La Dea for the last seventeen years).  This doesn't bode well for me wanting him to bomb up and down the flanks for 90 minutes week in, week out.
Worse still, the other right backs are poor; Cristian Raimondi is the same age as Bellini and, to put it kindly, Andrea Masiello looks more comfortable as a brutish centre half then a flying full back.
The left backs are meh at best – there will be better options out there than Boukary Dramé and David Brivio and I am supremely confident our scouts will find them.
Further up the field, I have confirmed Jasmin Kurtic and Carlos Carmona will make up 2/3 of our midfield triumvirate.  This raises two issues, one more pressing than the other – a) we need a third central midfielder and b) we need back ups.


I'm happy enough with the wingers/inside forwards and strikers so I move to solve the midfield crisis.  Having got wind of three players who fit the bill, I sent my scouts to watch them and received back glowing reports.  I had the players watched for another few weeks before making my move.

The two permanent transfers fitted the bill – Diego Poyet was cheap and young; Tino Susic took up a large chunk of my budget but was young, would slot in beside Kurtic and Carmona and would hopefully be sold on for a large profit.
Muhamed Besic, meanwhile, has been brought in as he's a gnarly, horrible little bastard on the field – a real yard-dog who offers something different to what we already have in Kurtic, Susic and Poyet.
At this point, friendlies were going well.  We'd successfully crushed the hopes, dreams and aspirations of our promising youngsters by putting five past them before further denting their confidence by showing our incompetence in squeaking past Ponte S.P-Isola.
In the 1-1 draw with Udinese, we tried our more defensive formation and were only undone by a penalty before comfortable victories over Varese and Lumezzane followed.
I put my assistant Alberto Bollini in charge of one game as I negotiated the Susic deal and he managed to lead the troops to a calamitous 1-0 reverse at Renate.  As a result, I confiscated his bikini pen for a week.  It was actually used by Susic as he signed his contract – I like to think it sealed the deal.
A routine win over MapelloBonate and a 5-1 thumping of Getafe in Bellini's testimonial signed off what I felt was a successful pre-season.  We'd tried new formations, players, roles and could feel confident going into the TIM Cup and opening Serie A fixtures.

Oh and that fucking friendly.  Bollini will be in charge.  I'm sitting this one out through nothing but spite.
Be sure to look out for more Atalanta updates, and my plans for FM17, on my personal page SeenThemGivenFM and on Twitter @SeenThemGivenFM.
STGFM