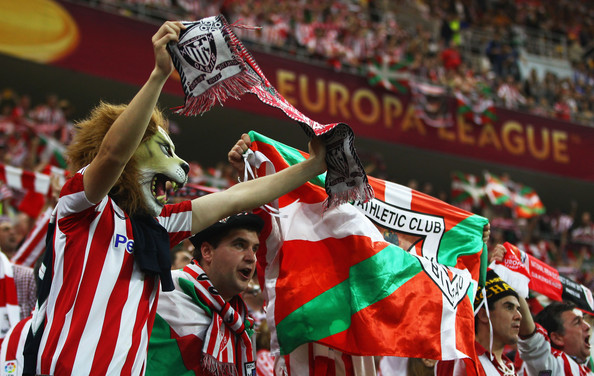 I hugged my assistant, Joseba Etxeberria as the final whistle went.  He'd played 53 times for Spain whilst spending 14 years as a player here at Bilbao.  The man had Basque blood and Bilbao was his home, meaning more to him than his family.  A 1-1 draw with Alavés was a big result for us, and it meant we remained unbeaten after the first sevem  games of the season.  Sure, we'd only won twice but we were looking solid and were showing that quality that English football pundits absolutely demand – "character."
What does "character" mean exactly?  To the "Boys of Bilbao" it means representing their mini-country, their region, to show the rest of Spain what it is to be Basque.  With Bilbao operating a Basque only policy, all my boys grew up with that same identity and it is showing on the pitch in the formative parts of the season.
To play for, and I guess to manage, Athletic Club Bilbao is to show a desire to thrive in adversity.  I mean, imagine if Portsmouth, for example, only selected players born in the most southern part of Hampshire.  I don't think 'Arry would have enjoyed the job as much as he did and you could almost certainly scrub their FA Cup win from the record books.  That is what we do here, we only pick players born in the region and my guys in the B team are a little bit like the last ones to be picked in the playground at school.
As you might know, this is my third season in charge of Athletic Club's second string as I try to circumnavigate the trauma of managing a club's B team, or reserve team in English parlance.  Of course, according to SI's figurehead, the ability to actually do this does not exist because it would be boring – I hoping that those that have followed this so far would agree that it is many things – badly written probably being one of them – but it is not boring.
Let me take you back a few weeks, to the last days of the Basque summer.  Things were quiet, too quiet.  Rafa hadn't been on the phone for days, checking up on the progress of any of the lads or to inform me that another one of the boys was being put up for transfer.  We had made a decent start to the season, albeit unspectacular, drawing our opening three games 1-1.  The potential was there, we just needed a little fine-tuning and for the guys to be left untouched as the transfer window closed.  The goatee bearded fat man had already nabbed Lopéz, my left back, on the morning of our opening match against Nástic so I was hoping that might be the last I heard from him for a while.
We've been here before, right?  I thought Paco was bad.  Rafa is worse.  Having taken players into the first team fold in the summer, which was sold to me as their big chance to play in the famous San Mames, he proceeded to loan out Nola and Seguín.  Iriondo was also sold for a pittance, but I still thought we might just get away with our squad intact.  Darwen, this is not the first time it has been said, but you are a fool.  The phone rang and it was Karmona, Rafa's assistant, telling me they were taking my young anchor García, the keeper Felipe, the left back Inaki Garcíá and, worst of all, my young starlet Hernández.  Well, sod you Rafa.  Sod you.
Fortunately I was one step ahead this time.  Left backs?  I've got another two waiting in the wings?  Anchor man?  Well Santamaría or Aguado are more than capable of stepping in?  You want my starlet of a central midfielder?  That's fine, I've got Luca Sangalli.  I'm alright Rafa, I'm alright.
I'd planned for this, and I had a few players hiding in places where Rafa was not going to find them.  If he wanted to take my youth, I had experience ready to step in.  If he wanted to loan someone out, I had two ready to take their place.  I'm on top of this lark now, he won't catch me out twice.  Or even the third time.
I said in the last post that I felt we could get through the first 14 games pretty much unscathed.  Alavés, relegated from La Liga, were the only team that I was prepared to write off as a probable loss.  Sangalli slotted us ahead just before half time, and they levelled on the hour.  It was a creditable draw against the side tipped to go straight back up.

We should have beaten Herculés, that was the really disappointing game.  But, on the complete flip side, Gijón were top when they came to us and we more than deserved the 1-0 win.  Valladolid was another tough game, and we saw them off in a thriller.
Of course we want to add a few more wins to it, but if you had said we would be unbeaten after seven I'd have taken that, especially with Alavés being in that first seven.
Bernaola and Díaz are starting to form the sort of partnership that I can imagine Rafa will be looking to break up in January.  They are two good centre backs, and both of them have long term futures in the game.  The real surprise package has been José García who, as you can see from his stats below, hasn't really taken the world by storm in his career to date.  I chucked him in as enganche, almost by mistake, and he has returned me four goals already.  His finishing is erratic, he could have had six against Herculés, but he does look like he has a goal in him.  If one of the others can start to own the shadow striker spot then we should score goals for fun.

So, with all his leading me a merry dance, how is Rafa actually doing in the top job?
He led the club to a disappointing 12th place last season, improving the side by four places when taking over from Paco.  This season however…

To be fair, he responded to the surprise Las Palmas loss by beating the current champions at the San Mames.  Maybe I will be waiting a little longer for a chance.
I'm excited by the next few games, but we really need to turn some draws into wins.  Although it is great to be unbeaten, if we'd lost two and won two more we would be better off.  Still, there is a long way to go.
I've just realised that Joseba, my assistant, is a Bilbao man.  He'd better not be after my job.
Speak soon!