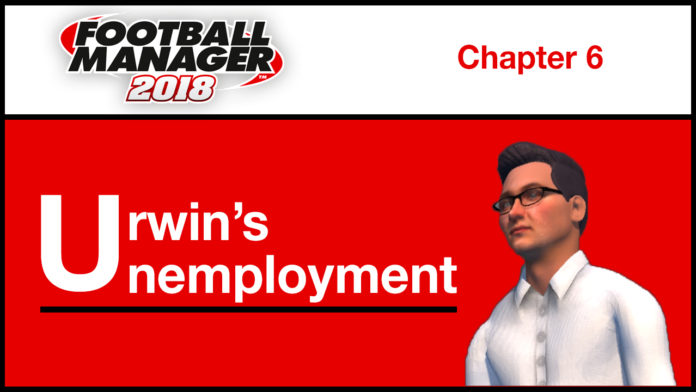 Welcome back to chapter four of English manager Nicholas Urwin's unemployment challenge. He is pursuing his third season in Malaysia and we pick up at February 2020 in which Urwin is managing newly-promoted side Negeri Sembilan in the first tier. A high intensity pre-season full of fixtures every few days saw the new members of the squad fully implement and know Urwin's system inside out.
Missed the previous chapter? Follow the link to find out what Urwin got up to in Chapter 5 of Nicholas Urwin's Unemployment Challenge.
Unbelievable, Just Unbelievable (October):
Before the final two games of the season and sitting in pole position with a four point lead, Negeri had both the Semi-Final leg ties against Perak, a team they had failed to beat during the successful campaign so far. Young wonder kid Mohd Omar gave Negeri a lead but Urwin's side ended up drawing the first leg 1-1 before substituted Mohd Azman gave Perak a 2-1 win at Negeri in the second leg.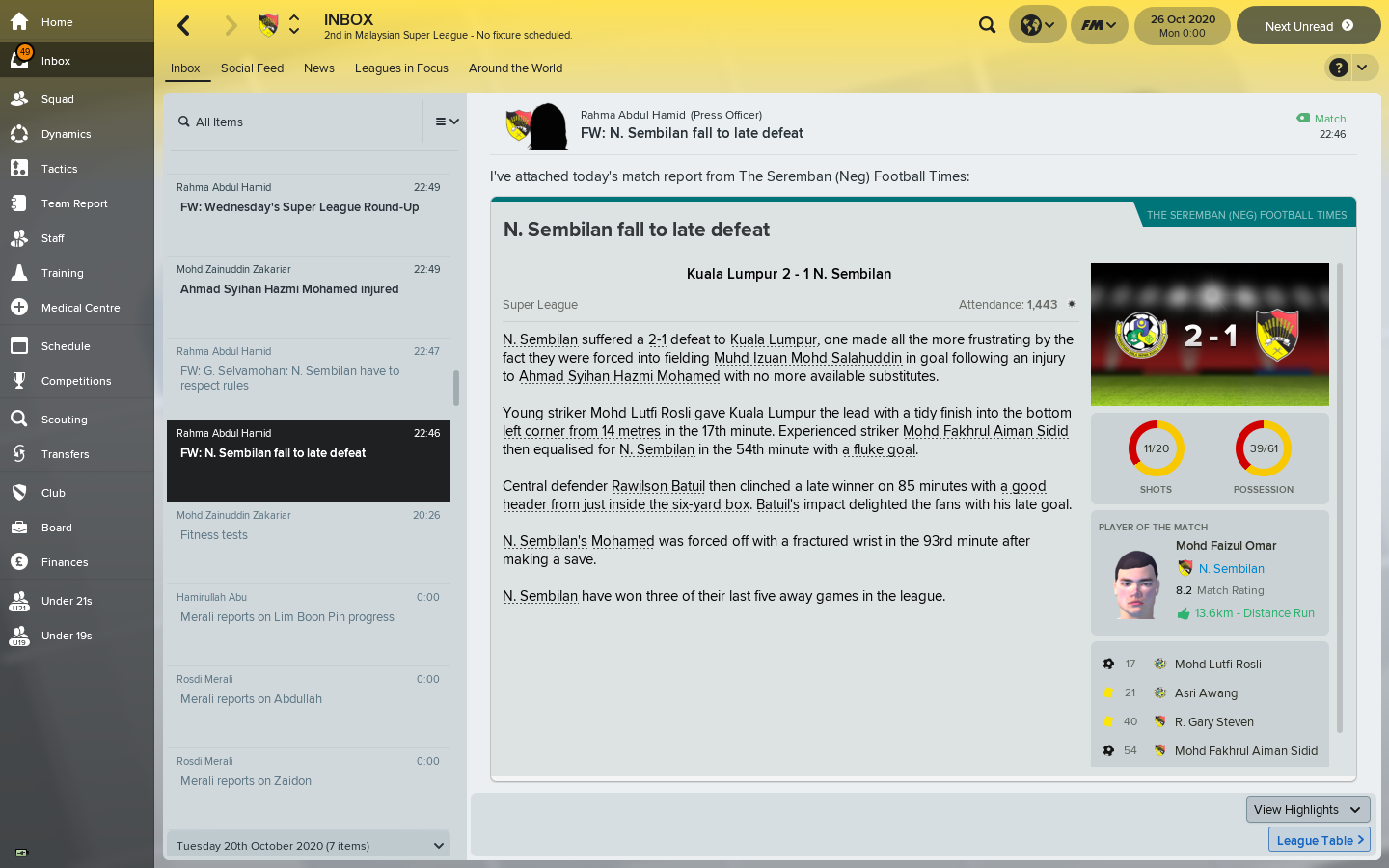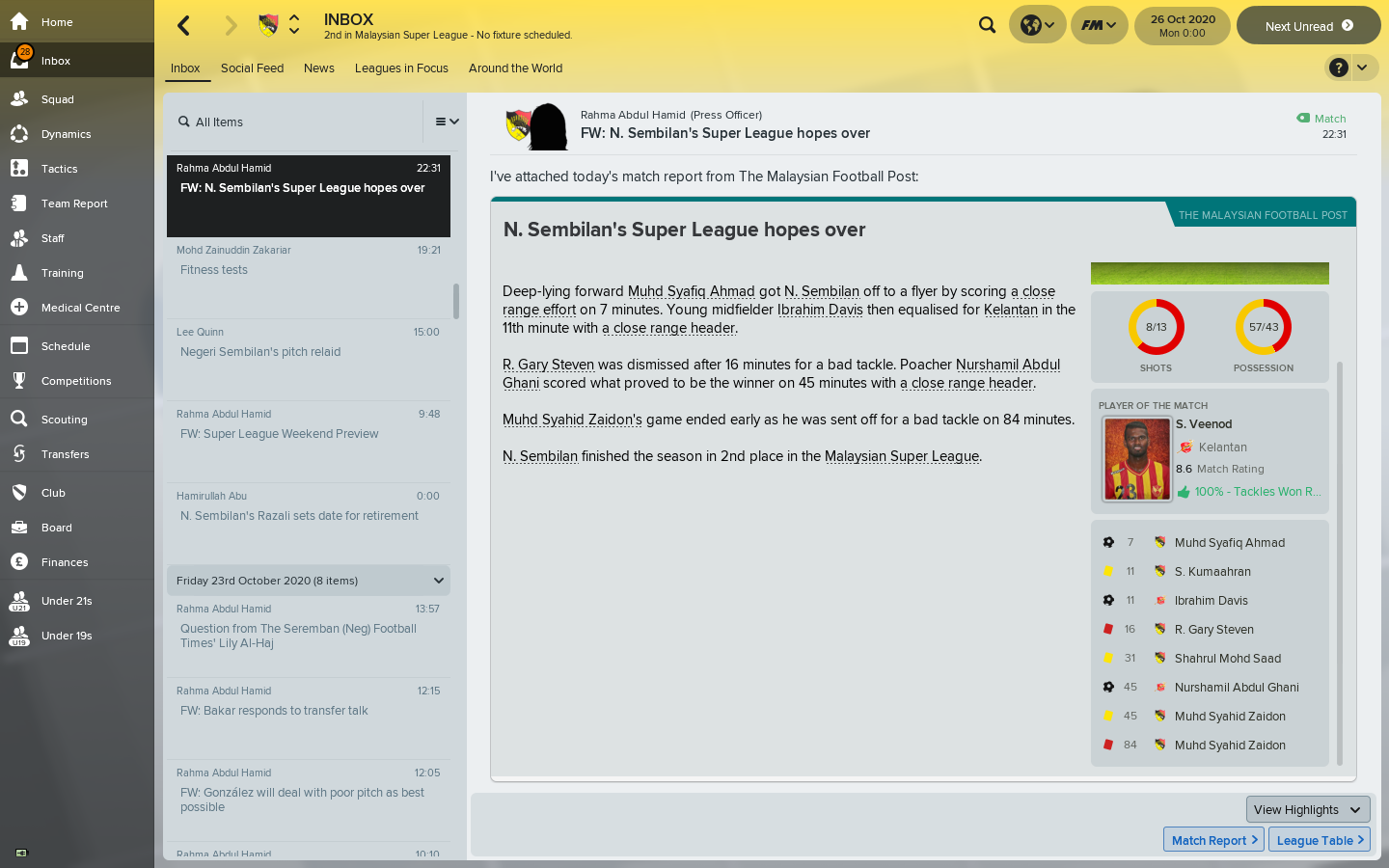 The images above show the bottling of the league as Negeri lost BOTH their final league games to hand the title to rivals Selangor. What makes it even worse is Selangor only drew their final two games meaning Negeri would've only needed a point to win the league.
Confidence certainly seemed hit from the defeat in the Semi-Final of the Malaysian Cup and when it mattered, Urwin could not oversee his side take the title in what would have elevated his reputation around the world and significantly risen his reputation.
So Long, Malaysia (November):
The decision to move on after the failure to clinch the Malaysian Super League trophy was difficult one. With no bumper in the contract weekly wage and the club's refusal to have a title win bonus for Urwin, he opted to move club. Interviews with clubs from Hungary and Sweden didn't advance to job offers, and the only club to offer the managerial role in Singapore's top tier.
Having spent a good three weeks without a club and not earning any money, Urwin had to jump at the chance in the risk of not finding a job until to new year. On November 28 2020, Urwin was unveiled as the new manager of Young Lions.
Young Lions are a Singapore S-League side based in Kallang, Singapore and are in association with the Singapore under 23s. The club is controlled by the FA of Singapore and aims to develop young players, and have a club rule of restricting the number of over 23 year olds in the club.
Lack Of Rigorous Recruitment (December):
A great advantage of managing in Singapore for Urwin will be the lack of a language barrier as well as a better knowledge of the transfer markets of clubs in Asia. Something concerning he noticed right away was, like previous clubs, the huge amount of youth players stocked in the reserve side.
Having distributed his staff responsibilities, he noticed the under 18 coach was in charge of youth recruitment and was to blame for signing useless, not needed young players on £100 p/w contracts. A club of the stature simply cannot afford to be throwing contracts of that magnitude about and therefore Urwin fired the under 18 boss and spent the remainder of the month arranging friendlies for pre-season.
Promising Signs In Pre-Season (January):
Young Lions were formed in 2002 and started competing in 2003, with the closest they have come to a title being 3rd place in their second season. No trophies, and a dismal run of league positions finishing no higher than seventh out of nine teams in the last few years.
Urwin's main tactic of 4-2-2-2 however continued to find success with his new side as Young Lions went unbeaten in a pre-season where he opted to not cram in games every few days. History of signing some overseas quality (Souleymane Konate at Negeri) meant Urwin was on the lookout for a similar player to take over the league and the scout at Young Lions suggested Ugandan striker Dan Sserunkuma (Will stick to calling him Dan).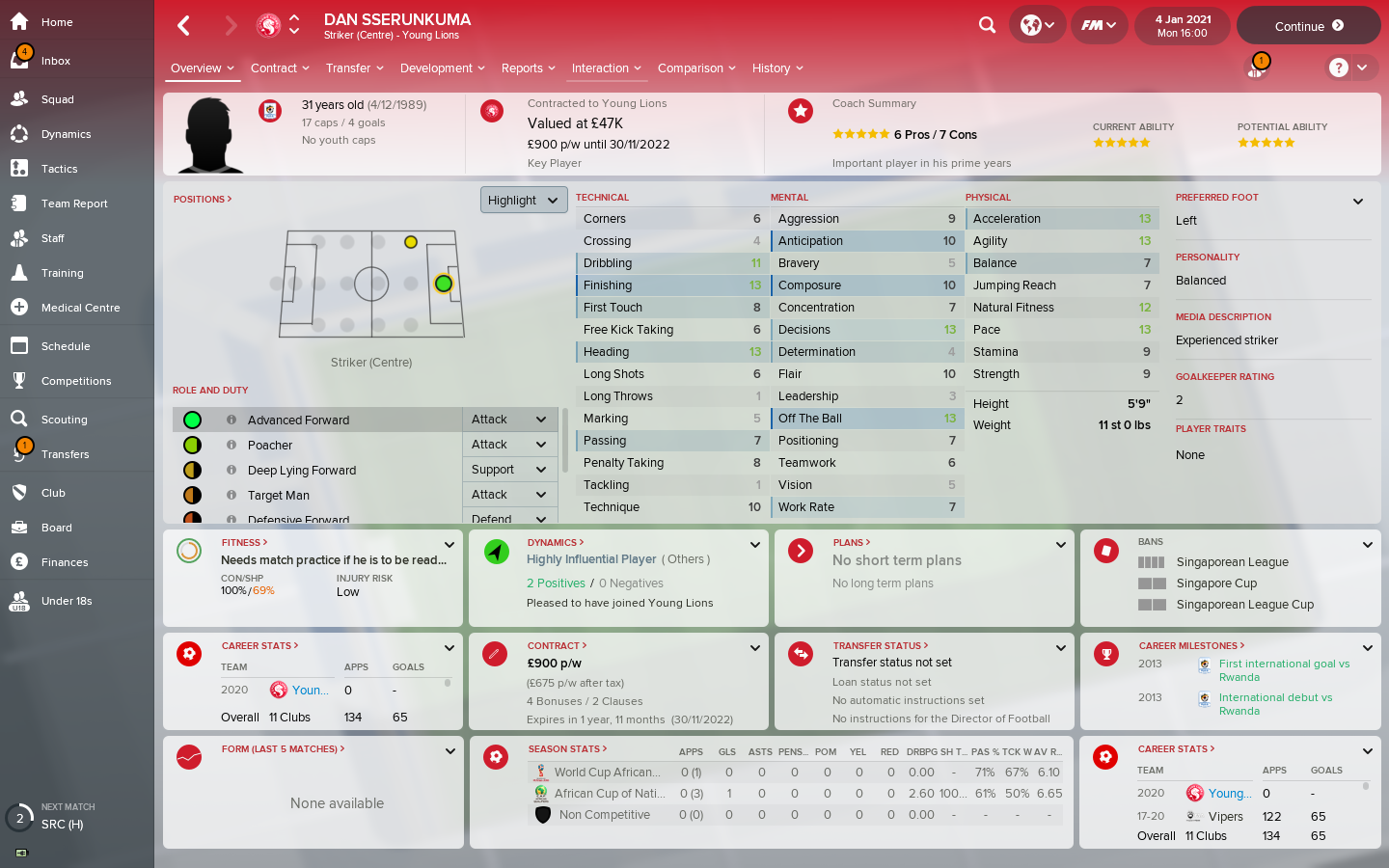 Promising But Unfortunate Start (February):
With such little success in the club's history, the opportunity to take the club forward is showing as Urwin got off to a great start with his new club, winning 2-0 away from home to Tampines. The Japanese-Singapore side Niigata Unicorn did give Young Lions their first defeat, something the club is used to.
The month ended in promising, but unfortunate circumstances as Young Lions couldn't hold out for wins in either game against Warriors FC and Hougang United. Late goals for both opponents meant the games finished 2-2 and already 4 potentially important points have been dropped.
Same Old Story (March):
More points were dropped in Urwin's second month of domestic action in Singapore as for the third game running, they lost a lead and drew 2-2. Gabriel Quak netted his first goal since signing for the club but an Irfan Fandi 88th minute goal sealed a draw for Home United. A disappointing performance followed as surprisingly Young Lions failed to score in a 1-0 defeat to Balestier.
For the fourth time in the last five games, Young Lions finished up 2-2 having YET AGAIN held the lead until the late stages. It's certainly becoming a normality for Urwin's side. Fortunately his side were up for winning in confident style to end the month with back-to-back 4-0 wins over Geyland and Jurong in a friendly.
Building Momentum (April):
A brace from striker Anthony Saha helped overturn Tampines 4-1 in Young Lion's next league game before a hard fought goalless draw with Niigata Unicorn maintain a run of unbeaten games going into the half way stage of the month.
Ikhsan Fandi, a player Urwin had to let go when joining the club because of finances and the size of the squad, grabbed a goal for his new side Warriors, but Young Lions grabbed four more in a dominant and pleasing 5-1 win. Dan is on fire as he again was able to bag a brace for the club. Dan and Saha linked up well to set each other up in the following games, both netting a goal in a closely contested 2-1 win away to Hougang United.
Next Chapter: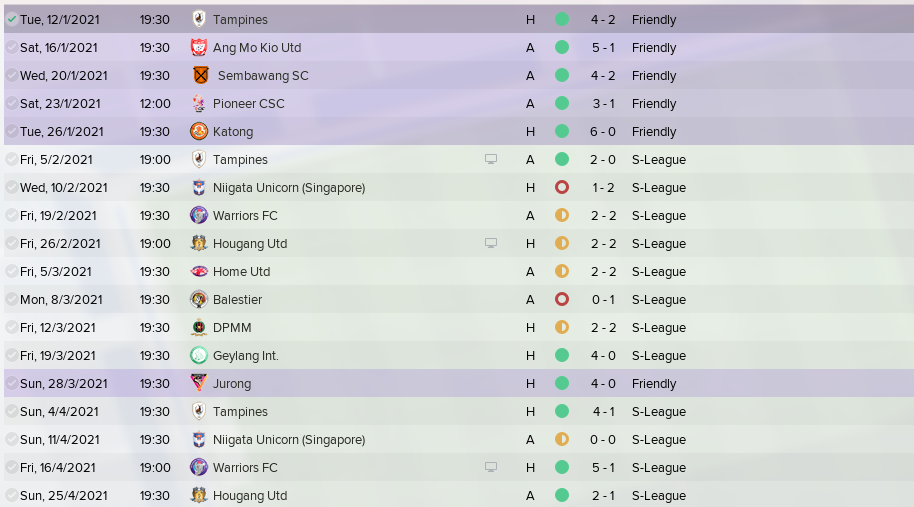 Urwin will be looking to ride the wave of good form going into the remainder of the season in Singapore as he maybe set to overachieve at another club once again. Could he his name on a second piece of silverware come the end of the season? Find out in the next chapter.