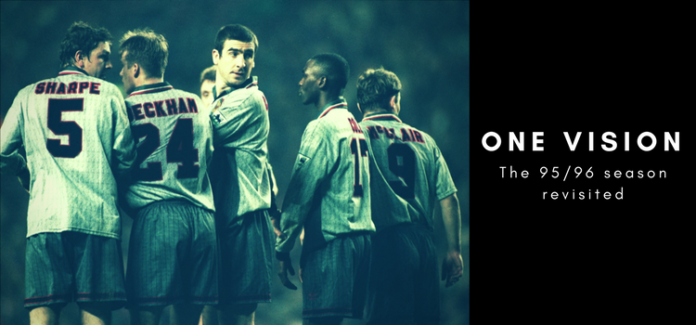 1995. West Ham United at a proper football ground. London didn't even know they had the Olympics in 2012. Ilie Dumitrescu carrying a permanent calf strain. Iain Dowie being sold for £10m. What, wait? Oh, it's an alternative reality and you can catch up on what's been going on here.
*
We must be in West Ham's highest ever Premiership position as we start today's post. I mean, we can almost touch European qualification. Those of you shouting "West Ham have qualified for Europe before you donut" probably haven't sussed the gist of this save yet. We are in 1995, kinda. And in 1995, West Ham were trying to stay out of the First Division. You know what? I think we might achieve that.
If you are finding my travails in the East End of 1995 a bit taxing, might I suggest you head over to Mr Green Casino, where you can find plenty of ways to entertain yourself and it is probably a lot more fun than reading today's post.
We've won the last two against QPR and Spurs and Kevin Keegan brings his Newcastle side to Upton Park at the weekend. Rio Ferdinand and Frank Lampard are flying the flag for the West Ham Academy of Football, with Ruud Van Nistelrooy and Marcelo Salas looking like shrewd signings by the gaffer (me). With Michael Carrick now training with the first team squad and Joe Cole probably not far off that status either, things are looking good. Especially if we get as far as revealing the players I have lined up to replace the jettisoned Keith Rowland, Iain Dowie, Michael Hughes, John Moncur, Don Hutchinson, Julian Dicks and Alvin Martin. Oh yes. They are all gone. Well, going. In January. You don't come into my office, suggest I am a prick and leave without your name being added to a certain list.
Look at that Newcastle kit!

I think a lot of this will come down to how Rio copes with Sir Les.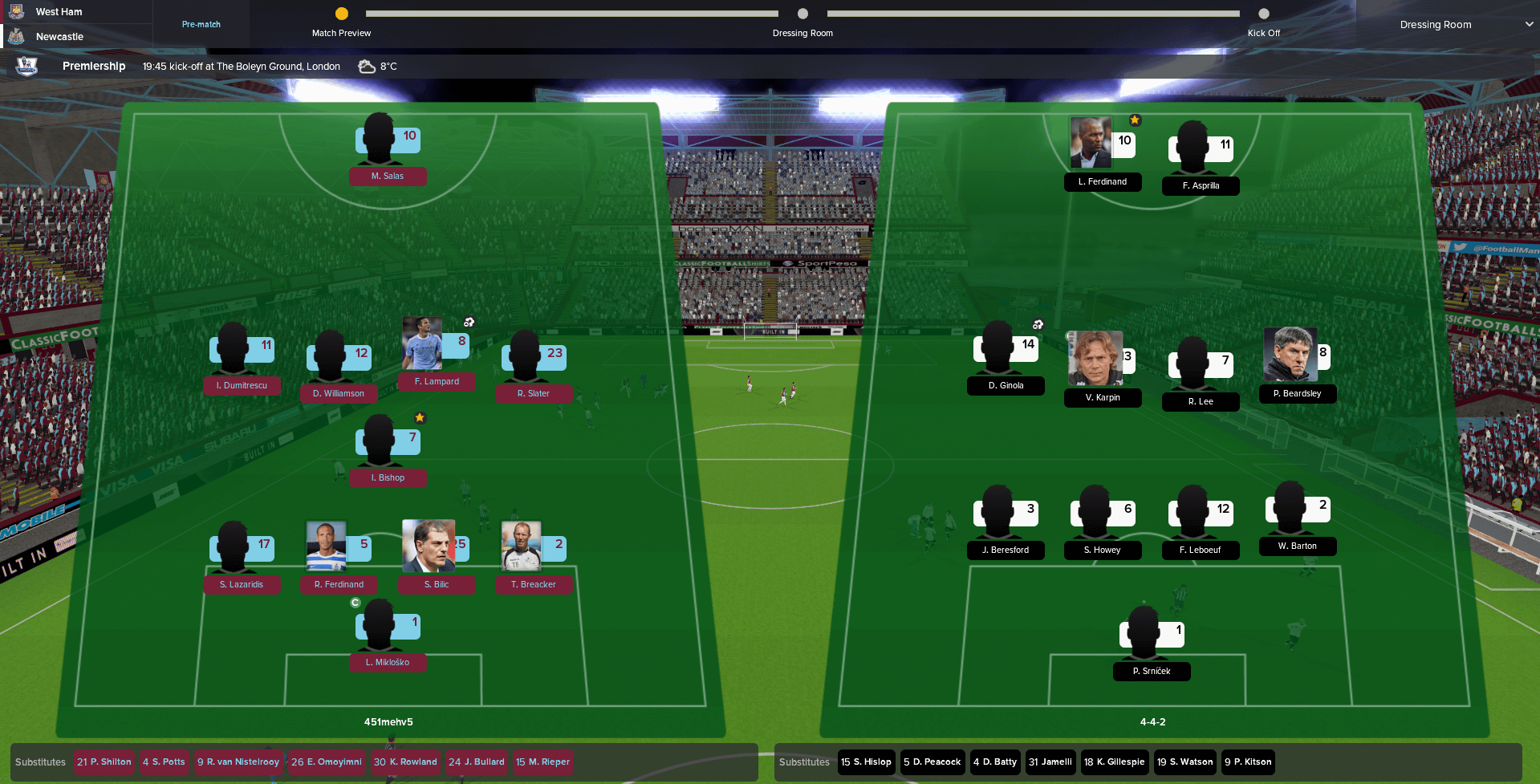 Well, until Frank Lampard played a no-look back pass with released Keith Gillespie we were as high as 4th place in the table!

The final whistle saw us in 12th – not quite the same!
Naive, definitely naive. Keegan kept attacking, maybe I could have tried to shut the game down a bit after Lamps put us ahead for the second time.
Meh.
Bolton offer us a good chance to get back on track straight away. Frank needs a rest, so we might see a Premiership debut for Jimmy Bullard, a player who is often forgotten when you think about the mid-90s West Ham.
Lamps is coming on very well though, award-winning and everything.
Danny Williamson (still don't remember him) is playing pretty well in a BBM role alongside Lampard as well.
Colin Todd is the Bolton manager, pre-Big Sam.
Rio and Frank will have a rest so the Grim Rieper and Bullard start.
If we cannot beat a team led by John McGinlay and Fabien de Freitas, I'm off.
It wasn't a classic (how can it be when you are playing Bolton?) but Jimmy B did get MOM on his first start and set up our token Aussie Slater for the only goal of the game. Well done, chaps.

TC was on the pitch for all of six minutes, injured again. Could this be the beginning of the end for the club legend? With us playing a single striker now, Cottee could well be yesterday's man having started the season brilliantly.
It's a trip up to Middlebrazil next, Bryan Robson and his Samba boys. They sit 5th, and Juninho is rather good.
Ooooo, exciting. Anyone could win the FA Cup in the 90s, right?

Hmmm, maybe not. The 'smallest' club to win it in the 90s was Everton in 1995. United, Liverpool, Arsenal, Tottenham and Chelsea were the other winners. Still, we could win it!

Scrap that then, this could not be a bigger banana skin.
So, the Riverside ahoy!

The thing with Middlesboro, although they had the class of Juninho (and Emerson when they signed him), Branco was a complete failure. And around those Brazilian boys they had the likes of Curtis Fleming and Paul Wilkinson so it wasn't a very well balanced side at all. Nicky Barmby though, he could play!
No Juninho?!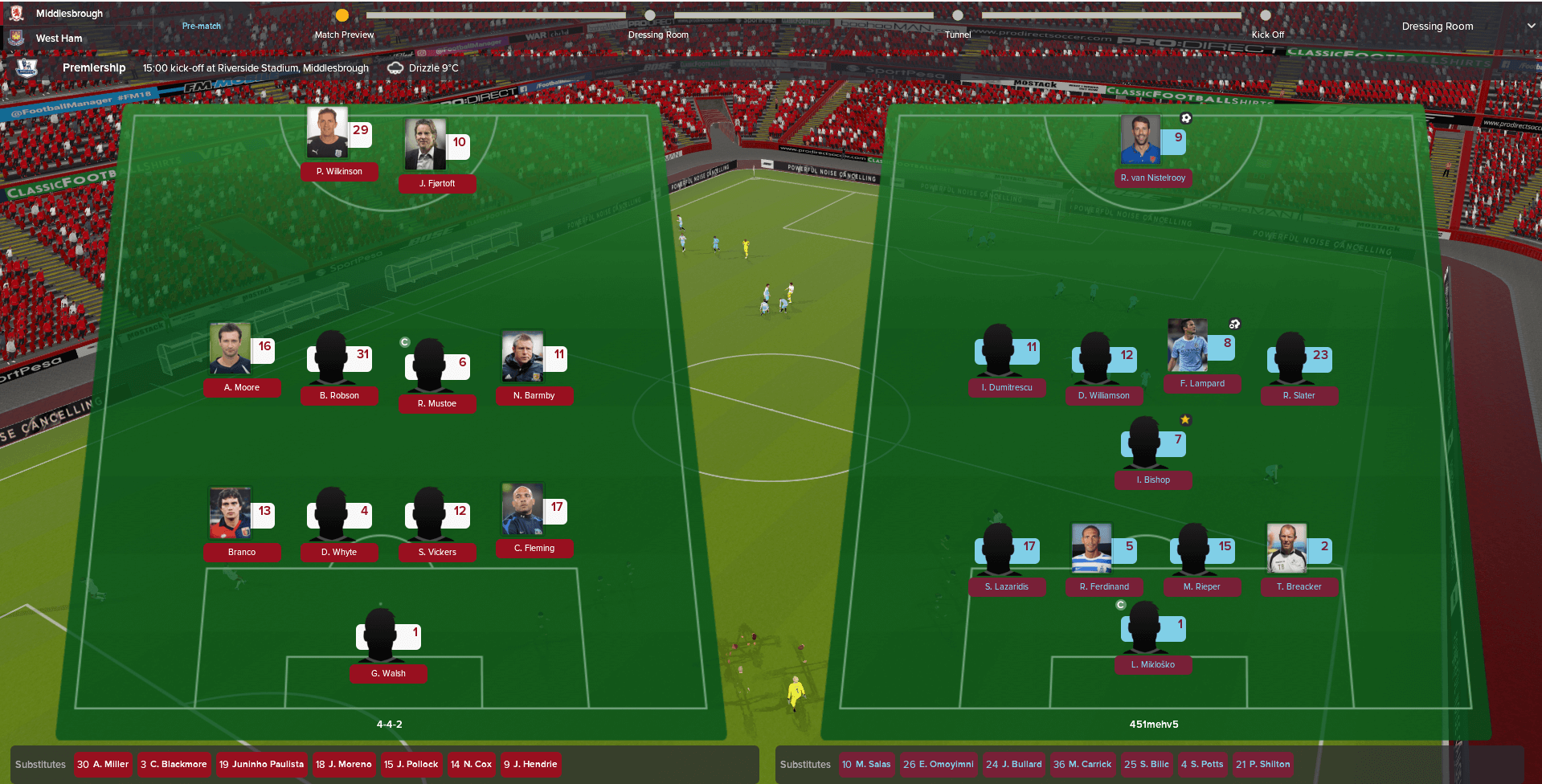 They didn't need him as Robbie Mustoe bossed the midfield alongside the former Captain Marvel. We did not deserve to lose though. Yet, we did.

Football co-commentator David Pleat was actually a manager once, I promise. And he is currently in the Sheffield Wednesday dugout. He wasn't a terrible manager either, Luton Town were class under him in the 1980s, he took Spurs to Wembley and he drove his car a little too close to kerbs.
At Hillsborough, he can call upon England Italia 90 stars Des Walker and king of penalty kicks, Chris Waddle!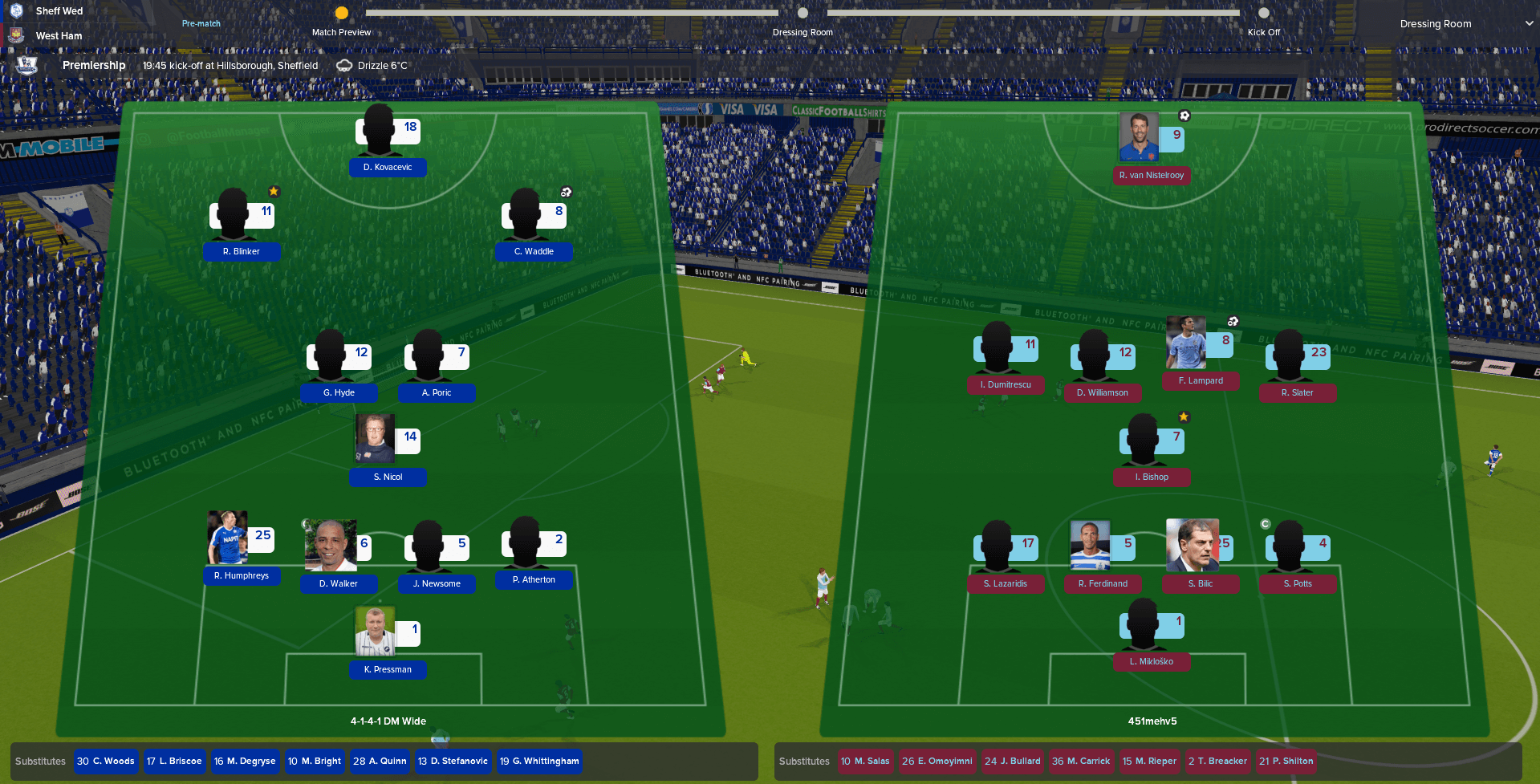 Frank Lampard went on to have a good career scoring goals from midfield, but Danny Williamson is getting a bit of a rep for the low, placed finish from distance!

It's another good win for us, it feels like something is starting to bubble.
Chelsea are going well, and we beat them.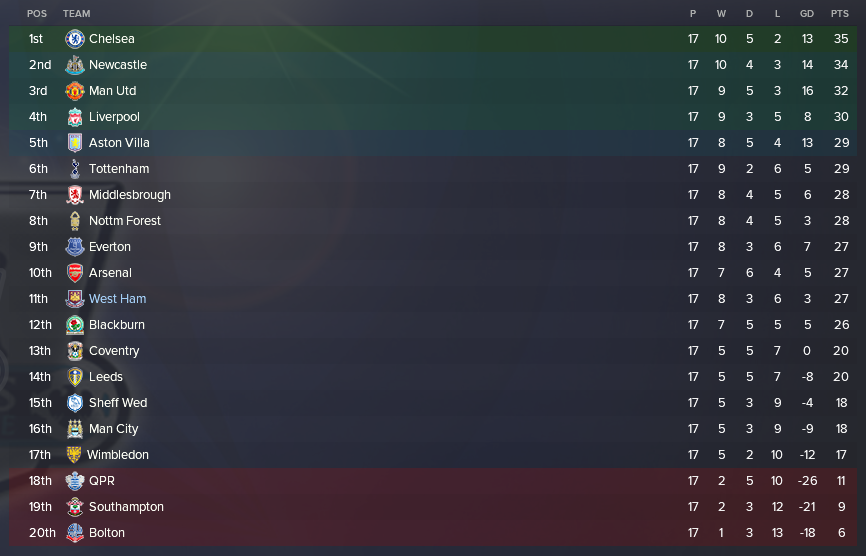 We welcome Big Joe Royle to the Boleyn, and his Everton team including Duncan Ferguson. This will be a learning experience for young Rio, that's for sure.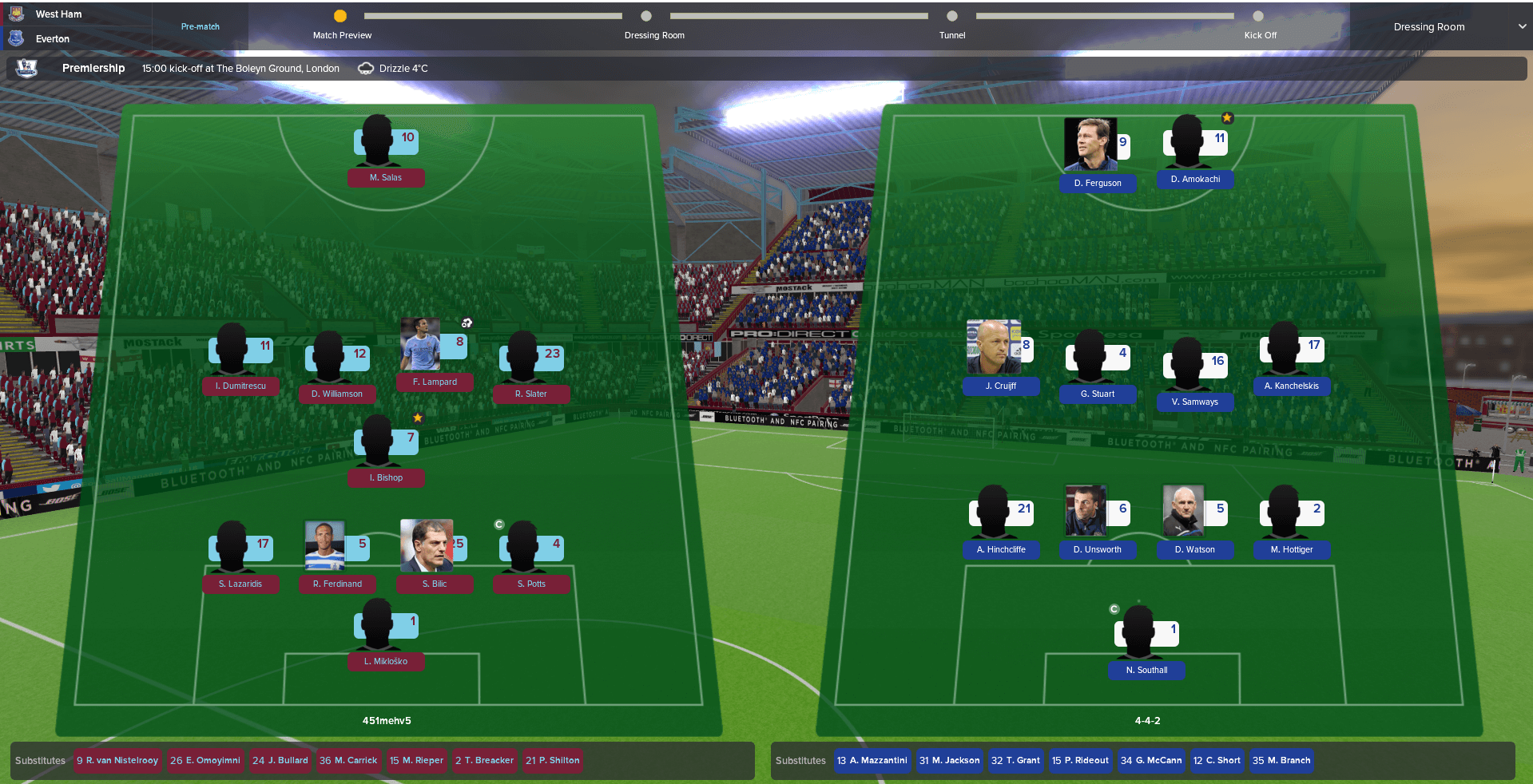 Neville Southall in goal, what a man. Vinny Samways in midfield! Kanchelskis, wow.
Neville Southall was immense, not just in frame, as he stopped Everton from receiving a serious pounding.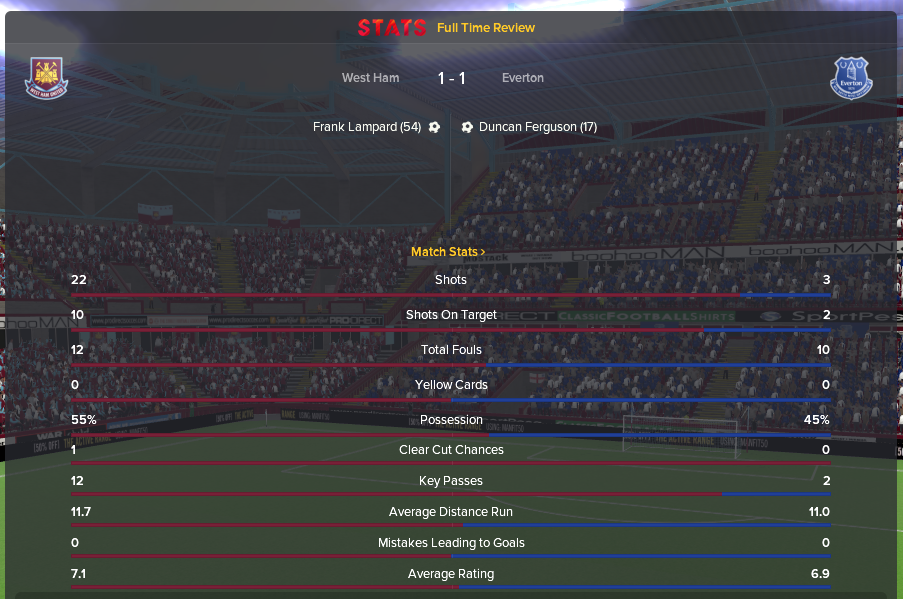 These were not 9 routine saves made by the Wales keeper. These were 9 out of the very top drawer.
Anyway, I reckon the Leeds job will be up for grabs soon.
We travel to Elland Road to put more pressure on Howard Wilkinson.
I am not convinced Howard would ever go 433 myself.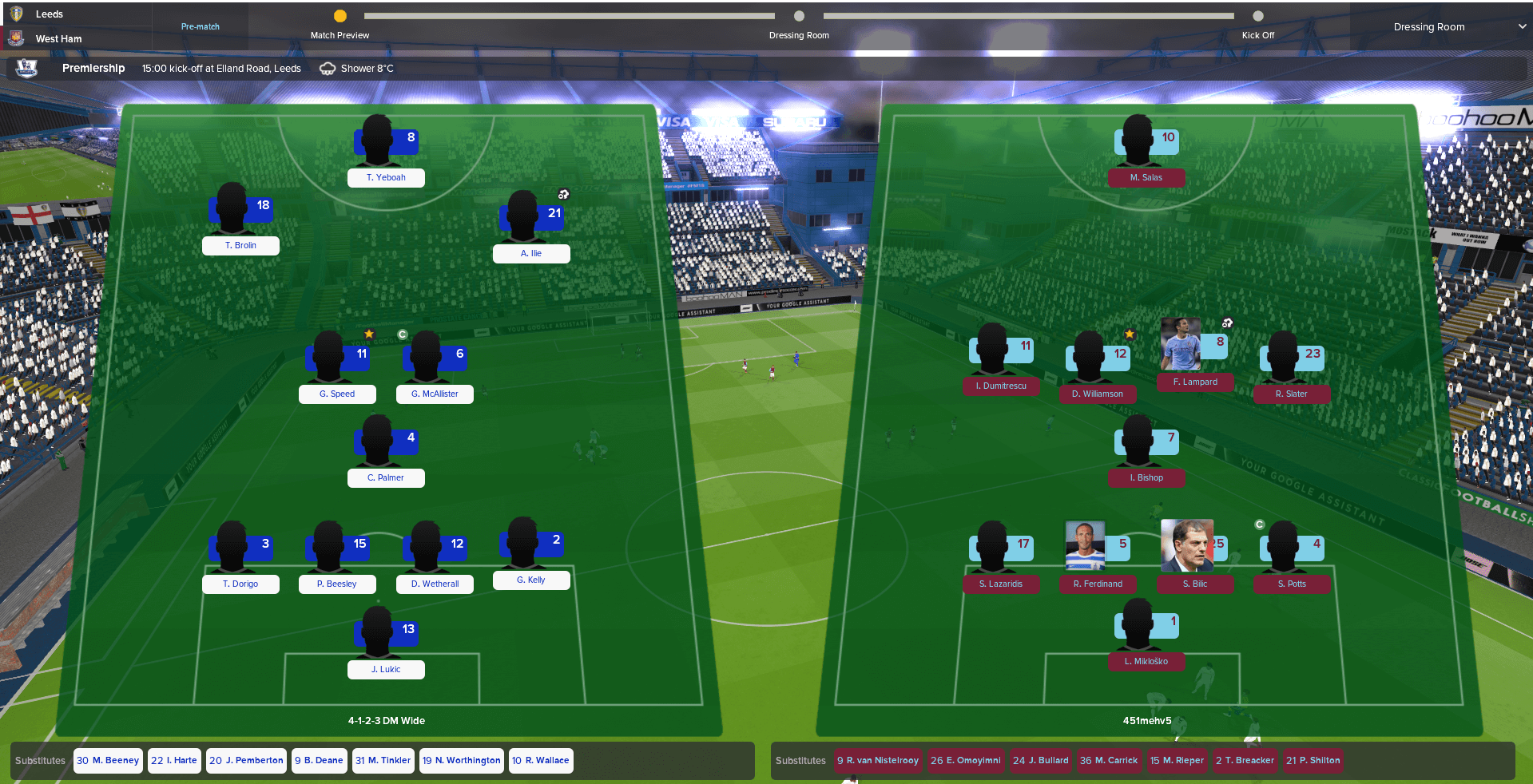 What an eclectic mix of a team they have. Yeboah, McAllister, Speed. And then Brolin, Palmer and Dorigo. Yikes.
I'll take that all day long thank you!

So, at the exact half-way point of the FA Carling Premiership, West Ham United are exactly half-way.
And we play Coventry City in the penultimate game of 1995! And boy, did I love that Coventry shirt.
Ron Atkinson's boys are 14th, as you can see from the table above. A win would be very nice to end today's piece on.
Before the game, I heard the sad news that Ray Wilkins had been sacked by QPR. I wonder if he will end up at Chelsea or being angry about the number of foreign lads in the Premiership next?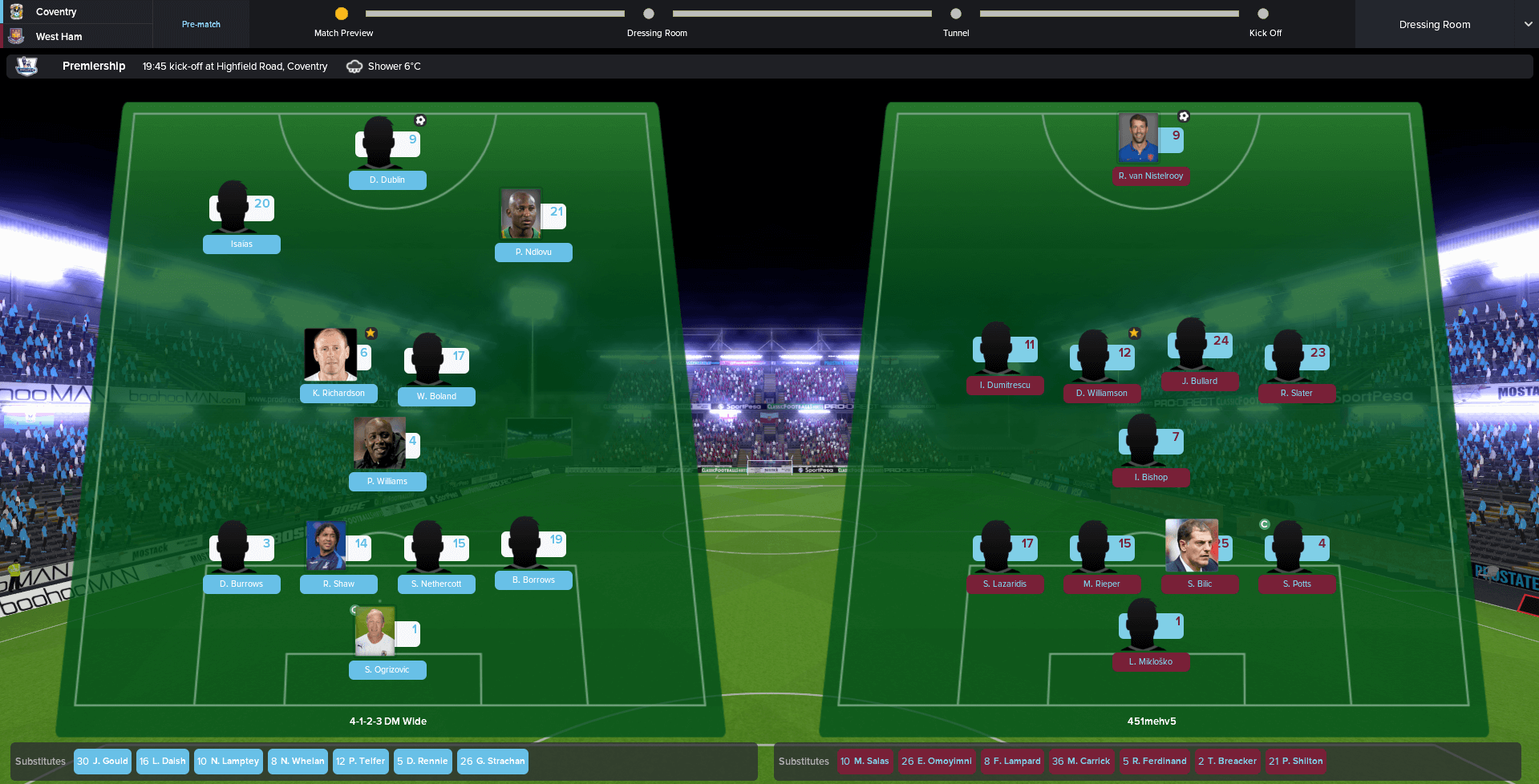 Burrows and Borrows. Not even a little bit confusing.
'Nice one Slater' said Del Boy in one of the Only Fools and Horses episodes.
Shall we do one more and see out 1995? It's Chelsea and they are going well. Yeah, let's.
A 15-year-old Michael Carrick started, but sadly was not on the winning side. Quite how that was the case, I am still not too sure on.