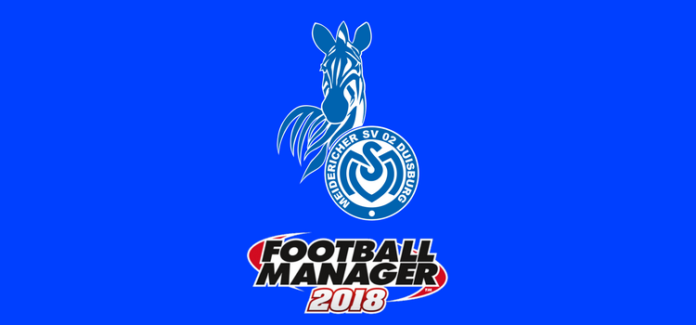 Guten tag! Welcome back to Dirk van Oortveld's quest to survive in the Bundesliga with MSV Duisburg and get them into the upper echelons of European football teams! If you want to catch up on what's happened previously, check out this link here.
In the previous update, we made it through the preseason ahead of our first Bundesliga season in over a decade and we took part in the first round of the German Cup. Now we've stepped into the first couple of matches of the actual 2018/19 Bundesliga season, and we've got some results to share before we push on further into the year.
After beating the semi-professional Trier in the first round of the German Cup, we got our draw in for round two, and we're going to be facing off against fellow Bundesliga team Hamburg SV, who will be the home team in the draw.
We're not going to face them until the end of October, so as of the end of this update we've not faced them.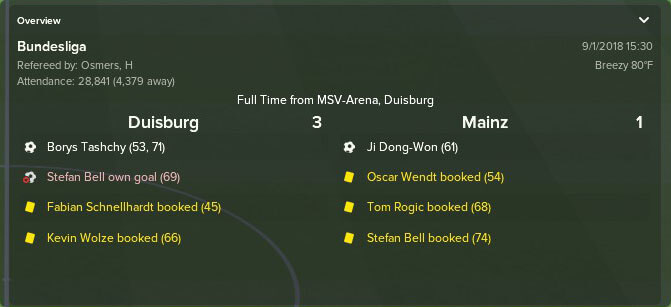 Our first match of the season was against Mainz at home. The start of the match was slow, with no really interesting attempts at goal, though Borys Tashchy drew first blood for Duisburg at the 53rd minute. Ji Dong-Won equalized in the 61st minute, but Stefan Bell had a blunder minutes later to give us a point off an own-goal. Borys Tashchy would give us a 71st-minute goal to pull it up to 3-1 to us.
Statistically, it wasn't our match, but we ended up scoring when it counted, which is what mattered, so our opening Bundesliga match gave us all three points!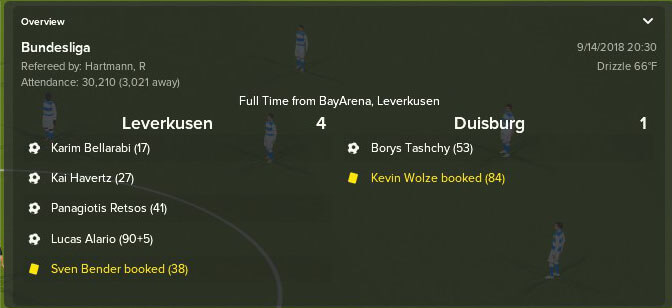 Our next match was against Bayer Leverkusen, a top Bundesliga side, and their money and quality were shown as they put us to the sword in the first half.
In the 53rd minute of the match, Tashchy scored what would be our only goal, but Leverkusen decided we needed one last kick in the teeth in extra time as a reminder of what we were up against in the Bundesliga. It was a pretty predictable result, all things considered, and that's the type of quality we should ultimately aim for in the coming seasons.
Our next match was against Werder Bremen. The first half was a predictable bore of a result, with us being down a point at the break, but the second half was where it got exciting! Between the 70th and the 86th minutes, we saw Borys Tashchy and our new signing Guido Marilungo score twice and Kenedy and Thomas Delaney came up with three goals of their own to make the score 4-2 in a matter of 16 minutes.
It was a thrashing for us, but it was an entertaining thrashing at least! Despite being on the losing end, it was still a good watch for me at least!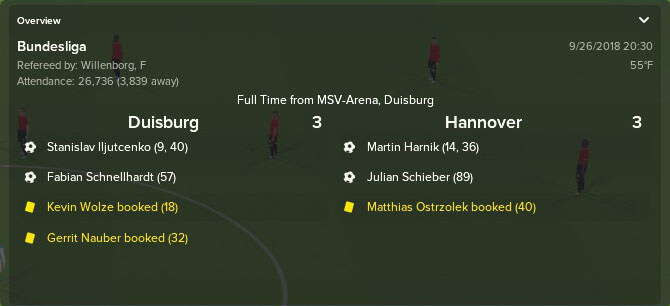 The next match was a home game against Hannover in a neck and neck affair. Iljutcenko of Duisburg and Martin Hamik of Hannover had a bit of a back and forth scoring goals, and in the second half, we saw Fabian Schellhardt and Julian Schieber score two additional goals.
It was an eventful match, but neither team was ultimately better than the other. After two losses, it's great to have a point at least.
The next match was another draw, though it was scoreless this time. There was nothing at all of note to share, other than that our only first-team capable goalkeeper dislocated his shoulder and will be out of action for about 2 months or so.
I've got a loanee goalkeeper in until the next transfer window for coverage for the position, and I'll have to put my faith in this untested new player while I wait for Davari to recover and look for a permanent rotation option for the goalkeeper position.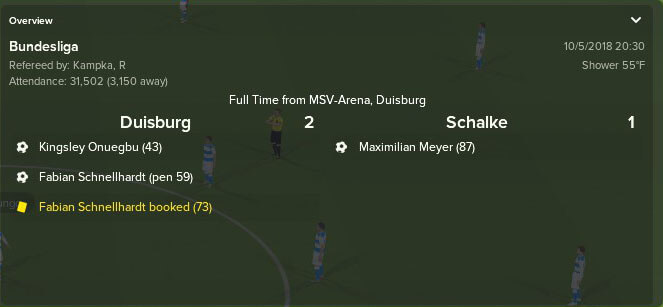 Our last result of this update was a home victory against Schalke. Kingsley Onuegbu scored in the 43rd minute, and in the 59th minute, we scored a Fabian Schnellhardt penalty kick to put us up by two, though Maximilian Meyer gave Schalke a late goal before the match ended.
This is our schedule from the start of the season through the end of the calendar year. Our next match will be against Borussia Mönchengladbach and should prove to be a struggle, and later on, in later November and early December, we're against Bayern Munich, RB Leipzig, and Borussia Dortmund, some of the stronger sides in the league. That should be a challenging part of the season, but we're going to do our best against the weaker teams and hope we can string together some good results.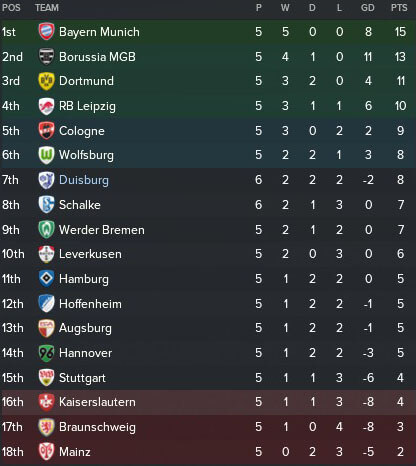 There are still many unplayed matches, so results may vary, but we've got 8 points from six games. With their matches to play later in the weekend, Munich, Borussia MGB, and Dortmund are at the top of the table. Mainz sits in last, and in 16th and 17th are Kaiserslautern and Braunschweig, the teams who promoted into the Bundesliga alongside us.
It's been a fair start to the season, with the results largely what I expected, and I'm hoping we can keep this streak going and have a respectable position away from the relegation line.
In the next update, we'll be approaching the end of the first half of the season, and we'll go over our results and our plans for the transfer window and the second half of the season.