Quite eerie this is. Chapter thirteen being released the day after Friday the 13th. Surely I couldn't have planned it to happen like this, could I? I'll let you be the judge of that. Jokes aside, it would've been written up sooner but I've only just about finished celebrating Neves' goal against Derby in real life. If you don't know what I'm on about, you can read about the goal and watch it here.
It also put me in somewhat of a tricky situation because I knew that no matter what I did on FM, I was never, ever going to top it. Here's how I got on trying to do just that…
You can read the previous chapters here.
We'll begin as usual with the idiot that is my scout as he continuously gives me the wrong information. I've come to the conclusion that he's on the wind-up. This is what he had for me this time.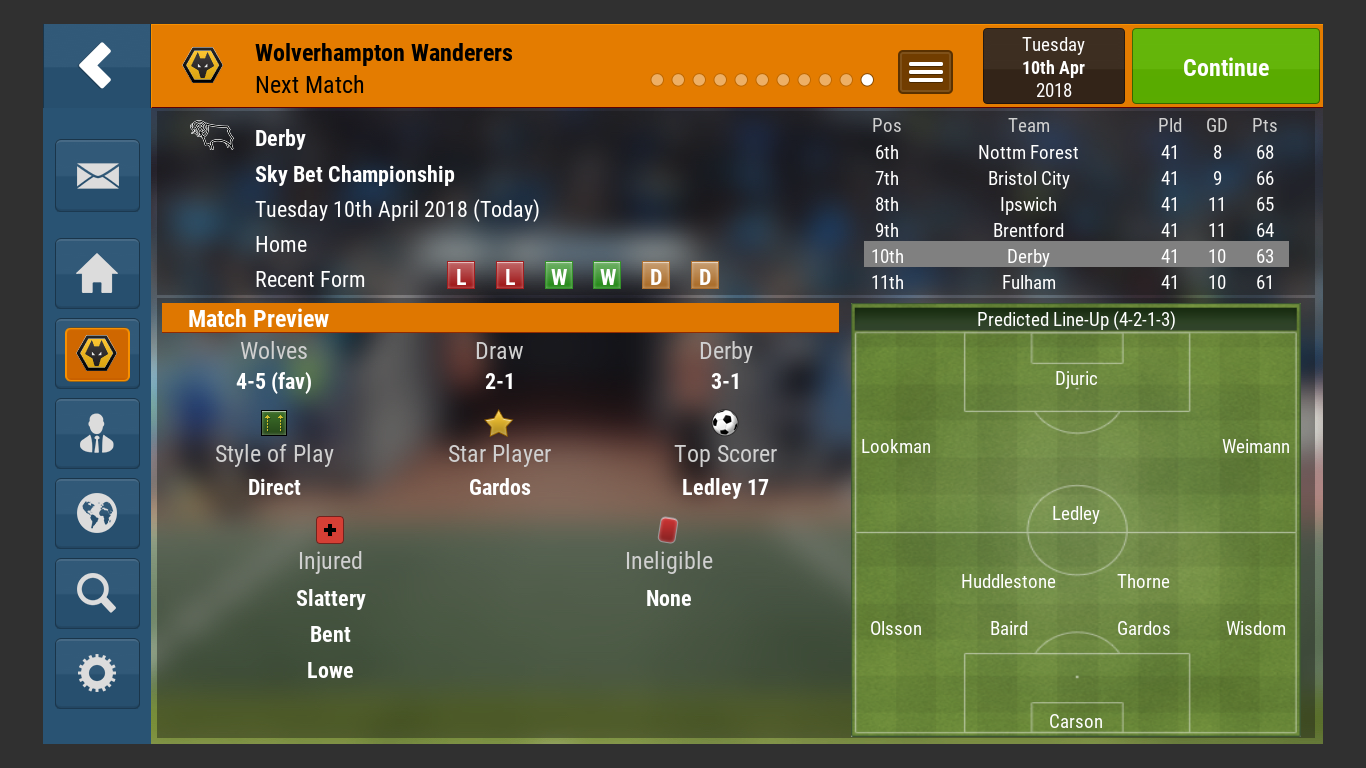 You know earlier I said it was eerie that it was chapter thirteen the day after Friday the 13th? What made it even more creepy was the fact that this was the actual line-up Derby picked…
Yes, the personnel still isn't right, but he's got the formation right which is a damn sight better than what I had been having. Maybe he can survive the summer overhaul, a lot of that will depend on his performance on the four games which follow this, so only time will tell.
From my team, you'll notice a lack of Neves, however, if you are up to date on my battle with Nuno, then you'll know he got sent off for two bookable offenses last time out against Cardiff. Saiss was lagging as well so I thought it best to go for Price and Gibbs-White in the middle of the park.
That aside, it was business as usual as we looked to keep the gap at five points between us and Nuno.
First Blood To Nuno
It was first blood to Nuno as Jota made it 1-0 with some mouthwatering technique after a sensational through ball from Willy Boly. That was all that happened in either game in the first-half, not a lot to report at all.
In my game, if anything, Derby looked the more likely of the two to break the deadlock as we were once again missing the influential Ruben Neves. At the interval, the stats looked like this.
Nobody was having a brilliant game, nor was anyone having a poor game. For a change, I decided to stick to my guns and make no changes at the break. Nuno's Neves stole the second-half show as his world-class effort put Nuno's Wolves 2-0 up which sort of made me wake up a bit because if things stayed as they were, he'd only be three points behind me…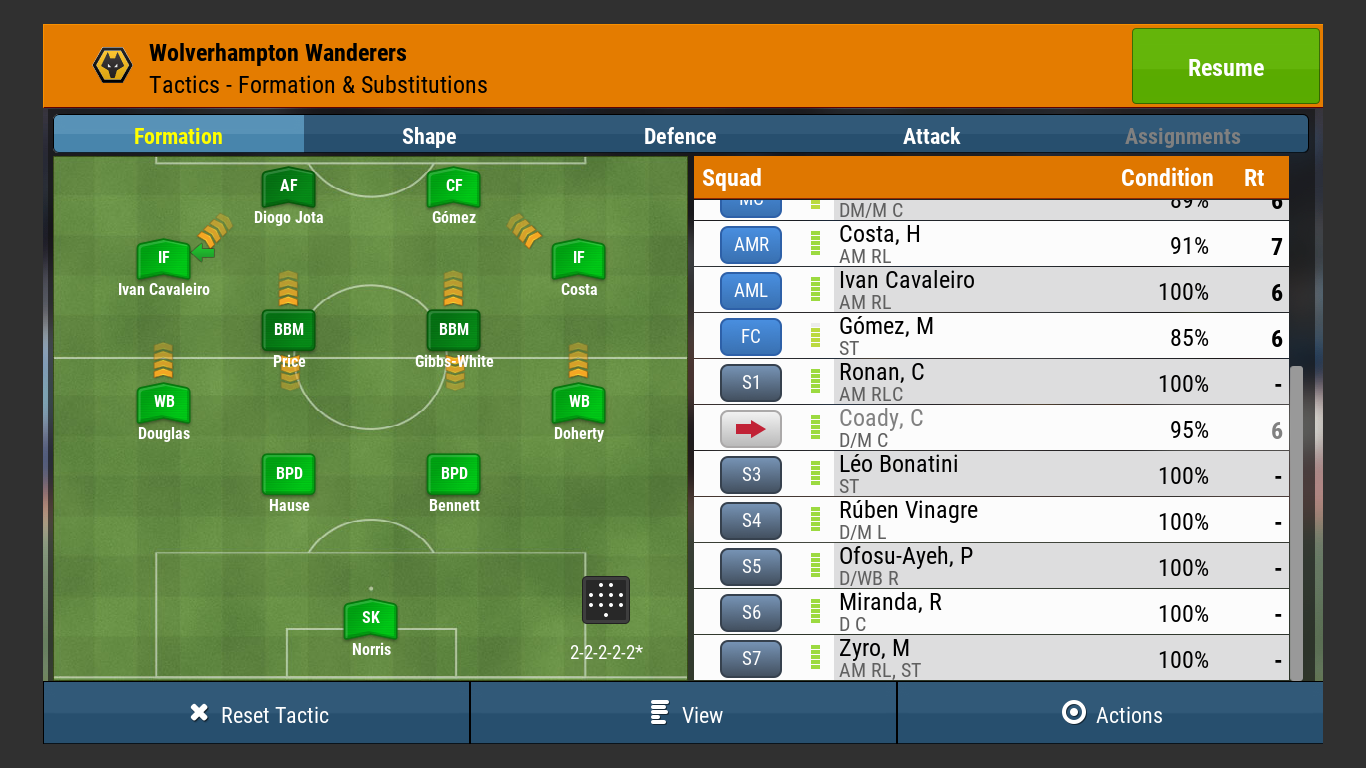 Coady off, Cavaleiro on, shit or bust time. Let's have a go or die trying. It was a pretty even affair with Derby probably still having the better of it and I was starting to lose my rag as we weren't finishing the chances we were creating.
So, I did what any manager worth his salt would do and hauled off the two strikers and brought on two inferior players and hoped for the best. I brought Leo Bonatini and Michal Zyro for Gomez and Jota respectively and lo and behold…
It was the third clear-cut chance we had so it was about time we finished one of them. One substitution, Bonatini set up another in Cavaleiro as I showed Nuno who was boss. Five-point gap restored, although there was still work to do and Derby had just brought on Milan Djuric who I swapped for Mason Bennett in the summer, he was bound to score…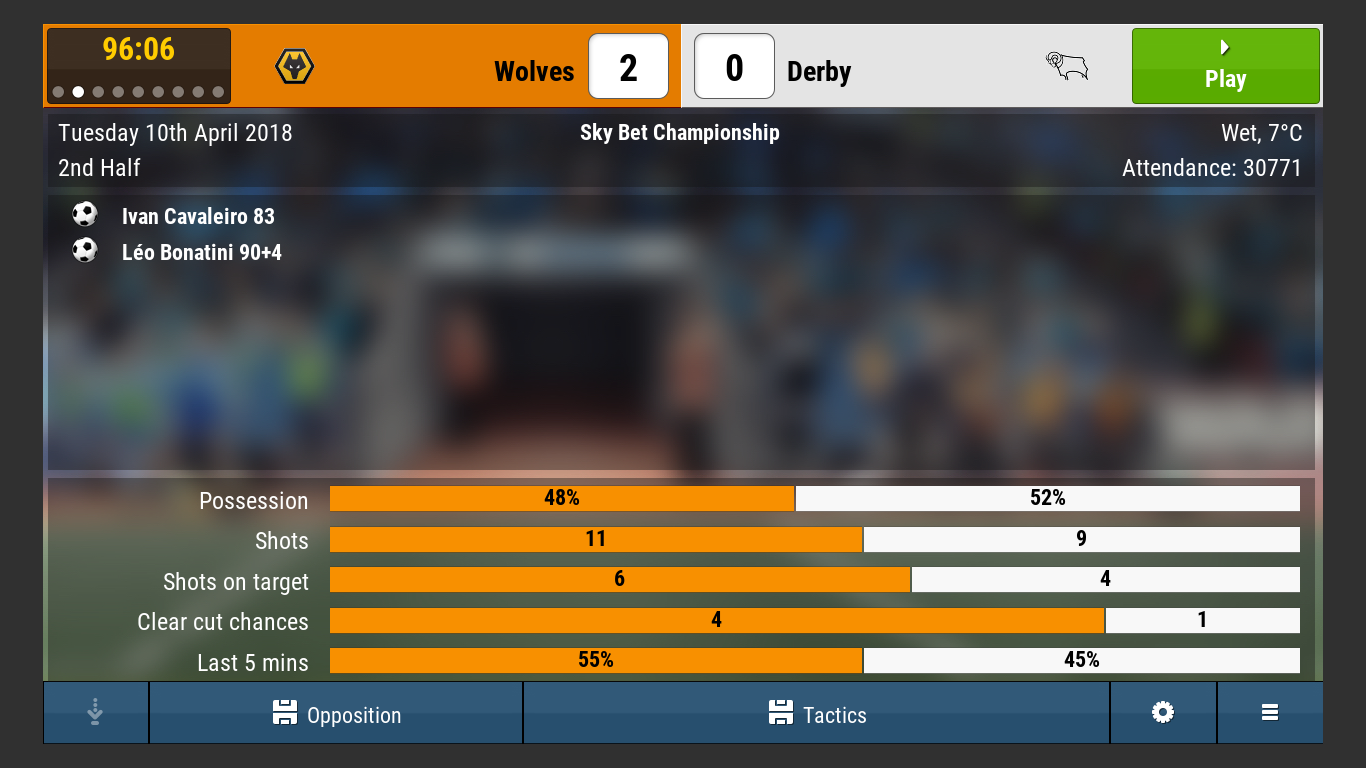 Prior to Bonatini sealing the game, Djuric had not one, but two chances that he should have taken, yet somehow they weren't considered clear-cut which doesn't make any sense to me at all because they were both one-on-ones as my defence all of a sudden decided they couldn't be arsed. One went over, one went wide and then we sealed it with Bonatini being in the right place at the right time. That, my son, is a right touch.
So, for the second game in a row, Nuno and I had matched each other scoreline wise. I'd be more than happy if I did that for the last four games of the season as it would mean I'd emerge triumphant from this battle, there'll be changes though, I feel. Here's how the table looks between us…
| | | | |
| --- | --- | --- | --- |
| Team | Played | Goal Difference | Points |
| FM Wolves | 42 | +54 | 97 |
| Nuno's Wolves | 42 | +40 | 92 |
Nearly at that magic three-figure mark and if we beat Blues on Sunday we'll hit the ton which would be a superb achievement; I'll be back early next week with that.
Until the next time.