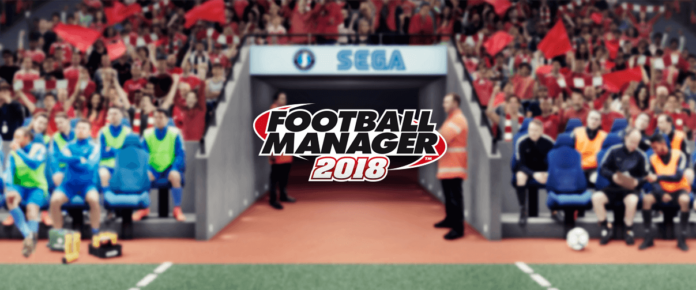 Bronze-Wig
We Made a Mountain out of a Mole Hill: The Review
So, I want to explain in a bit more depth the quality of the squad and how I've built a team of back-to-back title winners and how we competed with other top teams from around the world.
Money:
When I first joined Braunschweig we were a newly promoted team and weren't – by any stretch – financially stable. However we'd just had money injected into the club thanks to the previous managers promotion. In our bank we had roughly £20million and I was handed a budget of £5million for transfers and a wage budget of £350k p/w. My only target for the season was to survive relegation. With that type of budget you need to make sure you get your signings right. We don't have the option of pissing dosh up the walls so scouting for players who would improve us was vital. I also looked into other avenues, i.e. my youth and reserve team to see if there was anyone worth taking a punt on, even if it was just a short-term option. Sitting in my reserves was Abdullahi, someone who was yet to be handed an opportunity, someone who became a massive player for me. Someone I'm currently in the process of adopting (not actually true in case some are more gullible than others). So, let's get down to the nitty gritty finance stuff.
2018/19: In my first season we spent £4.4m on players but we sold shite or overpaid players for £8.75m, giving us a net savings of £4.35m, not to mention our wage savings, as five of the players who came in were on loan and we made 0 contribution to their wages. The highest fee we paid that year for a player was for Moises, a LB, in January for £2.7m. For finishing 11th in our first season back in the Bundesliga (First Division), we received a whopping £38million, give or take a couple of grand. A lot of money, which well covered our monthly wage expenditures of £15million.
2019/20: In my second season I spent £10.25m on players and recouped £9.5m, meaning our net spend was £750k. Not bad when you consider we won the league this season. The highest fee I paid for a player was Palencia, my RB for £5.5m. Along with the prestige of winning the league we also received a shit-tonne of prize money, totalling around £84million. Holy shit-balls Batman. For me, I want to run the club frugally, and keep the bank as healthy as possible while still overachieving. That's the thrill of building a team for me.
2020/21: In my third season, our second time being crowned champions of Germany, I spent £8m on players and recouped £7.25m in sales, meaning I had a net spend of £750k for the season. The highest fee I paid was Grujic for £5m. £84million, again, for winning the league meant last years tight purse-strings left us very healthy indeed. The fact we managed to make it to the semi-finals of the Champions League means we also gained a further £40million(ish) in revenues. Not to mention us wining the German Cup which, along with the prize money of £820k, we've played a total of five of our six games at home, so along with TV money we had stadium revenue too. Basically the club was rolling in money and we had around £130million sitting in the bank.
So, over the duration of my three year tenure in Germany, I spent £22,650,000 on players but recouped £25,500,00, meaning I made a profit of £2.85 million. Not bad hey? Even better when you take into account the growth of our wages.
2018/19: Our wage budget was 350k p/w.
2019/18: Our wage budget grew to 450k p/w.
2020/21: Our wage budget grew further to £550k p/w.
So basically, the money we generated from player sales almost (give a half million or so) offsets all the new, better players who joined the club. Not bad hey?
Now, another massive key to our sustainability was our league positioning. In our first season we generated £48m from the league position alone. In the two seasons to follow we made a further £88m each year, so £224 million in your three years, not taking into consideration TV deals, sponsorships deals, or Champions League money.
The club was generating so much money they opted to build a new stadium at a cost of £50million without my prompting. They were basically bathing in money and decided there was only so many hookers they could waste the money on.
A quick side note about wages, after losing out on the title, Bayern sacked Pochettino and on their job advert it showed their wage budget:
Bayern are spending an incredible £4.8 million per week on wages, compared to our £554k p/w. I mean, I don't want to say I'm a financial and football managing God, but, the facts speak for themselves, don't they?
A second aside, our average team wage is £17k p/w, the league average is £27k p/w. That is skewed slightly as we don't really have a reserve squad but it's still some going. Double title winners, guys, with an average wage of £17k.
Team:
Scouting made the team what it is, scouting and risk taking. Our scouts scoured the earth for players who were good, technical players, but struggling for playing time, youth prospects, or at small clubs looking for a big break. That was basically our transfer philosophy. And it worked. My goodness did it work. Each year we looked to build on what we had. So year 1, our attack was good, our midfield was OK but our defence was shite. We addressed that in the following three windows after biding our time for the right options. Year two we looked at increasing squad depth, as we were lacking in our backup department. Year three was very much a case of sprinkling some gold dust on top for the extra Champions League games. Personally I always find immediate success hard as I need time to find a tactic that works for us and then look to build around it. Anyway, enough rambling. Finally, like a woman constantly showing her ankles, I'll finally allow you to eye up some thigh. Meet the gang of misfits*:
*Unfortunately when I uploaded this piece allll of my fucking images were deleted by accident – nothing to do with getting rid of a porn stash I swear – and that means I've since had to go and re-take them. As I'm not almost two years ahead all of the players images show them 18 months on from our time together. This means that some of their attributes will have changed either for the better if they're young, or the worse if they're old. Some have even since moved clubs – much to my disappointment. But this will explain the mismatch when you come to read it.
Goalkeeper:
Christian Fruchtl
As you can see, his average rating of 7.16 from 26 games, with a 75% save ratio and 7 clean sheets. in all competitions he conceded 35 goals all season.
Marius Muller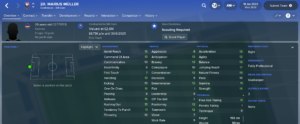 Marius Muller managed slightly worse match ratings and averaged 7.15 from 27 games with a 73% save success ratio. In all competitions Muller fared slightly worse and conceded 39 goals.
Fruchtl really came into his own this season and looked like a starter. He's been at the club for three seasons on loan now but it's always been a case of providing backup and developing his talent. Next season he will be the starter.
Player Comparison:
Just to put this all into perspective, I'll compare it to Premier League wining goalkeeper David De Gea.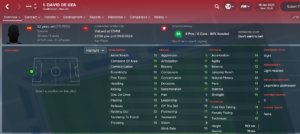 So, De Gea managed an average rating of 7.21 over the course of 60 games and managed an outstanding save ratio of 77%. He conceded 40 goals from his 60 appearances. Bare in mind, De Gea is considered an elite keeper and is in his prime, now 30 years old in 2021. Despite his higher ratings it's worth checking out his shot save average. De Gea averaged 2.37 a game, Muller managed 3.96 a game and Fruchlt had 4.03. Obviously this is a reflection on our defence as much as our keepers but it shows just how busy my lads were and how well they performed irrespective of the players ahead of them.
Centre Back:
Rodri Tarin – 24 y/o – 7.19 in the league and German Cup – 7.08 a/r including Champions League. His heading average was 70%, his tackle success rate is 76% with 78% passing success but averaged 40 mistakes over the course of the season. Not bad for a free signing. When I managed him back in the early days of Barca B it was clear he was a talent and just needed the right platform to succeed.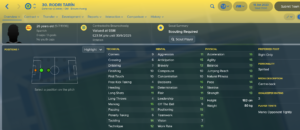 Paulo Valente – 18 y/o – 7.0 – 59% heading average, a tackle success rate of 74%, a 80% passing success and he made 24 mistakes over the course of 31 games. He managed 1 goal and is now considered a wonderkid. His heading needs improving but overall I was pleased with him. Remember, he was one of my first ever signings and was bought for something stupid like £580 quid. That's outrageous in hindsight.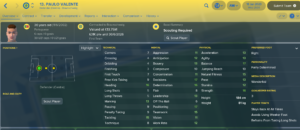 Emiliano Velazquez – 27 y/o – An average rating of 7.12, with a 71% heading ratio, a tackle success rate of 75% and passing stats of 78%, he scored twice and assisted once. Velazquez is our leader at the back. He's the sort you now saunters through town, looks at a girl and smiles, they faint and all their friends giggle because he's just a hunky bastard and I fucking love him. Move out of the fucking way ladies, he's mine.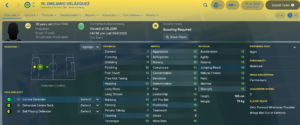 Igor Rabello – 26 y/o – Igor averaged 7.02, with a 74% heading ratio, 74% tackle success rate and 80% passing, he also scored 2 goals. To be honest, Valante took his place in the second half of the season, but he always impressed me with his passing. I must admit, I expected him to become a monster but he never developed quite as well as I expected. The same can be said of my penis.
Yusuf Ozkan – 18 y/o – Yusuf's average rating was 7.04 for the season, with a 66% heading ratio, 62% tackle ratio and 68% passing. Clearly a step down from the others but with more game time, he'll be an absolute monster in a few years time. He was only given a handful of games, with Valante ahead in the pecking order, he will need to work hard next season to have more opportunities. That said, I do love his fucking name. There's just something about it that screams Pornstar. Hopefully he sticks to football for a while longer though because if he works on his heading he might be some player.
Rotation Options:
Steve Breitkreuz – 29 y/o – 9 games, an average rating of 6.99. He was a big player in the past but the club outgrew in with better options coming in.
Thomas Blaze-Gamiette – 18 y/o – Signed in January with a view on the future. He only played 1 game and managed 6.9, with an 86% heading ratio, 62% tackling success and 58% passing. He's got the makings of a superstar. The only problem is, he's slower than a snail, or worse yet, Gareth Barry.
Michael von Walsleben-Schied – 30 y/o – 1 game, a couple of sub appearances and he managed 7.05, with a heading success rate of 60%, 85% tackling success and 70% passing. Like Breitkreuz, we outgrew Walsleben-Schied and his game time was seriously diminished this season. I'd say it's a shame, but honestly, I didn't have a clue how to pronounce his name so he had no fucking chance really.
Arthur – 21 – Went out on loan because there was no opportunities for him. He's not good enough to be honest. One of the few signings I think we got wrong.
Player Comparison:
Raphael Varane – 28 y/o now earning £180k p/w, Varane averaged 7.23 per game, with a heading ratio of 92% (holy shit), a tackling ratio of 93% (fuck me) which is 4.29 a game and a passing ratio of 83%, making 162 interceptions. Frankly those numbers are absurd, and Real Madrid won the league with 92 points and only conceded 37 goals all season. Is he a product of a easier team, or a better defensive unit, or simply incredible? Lets be honest, its probably a bit of everything. He still has no picture though, so he can't be that good can he?
Left Back:
Aaron – 24 – 7.22 average rating, 69% heading ratio, 68% tackling success which is 6.32 tackles per game, he also averaged 75% passing success, and averaged 14.5km a match, with 11 assists and 1 goal. He made 2.11 dribbles per game and made 90 interceptions. He played 38 games this season, making some of those stats really impressive. There's a lot of numbers in there so I will break it down for you, he was basically he greatest left-back of all time and I think I love him. Bayern sold him for fucking pittance as well the mad twats.
Moises – 26 – An average rating of 7.09, with 63% heading ratio, 68% tackling, 76% passing, Moises averaged 14.8km's a game and managed 4 assists. He was backup to Aaron and started 14 games and made 15 sub appearances. To be honest, I'm surprised looking at them stats because there always felt like a massive drop off when Moises played compared to Aaron. But then, Aaron is my golden child so I guess I'm biased.
Player Comparison:
Alex Sandro – 30 y/o – Sandro managed an average rating of 7.41 for Juventus, with 77% heading ratio, 80% tackling which is 3.85 per game, and a passing success of 77%, he made 192 interceptions and covered 9.9km's a game in 61 games, scoring 2 goals and assisting 8 times. Well, yeah, those statistics are great, but it's safe to assume with so little ground covered per game, he might struggle playing in my team. He must still be full of energy after every game the lazy bastard. Clearly he is sitting much deeper with less freedom to get forward and attack the opposition. Frankly, where's the fun in that? Besides, he looks like we've just met eyes at the urinal in a public toilet and there's something very unsettling about it.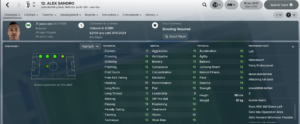 Right Back:
Sergi Palencia – 25 y/o – An average rating of 7.27, with 55% heading success, which isn't surprising as he's 5"5 and possibly considered a Hobbit, his tackling success rate was 75% which was around 6.76 a game and had a passing ratio of 74%, covering 14.6km's and managing 7 assists. He made 82 interceptions, and averaged 2.72 dribbles a game. He played 41 times and was a constant cog in our machine. Unfortunately he still needs to have child locks on and other people to get stuff out of the top cupboard for him.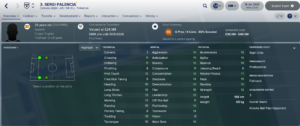 Borja San Emerterio – 24 y/o – he managed an average rating of 7.02, with another poor heading ratio of 56% as he is also a measly 5"6 tall (why are all my right-backs fucking tiny?), his tackling success rate was 69% which is 4.96 a game, and had a passing ratio of 77% and covered on average 14.8km's a game, managing 2 assists and 1.04 dribbles a game, with 24 interceptions out of 13 starts and 14 sub appearances. Like Moises, Borja was backup. He impressed me to be honest. He got on the ball and always looked to charge forward. Less flashy than Valencia but still a solid option. However, I must admit, it is near impossible to say his name three times in a row without sounding like you're having a stroke.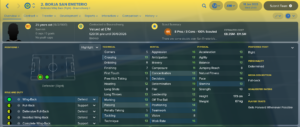 Rotation Option:
Pietro Berutto – 22 y/o – He didn't play a game and with his contract running out he is moving on in the summer, having agreed a deal with Spezia in the Italian 2nd Division. Along with Arthur he is one of the few to really fail.
Player Comparison:
Joshua Brenet – 27 y/o – He played 38 games for PSV and averaged 6.78 a game, with a heading ratio of 80%, a tackling success of 74% which is 3.30 per game, a passing ratio of 74%, with 94 interceptions, making 4 assists and scoring a goal. He averaged 8.3km's a game. Again, clearly he's playing in a much more defensive side, but Palencia is still right up there when compared to him.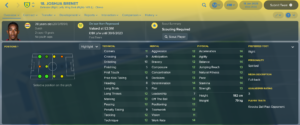 Centre Midfield:
Marko Grujic – 25 y/o – He averaged 7.35, playing 43 games, winning 76% headers, 73% tackles which is 4.06 per game, 81% pass success, covering 14.2km's per game, with 87 interceptions, with 10 goals and 6 assists. For £5.25m, he's been an absolute bargain. My mate. I love Grujic, he's not the most glamorous, he isn't the type you'd see kids having on the back of their top but he's a fucking grafter.

Lukasz Marczuk – 28 y/o – 7.45 average rating, he played 34 times, winning 51% heading (shite I know), 73% tackling which is 2.9 a game, 78% passing success and covering 14.3km's per game making 41 interceptions, with 6 goals and 7 assists. His stats aren't overly impressive considering his average rating, but he was the hub of the team and was our teams leader. Funny considering he made only 13 appearances last season, but with Boland now 34 Lukasz's energy meant he forced his way into the team. The best thing about him is, no matter what he will always make you laugh because he has a massive fucking forehead.

Mirko Boland – 34 y/o – 7.04 average rating, with 11 games and 11 sub appearances, his heading ratio is a laughable at 33%, but he has one foot in the grave so you can't expect him to be jumping like Michael Jordan anymore. He tackled 68% of the time with 3.07 a game but made an impressive 82% passing success. He made 1 goal and 1 assist. He was a stalwart in the team last season and was arguably one of our best players, but age has really hit him now. He's basically getting carted to a old persons home after every game now.
David Ivan – 26 y/o – Average rating of 7.20 in his 13 games and 13 sub appearances, his heading ratio is 44%, with 84% tackling working out at 5.88 per game with 29 interceptions, and 82% passing per game, covering 14.3km's a game, earning 2 goals and 4 assists. With stats like that he shows he's really pushing to be a starter in the team after what had been a poor start to his career in his first year (this was his 2nd). Considering we only paid £450k for him, he's now worth £9.25m. That's like… well, a lot more than £450k anyway.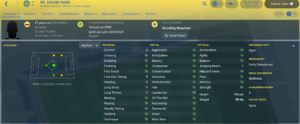 Rotation Option:
Johannes Buchwald – 22 y/o – didn't start a game and is surplus to requirements, bless him.
Player Comparison:
Andre Horta – 24 y/o – Andre averaged 6.99 in 45 games for SLB, with a heading ratio of 63%, a tackling ratio of 64% which is 1.55 tackles per game, and a passing ratio of 77%, making 63 interceptions and bagging 5 goals and 8 assists. Finally we've found a title winning player who doesn't piss all over our lads. Jesus, the whole point of these comparisons was to highlight how good we've been for fuck sake.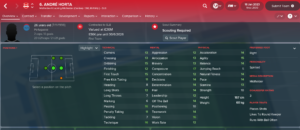 Strikers:
Patson Daka – 22 y/o – Patson made 37 appearances, averaging 7.56 per game, with 93 shots, 54 on target (58%) and 18 goals with 16 assists. Unbelievable. He's now the clubs highest earner, on a weekly wage of £41k p/w. My former DoF Marc Arnold bought him for £1.4m the day I arrived and thank fuck he did. During my time here he has played 70 games, scoring 35 goals and 30 assists. Thank you my friend. No, that isn't a roll of pounds in my pocket.
Christoffer Nyman – 28 y/o – Nyman made 43 appearances, averaging 7.58, with 159 shots, 94 on target (59%) and that means he scored 48 goals and added 12 assists. Forty-fucking-eight goals. Jesus. When I joined I contemplated selling him to recoup some money to put towards transfers, thank fuck I didn't. During my time here he has played 106 games, scoring 86 goals (wow) with 33 assists. Those are some crazy statistics. And you know what. Not one club has made a bid for him. Not one. Is he over performing in my system? Or are all the top clubs scouts blind? Nyman was voted Player of the Season in the league, unsurprisingly, as top league scorer with 23 goals. He was also Golden Boot winner in the Champions league with 14 goals in 11 games. Yet not one bid. What is wrong with people?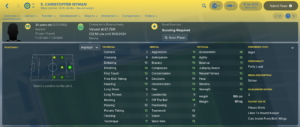 James Wilson – 25 y/o – 25 games, averaging 7.38 a game, with 96 shots, 57 on target (59%) he scored 17 goals and made 17 assists. You know what, Wilson has been one of the reasons for our success. We've been a different beast since he arrived on a free from Man United's reserves (Pogba anyone?). His direct running and pace means we catch so, so, so many teams on the counter. During his two seasons here he has played 48 games, scoring 31 goals and adding 32 assists. He is an assist animal. I think he may be one of my favourite signings of all time on Football Manager, his impact has been that important. Honestly, I can't talk enough about him.

Suleiman Abdullahi – 24 y/o – 26 games, with an average rating of 7.51, with 81 shots, 41 (51%) on target, Abdullahi scored 16 goals and created 17 assists. I feel like Carl Froch talking about Wembley here but I found Abdullahi rotting in our reserves when I arrived and gave him a chance (you've all heard this a thousand times now), and he earned my trust very quickly. To be fair to him, in the season before I arrived, he played 35 games and scored 18 goals in the reserves so it wasn't like he was a complete unknown, although it does make for a nice narrative. Since then he has played 87 games for me, scoring 63 goals and assisted 38. Despite having an incredible goal and assist ratio, the best thing about my mate Suleiman is he's happy to be rotated and never complains. He just waits and takes his chance when he does play. My sort of guy.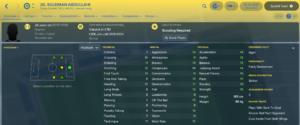 Ruben Caballero – 19 y/o – 28 games, with an average rating of 7.34, he had 79 shots, 47 were on target (59%), and managed 17 goals and 14 assists. He also managed an incredible 4 PotM awards, which ain't half bad for a youngster. We signed Ruben for £700k, and is another gift from my amazing scouting team after picking him up in Paraguay. In his two years here he has played 37 games, scoring 27 goals and making 16 assists. Ridiculous for a 19 year old, its no wonder he's now considered a wonderkid. He'll be a star.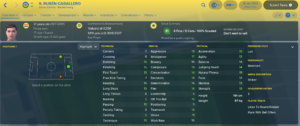 Rotation Option:
Dennis Franke – 25 y/o – he's made no appearances and is franke-ly (get it?) shit.
Player Comparison:
Goncalo Guedes – 24 y/o – Gancalo averaged 7.44 in his 38 games for PSG, with 75 shots, 38 on target (51%) scoring 19 goals and with 5 assists. If anything I can't help but feel looking at those stats, how impressive my boys have done. PSG are runaway league winners, we have played in a much more competitive league and yet my lads have a much better shot to goal ratio.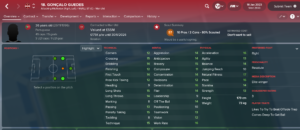 So, there you have it. A chance to finally see some of my players statistics and attributes. I've hidden them away for so long but I guess you all deserve to take a peak at them. None of them are amazing players, none of them have attracted any real attention from top teams. In fact, I've barely had any offers at all for players which is utterly surprising.
So that's it. I joined Braunschweig with the desire to make a mountain out of a mole hill, and with two league titles and a German Cup, I think its safe to assume I've done just that. It's been incredibly tough, stressful but most importantly enjoyable and I've loved every minute of it. Thank you all for taking the time to sift through, quite possibly the most in depth analysis any crazy bastard may think to divulge about football manager, hopefully you found it as interesting as me.
Here comes the bad news. After the season drew to an end I decided to do the unthinkable. I resigned. I had one year left on my contract, with Braunschweig practically throwing money at me to re-sign on a new deal but I felt my time was up there. I needed a fresh challenge. A new start somewhere. Besides, what's the fun of being boring when you can be a fucking chancer?
I've already got a new team. An exciting team. A big named team. Have I teased you enough yet? No? Well, one last thing then, I have some of the best players in the world now. But you guys will have to wait to find out.
Until next time.