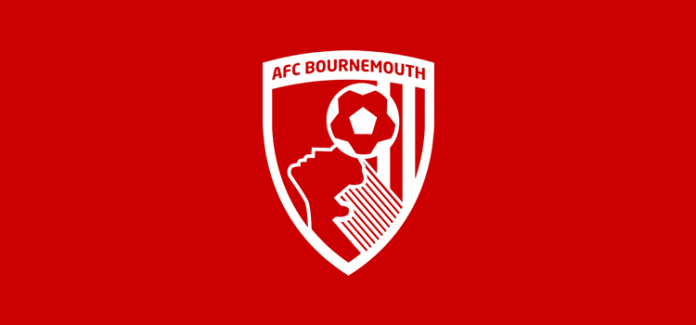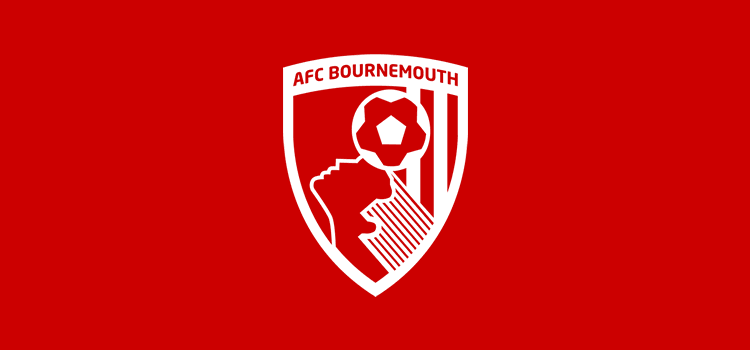 I've been able to draw many conclusions from the early stages of this Bournemouth save. Firstly, that the team's defending on a virtual platform mirrors the Cherries' back line in reality, and secondly that my start to the Premier League campaign is something that Eddie Howe can only dream about, in the times where he's not meticulously putting together training documents or reading opposition reports.
I'm not that sort of manager. I have a backroom staff for a reason, and very much leave training to be undertaken by them. I have a coffee in my office, overlooking the training ground, and keep my fingers crossed that we all turn up and perform on a matchday.
And somehow, my rather lapse managerial style is working a treat down on the south coast. Little ol' AFC Bournemouth were flying high in the top half of England's top flight in the last episode – but the question is whether I can continue the solid form? We are unbeaten in our opening fixtures and have moved into the fourth round of the Carabao Cup, after all.
But before we can think about any domestic trophies, we must remain focused on our main objective: Premier League survival. I'm keeping my expectations very low, because Football Manager is a game that can take away as easily as it provides. Once we reach that magical 40 point mark, only then will we begin to cast out sights upwards.
First up in this episode is a trip to Swansea. Paul Clement's side (bit of a throwback, that one) are sitting rock bottom of the league, and in my press conference I was grilled about their poor form. Of course, in classic Football Manager sitting-on-the-fence style, I waved off the rumours of complacency and explained that my squad would be fully focused.
As it turns out, we really were.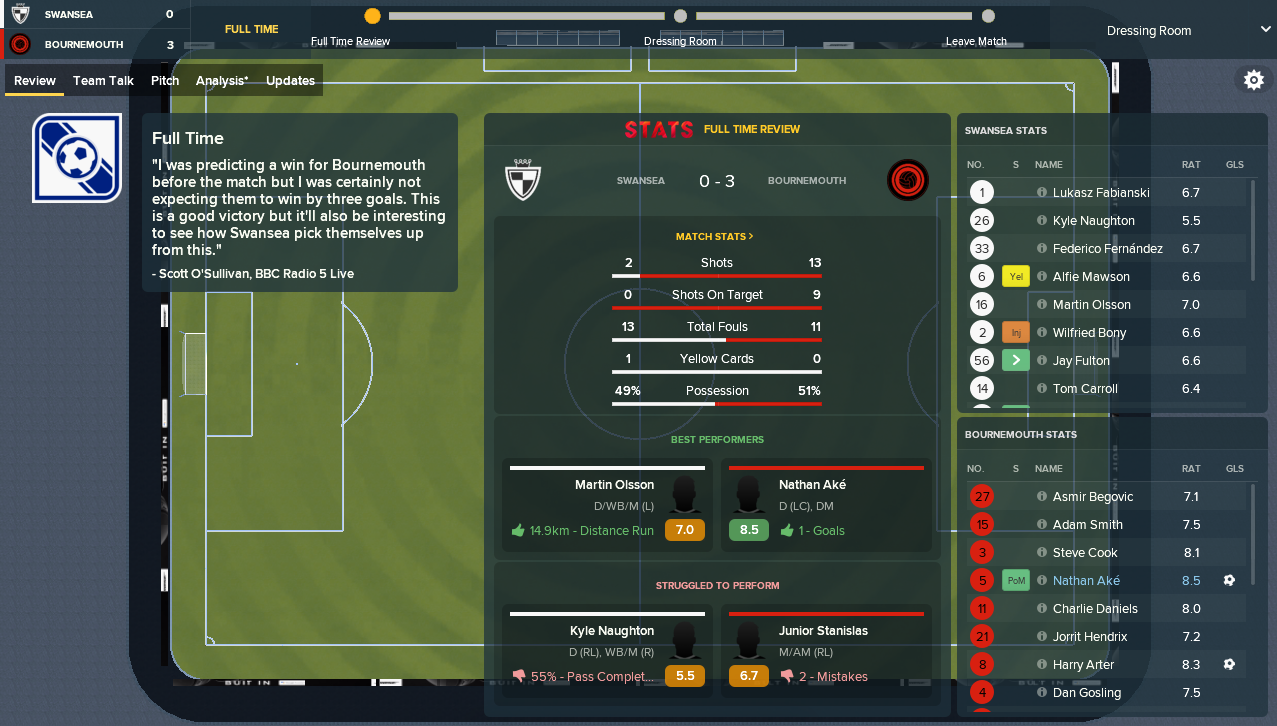 I didn't expect this sort of performance at all. As the stats show, we bossed the entirety of the game, resulting on the Swans not having a single shot on target. Goals from Nathan Ake, a screamer from stand-in captain Harry Arter and a third from Jordon Ibe rounded off a lovely away day in Wales, and bizarrely moved us into second in the league. I'm well aware that it's still early days, but Bournemouth never spend time at the summit of the table apart from before the season actually kicks off, so it's a refreshing surprise.
Next up, we returned to the Vitality for a home clash with Leicester City. Our home form will be crucial in achieving our aims for this season, so I entered the game hopeful for another great result. Thankfully, the players provided.
Another dominating performance resulted in a three goal lead, before Leicester clawed themselves back into the game through an Adam Smith own goal and long-range effort from Matty James. But just as it appeared we would gift away the three points, Defoe propped up at the back post with his second of the game and ensured we remained in second place.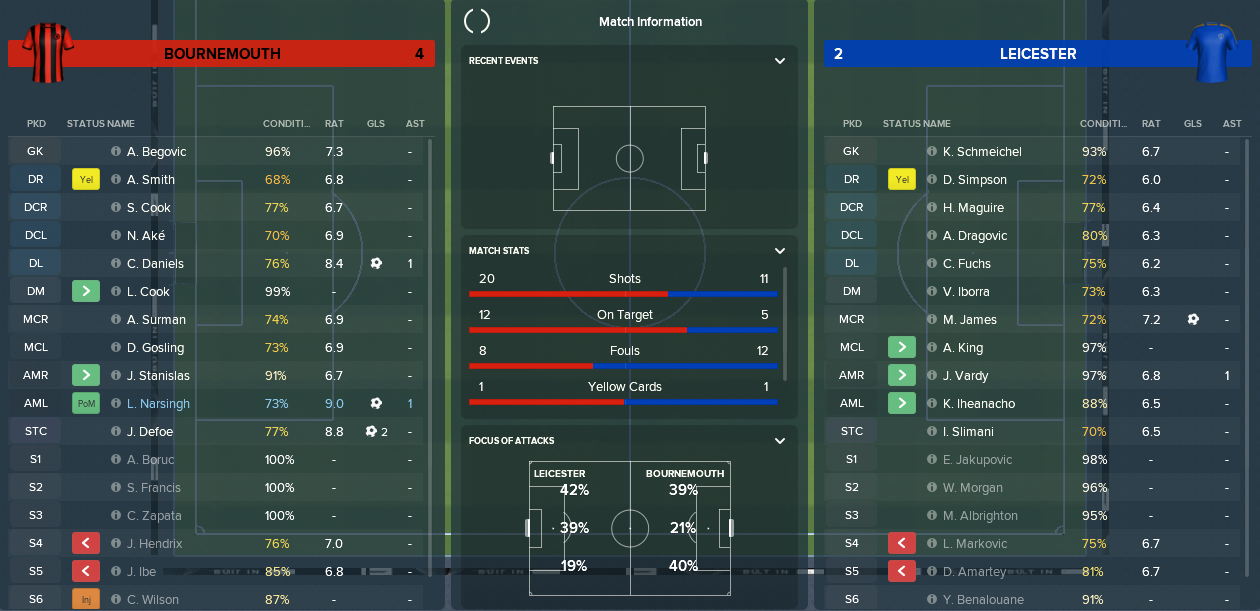 Narsingh fired us into the lead with another long-ranger, to continue his spell of performing in important games. Another positive was Harry Arter deservedly picking up the goal of the month award for September, after his screamer at the Liberty Stadium.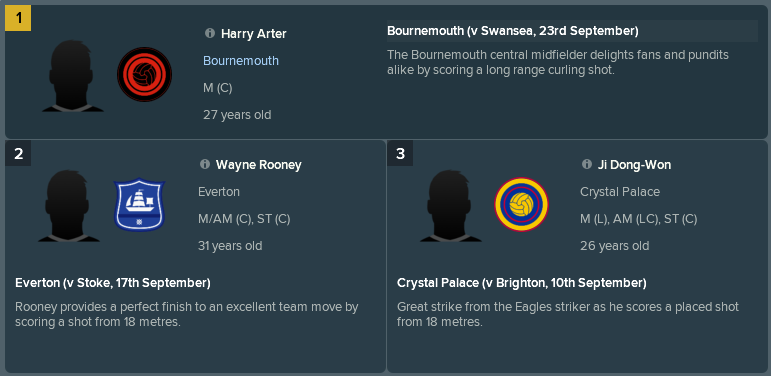 Despite the shaky defending against Leicester, overall I was pleased with the showing from the team and remaining quietly optimistic ahead of our next game: a home tie with defending champions, Chelsea.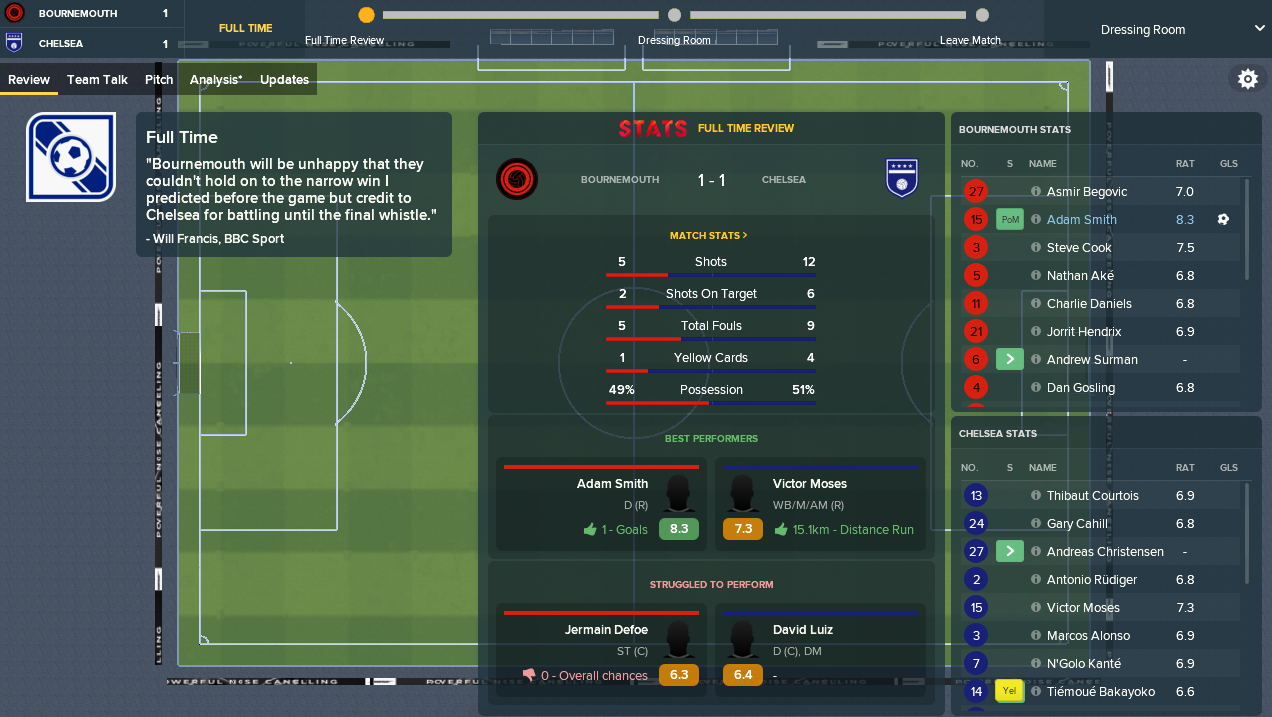 A 1-1 draw against Chelsea! I would have snatched that opportunity if it had been presented to me before the game. The Blues dominated the whole game, and probably deserved all three points. They would have taken them back to the capital too, if it wasn't for Adam Smith's superb solo goal – after cutting inside from the touchline and smashing home at Courtois' near post.
The games came thick and fast, and next up was an away clash at West Brom. Despite the fixture not appearing easy on paper, the squad dominated proceedings and picked up another deserved three points.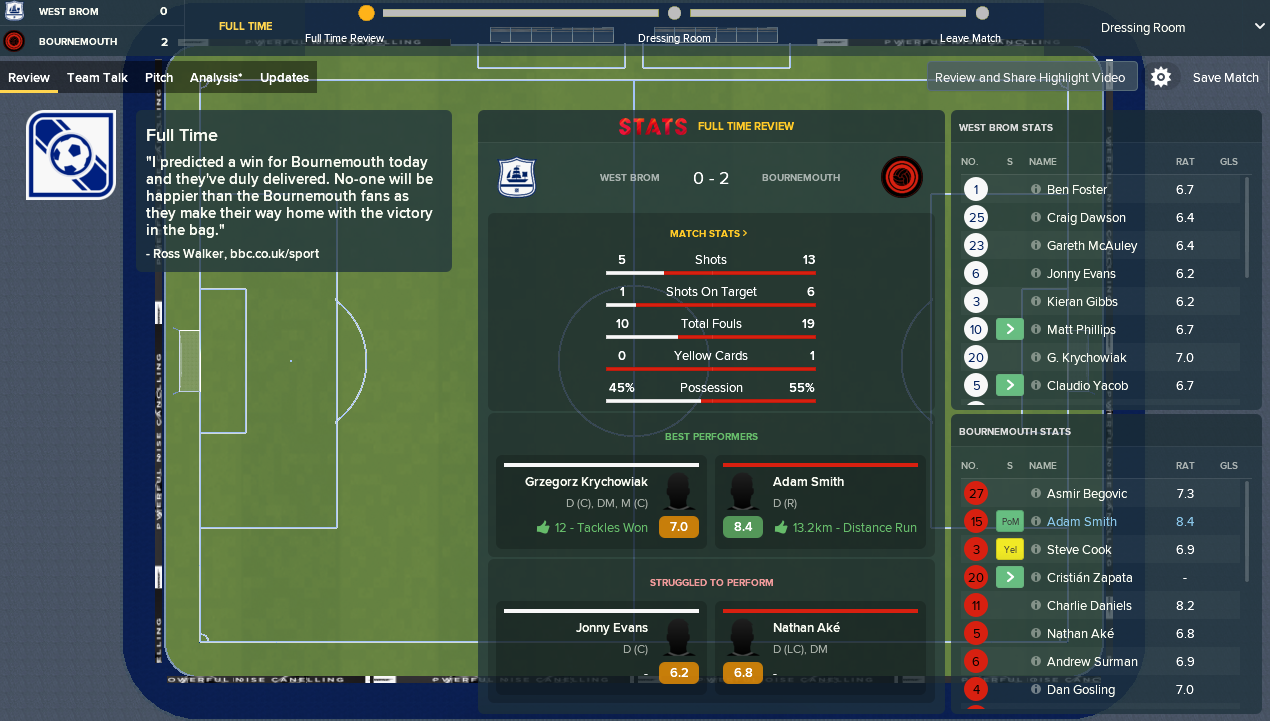 The final game of this episode is our Carabao Cup fourth round tie, where we were drawn at home to Huddersfield. Following our easy victory against them earlier in the season, I expected something similar despite making a few changes. Marc Pugh earned himself a start, with Josh King also coming in and starting up top.
We made hard work of it, but we made it into the quarter finals. Somehow, Huddersfield were able to shut us out until extra time, and even led at half-time. But after hooking off Pugh and King, Zapata found the equaliser and we coasted home through extra time…to earn a tie at the Emirates with Arsenal.
Find out how we get on in the next part!