Earlier this year, I was fortunate to be asked to take over from Stuart Reid in the #LetouDecide project here on The Higher Tempo in association with Swansea City and their shirt sponsor Letou Sports and become FM18's version of Red Adair.
When I parachuted in, Swansea were deep in the relegation zone in 19th place having just drawn 3 – 3 with Burnley, themselves relegation threatened. Looking back at my experiences, here are 5 things which may help you in a similar situation.
1. Appraise The Current League Position
The first thing to do is take a long look at the league table, whatever league you're in. Your position will basically dictate your ambitions and realistic expectations. I felt lucky to find Swansea in touch with the teams above so it was realistic to think we could get out of the relegation zone. If you're cut adrift with little hope, you might want to think about building for the following season rather than the present one.
As an example below, this is where Swansea were when I arrived. As you can see, the Swans were only two points away from safety. This gave me immediate hope.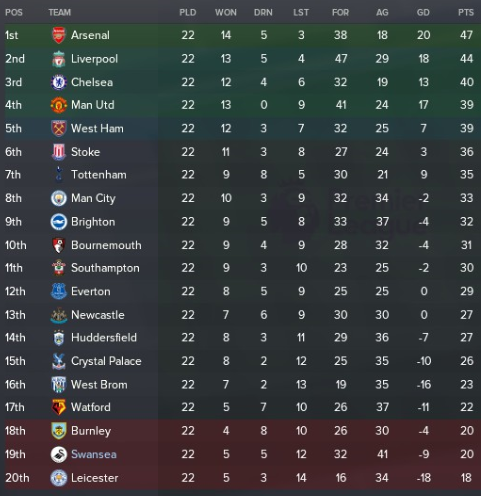 2. Fixture List
If you are going to get out of the mire, then you need to know who you're up against in the coming weeks. Taking over when the next four games are Liverpool, Arsenal, Chelsea and Tottenham looks doomed effort before you even click the first 'continue'. I was lucky in that the next few fixtures were winnable and that's what you want to improve morale, get yourself some quick wins. It's a little business management tip (stay with me) to grab a few quick wins to reinforce your leadership abilities and give those affected something positive to cling to.
In the famous Clough vs. Revie interview one of the things talked about is contracts being unsigned and causing issues amongst the squad, which (amongst other things obviously) contributed to the results being poor at the start of the season and Leeds were fourth from bottom in 19th position with only four points from a possible 12 when he was sacked. Here are my first five games with Swansea, you'd say that only Manchester City was a game you'd not expect to get points from under normal circumstances and the two FA Cup games in red were a good opportunity to spark some performances against weaker opposition.

3. Squad Review
Whatever your talents as a manager may be, once those players step out over the white line onto the pitch, we all know that they'll probably just do what they want so take a close look at what you have available to you.
If you are well into a save then chances are transfers will have been made and the squad is no longer what you expect. Other elements to concern yourself with are injuries, bans and form. Having a maverick star striker might give you hope but if he can't hit the side of a Renault Espace from close range, he might not be the automatic starter you imagine he is.
At Swansea the first thing that struck me was the number of wingers with few appearances, which meant that the previous manager had looked to keep things tight rather than creative. This, of course, then led to tactics.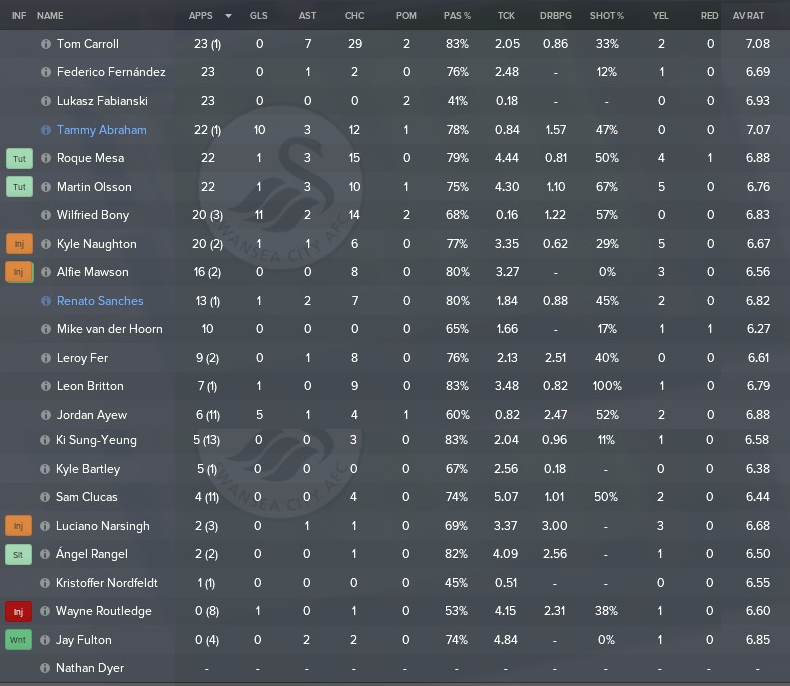 4. Set Up Your Formation
Having evaluated the league, the fixtures and the squad, the next logical step is the tactics. Setting up how you will play makes a statement as to your intentions. Having seen that things under the previous manager at Swansea were narrow and intended to restrict opposition space (which it clearly wasn't having conceded copious amounts of goals), I decided to go in completely the opposite direction.
I employed a creative and wide 4-4-2 with wingers Narsingh, Dyer and Sam Clucas an important part. This serves two purposes, firstly to bring in a fresh system to encourage the players and secondly to scupper the AI, who have been scouting and amassed a dossier based on the last set of tactics. Eventually they will catch up but initially it proved a winning formula.
I've written another guide to be published here on Tempo about setting up a formation so I won't go too in depth but the key choice to make is whether you set something up based on what you want, or what the players are best suited to. In my Swansea midfield I wanted Renato Sanches to do what he's best at, which is as a box-to-box midfielder. This meant shielding him with Tom Carroll in behind as a defensive deep-lying playmaker. Subsequent injuries have robbed me of Sanches but the system seems to work, so I've kept it exactly the same but replaced him with Roque Mesa.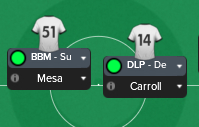 5. Believe In Yourself
It might not sound a lot but if I've learnt anything from the last few incarnations of Football Manager, chopping and changing tactics and decisions too often causes downfall. Whether it's sending a confused bunch of players out onto the pitch with a brand-new system every week in the hope they can for once keep a solid defensive line or transfer listing somebody, only to take him off the transfer list two weeks later because he's the last right-back at the club with a pulse.
Stand by your decisions. If you want to give up the League Cup to focus on your league form, do that, if you want to sign a big name to help with the fight against relegation, splash the cash. Deal with the fallout as it occurs.

Just remember, you're the Football Manager, and you're a good one, aren't you? I'm Charlie Tango, I'm on twitter at @CharlieTangoFM or here on The Higher Tempo every day for the Letou Decide updates. Let me know how your firefighting efforts go!