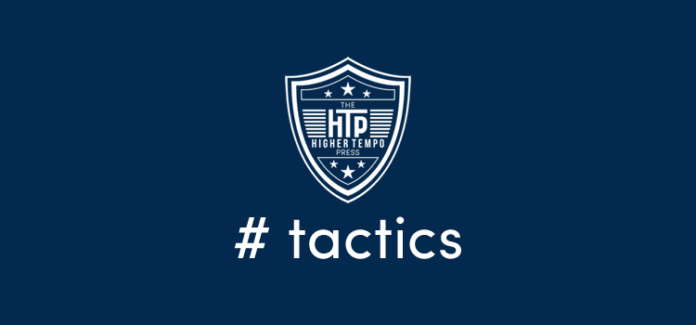 Barca Style of Play
Pep Guardiola started to implement his playing style upon his Man City team almost as soon as he arrived last season, but with an ageing squad and after a disappointing season with Bayern, he couldn't reach the dizzying heights of his old Barcelona side.
Last summer, however, he made significant signings, including Ederson in goal, Bernardo Silva in attack and an array of new full-backs. Ederson provided a sweeper keeper to the team, allowing the defence to push higher up the field. Bernardo Silva gave the midfielders that extra depth they had been lacking (a stroke of genius considering the continuous injuries to David Silva). But it was the replacements to the full-backs that really allowed Pep to put his plan into place.
Guardiola plays a 4-2-3-1 when the game kicks off, as shown in the image below. What makes his system unique, and what makes City 16 points clear at the top of the table, is what happens once they get possession.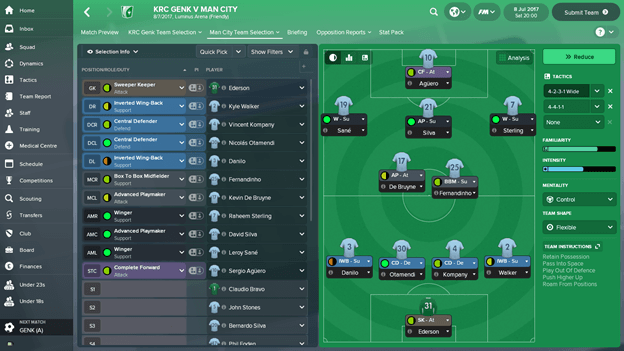 Full-Backs are Key
Many years ago, Football Manager introduced player roles to the game, rather than right-clicking on a player position and dragging to demonstrate how you want them to play. Full-backs were offered a role that, at the time, I barely understood as a young man still getting to grips with the tactical side of football.
Inverted wing-backs were, at the time, described as Leighton Baines-esque, a full-back who cut inside rather than overlapping the winger ahead of him. Perhaps this was the role inverted full-backs were originally meant to play.
Pep Guardiola, particularly during his time at Bayern, developed an innovative way to get the best out of his full-backs to revolutionise his team shape. Mostly visible from his Bayern full-backs, Lahm and Alaba, the Spaniard prefers defenders who can act as central-midfielders.
As seen by this clip, he likes his full-backs to drift inside, filling the space of a CDM, protecting the wide centre-backs. This allows midfielders to push forward, and allows wingers to stay forward too, creating an overload that few defences can cope with. As the clip above shows, in possession, the centre-backs form a flat line, with another line in front made up of the full-backs and centre midfielder.
The philosophy behind it is that it is a lot easier for full-backs to run back to position from the centre-circle than it is from the opposition final third. This provides City with a high line, allowing them to keep possession and dominate the midfield. As seen by this image, the use of inverted full-backs creates this shape perfectly, allowing midfielders to act upon the game higher up the pitch.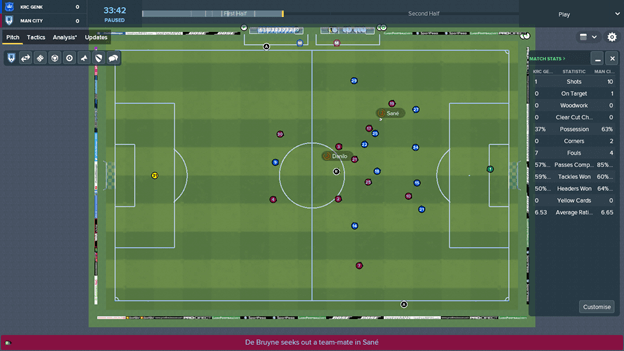 What makes them so effective, however, is how quickly the get back to the wide areas when out of possession.
It is this defensive solidity and free-roam midfield that allows a player like Kevin De Bruyne to enjoy the best season of his career.
Individual Brilliance in a Cohesive Tactic
It is difficult to place a finger on how City attack, certainly in the 2017/18 season. Of course, there is an overarching style to the play, heavily involving possession and building from the back. But when a team is awash with playmakers like De Bruyne who can pick any pass from 30 yards and a forward like Aguero who can play deep or on the shoulder of the last defender, there is no clear style.
Another player who has gone a long way to facilitate this dynamic attacking system at Man City is Raheem Sterling. Many wingers, as their career develops, aim to become central attacking midfielders, as seen by the likes of David Silva, Juan Mata and Thomas Muller. But Raheem Sterling has shown a unique talent this season, in that he is equally effective as an out and out winger, on both sides of the pitch.
Many players are able to switch wings mid-game, or are two-footed enough to get a cross in from either side. What makes Sterling so impressive though is that he is able to change his position based on who else is available for City.
These two clips exemplify this. Whether on the left or right, he plays the same game. He stays as wide as possible, escaping the full-back, to score at the far post from a cross. He has missed a few glorious chances from such positions this year, but by and large has become Guardiola's most dependable player.
If Sane is available, Sterling plays on the right. If Silva (David or Bernardo) is available, Sterling plays on the left. Versatility is a much sought-after quality in football, and it is Sterling's versatility that is the facilitator for City's front page players to break all sorts of records this year.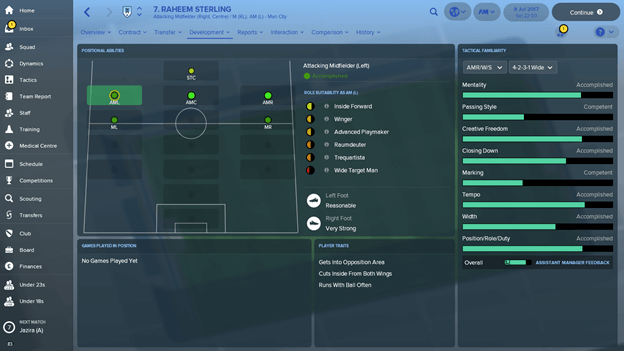 As this screen shows, Sterling is adept on both sides. Football Manager has not yet recognised his equal ability on both the right and left, but his player traits sum his game up. Cutting in from the wings and getting into the opposition box. Here is a player that you can depend on to hunt for a goal when you desperately need one.
That explains why City have been so impressive this season. The abundance of talent in the opposition half means that they can play many different ways to create a scoring chance. If De Bruyne's pass isn't perfect, Aguero's tenacity will ensure he gets it under control. If David Silva is injured, Bernardo Silva can play the intricate football around the opposition box.
Kevin De Bruyne
There are too many key players to focus on, but it is clear that De Bruyne has been the stand out man this season.
This image from Football Manager demonstrates the pitch-wide influence that the Belgian has. As this screen shows, when given the freedom of a direct passing role, he is willing to play an array of sideways passes. Unlike other tempo dictating midfielders, however, De Bruyne plays longer ranged balls, to bring other players into the game.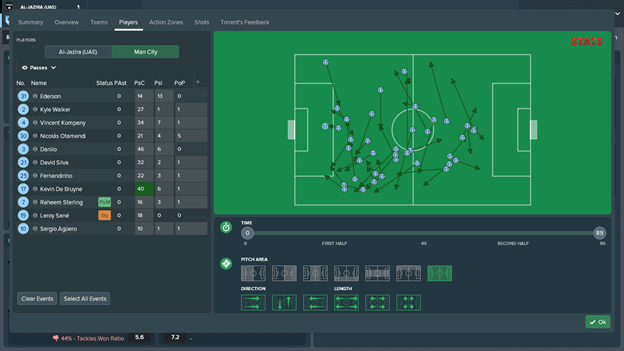 This clip sums up the vision he has, and how he is always looking for that optimistic pass to open up the play. There are too many key players to focus on, but it is clear that De Bruyne has been the stand out man this season. Having that focal point is what allows City to attack from every angle, and is the driver of the machine put together by Guardiola.
Attack from all Angles
By having such a bulky midfield as a result of the two inverted full-backs (see below), City are a constant threat through the middle, and teams vacate this space at their peril.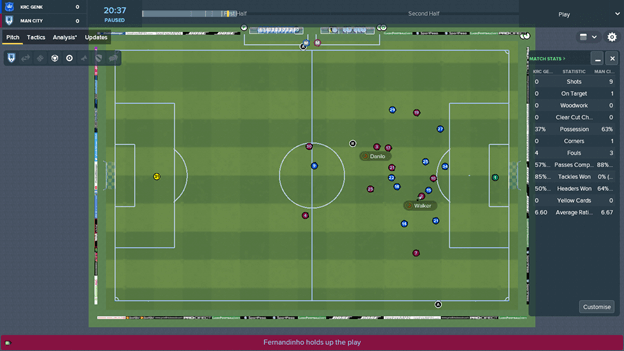 City, therefore, can press, win the ball and play a pass through the middle without breaking into a sweat, like in this clip.
However, the inverted full-backs also allow the wingers to stay wide, creating space for teammates in the wide areas of the final third, ensuring that they are equally dangerous from crosses, such as in this clip from the same game.
Tactics win Trophies
Man City are going to win the Premier League this season. It's not that bold a claim to make, even considering that it is February, they are just a class apart from everyone else. Yes, they have spent big, but who hasn't? What Pep has done is spent wisely to find players who are willing to experiment with a relatively radical system.
Any team can spend money and win the league. But Man City are going to win the league with one of the best footballing sides the Premier League has ever seen. And that is down to Guardiola's tactics, alone.
It means that in order to beat City, teams need to exploit their one weakness, quick, wide counter attacks, that leave the centre-backs exposed. Only one team has actually managed that though this season, and it stands to reason that that team would be Liverpool.
This goal sums up how to counter City, with a quick ball aimed to a winger while either City full-back is out of position. The important thing in FM is to respond if the opposition are doing this time and time again, to change the shape slightly to accommodate.
The important thing when implementing these tactics in game is to ensure that the defence is intelligent. Attributes like positioning, decisions and work rate is key, to ensure that that back-line is solid. From there, your attacking players can express themselves up front, to hopefully win you some trophies in style.
The key is to use those inverted full-backs, but combine them with two centre-mids who are going to utilise the cover behind them by charging forwards at the opposition. The tactic also requires out and out wingers to be totally effective, so you may struggle to recreate the tactic with a side like Tottenham, who prefer to have their attacking players doing the talking in the middle.
The most important thing you can do though is use those full-backs. It'll look strange on the pitch at first, but once you get used to it, and they do too, it will work wonders for your goal tally.