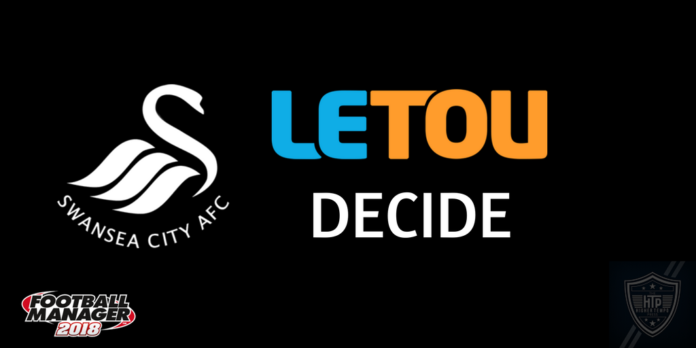 After last Saturday's debacle of a press conference when I was asked just two questions, I'm assuming today's engagement will be brief and I can go back to selecting my team to face Portsmouth.
It's an interesting consideration because Portsmouth are actually doing really well under interim boss Stuart Pearce in League One, they're second behind Charlton Athletic. In fact, if you're in the North West then League One will be your league to follow as there's Fleetwood Town, Wigan, Blackburn Rovers and Blackpool all pushing the top two for promotion. There's the added bonus of Yorkshire's Bradford City deep in the relegation mire.
Apparently, there's 15 journalists in the press room for this one, so perhaps there will be plenty of questions to sink my teeth into.
Reporter: The draw for the FA Cup has been rather kind to Swansea, matching your side against Portsmouth, a considerably weaker opponent. Is that an assessment you agree with?
Me: I actually think it's tougher than people realise and we'll do very well to get through. They are eight games unbeaten and second in their league, so high on confidence.
Reporter: Last time out against Crystal Palace your team played very well. You must be hoping the side carries that form into this next game?
Me: Everybody knows that we have to keep working hard to put together a good sequence of results. We can't think this will be won by just showing up, everybody must concentrate and contribute.
Reporter: Might you have a problem motivating the team against opposition like Portsmouth? Complacency must surely be an issue ahead of this match?
Me: Portsmouth are very capable of beating us, especially if we turn up and try to just go through the motions. It's imperative we approach this professionally. If I detect a player is lacking motivation, they'll be dropped.
Reporter: The game against Portsmouth is one your team should really be winning, but upsets happen every season. Are there any nerves among your players at the possibility of being embarrassed here?
Me: They're certainly aware of the possibility. Will that have an effect? We'll have to wait and see. We've caused upsets ourselves recently so we're no stranger to that.
Reporter: You don't seem particularly confident – are the nerves starting to get to you too?
Me: There's always a little tension pre-match, it's nothing out of the ordinary.
Reporter: Recent reports have suggested that you are keen on making Tammy Abraham's loan stay a permanent one. Are you prepared to go on record with your thoughts on this story?
Me: I'm not sure that's a realistic idea at this stage. Why are you obsessed with money and transfers? How much was Mahrez? How much was Cantona?
With that response, the press conference ends. Perhaps it's wise considering that's the second time I've been asked about Tammy Abraham, the first was during my first press conference. My response as I recall was just as curt.
What I'm really thinking about is how many players I can rest and us still emerge victorious to progress one more round, which is one more round closer to my dream of leading Swansea out at Wembley. I keep getting told that I'm a Cup manager, the majority of my success has been in cup competitions so I'm fully embracing that moniker.