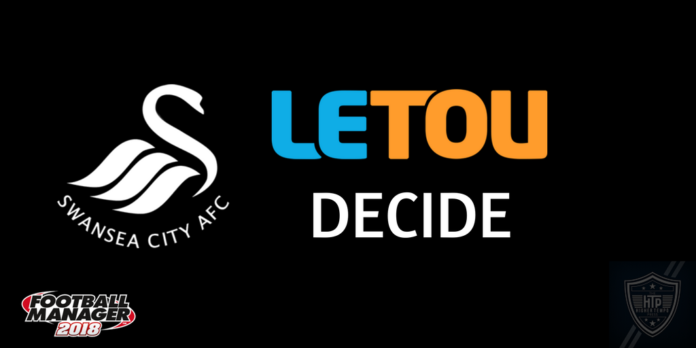 Yesterday I said I was going to talk about transfer deadline day. An important part of what I and the staff here are doing, in partnership with Letou and the Higher Tempo Press, is to put the focus on you as fans, as football people, as game players. It's the reason I ask for your help on a weekly basis to select the team, why I'm interested to hear your predictions, who you want us to get in the cup and in truth, why I agreed to leave the relative comfort of Romania to manage Swansea City in a relegation battle.
Today I present two scenarios for you to peruse and to choose from. I call it Schrödinger's Deadline Day. Not the most creative title in the world, I grant you, but it does the job. If you don't know the story of Schrödinger and his cat, then either you're not a fan of The Big Bang Theory or your scientific education has failed you. Here are two scenarios, at the end there'll be the usual link to @TheHigherTempo on twitter for you to vote on the outcome.
Scenario 1
As we're not planning on conducting any business tonight, I've got plenty of time to answer a press call about my comments on Newcastle's style of play having an impact on the two sides' performance. I casually reply; "I'm very happy with the result, it backs up what I was saying before the match. I feel vindicated and hopefully my side will start getting some deserved plaudits for the way we play now." I don't normally like to plan press conferences like Jose does, but this one was worth it to twist the knife in Rafa.
I hop onto the team coach and switch my phone off, my laptop in my bag doesn't even get a look in. Despite Leon Britton's concerns about playing time and Ki Sung-Yeung's negative attitude, they're both staying. I can feel them staring at the back of my chair but needs must. If Tom Carroll or Renato Sanches get injured, we'll need them and I see nobody available around who can just slot in seamlessly.
I do regret not following up that interest in Andre Gray, we've brought back Oliver McBurnie from Barnsley so that should mean we've got depth up front now. A couple could probably go out on loan but if we send out the wrong player, that could mess us up. It's not worth it.
23:00 – All that's left is to stop off in Newcastle for our dinner, may as well as nobody is going anywhere and we'll let transfer deadline day end quietly.
Looking around at our squad, there are problems but they are our squad. They've been with us since the start of the season and if we're going to survive, if we're going to get through to the next round of the FA Cup, we need all of them. These are my players.
Outcome: No transfers are made on deadline day, squad remains exactly the same as season start.
Scenario 2
A call from the press? I've not got time for such trivial matters! Nigel Gibbs can say a few words. This is deadline day and I've been fannying about all day getting a team ready to play Newcastle United, then playing against Newcastle United.
I've got more important things to do, there's wheeling and dealing to be done. Waste of time sharing a bottle of cheap plonk with Rafa. He's hardly likely to sell us a player when we're two points shy of them with a game in hand.
No, it's on the phone and the laptop is out. Nobody is going anywhere until deadline day is over, I don't care whether our after-match meal is eaten in a Little Chef beside the motorway at midnight. What time is it? Jesus H. Christ, there's not long to go. The window 'slams' shut at 23:00. Much to do.
21:45 – Leon Britton reminds me of a promise to at least try to sell him. I don't remember making such a promise, maybe I inferred it. I send a few emails around to at least drum up some business. Looking at the squad, I offer out Kyle Bartley, Jay Fulton and Oliver McBurnie back on loan. If nothing else training will be easier with fewer squad players lingering like bad smells. McBurnie was good but I've got something in the pipeline.
22:00 – An hour to go and I've put an offer in for Andy King, over at Leicester. He's hardly played all season, captaining their U23 side. He's got experience and I trust him more than Ki Sung-Yeung to cover if Renato Sanches or Carroll get crocked. Leicester liked the idea of that. No sooner had a put the phone down, I've got emails flooding back in. Kyle Bartley has got a choice of Birmingham, Fulham, Ipswich or Derby County. Nothing back on Leon Britton, I had a word with him and he's delighted to put some feelers out. "The sooner I'm out of here the better!" Cheeky bastard.
22:15 – DEAL DONE! The unhappy Ki Sung-Yeung is flogged to CSKA Moscow for £7 million. Now we're in business. I just need to finalise the loans because all three players I offered out had suitors on standby. Jay Fulton is off to Reading on loan, Bartley chose Derby and Oliver McBurnie returns to Barnsley.
22:30 – All three loans are finalised with the Sky Sports transfer ticker going into overdrive. I've confirmed the Andy King deal, which was important to get over the line before allowing Fulton to depart.
22:45 – Two big transfers done! Leon Britton has engineered a move to Hellas Verona in Serie A, we're still picking up the tab for a small portion of his wages but it's worth it not to listen to him moan about not being a first choice anymore. The second transfer is an incoming and was only just presented to me by the West Ham board, I've gone ahead and agreed to bring back André Ayew. Oh yes, the brothers Ayew ride again!
23:00 – That's it, business done. Nothing more to do. We pack our gear and head onto the bus to give the remaining players the news. Jordan beams with a smile as wide as the Angel of the North. We've upped our transfer record from £15.5 million on Borja Bastón to £18.5 million, West Ham United replaced him with Celtic's Scott Sinclair.
Outcome: Andre Ayew signs from West Ham, Andy King signs on loan from Leicester. Jay Fulton, Kyle Bartley and Oliver McBurnie depart on loans. Leon Britton and Ki Sung-Yeung sold.
So, having read the above scenarios. Which path should we take? Signings or maintain the status quo? An active deadline day or a dead deadline day? Vote on twitter @TheHigherTempo or click the embedded link below.
We've hit pause in the #LetouDecide project on transfer deadline day. What happens next? You decide! Is the Swansea squad subject to late transfers such as King & Ayew or will @CharlieTangoFM have to stick with the squad he found when he arrived at the Liberty?

— TheHigherTempoPress (@thehighertempo) February 2, 2018