It's been a while on this one, hasn't it? Well, here we are again.
I left it with the January window opening and an FA Cup tie with Sheffield United around the corner. A potential banana skin at Bramall Lane was easily negotiated thanks to a 20th minute Andy Carroll strike.
Before we could get to our next match, Cheikhou Kouyate was knocking on my door. The midfielder was not happy. Minutes were his issue, or his lack of them, in fact. I tried telling him that Mark Noble was playing just too well – which, bizarrely, he was – but he was having none of it. As ever, I failed to calm the situation and I had a few players come whining.

The carnage continued. Brighton then brought forward an offer for Diafra Sakho. I accepted. He was not playing frequently and the money is always handy with the two Davids in charge.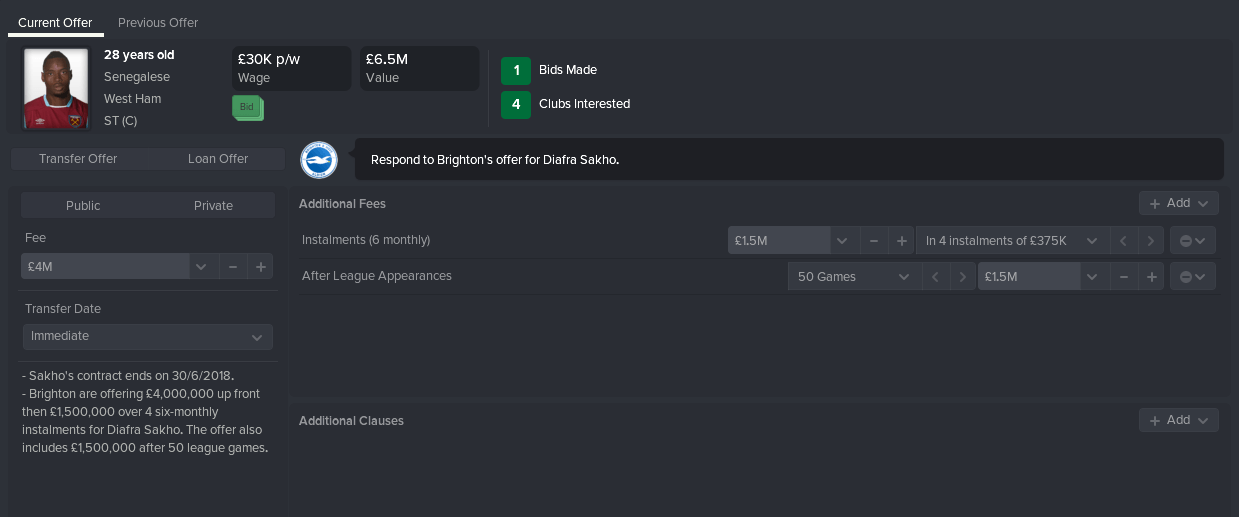 The following clash away at West Bromwich Albion did not go as planned. Angelo Ogbonna seemed disinterested in marking Salomon Rondon, which inevitably led to falling two goals behind. Marko Arnautovic appeared off the bench to set up a cracking Manuel Lanzini finish, but that did not quite provoke a dramatic comeback.
A quiet week followed. The undercurrent of Spurs' visit was clear, though. And, out of the blue, we started rather well. Michail Antonio was a threat in the first half, but Serge Aurier was the real MVP for us. The Ivorian was sent off for two yellows inside the first 20.
It was Antonio who produced for the breakthrough. He got free down the right, and whipped a swerving ball to the back stick. Lanzini side-footed it in.
Even when we had been in control, we found a way to mess it up. Harry Kane was played in down the inside-right channel and set up the equaliser. All our good play up until that point had been undone in one attack.
All our pressure came to nothing in the second half. Andy Carroll was replaced by Javier Hernandez when he broke his nose, but the Mexican could not provide the crucial finishing touch. Lanzini missed a couple of opportunities, too.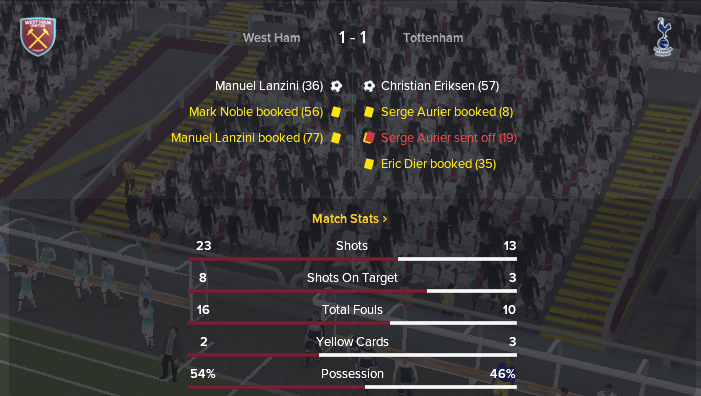 Sakho was sold soon after the match. He was not too pleased with me, and left with a slightly bitter comment, which was charming. The budget didn't get much of a boost from it.
I had already decided that January wasn't for me. The squad was okay, and we were basically wedged in mid-table.
Still crest-fallen from Spurs' equaliser, it was time for Huddersfield. Poor defending from a corner saw an early deficit.
That was soon repeated. 2-0 down at home to David Wagner's side was not a good look.
Poor finishing obliterated any comeback hope. Carroll rolled one at the 'keeper from a few yards, then Pedro Obiang hit the woodwork when it was easier to score. Almiron played his part in it, as he headed into the side net when the opposition's goalkeeper was off on a wander.
Laurent Depoitre made it three late in the second half. A harsh result that looked more like a battering than it should.
Up next: Millwall in the cup.
The biggest rivalry in British football? Well, maybe, but certainly the one with the spiciest relationship between the fans. There will be no Green Street re-enactment on my watch, though.
Bad stuff did happen. Not off the field, but on it. An early lead and a controlling start made it all look rosy. Two brutal sucker-punches put us 2-1 down at half-time.
I was not too worried. We had plenty of time to get back in front and were playing well. We did not get back.
I will save you my tedious waffle with the hard numbers from the game. That will tell you just how frustrating this was.
This is where we wave goodbye to Episode Three, unfortunately. I shall return soon (hopefully a fair bit quicker than last time) to update you on my quest to consolidate in mid-table. Just remember, it's better than Slaven Bilic so far.