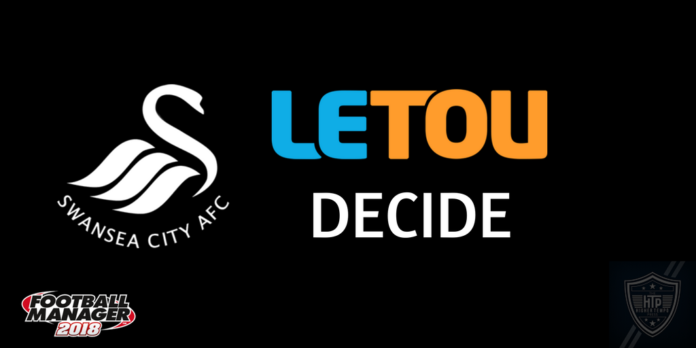 Yesterday we had a look at the transfers happening around the world of football, headlined by Jorrit Hendrix's move from PSV to PSG for £64 million, which could rise to £70 million. That could be beaten by Nabil Fekir's transfer, he's gone from Lyon to Dortmund for a fee that could see the French side £72 million richer.
As a manager, especially in the Premier League, it's important to know what is happening not only in your own league but those around it. Knowing that Dortmund are doing poorly and may not even qualify for the Champions League (unlikely) means that at the end of the season some top-quality players may look to jump ship to maintain their participation in Europe's elite. Today we're going to take a brief glance at what is occurring in some significant leagues.
Barcelona have a four-point advantage over rivals Real Madrid in La Liga and hold nine points in hand over A. Madrid. The real problem for Barcelona is that Real have two games in hand, win them and they will reach the summit. What's adding to that worry is that Real's goal difference is better so a win and a draw will see them go above. At least the El Clasico Derby just four days ago went the way of Barcelona, without that win, they would be just a placeholder. Malaga are doing well in fourth under the stewardship of manager Michel, especially as they were predicted twelfth.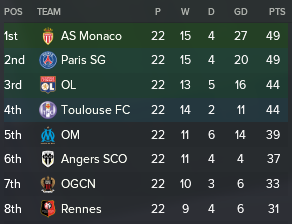 Despite selling the majority of their best players during the summer, Monaco are the league leaders in France but only by goal difference from Paris Saint-Germain. Both Lyon and Toulouse are only five points back with Marseille a further five away. It's surprising to see Marseille that far back with the players they have in the team (Payet, Patrice Evra & Luis Gustavo) but Rudi Garcia doesn't appear to have them firing on all cylinders.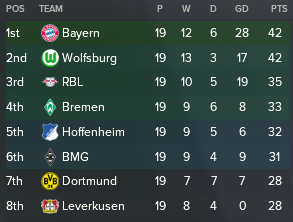 Surprise is the order of the day in Germany as Bayern Munich are joined on 42 points by Wolfsburg, who are riding a wave of momentum thanks to goals from Divock Origi and Mario Gomez. Dortmund have been disappointing, they find themselves down the league in seventh with seven wins, seven losses and seven draws. That feels decidedly German. With the signing of Nabil Fekir, they should claw back some of that 14-point deficit to Bayern.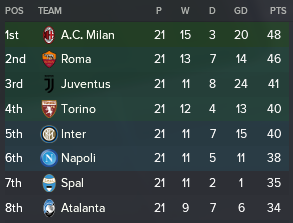 Following investment in the summer, it's no surprise to see AC Milan lead the charge in Serie A. All the big hitters are around the top six with Torino doing well to be ahead of Inter, Napoli and Atalanta. Juventus are seven points off AC Milan but they are coming good with four wins and a draw from their last five games. With a winnable Champions League first round knockout tie against Red Bull Leipzig to come, Juve just need to get their heads down and grind out results to bring themselves back in contention.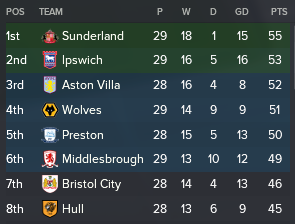 If you thought Sunderland might struggle after finally being relegated from the Premier League, you'd be very wrong. The Mackems sit first above Ipswich Town, also bidding for a return to the top table, albeit after several more years. Aston Villa are third, ahead of free-spending Wolves, our FA Cup opponents on Saturday Preston and Middlesbrough. Bristol City, Hull, Derby, Cardiff City and Fulham all are in with a great shout of the play-offs so the race to the Premier League is far from over.
Tonight there's a small league program with Brighton at Chelsea, Everton entertain Huddersfield, Stoke travel to Tottenham and the one I'm interested in; West Brom welcome Newcastle United. We could really do with Newcastle to do us a favour but considering we play Newcastle in our next league game, do we really want them to build momentum? A drab 0 – 0 please, I like drab matches.