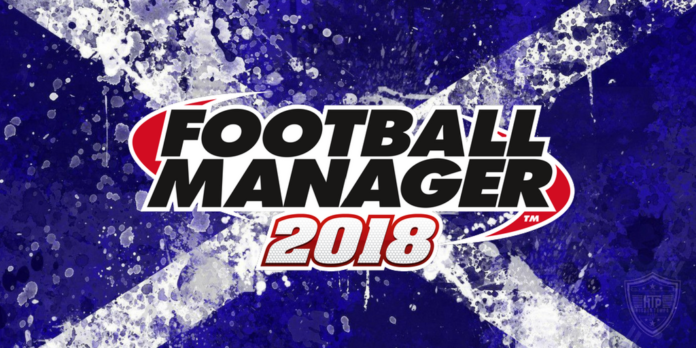 I've gotten teams promoted before on Football Manager. FM08: I cantered to the Championship title with recently relegated Spurs. FM14: I cantered to both the League One and Championship titles with Rangers. FM15: Got Rangers promoted as champions.
The following seasons though were fairly straightforward for the most part. With Spurs, I'd sold off the likes of Keane, Berbatov, Jenas etc. and raked in over £100 million so bought quality players and got them to relative safety first season back (which I was sacked for inexplicably). Rangers in FM14 were a group of players I'd groomed into a shape and style that they enjoyed and were confident in and we cruised through the leagues without having to radically change the squad. FM15 Rangers weren't exactly rich but had enough in the bank to bring in enough quality to keep us mid-table.
My point? Never in all my life have I felt so outgunned on Football Manager when being promoted. Caley are not a rich team by any stretch. We weren't even close to the biggest spenders in the Championship in both of our seasons there. So, even with the likes of Motherwell and Falkirk in the league with us, we're still hopelessly behind monetarily. We've got the lowest wage total in a year at just over £800,000. Falkirk are above us and they're just over £1 million. Celtic are top on £32 million per year. That's a lot more than us.
Still, there was no point complaining, it just meant I had to find bargains. So, while Celtic signed Theo Walcott and former Juventus man Tomas Rincon, I had to search the bargain bucket for anything useful.
My first two signings were youngsters Graeme Lynas and Kyle Lucchetta. Lynas' deal was done a while ago and he's costing me a sweet £425 from Cowdenbeath. Looked decent. Lucchetta is tripe but he's Canadian and I'm a sucker for obscure(ish) footballing nations.
I then decided to strenghten my midfield with two players that have done well enough at lower levels. Ian McShane was a nice little free transfer after being released by St. Mirren while Joe Thomson was my only outlay this summer at £18,500. Both really good midfielders and will help replace Adam King who I couldn't convince to lower his demands.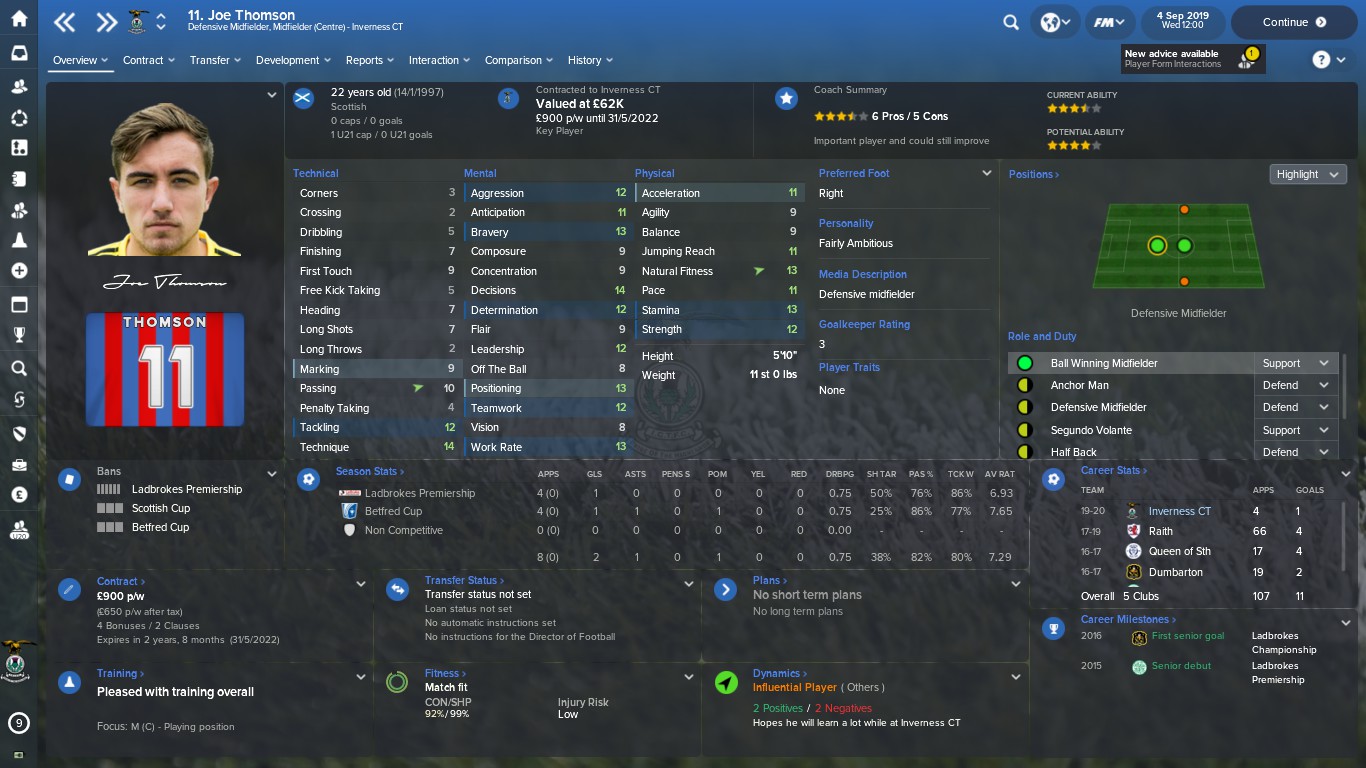 Finally, I added a striker because I wasn't confident enough in Bell, Goodwillie and Shankland. I'm quite pleased with this find by my new German chief scout: Dominik Stolz. He's a tasty little player that was turning out on an amateur deal for Luxembourg's Dudelange.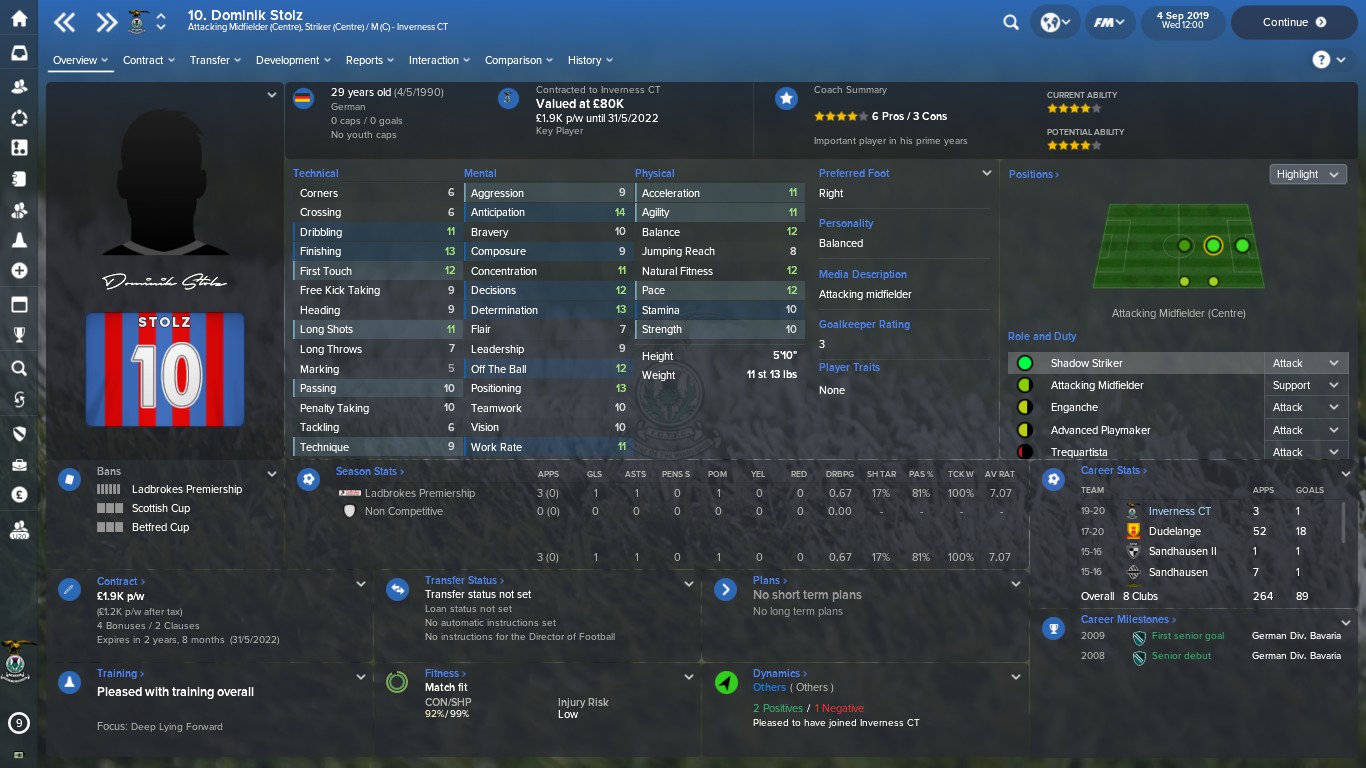 That was it for the ins but the outs were even quieter. The usual loanees left including Daniel Hoban, Mitchell Foy and Liam McDonald while the released contingent included Baird (blame him for everything), Lee Holmes, Ryan Esson and Alex Cooper. All overpaid. All s***e.
We didn't fully embarrass ourselves in the Betfred Cup this season. Comfortable wins over Raith and Peterhead meant that we could maybe sneak through after our late opening loss to Partick but Stranraer managed to take us to penalties. We won but we're still out. One day. I'll get past that group stage.
The league? We're bottom.
It doesn't look too bad there but we haven't been brilliant so far. We were 2-1 up against Hibs at half time in our home opener but, in an ominous moment, I turned to my other half and said, "I bet we lose 4-2 here". She didn't care. We lost 4-2. She still didn't care.
In truth, we haven't been terrible bar our opening day defeat at Dundee. We lost in the last minute at Hearts too and, looking at match stats, we're getting at least a couple of half chances in most games. Against Falkirk we had two CCss from six shots while they had twelve shots and the same number of CCCs. So, we're creating good chances as opposed to lots which is promising.
Here's a shot of the stats from our solitary league win at St. Johnstone.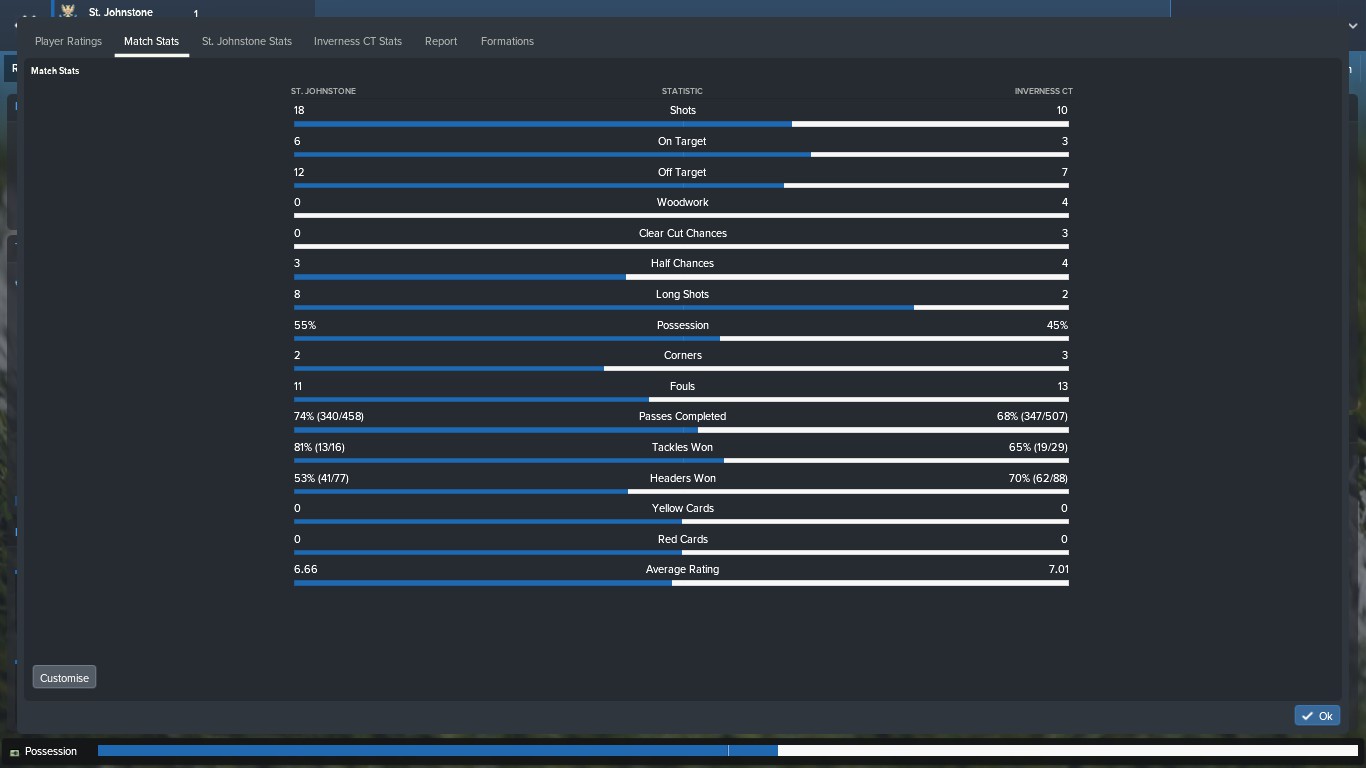 On shots taken, we deserved to lose yet look at the chances created for us and them. They were limited to three half chances and eight long shots. Their goal came from my players kicking it against each other (something that has happened a lot this season already) and other than that they were nowhere near getting an equaliser. We created at least seven chances of note (if you credit half chances too) and got the win. The four times hitting the woodwork was frustrating too but we got there in the end.
So we're solid but very very unspectacular. If we continue playing and creating like this then we'll be economical in picking up points and should hopefully have enough to finish tenth which is my ultimate aim this year. The players have already expressed concerns over our style but I told them to f**k off and actually win some games before bitching to me. It unsurprisingly worked.
So, that's about it. Join me next week as I likely get sacked with Inverness eight points off the relegation play-off. Although, if Richie Foran survived all last season in real life with Caley so bad then I'll probably see this season through.
Until next time.