It's time for our first international break in charge of the United States Men's National Team! In the month that's gone by since the save's start date, I've looked at the nothing available to me for performance statistics, and I've pondered what my first starting eleven would be, and now we're going to take a quick glance at my first international squad before eventually getting into the matches against Trinidad & Tobago and Jamaica.
Right now it's early February 2017. I selected the earliest USA start date available since the US and Major League Soccer are of the most interest to me as the USA boss. This means that come February, we've seen only a handful of preseason matches for the MLS and there is no activity abroad since the game doesn't have matches available for European teams before the start of the European 2017/18 season.
Domestic players have only 1-2 non-competitive matches under their belts if they've started for their teams yet, and foreign-based Americans haven't started playing at all. In light of this, I've opted to just let my assistant manager select a starting eleven for this first international run because I haven't been able to look at performances myself and make an informed decision on the state of the team.
Ahead of the Trinidad & Tobago match, this will be my initial starting eleven: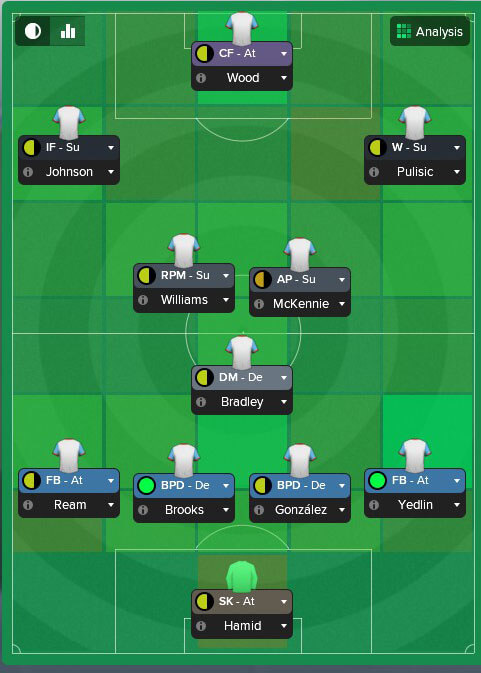 Starting XI: Hamid; Yedlin, Gonzalez, Brooks, Ream; Bradley; McKennie, Williams; Pulisic, Johnson; Wood
All of the above links will open a new tab with an image link of the players in my FM18 save, so you can take a look at them yourself, but I'll go into my thoughts behind what suggestions I've taken from my assistant manager and why.
Aging 37-year-old Tim Howard (Colorado Rapids) is the regular starting goalkeeper for the USMNT, and who could blame Klinsmann or Arena for making such use of him in real life when he's got 13 years of experience abroad between Manchester United and Everton and is still regularly starting for the Colorado Rapids from Major League Soccer? He is by all accounts a fantastic goalkeeper still, but he's definitely on the back-end of his prime. 32-year-old Brad Guzman, a fantastic second choice goalkeeper, has a CV showing over a decade with Aston Villa and Middlesbrough before returning to MLS with Atlanta United, but he's also getting older.
26 year-old Bill Hamid, so far a career D.C. United player, is a younger player who's physically in outstanding condition and mentally and technically in excellent control of the goal with a little bit of room left to grow as a 'keeper. If I need to call up Howard, I will, and I'll start Guzman still as a backup keeper, but since my managerial philosophies are geared more towards the younger players, I'm willing to forego experience and the usual veteran players to find a younger player, and this young goalkeeper fits the bill right now! My assistant manager's decision to start Howard and bench Guzman has been overridden for Hamid and Guzman.
For the back four, my assistant has identified Deandre Yedlin, Omar Gonzalez, John Brooks, and Tim Ream as ideal selections. I've got some real life favorites in my head that might bias my selection later on if they perform well, but right now we've got physically and mentally fit national team regulars in the back who look like they can meet the demands of the job. Gonzalez has lower technicals of the lot, so as a central ball-playing defender, he might be a weak link in the long run, but I'm willing to give him a shot.
29-year-old Michael Bradley as a defending DM is my pick for above the defensive line, as suggested by my assistant. The Toronto FC player has experience in the Eridivisie with Heerenveen, in Germany with Gladbach, and in Italy with Roma. With the development afforded to him by these elite European clubs, he's in his prime and mentally and physically at the very top of his game, and he's got excellent marking, tackling, and passing ratings. He should be a solid insurance policy to place ahead of my two central defenders.
Weston McKennie, a Texas-native and product of FC Dallas's excellent youth academy is one of the choics for center midfield. He's a viable option up and down the center of the pitch. In real life, he's recently received his first senior cap with good reason. He's going to be an excellent player for Shalke 04, and he's got some amazing ratings for an 18-year-old American.
German-born American Danny Williams is a player I'm not completely familiar with, but my assistant thinks he's an excellent choice, and he's seemingly a good player for Huddersfield, but I mainly stamped his papers and let him on board the plane because I was playing some FIFA recently and I want to joke that The Williams is on my team!
What national team sheet wouldn't be complete without Borussia Dortmund's American wonderkid Christian Pulisic? As a kid, he's naturally not as well rounded as a more senior player, but he's without a doubt considered one of America's top youth prospects, and if he continues on the path he's taking, will be a regular for years to come with the national team.
Fabian Johnson is an excellent player up and down both flanks, and has the ratings needed to be excellent at whatever he does for me, in those positions, so he's been selected as a versatile option to move up and down the left and right flank as needed, though I can't say I'm completely familiar with him in real life.
Bobby Wood has the physical, mental, and technical attributes needed to be an excellent attacking option, and he's edged out some older choices to be main attacking outlet for the team, though again, I'm not as knowledgeable about foreign-based Americans as I'd like to pretend I am, so I'm taking my assistant's word that he's the best we can choose. Which is fine with me, as he does look good!
Now that the team is out of the way and has taken way too long to write out for fluff, we need to cover the two matches we are taking these guys into!
Two matches of the Fifth Round of World Cup qualifying have already been completed, and we're top of the table right now ahead of our next opponent, who trails us by two.
My prediction ahead of this group against Trinidad and Jamaica is that while I won't underestimate their abilities, I do feel confident that we can deliver good results against them.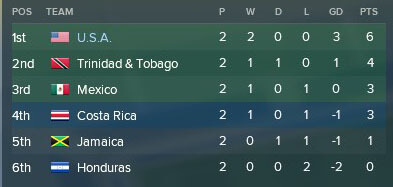 Lo-and-behold, we've taken a comfortable win away from home against Trinidad & Tobago!
Trinidad opened proceedings with an excellent header from a set-piece that beat Omar Gonzalez to the goal before we took advantage of our superior ability and experience to see Bobby Wood, Fabian Johnson, and subbed-on veteran Clint Dempsey put us comfortably ahead. A fairly satisfying result, if I do say so myself!
Our next match was against Jamaica, and we shockingly were held back by a combination of our own fouls and a defensive Jamaica to see a loss in a close battle after a single goal from the opposition was scored.
We kept the same basic tactical shape, but feeling ballsy in a home match, I had opted to attempt to take a more aggressive and attacking approach compared to my more conservative play of the previous match-up, which may have ended up hurting me.
We're still at the top of the table right now ahead of Jamaica, who won both of their matches.
I would argue that we were supposed to take a positive result from that match, but we couldn't this time around. That's soccer, I suppose.
My initial impression of the first two matches is that when we're set up the right way, we appear to be able to create plenty of chances at goal, though delivery of them was a headache at times. As I was concerned about when I was looking at his stats before the match, Omar Gonzalez turned out to be a less-than-ideal choice as a ball-playing defender. To be fair, he wasn't completely suited for the role, but with two 6.3 ratings before second half substitutions, he stood out as the weakest link of the team both times around. Once I have some time to analyze actual match performances, I'll be seeing if he can remain up to snuff or if I should call up someone else since I do have a shortlist of other options I'd like to try.
Future posts won't be quite as long because I won't write out everything there is to think about for the team, but this was our first round of matches on the new save, so I wanted to. The next two matches are friendlies before we get into more competitive matches in the summer, so I'll likely skip them.
When I return, the MLS season will be about mid-way through and the Europeans should be in preseason or thereabout, so hopefully we'll have some stats to look at for a chunk of my pool of players. In the next update, I'll look at those two friendly results, decide who I like for my next competitive international squad, then we'll go through the next round of World Cup qualifying matches.