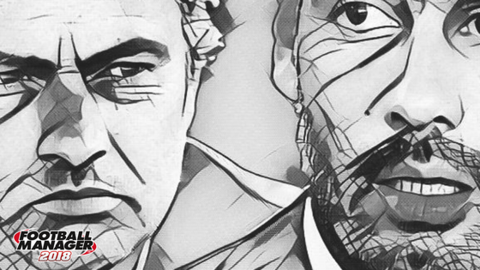 Preseason

Birmingham's preseason (Garrido): A mixed bag in pre-season as Birmingham as win 50% of their pre-season friendlies including a disappointing defeat to a poor French side in which we absolutely dominated. That being said the players are still getting used to the possession tactic I've implemented, and there are some signs of it beginning to take.
Villa's Preseason (Ferrentino): Villa remained unbeaten throughout pre-season, although the amount of goals shipped early in pre-season is a slight concern for Ferrentino, although just like Garrido's Birmingham – they're still learning the system.
August

Birmingham's August (Garrido): A disappointing defeat to League 1 Wimbledon was the only low of a fantastic month, with Birmingham remaining unbeaten in the league after 5 games, placing themselves just outside the playoffs in 7th place. A strong start!

Villa's August (Ferrentino): Ferrentino's defensive stability proved to be a winner, with 4 wins on the bounce without conceding a single goal. James Wilson is looking a fantastic addition for only 10k a week and has already got Ferrentino thinking of extending his stay until the end of the season (depending on how well Kodija and Hogan do on their return!)
September

Birmingham's September (Garrido): The fantastic record from August has disappeared without a trace and as a result, Birmingham plummet down the table to 14th. Oh dear. That being said, a point against a decent Hull side isn't terrible and we've dominated for large parts of most of the games, just struggle to turn possession into decent chances. If October goes the same we may have to have a tinker with the formation…
Villa's September (Ferrentino): Ferrentino had an equally bad month with a fantastic performance against Brentford quickly forgotten after a smashing by Barnsley. Villa are still around the play-odds though and have now dropped to 7th in the table.
October
Birmingham's October (Garrido): Only 2 games played in October (as the third is the first crunch match between the 2 managers and will get its own piece) and it's a mixed bag, with a disappointing home defeat to Cardiff is balanced out by a point away at Millwall (which is never a bad point to take!)
Villa's October (Ferrentino): A defeat to a ridiculously strong Wolves team isn't too bad, and a last-minute James Wilson goal grabs a victory at Fulham.
So with the first derby between the managers coming up next, there really isn't much to separate them – with just 2 points in it!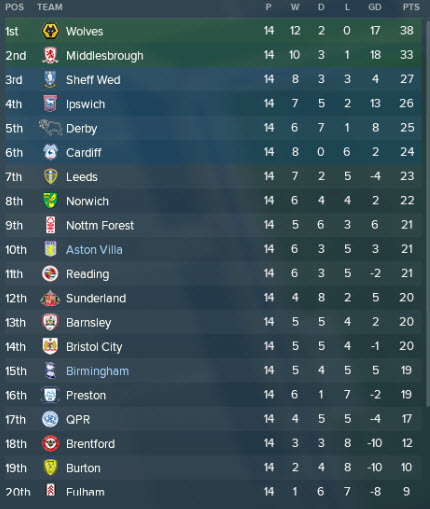 Join me next time as we have the first crunch match, to see who will take first blood!