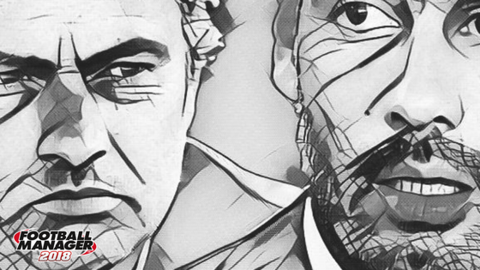 In episode 1.0 I ran through the premise of the save and introduced the managers, now it's time to explore their philosophies a bit deeper, and to sort out the transfers for the forthcoming season, starting with Raul Garrido who'll be taking control of Birmingham City.
Raul is highly possession orientated and is blessed with a plethora of midfielders. The main part of the squad that's lacking in quality is wingers. Therefore Raul is going to play without wingers and line-up in a 4-3-2-1 formation. With Jota and Jeremie Boga as attacking playmakers, the team has creativity and flair in abundance.
Emerson Hyndman is bought in a loan deal from Bournemouth with a 50% wage contribution (£7,500 a week) to be our last loan signing and should bring a bit of class to the central midfield.

Harry Redknapp had already bought in 4 loanees, which meant Hyndman would be our last signing:
Sam Gallagher – Striker from Southampton

Boga  – Winger/attacking midfielder from Chelsea

Carl Jenkinson – Right back from Arsenal

Liam Walsh – Defensive/Central midfielder from Everton
With a limited need for players and a small transfer budget of just £1m, Raul felt no further need to reinforce the squad any further, and has decided this will largely be his starting 11 going forward: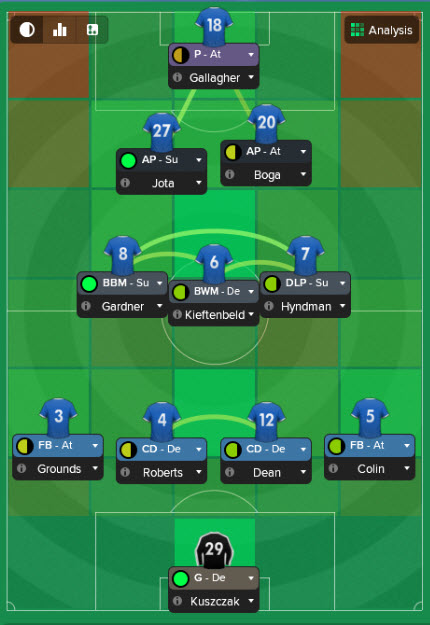 The full-backs are set to bomb-forward when we've got the ball, which should help counter the lack of width we'd normally receive from having wingers, they're also expected to obviously track back and defend when we don't have the ball, which should keep us nice and compact.
The central midfield trio of Gardner, Kieftenbeld (who Raul turned down a bid of almost £4m from Fulham for!) and Hyndman add graft combined with good technical ability for both protecting the back 4 and for working the ball up the pitch to the attacking midfielders.
Jota is set to attacking playmaker on a support mentality. It's his job to play those defence-splitting balls and to ping the ball around for the full-backs to get onto when they bomb forward. Boga is set to an attack mentality, to run at the opposition defence to hopefully cause panic and to create gaps for Jota or another player to hopefully exploit.
Sam Gallagher is chosen to lead the line, with Che Adams on the bench being a fantastic alternative if the youngster isn't having the greatest of games.
Fingers crossed it pans out as Raul hopes, find out how Aurelio Ferrantino lines up his Aston Villa team in the next episode!