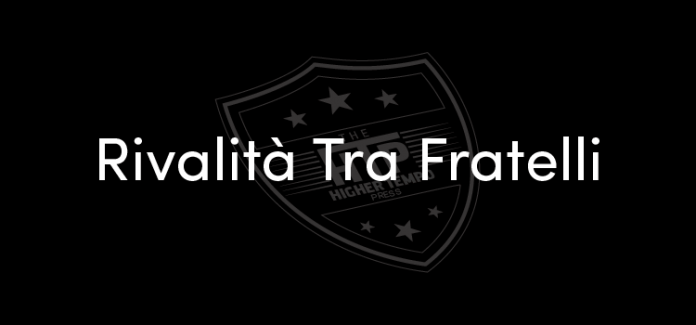 This is the story of two brothers, a modern-day Cain versus Abel if you will, based now in the Allianz Stadium. If you'd like to replicate this challenge, we're using the updated medium database with the following leagues: England (Premier League, Championship, League One & League Two), Italy (Serie A & Serie B), Spain (La Liga & Segunda División), France (Ligue 1 & Ligue 2) and Germany (Bundesliga & 2. Bundesliga).
Rivalità Tra Fratelli, Episode 26 – November '19
MIKE: Cold open, deal with it.
MIKE: Charlie refuses to be part of this due to some ridiculous and spiritual connection to Palermo following the season he ventured (ambled) down into Serie B to rescue the pink and blacks. So it's me, for better or worse – better – and I expect no mercy.
Sadly my players are not exactly reveling in participating in the Saturday evening kick-off and a series of chances go begging. At half-time, I read the riot act, or at least threaten to recite 50 Shades Of Grey in a Lancashire accent and that prompts young Mexican winger Jesús Corona into action. The Isco Kid 'pings it', which is a direct quote, to Salah and after a mazy run Corona steals it off his toe to crack in from outside the edge of the box with a beautiful arc over the goalkeeper's hand.
Late on Dybala receives the ball on the edge of the box and holds it up, Salah is on the move and Dybala slips it through for him to give the goalkeeper the eyes before tapping it under him.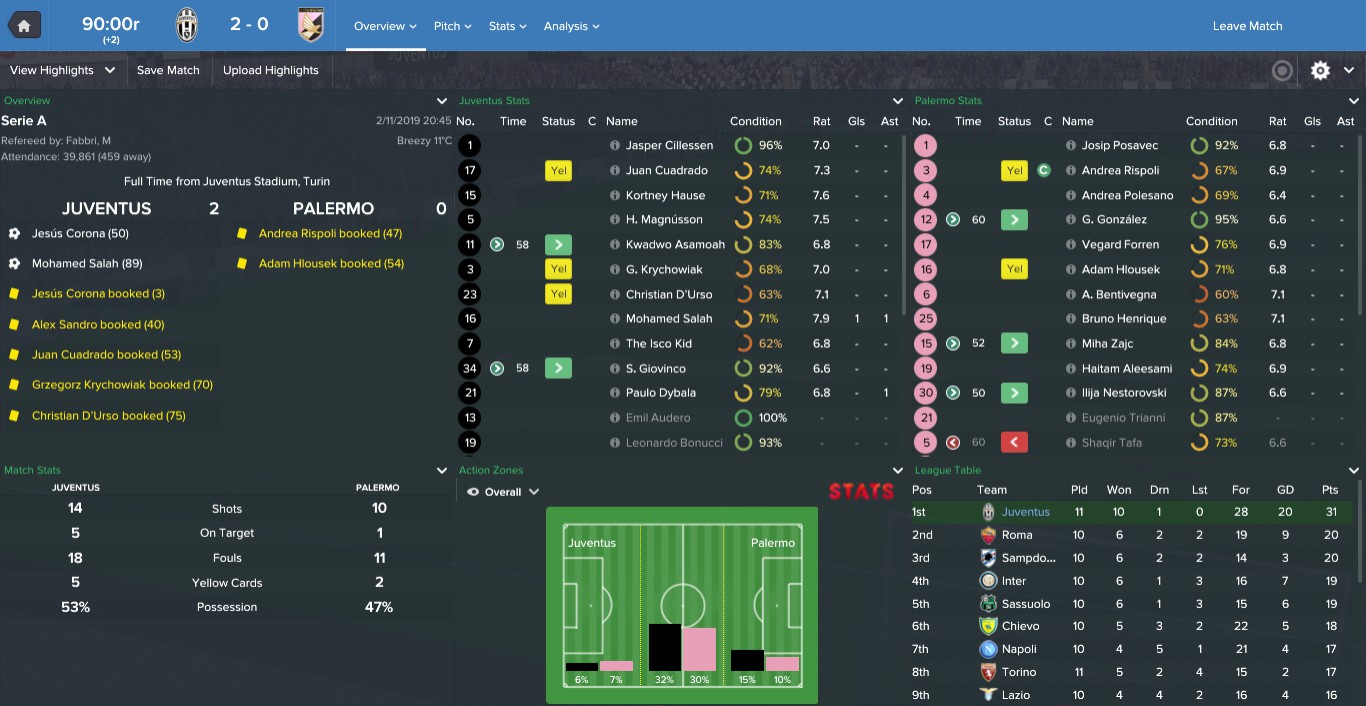 MIKE: That's five wins on the bounce and PAOK in the Champion's League to come. The last time they won a game in Europe the Dead Sea was barely sick. It's the stiffs for this one, led by Captain Gonzalo.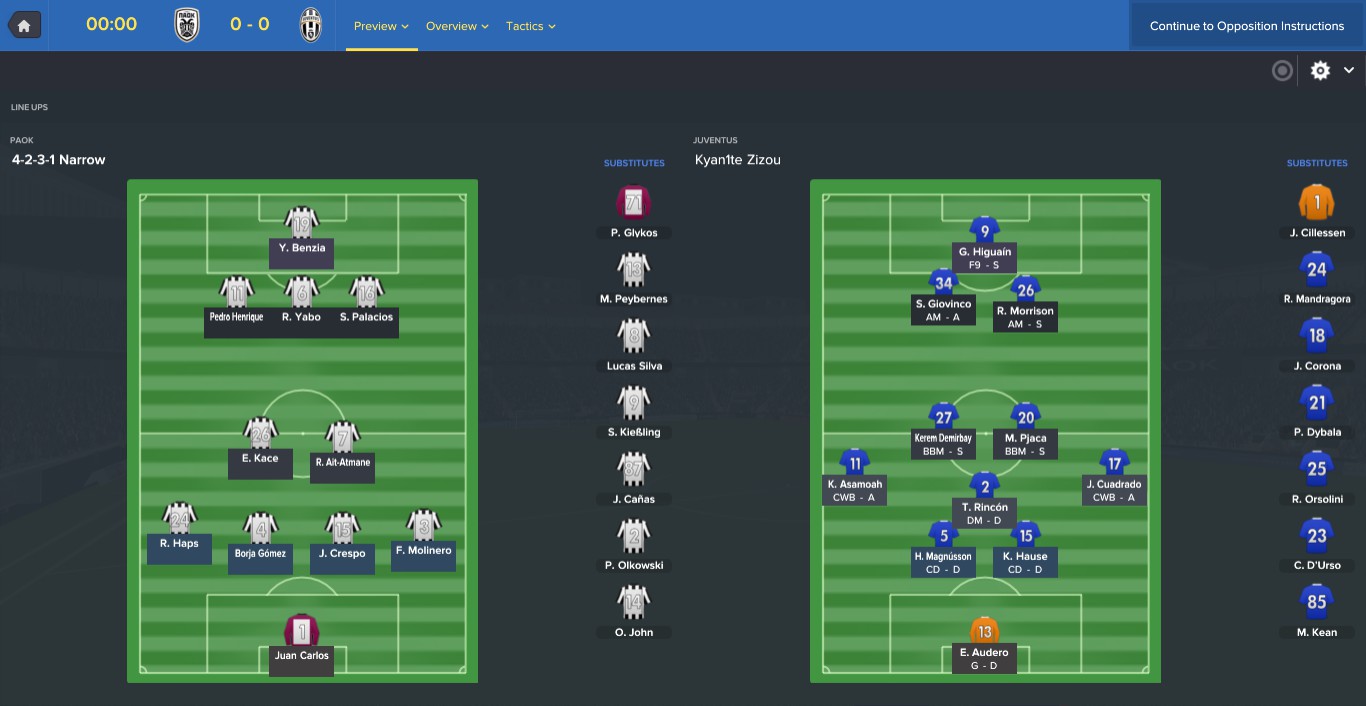 Sadly Captain Gonzalo was utterly anonymous, shown up by first Ravel Morrison and then his own half-time substitute replacement Moise Kean. The young and the Kean (har, har) has now five goals in hardly any appearances.
The good news is that we've now qualified for the Knockouts and that's what counts. All we need now is to beat Liverpool at Anfield and we'll be top of the group.
CHARLIE: I'm back riding shotgun for the visit to Napoli, which promises to be a tough test of our credentials. Following a big rest in midweek of the majority of the first team, only Demirbay and Asamoah retain their places. Mike is all about success in Europe this season and winning the Champion's League after two seasons of being runner-up but domestic success has always been my forte.
MIKE: Not a jot to referee in the game and we've picked up three bookings in the first 26 minutes. That's a vendetta. Just as I'm ranting at the referee, Napoli take the lead.
CHARLIE: A neat move on the edge of our box sees Milik whip a ball in for Hamsik, only for Isco to cut it out but somehow it slips under his boot for it to defect back off Hamsik in the path of Insigne and he scores from a right angle. If that sounds complicated, imagine having to recite it back. Mike's rant moved from the referee to Isco, to Insigne and finally Cillessen for conceding at his near post. Just before the break, Isco equalizes from a good team move but Napoli still head into half-time thanks to that man Milik.
MIKE: Things go from bad to worse just five minutes into the second half as Shaqiri goes in late on Insigne and picks up his second yellow card. Oh, and INSIGNE IS A [redacted].
CHARLIE: Our first loss of the season is a somber feeling. Especially as the players are jetting off on another international break and nothing can be done about it.
MIKE: You want to get back on the training pitch to fix the mistakes or yell at the lads, at least threaten to headbutt the wing mirror off somebody's Lamborghini but no, half of them are off playing fairly meaningless international friendlies. I never even bother looking at the internationals but this time I will do to make my point. Argentina (Dybala and Higuain) play Ukraine for no reason whatsoever, Grzegorz Krychowiak's Poland took on those superstars from Azerbaijan, Asamoah pulled up injured against the awesome Niger, Demirbay was a late sub as Turkey got whupped by England and Corona's Mexico took on Panama.
All week Higuain and Giovinco have been bleating about not playing, as well as Pjaca not getting minutes on the pitch as regularly as he would have liked. For that reason RIP Charlie now sports two up top and two inside forwards.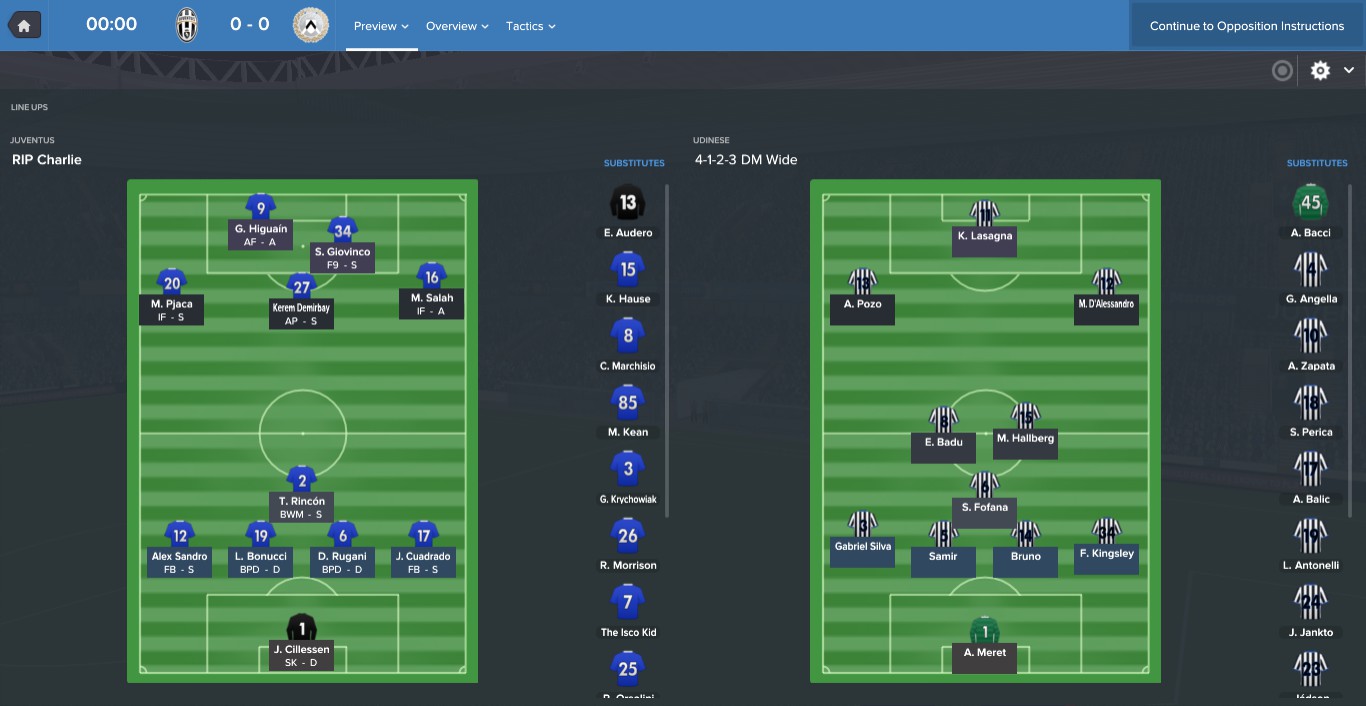 MIKE: It can't be said that the two strikers aren't making the most of their chances. Dybala returned from Argentina's camp injured (don't even get me started) so in truth one of them was always likely to start, having said that two for Giovinco and a goal plus an assist for Higuain is a marker laid down.
The only other goal was courtesy of Pjaca, himself standing up to be counted. Pjaca is a very good player, he's just unlucky to be surrounded by slightly better players.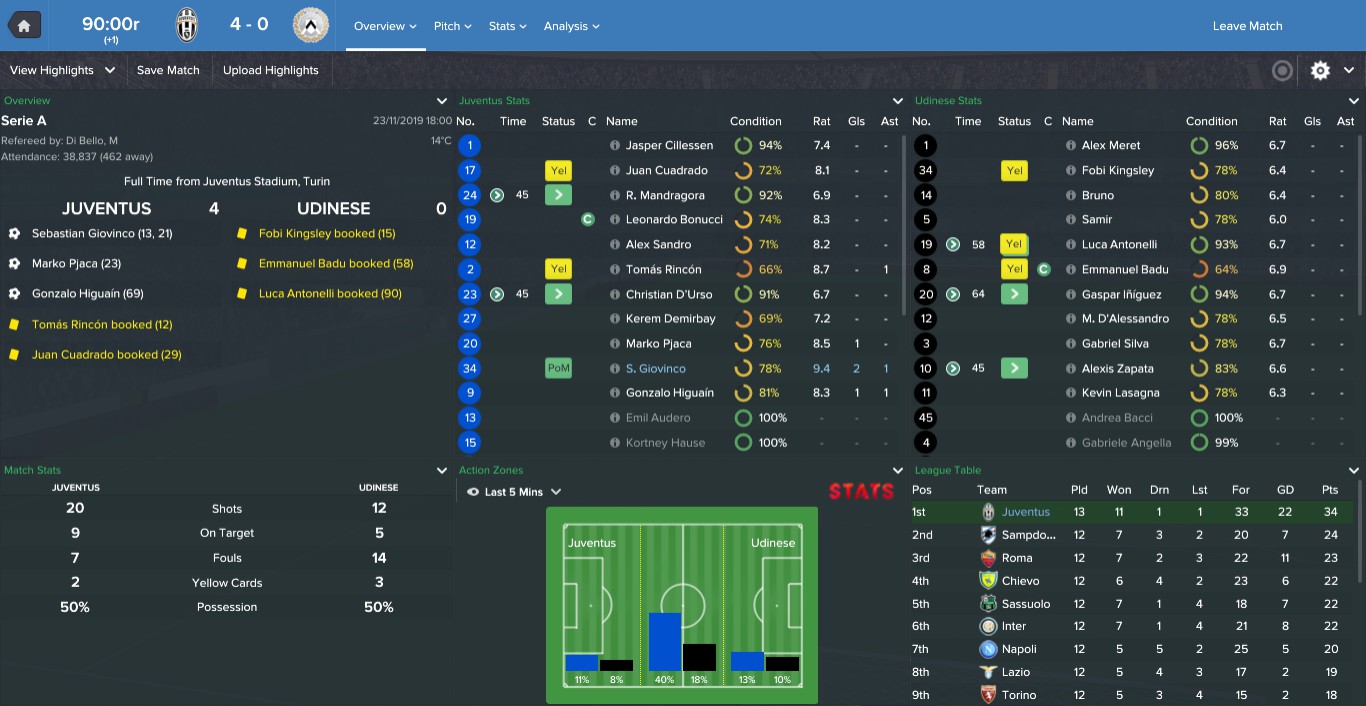 MIKE: The following day I come into training to find my press officer, Valerio Palazzo, racing towards me brandishing a newspaper rolled up his hand. Wait, what year are we in? Edit that out. Young Valerio comes running over waving his tablet over his head. AC Milan have dispensed with Joachim Löw's services with the Rossoneri down in 16th place in Serie A.
That's Van Gaal and now Low who couldn't fill my shoes. I doubt caretaker Paul Scholes can either. And don't even think for half a second I'll do a Charlie and head down to Serie B to bring them back, they're on their own.
CHARLIE: A November to… mostly… remember sees Juventus end the month by welcoming PSV to Turin. PSV are decent opposition under the old warhorse Gertjan Verbeek and as usual for a group stage game, the squad swivels around to give some of the lesser-seen talents a chance to shine.
CHARLIE: Say what you will about players demanding opportunities and I don't know for sure what Mike said to Sebastian Giovinco, I expect it was words to the effect of sending him away with a flea in his ear but he has taken up the challenge of dethroning Dybala as Juve's number one hitman. He fires in another goal and so does Higuain, who is also looking for a more significant role.
MIKE: Sharp interchanges, snappy passing, it's the Mike Tango-Juventus performance that we all know and love. Salah's running for once is more direct to the goal than down pointless meanders, his passing creates two assists and Xherdan Shaqiri is clever in everything he does. Two goals for the little wizard as he looked to redeem himself following his sending off.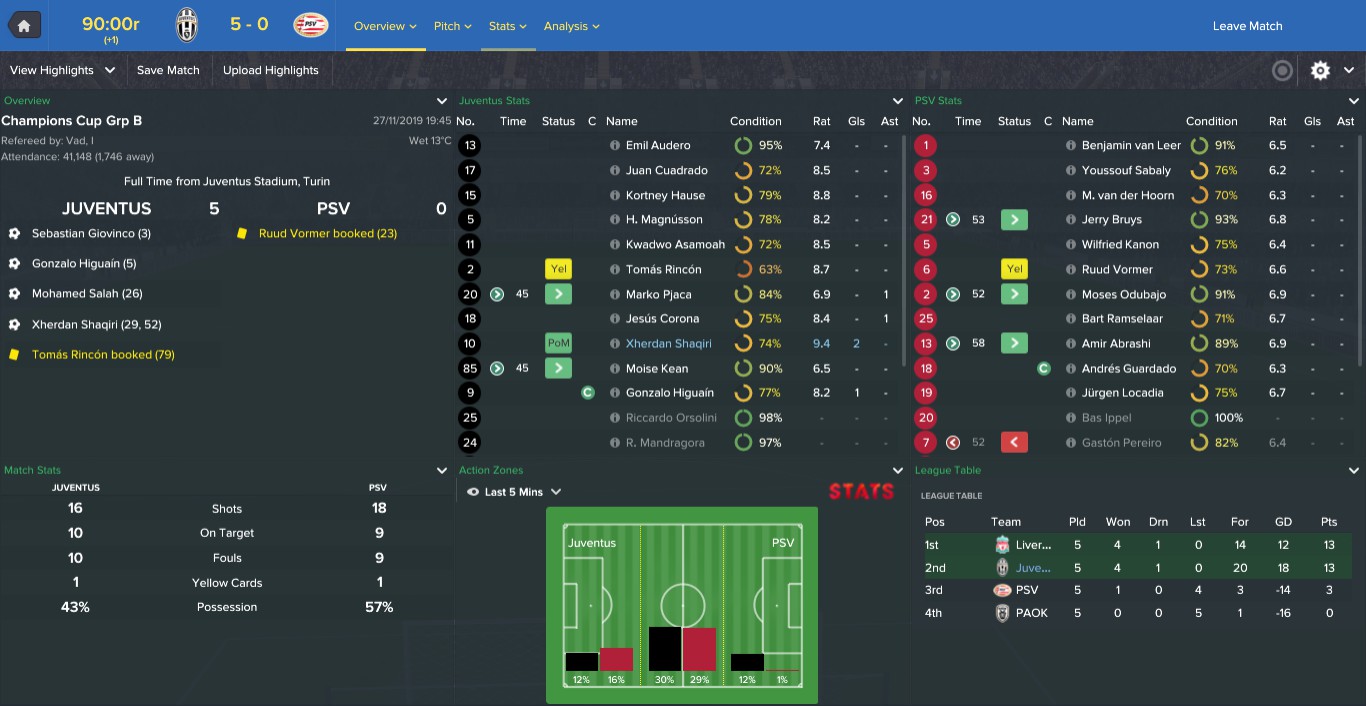 MIKE: What all that means is that our game at Anfield will be a shootout to determine group winners but all that comes after December opens with Inter Milan looming on the horizon.
Thank you for reading, join us on twitter at @FM17Challenge, @CharlieTangoFM & @MikeTangoFM for exclusive comments, developments prior to episodes and reaction afterwards. Continued thanks to Chris, Mike and everyone at Tempo for the opportunity to share this with the readers.