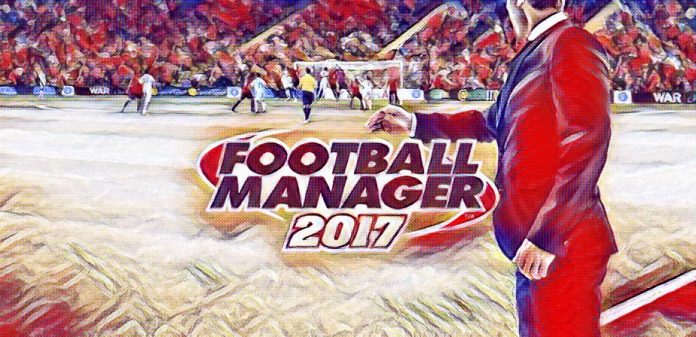 Whether its Robinho in FM07, Gonzalo Higuain in FM10 or Dimitri Payet in FM14, there are always those players that you know you can turn to in Football Manager, when you need guaranteed performances, regardless of their real-life ability. Here is a list of 11 favourites from Football Manager 17.
Sandro Ramirez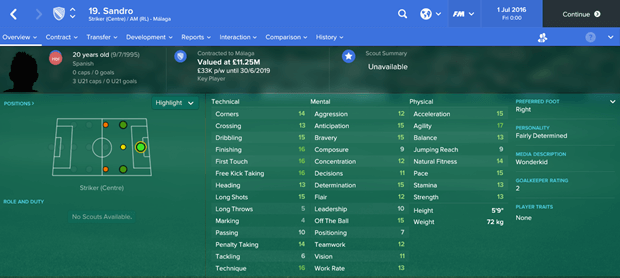 Sandro Ramirez, now of Everton in real life. He's done well at Malaga to deserve his transfer, but chances are Ronald Koeman signed him on Football Manager too. An excellent striker, but significantly more effective on the right-wing, Sandro is a technical masterpiece. A slightly more lightweight version of Oliver Burke, but significantly more skillful, Sandro can beat anyone 1 on 1, and his ability to get on the end of crosses is remarkable too. He's enjoyed a standout season, it'll be interesting to see how he performs in FM18.
Adalberto Penaranda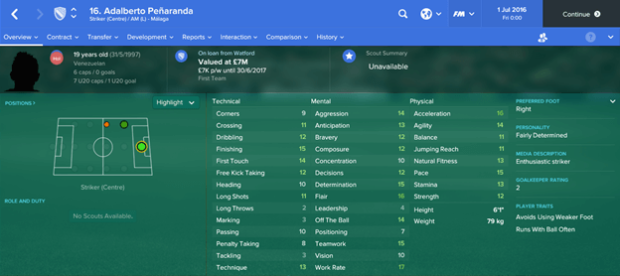 First caught my attention in FM15, after a scout mentioned his name. while he's always looked promising, in FM17 he has become the real deal. No longer is he a good backup, or a solid second striker, this lad can run the front line on his own. Great link-up play, composed finisher and at 6-foot-1, excellent in the air, Adalberto Penaranda is a perfect fit for any top-division side (Although he is generally willing to make the drop down to the Championship for a season or two.)
Reiss Nelson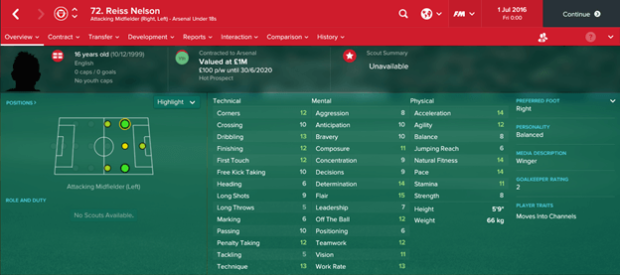 First bursting onto the scene after signing a professional deal with Arsenal last December, Reiss Nelson is the most exciting 16-year-old in FM17. A remarkable ability to get around players, despite his age, Nelson would be a top loan signing for any club, and fully warrants the £10-20m required to prise him away from Arsenal in the early stages of the game. After on a few seasons, this boy becomes one of the biggest stars in Europe, making him a definite FM17 favourite.
Malcom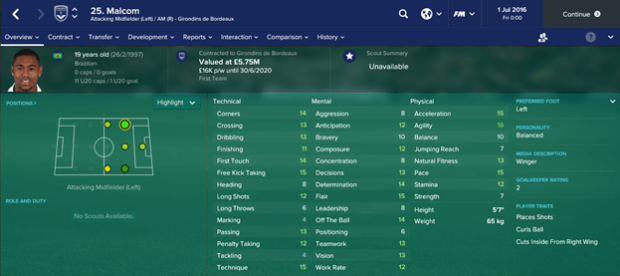 First became known as a 16 year old at Corinthians in Brazil, Malcom tended to become a world beater in previous editions of Football Manager. After his move to Bordeaux people expected big things from the youngster. While he's got his head down and doing his job in real life, Malcom is still a world class striker on FM17. Similar to Penaranda, he is wonderfully composed and lightning quick, making him a clinical finisher even at the tender age of 19.
Naby Keita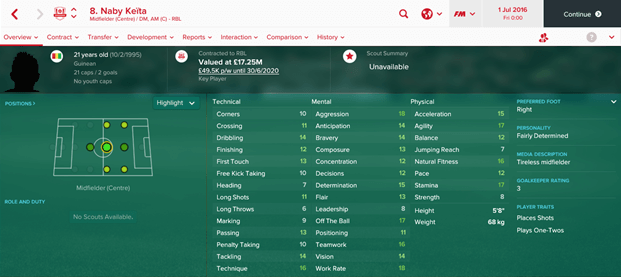 Another RBL favourite, Naby Keita is an immensely versatile centre-mid. Excellent as a deep-lying playmaker, but also as a box to box midfielder, Keita will dominate any league he's placed in. He can shoot from distance, has an excellent passing range and is only 21 at the start of the game, Keita has been a fan favourite in FM17, and is sure to keep that accolade in later editions.
James Forrest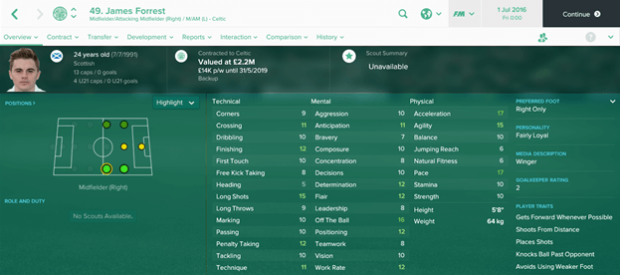 Slightly from left-field, this right midfielder may seem like an odd choice. But he has all of the attributes required to be a solid, dependable right-winger. Loaded with pace and crossing ability, in a league such as the SPL or Championship, that makes him essentially world class. Combine him with a big man up top and you will walk your league. Chips in with goals too (15 long shots is always useful), making him a real favourite in FM17.
Paulo Dybala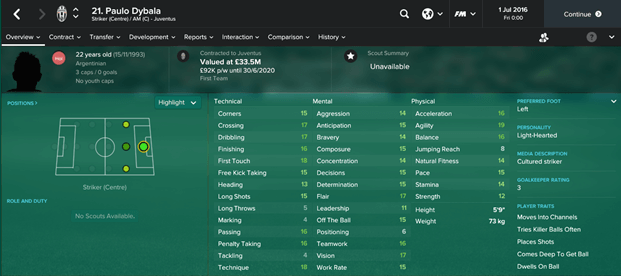 A little less niche, but no top side in FM17 should go without Paulo Dybala. Worth the record transfer fee (in 2016) that it requires to prise him from Juventus, Dybala is the most complete of complete forwards. Guaranteed goals and assists, usually translates to guaranteed trophies, all at the age of 22. Dybala is lethal in attack, and should be the first port of call for any Top 10 save.
Gianluigi Donnarumma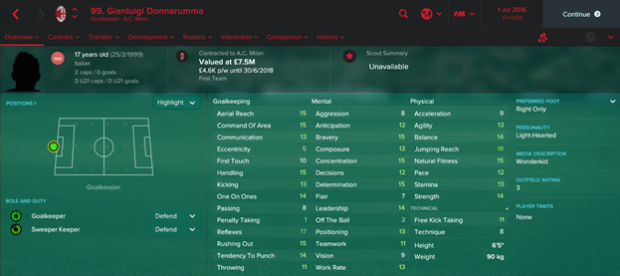 We all know about Gianluigi Donnarumma by now. A mountain of a man, and can be stolen from Milan for a mere £20m in the early part of the game. £20m may seem a lot for a 17 year old, but he makes outrageous saves, catches crosses and rarely makes mistakes, even by FM standards. And if you're the type of person who plays ten years into the future, Donnarumma is the man for you. Superb from day-one onwards, and quickly becomes the most valuable goalkeeper in the world.
Tom Cairney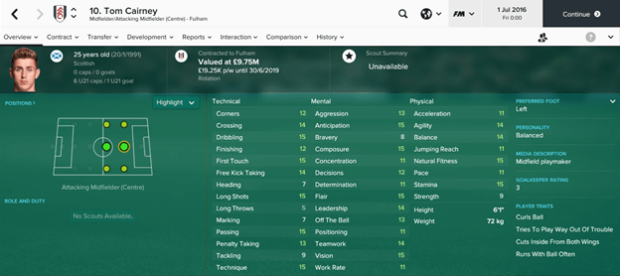 Tom Cairney of Fulham is a must-buy in FM18. Costing around £9m, any high-end championship club hoping for promotion, or a newly promoted premier league club hoping for a bit of star quality, Cairney has been one of the star players in this year's edition. Always a danger from free-kicks and with a bit of space can score from anywhere, this versatile midfielder is a vital component of any side.
Oliver Burke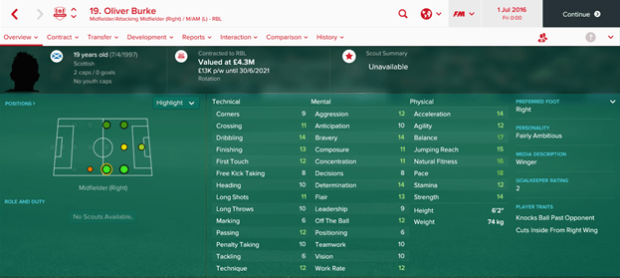 After his transfer to RBL last summer made him the most expensive Scottish player of all time, a lot of attention was paid to Oliver Burke and the German side. Drawing comparisons to Gareth Bale in real life, Burke does have a more straightforward style on FM17. Quicker, stronger and more fit than any full-back he comes up against, he will run that right-side all game, and can put in a demon of a cross too. Will also notch up around 10 goals a season in the right system, making him a vital component of any team.
Jordi Amat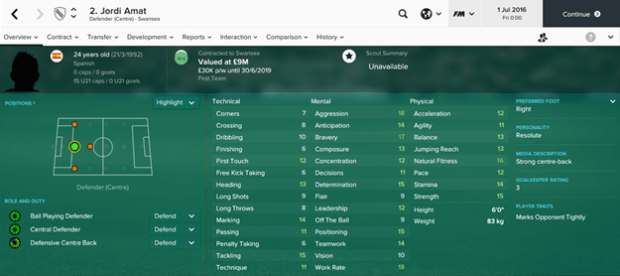 Despite being only 6 feet tall, Jordi Amat is a super defender. Rarely costs more than £10m, making him a potential signing for any top division side, and many Championship sides too. A ball playing defender, but still willing to get a tackle in, Amat is the brains of any centre-back partnership. Composed and calm with the ball, fast, and fluent in Spanish and English, Amat is a real favourite of FM17 players.