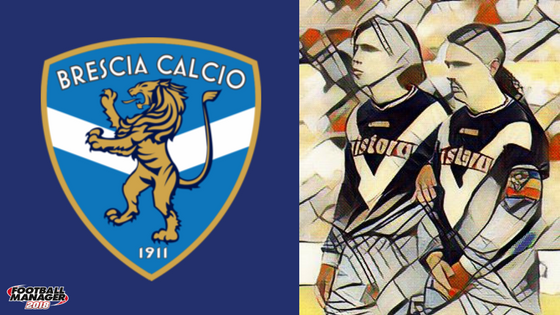 So, writing about Football Manager. It's been so long since I did it, I might have forgotten how! That gap between the last bit of writing on FM17 and FM18 dropping has felt like an eternal chasm this year. I ended up pootling around in Luxembourg and, let's be honest, nobody wants to read about that.
FM18 brings in a blank piece of paper, and as the world and his dog as already revealed, many a new journey for folk, be scribbled down on "paper", YouTube, Twitch or whatever the kids are doing these days. Who will be the first to broadcast their save through a set of Amazon Alexa speakers I wonder?
I spent forever contemplating where FM18 was going to take me, initially at least. Although there is going to be showcase save on Tempo, that is more for show and this one is where my heart will truly lie, I hope. So it was important to get something that got me thinking, and considering I have been obsessing over it for the last few weeks I think I have got something that will see me through the first few months.
People (ok, person) who have followed my ramblings in the past will know that I am not a one-save-per-edition kinda guy. I am fortunate enough to get a good two or three hours in a day, so at that rate I'd get through some seasons and, frankly, I get bored too quickly. Realistically for me, a decade tops. So I need to try and break that trend this time round. As Brian Clough once said, "Rome wasn't built in a day, but then I wasn't on the job". Does that quote even relate to anything? Probably not, but I like it.
As football becomes more and more distant from the sport I grew up loving and watching wherever possible in the late 80's and early 90's, I started to think back to the first time I realised there was more football out there than what we were occasionally seeing on our British TV screens. Sure, I knew that they played football elsewhere otherwise how else would England be beaten by anyone and everyone in the major tournaments of 1986, 88, 90 (OK, maybe not 90) and 92? But we didn't get to see any of these great players outside of England's ritual batterings every other summer, especially as my first watching of football on TV was post-Heysel and English teams were not in Europe.
So we jump to post Italia 90, when Channel 4 pulled the masterstroke and secured rights to Italy's Serie A – predominantly because Paul Gascoigne was heading to Lazio, eventually, once he'd recovered from a bout of self-harming following his tackle on Gary Charles. Football Italia, Gazetta Football Italia, James Richardson, Kenneth Wolstenhome et al opened our eyes up to another world because Serie A had superstars, actual superstars. Don't get me wrong, there was a certain charm to watching David Hirst chug about up top for Sheffield Wednesday in 1992, or seeing Ian Culverhouse fail to overlap his winger for Norwich but these boys were not exactly Ruud Gullit, Marco van Basten, Beppe Signori, Toto Schillachi and friends. Serie A was incredible, the coverage was incredible and we were hooked.
Championship Manager soon realised this, and it wasn't long before Championship Manager Italia was on the shelves. This was a genius move, a precursor to us being able to play as virtually any team in the world today. Serie A was in our blood.
This season, I've tried to watch far more Italian football – more than I have done for years and years and it became clear to me that I had to head there for my first FM18 adventure. But where? That was the main question.
It couldn't be Serie A, as I still feel cheap for starting at the top (unless it's for a particular project that demands me starting there). I wanted to start straight off the bat with BETA, so it couldn't be too low either. No club in the third tier, Lega Pro, really captured my imagination and then the penny dropped.
Pirlo. Baggio. Hagi. Raduciou. Toni. Hamsek. And, of course, Pep. That is quite a footballing alumni for a club that has only ever spent 23 out of their 103 seasons in the top flight. This club, for some unknown reason, has always appealed to me. I am guessing it was Hagi, subliminally getting into my head. The "Maradona of the Carpathians" wowed the world in USA '94, but he had spent the two previous seasons at the Stadio Mario Rigamonti following a shock transfer from Real Madrid. Despite having one of the finest players of his generation at their disposal, the biancoazzuri's managed to get themselves relegated to Serie B, only for Hagi to fire them back at the first attempt.
Hagi was sheer class, an absolute dreamboat of a player. His presence at Brescia meant I knew who they were at a young age. He had some help in the relegation season, with his Romanian teammate Florin Raducioiu also being in the squad. Raducioiu was no passenger of a player either, his 13 Serie A goals that season leading to a transfer to the giants of AC Milan. OK, he didn't do much at West Ham as the newly incorporated Premier League started to go foreign import crazy, but he was another class act to represent the club.
There aren't many clips of the two in action for the club, but I remember this game vividly as even then beating Juventus was a fine achievement.
I'll never forget the first time I saw Roberto Baggio play football.
Italia 90, the hosts Italy play the old Czechslovakia. Baggio, wearing 15, sees the ball break to him out on the left, by the half way line. He exchanges passes with someone, Seri I think but that is now irrelevant, and he is off, driving at the Czechslovakian backline. He arrives in the area, wiggles his hips and creates the space to slot the ball under the goalkeeper. Italy, as a nation, erupted. Sure, Toto Schillachi scored plenty of goals in that tournament, but it was Baggio who left Italia 90 as Italy's new hope of dominance.
Baggio went on to have a fine career, despite knee injuries crippling him and was in for an Indian summer at Brescia. Following the club's promotion, again, from Serie B in 1999/2000 they went big. They brought in "the divine ponytail" and it kickstarted a love affair that coincided with Brescia's longest stay in Serie A, five seasons. Naturally, as often the way with a gladiatorial hero, Baggio's reign ended in glory, saving Brescia from being relegated in his final season as a player. Before Baggio, Brescia had never managed to avoid relegation from Serie A at the first attempt. The season after Baggio? They went down.
Now, Baggio's time at Brescia coincided with this moment of glory, a passing of the baton in an almost literal sense. It is often thought that to be a regista, you need to have miles on the clock. You need to be experienced, to have the wily old thought processes to sit deep and dictate a game of football. Well, this clip from Brescia playing Juventus suggests that Andrea Pirlo was already defying the logic of the game.
How many times in the future would we see Pirlo deliver a pinpoint pass behind the defence for someone else to score? He learned that at Brescia, playing for the club between 1995-1998 before moving to Inter. That moment of genius comes from 2001, when he returned to his first club on loan, before heading to AC Milan and playing nearly 300 times for the San Siro giants. Brescia may not have benefited directly from the fruits of Andrea Pirlo, but they grew him, watered him, nurtured him and harvested him.
He could play a bit as a kid, too.
Who's path did Pirlo nearly cross in his time at Brescia? Pep Guardiola. Pep was embarking on his post-Barca education, travelling the world to gain the experiences that would add to his Cruyffian upbringing and turn him into one of the world's finest coaches. He signed for Brescia in 2001/02, replacing Pirlo in the deep-lying playmaker role. Hell, it wasn't a bad replacement. Pep did one season, initially, at Brescia before moving to Roma. However, it didn't work out in Rome so he came back to his Italian home, working with Baggio to give Brescia some Serie A history to look back on fondly.
So what is the point of this meander down my personal memory lane?
For me to get going in any form of FM journey there needs to be a backstory that I can buy into, and this one works for me.
Brescia are not a sleeping giant. They sleep in the footmarks of the Alps in Northern Italy. Brescia is considered the industrial capital of Italy. Yet, conversely, it is also the home to the finest Italian caviar.
They have no great Serie A pedigree, they are not fallen. They have been nothing more than a yo-yo club for many years.
So why them?
Caviar and industry. Pep Guardiola, Gheorghe Hagi, Andrea Pirlo, Roberto Baggio. Absolute caviar footballers. A luxury few clubs could have afforded, and I am not talking financially. Hell, if you were to add one English footballer into that alumni I am sure Matt Le Tissier would have been perfect.
I want to build a Brescia side that resembles the caviar and industry approach. Firstly, the industry. Brescia as a region is about working hard. They are, by nature, industrious. I do believe in football clubs playing a style of football that represents where they are from, therefore I want my Brescia legacy to be one of hard work. But, as we have just learned, they also produce the finest caviar in Italy. So, to use another food based analogy, I will need icing to go on top my cake. My caviar will be, I hope in time, a couple of world class players to add the finishing touches to my locally produced industrious team.
What does that look like to me? Brescia have a fine youth academy, this is where I will find my industry. I hope to grow footballers that work hard but can play a bit too. Every so often, I would imagine, we will see the brighter players move on to bigger things, ala Pirlo. That's fine, that is football. To complement an eventually Academy reared squad, I want a couple of caviar players, Mavericks, head turners. I have no idea who they might be at this stage, but that is where I want to go.
This isn't a save where I am going to set targets around what we achieve, what we win. I want to approach this differently for a change. If I get the bits right that I want to get right then I would imagine we will get into Serie A and we will stay there, but there is more to it than that.
Within five seasons, I want 15 squad players that have come through our academy, with no more than three or four being purchased additions outside of the two caviar players that I will indulge myself with.
I will focus on developing the Academy talent as best I can – this probably means I will manage the Academy side myself so that I am completely hands on.
I will do as much as I can to grow the youth recruitment side of things as quickly as possible at the club.
I will enforce the following rules – only three signings of players aged between 23-28 a season, and only two signings of players aged older than 28 a season – and these two have to be justifiably considered "caviar". It is imperative that the club has space for the Academy to grow.
Tactically, I am excited. A bit of initial research suggests that Brescia are ripe for a hard working 4141 shape. Naturally, I will go into this a little more when we get started, but I instinctively feel that my preferred style of 4141 fits the image I have in my head. Industry across the pitch, with the caviar roles being either the frontman, one of the wide men, one of the central midfield pair or the defensive midfielder. This will, of course, depend on the initial playing squad.
Now, the curveball.
The owner.
In August 2017, having been laughed out of Leeds United for being entirely inappropriate to own and run a footballing institution Massimo Cellino assumed control of Brescia Calcio. That's right. I have grand plans for a club run by a complete nutter. Or is he? Am I just lazily believing what the press have reported?
Cellino owned Cagliari for 22 years. In that 22 years, he went through 36 different coaches. He bought Leeds in 2014. I stopped counting how many managers he sacked after 8 because it was worrying me. He is deeply suspicious of the number 17. He sacked Paddy Kenny because that was his birthday and he retired the number 17 shirt at Leeds. He has a couple of criminal convictions, and on his sale of Leeds he thanked the fans saying, "if you can survive me, you can survive anything" and this was to a bunch of fans that had been through Peter Risdale.
I need time to build Brescia in my image. I might not even get it. If he replaces me with Neil Redfearn though, I'll not be amused.