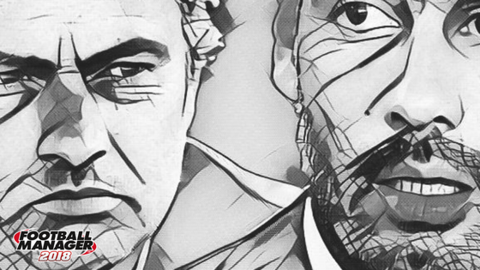 If you happened to read my FM17 blog (Taste The Feeling, click my name above and navigate back to the first page to have a read if you haven't already!), you'll know I was one of the first people to incorporate multiple teams into a save. These teams were working together in unison to enhance each other's reputation.
This save will be the complete opposite and will follow the journey of 2 managers, they haven't crossed paths yet but their differing philosophies regarding football means they'll soon be embarking on a career-long rivalry aiming to prove that they are the greatest manager of their generation. Each manager will spend a maximum of 3 seasons at a club before seeking a new challenge, trying to pit themselves against their rival whenever possible.
Aurelio Ferrentino
Date of Birth: 17th February 1982
Place of Birth: Udine, Italy
Ferrentino was born in Udine in February 1982, aged just 13 he was noticed by the scouts at Udinese and joined the Udinese academy as a centre-back. He broke into the Udinese first team at 17, becoming a regular in the starting line-up the season after. After impressing at Udinese he earned himself a big money move to Parma in time for the 03/04 season aged 21.
A fantastic season saw him be a regular in a strong Parma side, as well as earning 2 caps for Italy, however things didn't go to plan for his second season with Parmas falling from 5th to 18th, causing him to lose his place in the Italy team. The subsequent bankruptcy meant he was transfer listed in the summer of the 05/06 where he was picked up by Roma for a fee of £8m.
The Roma fans loved him and he quickly became a fan favourite and one of the first names on the team-sheet each week, earning himself a recall back into the Italian national set-up as well. He ended up leaving Roma aged 30 after the 11/12 season where Roma finished a disappointing 7th. In his 7 seasons at Roma he made 221 appearances in all competitions and earnt himself a further 26 caps for Italy.
A move to England followed for the 12/13 season where he joined Fulham for a fee of £12m on a 3 year deal. He played every game as Fulham achieved a 12th placed finish. The next season however did not go to plan, and Ferrentino was plagued by injuries, heavily impacting his season and Fulham were relegated at the end of the 13/14 season.
Looking to get him off the wage bill Fulham let Ferrentino leave on a free transfer and he joined he re-joined boyhood club Udinese back in Serie A where he remained for just one season, retiring at the end of the 14/15 season due to recurring knee problems.
Ferrentino then took his coaching badges, graduating from the famed Coverciano with the highest honours, his playing career as a defender taught him that clean sheets win points, and points win games. This is instilled through his coaching and managerial philosophy. Often described as being too negative whilst coaching the Udinese youth team, he has been offered a job as Aston Villa head coach in the Championship which he has accepted.
Raúl Garrido
Date of Birth: 3rd April 1982
Place of Birth: Barcelona, Spain
Raúl joined Barcelona's famed La Masia academy aged just 10 years old. Aged 17 in time for the 99/00 season he was sent to Barcelona B, where he remained for 2 seasons, playing and impressing in his role as an attacking midfielder.
A loan to fellow La Liga side Rayo Vallecano beckoned for the 01/02 season and again, he impressed earning himself a place in the Barcelona first team squad for the 02/03 season. He struggled to break into the starting lineup and had to be content with appearances from the bench for two seasons, before joining Ajax mid-way through the 04/05 season (aged 22) for a fee rumoured to be around the £7m mark.
He loved Ajax and Ajax loved him back, making him captain for the Ajax first team. Offers came in from teams in the Premier League and La Liga but he refused. His refusal to join a bigger league meant that the Spanish set-up largely ignored him, making just 3 appearances for Spain during his time at Ajax.
This changed however, when Barcelona realised their mistake and wanted him back, paying Ajax £28m for him to return in the summer of 2011. He was an essential part of the historic Barcelona team under Pep Guardiola that swept the world, earning himself a regular place in the Spanish set-up as they emerged winners of the European Championships.
This place was short-lived however as he soon found himself out of favour both at Barcelona and in the Spanish team and he went out on loan to Celta De Vigo for the 14/15 season, before accepting a coaching role within the Barcelona set-up the following season.
Championship team Birmingham City have been watching his coaching career carefully and have approached him to establish the possession based attacking philosophy that's been instilled into him throughout his career.
Join me in episode 2 as each manager sets up their philosophy for the forthcoming season and gets through their respective pre-seasons,