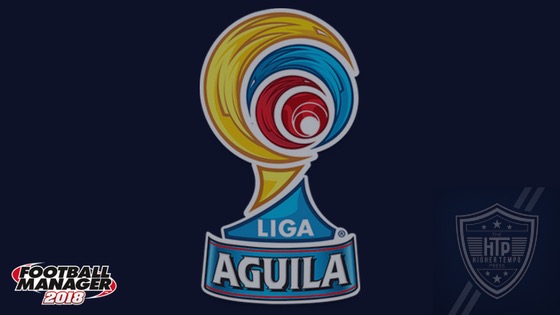 Bienvenido
If you are tired of the same leagues and teams of a European season then you should really try a save in South America. There a wide range of leagues to choose from, Argentina and Brazil being the most popular but what do the other countries have to offer? The following is a guide to the Colombian first division, hopefully, it can wet your appetite to try something different.
The Categoría Primera A, also known as the Liga Águila down to its sponsorship from a Beer brand, is the top division in Colombia. It is the fifth highest rated league in South America behind The top two leagues in Brazil, and the top leagues in Argentina and Chile. Its league standing is similar to the English Championship according to FM.

Structure
Much like other South American leagues, the schedule is split into two halves, the Apertura and the Finalización stages. The 20 teams play each other once from January to May and are sorted in the same way a European league is. The sides also have another game against their local rivals to give 20 matches during the opening stage. The top eight in the league then progress to a two-legged playoff system with the winners on aggregate progressing into the next round until there are two sides left. These two sides then play a two-legged final to decide the league champion. The side who finished highest throughout the regular season is seeded away for the first game to give them a home advantage in the deciding match. If tied at the end of the second match it will not go to extra time but instead a penalty shootout. This is all then repeated in the same way for the Finalización from July to December and the process brings a second league champion.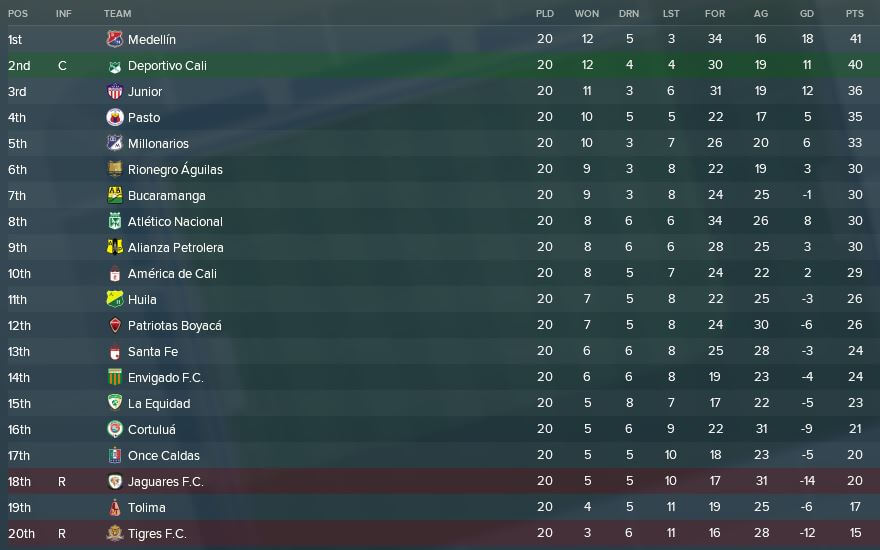 Relegation is decided on an average points system calculated over three seasons. Below is a table with the points results for 2016 and 2015 so that you know in advance what you need to do to avoid relegation to the second tier. América de Cali and Tigres F.C. were promoted last season so have the same points total as Jaguares F.C. who were the lowest side not relegated previously. This method is only used for relegation, it does not matter for any other league standing so as long as you are in the top 18 on this method then you are fine.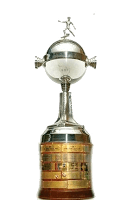 Continental qualification
Four sides from Colombia will qualify for the Copa Libertadores, South Americas' top continental competition. Winners of both the Apertura and Finalización stages will qualify for the following years competition group stage. The other two places will go to the sides who have the best two points total throughout both league campaigns who are not already qualified. These sides must qualify for the competition and face a two-legged playoff during the second round. If they progress here they then play another two-legged play off against one of the remaining sides. A win in this round will mean qualification for the group stage but defeat does not mean elimination. The four losing sides then play in a group where the top two sides qualify for the Copa Sudamericana. More places in the group stage are available for a side which wins the previous years Copa Libertadores or Copa Sudamericana. From there the group stage follows the same pattern as the Champions League, eight groups of four sides play each other home and away. The top two sides progress to the knockout rounds while the third place side drops into the Copa Sudamericana.
Colombian sides have won the Copa Libertadores on three occasions, most recently was Atlético Nacional in 2016 but they had previously won it in 1989. The only other side to win it was Once Caldas in 2014.
Four sides from Colombia also qualify for the Copa Sudamericana, which is South Americas second continental tournament, think of it as the Europa League. This competition, however, does not have a group stage and is straight knockout rounds from the start. To qualify from Colombia you must be either: the best performer in the Colombian Cup who has not already qualified for the Copa Libertadores or one of the three best league sides who also have not yet qualified for the Copa Libertadores.
The Colombian sides qualified for continental competition at the start of the game are:
Copa Libertadores: Group stage – Atlético Nacional, Independiente Medellín and Santa Fe. Second qualifying round – Millionaios and Junior.
Copa Sudamericana: Second Round – Deportes Tolima, Deportivo Cali, Rionegro Águilas and Patriotas Boyacá.
Restrictions and rules
There is a maximum of four foreign players which can be registered to the squad so it is an ideal destination for a youth save, utilising the young Colombians coming through your academy. As mentioned above, relegation to the second league is done on an average points basis whereby the two sides with the lowest average points over the previous three seasons is relegated.
Past Winners
Atlético Nacional are the most decorated side in Colombian league history with 16 title wins, nine of which have come since 2005. The most recent win for Nacional was in the 2017 Apertura stage where they beat Deportivo Cali in the final. Millonarios are close behind with 14 league wins in their history but only one win (2012 Finalización) has come since 1988. The only other side whos title wins are into double figures is América de Cali with 13 league championships. Their close rivals Deportivo Cali have the highest number of runners-up spots with 14 times.
Who to pick
Top Side: If you are looking for a side who have a chance of winning the league fairly quickly then it would be better to go with a side such as Atlético Nacional who will be challenging from the first game and have a great squad. Nacional have good youth and great training facilities as well as a 48,700 seater stadium. Deportivo Cali are also worth considering as a top side as they have good youth but superb training facilities. They also have the largest stadium at 52,000 seats and have not won the league since 2015.
Medium Side: For those looking to build a side up from the middle but have an outside chance of winning then try Junior. They have good youth and training facilities and a 49,000 seater stadium. In the first season, they are predicted to finish in 6th so you have a good chance of qualifying for the latter stages but you will not be a typically big side. Junior have an impressive recent history but have not won the league since 2011.
Youth save: The side with the best youth facilities in the league are Envigado, they have excellent youth and good training facilities. They are a small club with a stadium which can only 11,000 fans and they are predicted to finish 20th in the first season. They are, however, fairly safe from relegation.
Challenge: Picking one of Jaguares F.C., Tigres F.C. or América de Cali will provide the biggest danger of relegation. First priority would be to stay in the league and then build from there. Tigres and Jaguares are, as you would expect, named after the animals which equates to them having excellent badges and kits. Taking on either of these two sides will be a difficult task as in some simulations (below) these have been relegated each time. You will likely have to score more points than América, who regularly finish midtable. There is a possibility to send Pasto down in your place also, but need to make up a high number of points to survive.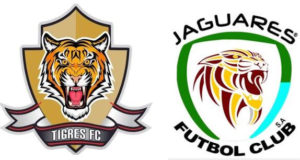 Simulations
After running five simulations of the first season in Colombia there were a few things to note. Firstly that Atlético Nacional were the most consistent side with the highest average league position over the five simulations. They topped the combined league in three of the five tests and also gained by far the most points with an average of 96.8. This impressive record, however, only translated into three title wins of an available 10. All three of Nacional's wins came in the Apertura stage and during the Finalización stage, there were different winners despite Nacional topping the league. With three wins they were the most decorated side during the tests but Medellin were close behind with two league wins. In each simulation, Tigres and Jaguares were relegated. Even when Jaguares ended the season in 13th place they were unable to avoid the drop.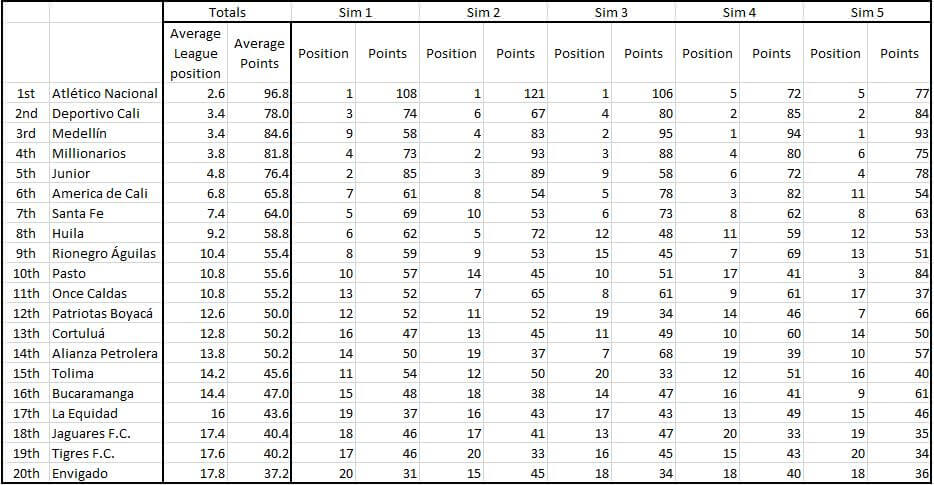 Tactical Considerations
From looking at the top league's formations used it does bring some interesting reading. 13 of the 20 sides used a 4-3-1-2 narrow formation throughout the season so, if FM18 does not change significantly, this is what I will more than likely be facing. During this year's game, it had been noticed that a narrow formation did tend to work well and I even deployed it myself for a number of seasons. Given that I may face it a lot during the 2018 version, I may try to exploit the wide areas and aim to bypass the midfield a little. It could be notable that, of the top eight sides (who qualify for the latter stages) only two used the narrow formation, but three of eight played regularly in a 4-4-2. Given that these were often the top sides it could be another reason to consider this.

Domestic Cup
The Copa Colombia runs alongside both league seasons with the final taking place in November. Initially, there are eight groups (A-H)  of four sides, each playing against the others home and away. After those six games the top sides all progress to the knockout phase. The eight sides who finished second in each group then go into another group together and play six more games. The top four sides then progress to the knockout stage along with the four other sides given a bye to make eight second-round matches. From there is it a straight two-legged knockout competition.
Players
On starting a save in Colombia the majority of the highest value players are loans from either Mexico or Argentina. If your side relies heavily on loans then the transfer window at the end of the first season will be a busy one for you. Bringing in loans for future seasons would be the best way to go but also you will need to develop your own youth. A maximum of four non-Colombian players can be registered to the squad so there is little point in sending your scouts too far afield. Also, given the league standing any good players you have will likely be picked off before their prime with you unable to offer the same wages. Scouting lower down the league or into division two would be advisable, as well as youth tournaments. Also, keep an eye out for those ageing players who are nearing the end of their contract as 30+ year-olds are often still able to compete.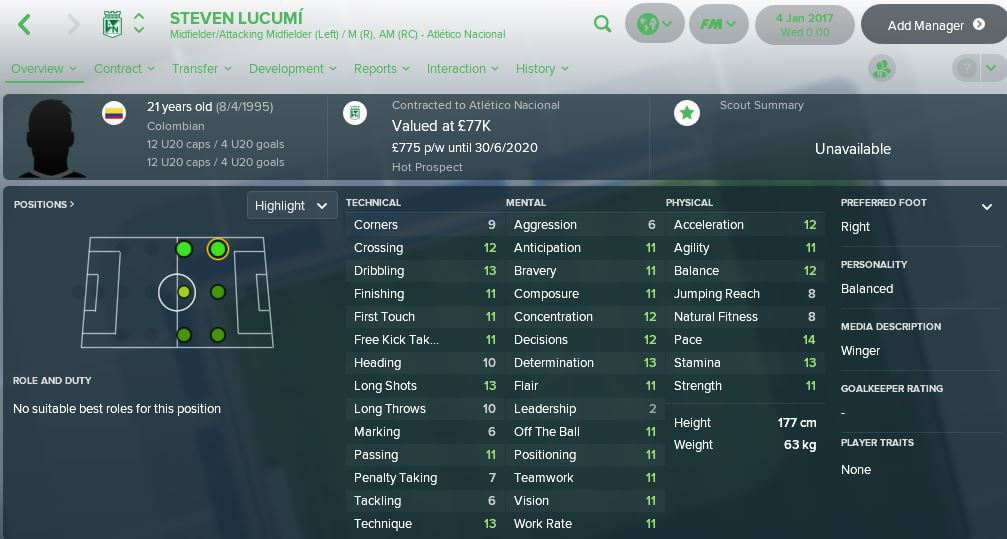 If you fancy something a little different but with some of the elements of great saves that you are used to on FM then give Colombia a go. It would be excellent for a youth only save as this is one of the main ways to play. Also, given the league structure, you do not have to finish on top of the league each week to still be in with a chance of glory at the end. It is more about hitting form at the right time. Given that in 10 simulated seasons there were seven different winners shows that you can challenge with any side.
If you have enjoyed this or plan a save in Colombia now then please comment below or find me on social media.