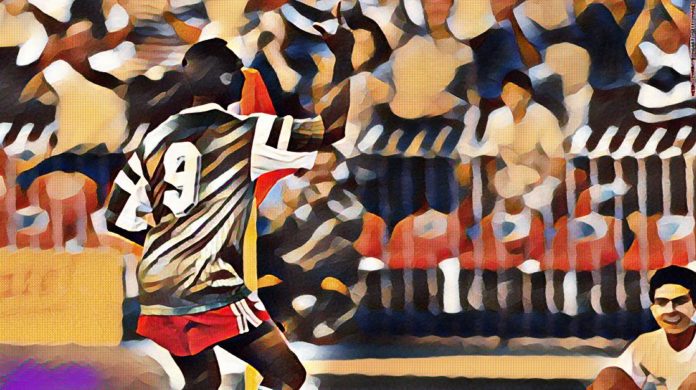 I shall tell you this for nothing. Having lost to Canon Yaounde late in the last season, a defeat that cost us (it turned out) a place in Africa, I was looking forward to facing them in the first game of the 2018 season.
A few things to remember about Tonnerre KC…
We are paying the least amount of money in the top flight.
We are predicted by the bookies and the media to be the second most likely team to get relegated.
Canon Yaounde, however. Well they spend decent bucks on their squad and are tipped to come 5th this season.
You can share my delight when I tell you that it felt good watching Julio M tap in from a yard from Teg's low cross. That put us 2-0 to the good at their place, with nine minutes on the clock. Boom. The 2018 season is underway. We ended up cruising to a 4-0 opening day victory.
That must have upset the Canon boys, as they've now won their next five games turning a -4 goal difference into a +10 in the process. They lead the pack right now. Following our stunning start, we drew the next three then smashed Unisport 3-1, brilliantly, at their place. Sadly last night's playing time ended with a poor 1-0 loss at home to Astres, their goal coming from a set-piece. We never, ever concede from set-pieces.
We now have three weeks until our next league match, following a pretty hectic start. The scheduling out here still confuses me. Anyway, at this early stage we sit in 6th place which is slightly under where I'd like to be tracking right now. There's no need to panic, but we haven't really pushed on from the 4-0 opening day massacre.
We're playing alright, without winning some tight games. Everyone in the side currently averages over 7.00 so we can't be doing that badly in terms of performance. I'm sure good performances will start to lead to points very soon. We have two friendlies lined up to add some more cash to the coffers and continue to find form.
The Academy sides are doing very well.
The U18 side, led by the goals of Jacques Garba, sit second in the table behind Coton Sports. They have a 100% record, we have lost once.
The U21 side, with young Ollie Boumsong getting seven from left midfield, sit top of their group after six games, and have a game in hand.
The future, which we are building, continues to excite me.
So, at this very early stage of the season what am I thinking?
We feel alright, but only alright. I have a concern with Onda's consistency at the back. He is the most expensive defender in the league, but he needs to play like it regularly. If one of the kids does well consistently in the Academy sides, they might get a chance come May and I'll cut my losses on him. My two back-ups in the first team squad might get a chance, but I only really see them as fillers for a game here or there.
I think I also need to make a choice on the goalkeeper. Etoundi is doing nothing wrong, but I have a feeling that if we really want to break through into the elite then I need to find one of the best young keepers in Cameroon and Etoundi isn't that for sure.
**NEWS JUST IN**
The board have finally agreed to spend some cash on the youth facilities. About bloody time! We're in for €450k which will leave €200k or so in the bank. They will take a year to complete, so I think this might be a significant upgrade.
Looking ahead to what I've got ahead of me today – I'll instant result my way through the two friendlies, then we have a run of league games I would hope to win, before we play the champions Coton. We shall see. I'd hope to be top four by the time we speak again….
#LeTKC