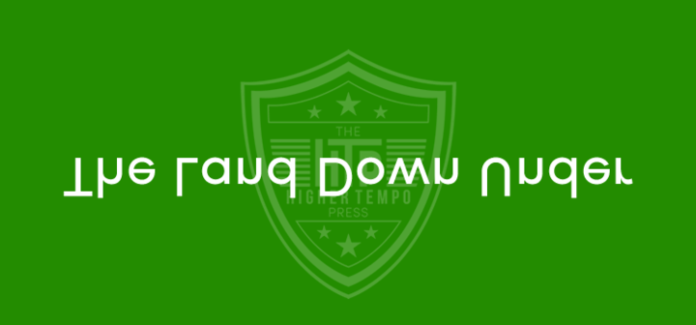 G'day, mate! Welcome back to New South Wales!
We're well sunk into our second season in charge of the Central Coast Mariners. There wasn't much I could think of worth sharing during the first half of the season. We're just running through the same motions as last year, so I opted to save the more interesting and new stuff for its own update.
We had a strong preseason last time we met, and the team was all fired up and ready to go for the opening match against Wellington Phoenix. It was a match that we won. We were always expected to win against them, as Wellington are typically a lower-end A-League side and we're the defending premier and champion. What made that match noteworthy for me was a new record for the youngest goalscorer.
Remember Ozcan Gunes from the last update? The striker I wanted to start retraining into a shadow striker? As with last year, we were missing a lot of faces at the start of the season for international duty, so he was on the bench in case I needed to slot him into that shadow striker role. He came on in the first half for an injury, and not only had a solid debut but put in a beautiful goal to set both the club and league record for the youngest goalscorer in the A-League.
If this doesn't set your hopes up for this guy, I don't know what will. He's been showing up as a backup for the team and has come off the bench several times so far to put in acceptable results for his age, so I'm optimistic for the future, though we'll save his performances for the end of season updates.
The league run so far has been solid. We've had our share of wins, but this season Sydney FC and Melbourne Victory have been looking solid and have been putting in some serious competition against us. Of our five losses, two a piece have been to Victory and Sydney, with the other to Brisbane. Otherwise, it's been a pretty solid season of winning, though injuries have given us a recent rougher patch.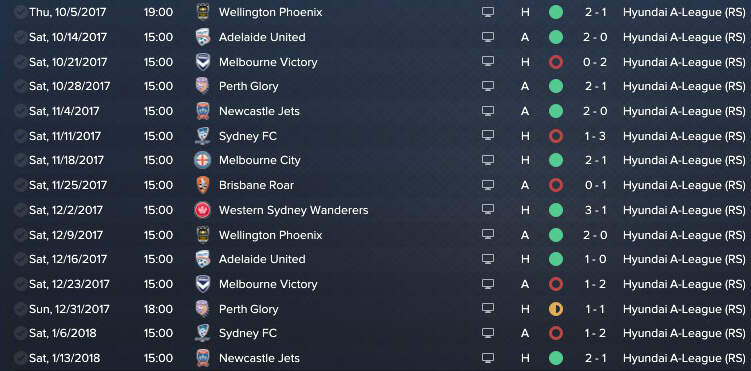 We've been being plagued by injuries, and all season so far we've had at least two to three starters with an injury, which has been concerning. Tactically we're good, but without sufficient depth to the team, it makes it hard for us to keep a properly fit lineup.
At the time of this update, I'm in January. However, I have the scouts working around the clock, but I don't plan on making any signings. I don't have the transfer budget available at present to be able to cover any agent fees or incentives, and I am a little bit over my budget at the moment. I'm going to have to make due with what I have for the season. I can't justify terminating contracts early and having the club eat those termination fees when they will still have a salary cap impact anyway.
There will be some big changes in the preseason to the squad anyway since I have to deal with Nick Montgomery, Jacques Faty, and Raul Meireles all being in their mid to late thirties and ready to leave at the end of the season.  As the manager, I love to develop my own youth, and I'm always willing to trial youth players, even if it comes at a cost to league position to have a weakened team. Before I make any signings, there will be some chances afforded to a couple of my better youth players to see if any of them are willing to step up to the plate and fill in for the older players.
I chose this point in the season to do an update because the AFC Champions League has officially started. We won't know where we're at because we are entering in at the group stages, but we do have our expectations, which I'll get to in a moment.
If you're not familiar with the AFC Champions League, it runs during one calendar year. It starts in January and ends in November. For Australian sides, this means we'll do the group stage during the second half of this current season, and if we get out of the group stage, we'll pick back up on the competition during the first half of the 2018/19 A-League season. Otherwise, it's a double round-robin competition format similar to the UEFA Champions League.
In the last couple of years, the winners have been from China, though the Japanese and South Korean teams can also be pretty competitive as well. Those are the teams I'm going to to be watching out for in this competition.
You'll notice looking at the past winners that Shanggang and Guangzhou are the most recent Chinese winners, with four of the last five wins between them.
Australia used to be part of Oceania's confederation and competed against the semi-professional and amateur teams of New Zealand, Fiji, and the likes, but moved to the Asian Football Confederation in 2006 to play against more professional teams and raise the standard of their competition. Since that move, Western Sydney Wanderers have been the only Australian team to win the AFC Champions League, which happened in 2014. If WSW can do it, I'm sure that within a couple of years we can do it as well!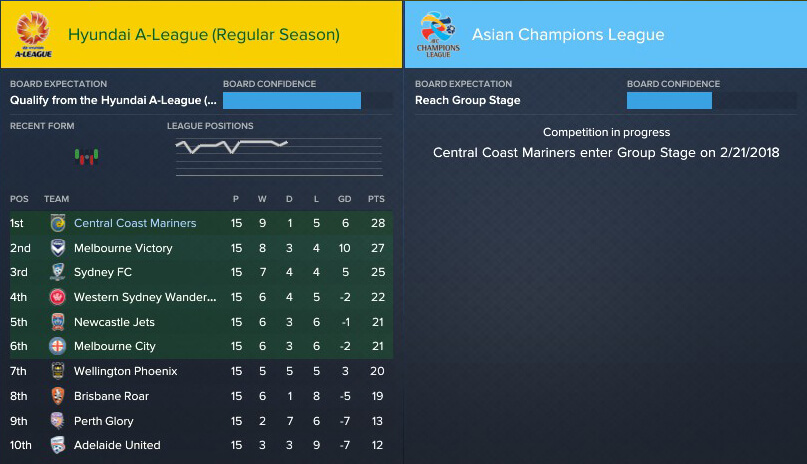 Right now we're first in the league by a slim margin against Melbourne Victory and Sydney FC, with Western Sydney Wanders, Newcastle, and Melbourne City not far behind and rounding out the current playoff places. I'm still confident we can win it, but with my aging players that need to go at the end of this season and with the injuries we've been dealing with, it's been hard to firmly hold onto the top position. When we pick up our fixture list for the group stages of the Champions League, that will only make our competition harder. The preseason FFA Cup is all that these other teams have to compete for, so while they are going to be fresh week after week, we're going to be dealing with international competitions.
You'll notice our board expectation for the Champions League is to reach the group stage. We will enter the group stage. I guess that means the board is just happy that we're there. It's nice that this gives us a chance to just try as hard as we can and hope for the best without the board leaning on us with specific targets to hit.
I'll return at the end of February to give an update on the season and look at the teams we're grouped up against to see what our chances are for the competition.