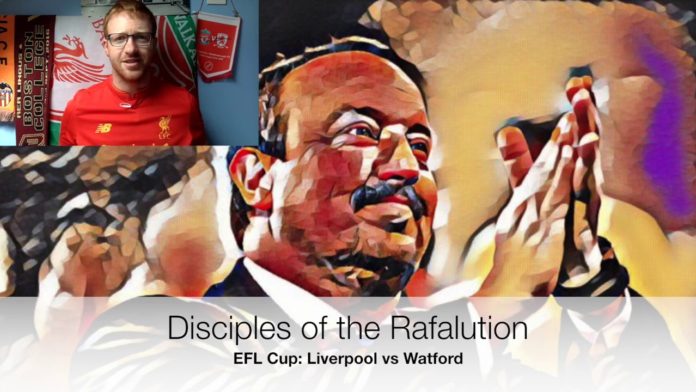 The early rounds of the domestic cup competitions can often be an early season opportunity to build up additional fitness levels, match sharpness, or rotate a squad and allow fringe players the opportunity the stake a claim for themselves. In my current season in FM Touch 2017, I haven't had such luck with a domestic rival waiting for me in the pre-Christmas rounds. Given my league form (4 points clear at the timing of this fixture), I was clear favourites, despite us being the away team in this fixture. So, how did I approach this challenge?
Pre-Match Approach
Obviously, my first port of call was the Scout Report in my News Feed. A feature of my side this season has been a focus on a 4-2-3-1 approach, granted in some games I have used a 4-4-2 approach. Watford were expected to line up in a 3 CB formation, with 2 WBs, 3 CMs & 2 STCs. Initial thoughts of this were the large gaps between the midfield and forward lines, which I would aim to control. The gaps also suggested the team was built for direct play, with support outlets in the WBs and a midfield 3 capable of all-round play.
Team selection was influenced by the expected direct approach of our opponents. Initially I was intending on rotating the squad for this midweek cup tie, however I needed to be aware that the team I would like to put out would need to be defensively capable with explosiveness to counter effectively as we would draw our opponents forward. Some players played in positions with unfamiliar roles, yet had the attributes to fulfil roles I would need them to in this fixture. By tweaking the PIs of the assigned roles to roles they would more naturally play to create a hybrid-like role.
Our PIs & TIs were set up to target the spaces the opposition team would leave, or create them in such a compact defensive third. Particular focus was also paid to their Player Roles, looking across the lines to discern if they were in a Defend, Support or Attack duty.
In terms of our Team Instructions, although the favourites in the tie, I was playing a rotated side away from home, focusing on playing with a Counter mentality, defending slightly deeper, with mixed passing to exploit any counter attacks.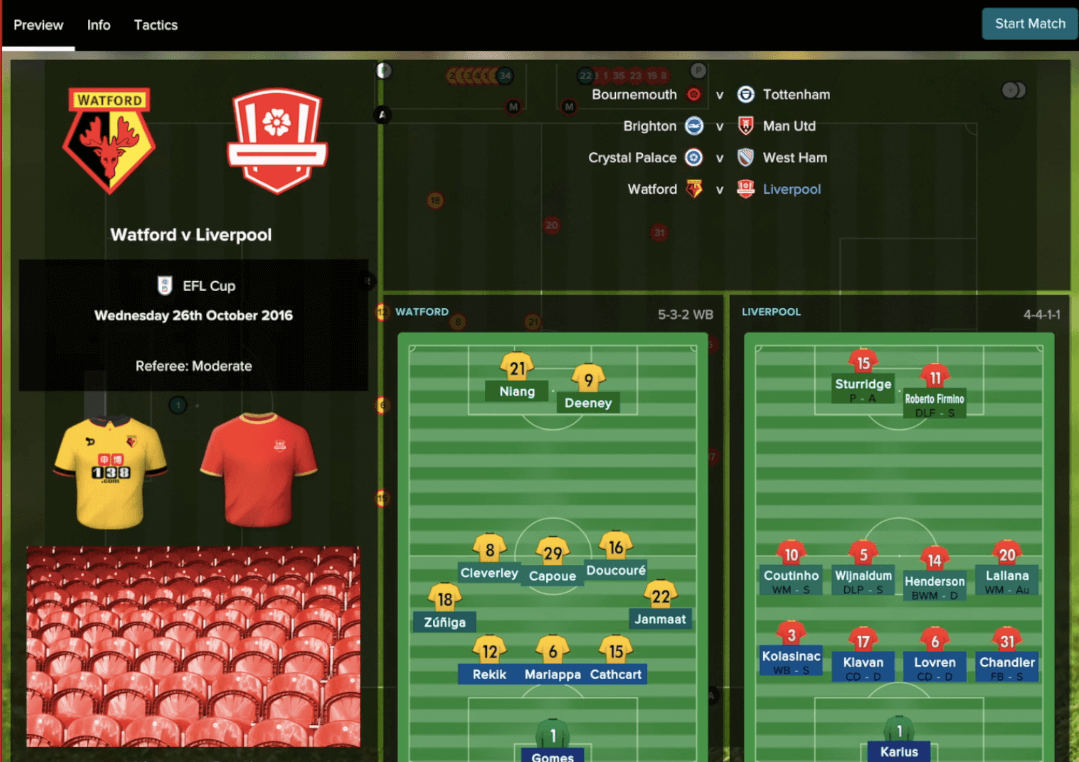 1st Half
In terms of our 4-4-2 setup, I started Roberto Firmino as a F9 role alongside a Poacher, Daniel Sturridge. This was as a result of my scout report as I would have preferred to line up with an AMC on Attack behind an AF. As a result, our 2 CMs were tasked with dealing with the 3 CMs of our opponents, while also in an attacking sense being asked to control the space left between our opponents Midfield & Forward lines. While they are capable of lasting 90 mins and both can fulfil BBM roles, these players were almost overworked in this half. This made us susceptible to counter attacks, especially through the middle as we were easily overloaded in 2v3 CM battles. This overload came to bite us as our 2 STCs penned our opponents 3 CBs on the halfway line, but the ball moved too easily across the midfield, creating channels and space that a near-post runner to a cross found and scored from. This would not have happened if we had had a 3rd midfield player.
Half Time
I returned to my favoured 4-2-3-1 formation, I can imagine much to the annoyance of my Chief Scout. The lower tempo approach we had in the first half was scrapped to a higher tempo, as we looked to move snappily about to prevent our opponents sitting deep and shoring up any channels and space we could exploit. My 4-2-3-1 comes pre-programmed with assigned roles. Given the nature of the forwards selected in my match day squad, I chose the AF STC role for Sturridge. The PIs were tweaked to mimic some of the default roles that would be seen in a Poacher (the STCs natural role), however as an AF I needed him to lead the line rather than idle about seeking opportunities.

2nd Half
We did score and equalise as Sturridge pressed the defensive line, forcing Janmaat to botching a back pass to the keeper, onto which he pounced and finished with the aplomb and composure one would expect. As the game wore on injuries and personnel on the bench demanded a change of tactics as substitutes were introduced to find that final touch we needed to seal passage in 90 minutes. This included returning to 2 STCs as Firmino was withdrawn in the second half for Danny Ings as I looked to press the back line to have Sturridge ready to pounce. Our opponents settled into their deep defensive shape, rigid and structured that prevented us from carving out a worthwhile chance in the remaining minutes of the game, including the extra-time period.
Post-Match Feedback
Would the goal have happened if we kept 2 up top at Half Time? Possibly not, not unless I changed the player roles at HT, which I probably would have not done had I elected to keep the formation the same.
Would the defender have attempted the same pass?
A look at the opposition players attributes pre-game suggested they were not the most technically proficient, so in pressing them I forced this opportunity. We did not do this effectively enough in the first half.
Substitutions & their positions influenced how the game developed, especially as I grew impatient to chase a second goal. In doing so, I possibly overcrowded the space in the final 3rd with too many attackers, not enough width and as a result stopped what was working continue to work.
Did I over tinker? Was my bench not diverse enough? Or was impatience my downfall? Ultimately, what I am accountable for the game not being finished in 90 mins. My decisions found a way through 45 mins into the game, but then changed away from doing these as the second half progressed. I did not cope well with the favourites tag. I have learned that in each game, something different is asked of you. Whether you're the favourite or not is beside the point. You have a job to do. Don't be overconfident, stay consistent, be aware and that will bring the result.