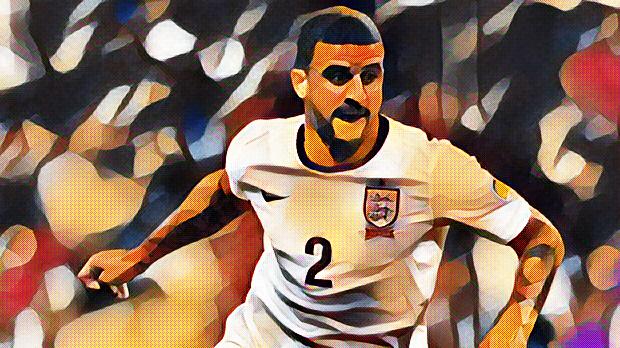 Almost everyone needs them. Almost everyone wants them. They do a lot of work and their role has changed a lot in recent past. I am – of course – talking about fullbacks. Some teams obviously play with three Central Defenders, turning the fullbacks into wingbacks. However, essentially these are still full backs, dropping back into the backline in defending phases.
Football Manager offers a plethora of options for this position. It starts with the Defensive Fullback, there is the standard Fullback, there is the Wingback, the Complete Wingback and a role that finally got fixed in this years' version of the game, the Inverted Wingback. This article is about providing you a guide and helping you to decide which of these roles are suited the best to what you want to do and to what kind of players you have.
Style of Play & Formations
Your style of play obviously has a big impact on the kind of players in the kind of roles you want all over the pitch and in the Fullback spot. Some examples: You don't have very good Fullbacks and just want them to stay back and just hold their position in the backline? The Defensive Fullback is exactly the right thing for you. Do you have a great Attacking Fullback and the means to cover him, when he runs up the pitch? The Complete Wingback might be the exact position you want.
The Wingback and the Complete Wingback roles are obviously roles that while they can be played in any formation or system, are more suited to a formation or system that a) plays with three central defenders that can then obviously help cover the wide areas or b) plays with enough Defensive cover in Midfield or c) plays with no real wide players in Midfield. However, I am going to cover all of the three main Fullback roles, so Fullback, Wingback, and Complete Wingback in detail. I am not going to go as much into detail about the Defensive Fullback and the Inverted Wingback because especially the Inverted Wingback is a specialty role that is less comparable to the other roles. They are obviously still roles that can and do work well in the right kind of system but I don't feel I would do the Inverted Wingback role justice by just writing one short column about it but it is something that might come your way in the future so keep an eye out. 😉
A few things about the methodology: All of the players I am going to talk about played at least one full season in the respective position. The players aren't of the same quality but they are all well suited to the roles and the teams were comparably successful in their respective leagues in terms of both league finish and average rating so the main idea should be clear. All the values are per 90 minutes.
Fullback
The traditional Fullback is probably the most used role in that position in Football Manager. It comes with four different duties: Attack, Support, Defend and Automatic. On Defend, your Fullback is going to do exactly that – Defend. He is not going to run up and down the line and he is not going to whip in the crosses. This can be a good duty in a system that wants to sit back and doesn't need the Fullback to break forward on a Counterattack or if you just want to see the game out. With the Support duty, the Fullback is going to get forward but only when it makes sense and when there is a good opportunity to make a run making this duty well suited to intelligent players. With the Attacking duty, the Fullback is going to bum forward whenever he can whilst trying to still fulfill his defensive duties but these are not as important with that duty. Finally, the Automatic duty makes everything based on the team mentality.
Let's look at at the stats to understand, how Attacking and Supporting Fullbacks actually work in terms of performance on the pitch: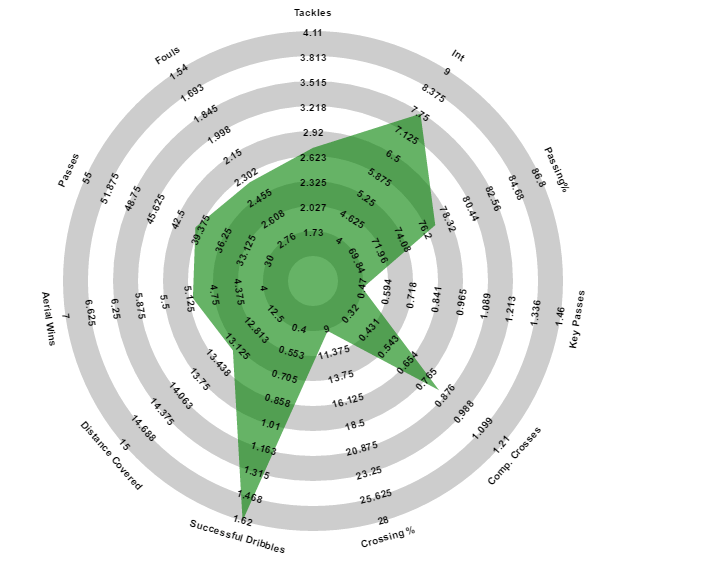 This graph from a Fullback on Attack shows a lot of attacking intent from him. The final output might not be great (me using real life values for some of these might play a part too), but you can see the general point. This Fullback on Attack drives at the opposition but he still tries to make things happen and beats the opposition wide players. He also gets a decent number of Interceptions because he aggressively pushes for them making this duty well suited to a Pressing system or to one that has another wide player who tends to cut inside. With the way "Look for Overlap" works I tend to just put one of the FBs on Attack if I only want an Overlap on one side.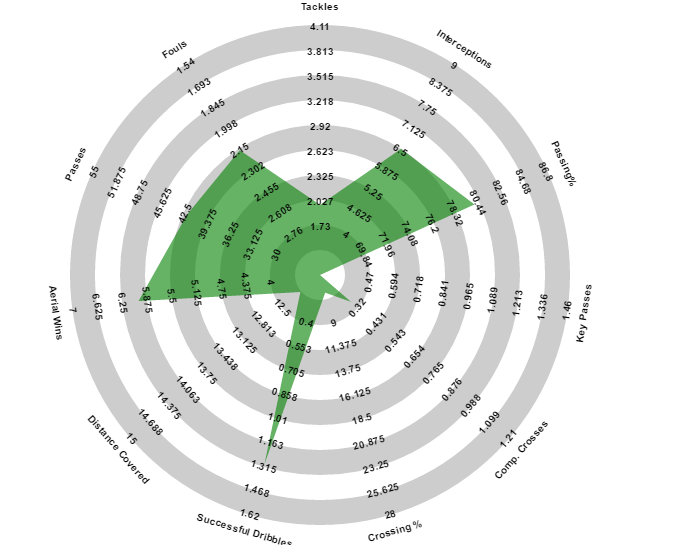 The Fullback on Support plays a lot more conservatively. You can see that he still dribbles and tries to get forward but he doesn't do it nearly as much as his compatriot on Attack. However, he got more completed Passes and better Pass Completion due to being deep enough to be involved in the build-up. He's also got more Aerial Wins, highlighting the defensive solidity of this option with the lower distance covered value suggesting that he does not get up the pitch as much. A duty that is well suited to any sort of system that can be enhanced with Player Instructions or Team Instructions such as Look for Overlap.
Wingback
The Wingback is a – by default – more Attacking option in the Fullback or – when you play with three at the back – in the Wingback spot. The reason why the Wingback is called Wingback is because he is tasked with fulfilling the defensive duties of a Fullback and the attacking duties of the winger making the Wingback one of the most tasking roles that exist in Football Manager and in the real world. If you want to employ this role you want a good Backup for your main player because especially in weeks with several games, fitness can be a major concern.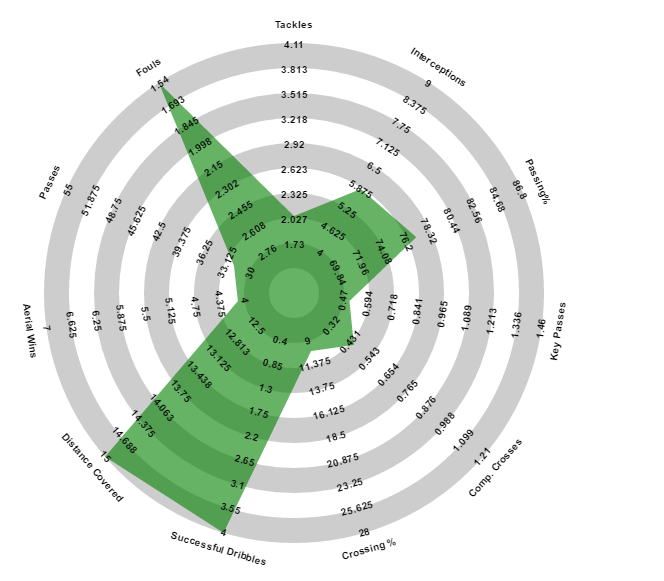 You notice how Distance Covered and Successful Dribbles ( I have raised the maximum value there) have gone through the roof? This is because the Wingback is constantly tasked with running up and down the pitch and when he is running up the pitch he obviously has to try to beat the opposing Fullback. Again, due to his high starting position, he is less involved in the build-up but can do more damage up the pitch.
Like I said, you are asking a lot of the player so you should give him some defensive cover with either a back three or some deep midfield coverage. Otherwise, you can also play a WB when you are chasing a game or when you are playing against weak opposition that is hard to break down and don't look very threatening on the Counter because this role is good at stretching the opposition.
There are four duties on the Wingback (the same the Fullback got). The Radar above is from a Wingback on Support. He doesn't aggressively try to overlap and get to the byline on every occasion but still fairly often compared to the standard Fullback and is probably the most balanced out of the four duty options you have.
Complete Wingback
The Complete Wingback is probably the most attacking version of a Fullback the game offers. He just loves Attacking, he loves getting forward and he loves influencing the play in the final third. That obviously means that he is going to leave space behind and it is very much a role that is mainly suited to a Wingback that plays alongside or just in front of a back three or with a system that plays an Anchor Man/Half Back so the wide CB on his side can cover him on his adventures. In any other setup, he might be too attacking and he will leave a lot of space behind.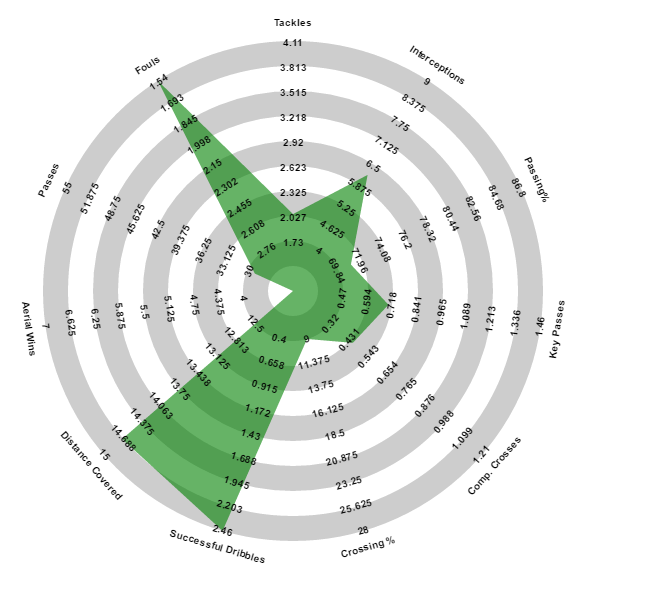 As you can see here, the values of the attacking parameters have risen, albeit not by a lot but again this might be because I haven't figured out the right values for FM yet. But as you can see he completes less passes with lower accuracy because the passes he tries are riskier. His defensive contribution is also lower highlighting the very attacking intent of this role. However, if you have someone who is really good at Dribbling, Crossing and has some Pace you should consider playing him in the role if you can fit it into your system because the Complete Wingback has some interesting active Player Instructions like "Cross from Byline" and "Dribble More". That being said I always had a harder time fitting that role into a system because from the three main Wingback/Fullback roles it is probably the most specialist.
This role has two Instructions with the Support one looking to drop back and defend a bit while the Attacking one is mainly a Winger that just runs at the opposition from a slightly deeper starting position.
Defensive Fullback and Inverted Wingback
The Defensive Fullback is fairly similar to the Fullback on Defend but he has got even more Defensive Instructions on him like "Cross Less Often" or "Dribble Less". If you play that position you are almost just looking for a third (or fourth if you play one on both sides) Centreback so the main attributes to look out for are Marking, Tackling and Heading.
The Inverted Wingback offers something completely different. He will defend the wide areas like any Fullback does but in possession he is going to cut inside and act like another Central Midfielder. Like many things in Football Manager it doesn't quite work out like it does in real life but it's still a good role if you want to build up through the middle or if you want to overwhelm your opposition with players in the middle third of the pitch. There aren't a lot of players who can play that position because you are looking for something between a Fullback in terms of physical attributes and a Ball-Playing Defender in terms of the other attributes that likes playing out wide.
To sum things up, there are a lot of roles you can use for your Fullbacks and they all work fine but there are subtle differences in all of them and I hope I helped you if you were struggling to decided which role to play. As always, If you want to hit me up, talk to me or ask me anything I am in the FM Slack or you can follow me on the Socials that are on my profile. Or you use the comment function below if you got any questions.