Welcome back to Brexit Means Brexit. After a short hiatus, it's time for an update on what's been happening at Celtic Park…
We finished off last time with a remarkable victory in the Europa League, following an unbeaten season in the league. It would have been easy to accept that as the end of the challenge: We had won in Europe with an all-British squad. I want more than that, though; I want to win the Champions League before I call it quits with Celtic.
Following our successful season in Europe, we had a reasonably quiet summer window. Todd Kane was the biggest permanent addition to the squad; joining for £7.75m from Chelsea after being a major factor in our success last season, when he was at the club on loan. Other than that, we brought in four 16 year olds for a total of £1.2m and they all look like they could be useful in a few years' time. Jonny Williams and Liam Cooper joined on free transfers, and we also brought in Raheem Sterling on loan for the season – a massive signing for Celtic.
We also sent 18 players out on loan, released 5 and sold 3. Scott Brown went to Dynamo Moscow for £240k, Cristian Gamboa moved to Huddersfield for £1.7m – completing the first part of the challenge, as his sale marked the moment that Celtic officially had 0 non-British players on the books. Ryan Bennett also moved to Swansea for £4m; a loss of £0.5m overall, but he was never going to get a look in this season, so it made sense to let him move.
Our success in Europe would also benefit the rest of the league: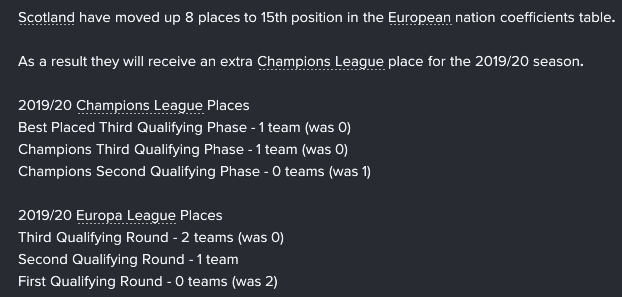 The chasing pack in the league would now also be competing for a shot at the Champions League, while those qualifying for the Europa League places would have less games to play before reaching the Group Stage. There was a huge incentive for teams in mid-table to push for a top-six spot in the league before the split at the end of the season, because depending on the Scottish Cup winners,  only one team from that top 6 would miss out on European competition next season.
Our squad was looking strong for the beginning of the season. Jordan Archer continued in goal, with adequate cover in the form of Nathan Pickworth. In defence, Todd Kane continued at right back, with former Manchester United fullback Joe Riley deputising. Baily Cargill and Jack Hendry continued their great partnership in the centre, with new signing Liam Cooper on the bench, and Charlie Taylor and Luke Garbutt would continue to rotate at left back. Jordan Williams continued at DMC, with youngster Ross McLaughlin promoted to the first team squad to deputise for him, following some good performances at the end of last season. Dan Gosling and Stuart Armstrong were still the first-choice central midfielders, but with Jonny Williams on the bench and Liam Henderson and Ben Reeves also in the squad, there were plenty of options for the playmaker spot that Armstrong occupied. Kevin Stewart was the backup for Gosling, although Ross McLaughlin can also play there.
On the wings, Scott Sinclair remains unmoveable on the left wing, but this season he would be paired with Raheem Sterling on the right. I had massive expectations from the pair of them, and with Leigh Griffiths leading the line, we had some incredible firepower up front. Deputising them, we have Sam Gallagher, Callum McGregor, Conor McAleny and Ryan Christie, so we are not short of options.
With Champions League Group Stage qualification guaranteed, following our success in the Europa League, we started the season a little bit later than we had done in previous seasons. A 3-0 win at home to Kilmarnock kicked off the season in style, before we met Tottenham in the Super Cup.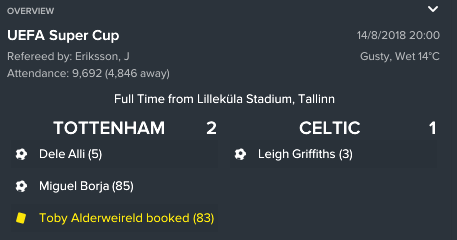 Tottenham, still buoyed by their Champions League success, lifted the Super Cup despite a spirited performance from Celtic. We were the better side throughout, but ultimately we couldn't put the ball in the net after Leigh Griffiths opened the scoring. Miguel Borja's 85th minute winner was a kick in the teeth, but so be it…
We returned to domestic football with back-to-back wins; away to Hamilton (3-1) and St. Mirren (3-0), before our phenomenal run of 48 games unbeaten came to an end at home to Rangers. Losing to the blue half of Glasgow is a blow at any time, but to lose at home – and end our run – was particularly challenging. The team bounced back with a 3-1 win at Hearts and a 1-0 win at Pittodrie, however, to keep spirits high as we approached our first Champions League game.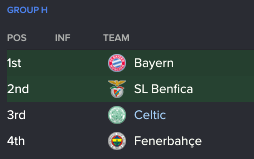 This year, we have been given our best chance to move beyond the group stage. Bayern, obviously, would be the favourites to qualify as group winners, but we fancied our chances against Benfica and Fenerbahce. At the very least, I expect to qualify for the Europa League, but Benfica would be our biggest threat for 2nd place. We needed to get off to a good start against Fenerbahce, though…
On a warm evening in Turkey, we came away with a victory and made a strong statement about our intentions. There's no doubt that Souza's red card on 22 minutes – for an awful two-footed challenge on Jordan Williams – helped us, but we had dominated the early stages of the game, and Sinclair's goal was fully deserved. Leigh Griffiths was excellent throughout, as indicated by his two goals. Fellaini pulled one back on 82 minutes, but there was never any doubt about us winning this one. We were the better team by far.
We followed that result with a 3-3 draw against struggling Dundee and a 3-0 win against Hibernian, before welcoming last season's runners up – and one of the early season's form teams – Partick Thistle to Parkhead.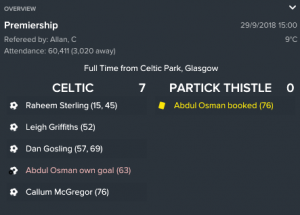 The teams went into the match in 1st and 2nd place, but there was a clear gulf in class between the two sides. Thistle has 2 shots on goal all game, and were never a threat. Raheem Sterling continued his great form, as did Griffiths and Gosling, and we made another strong statement – this time about our intentions domestically. Leigh Griffiths walked away from this one with 1 goal and an incredible 4 assists, and unsurprisingly was named Man of the Match.
Our next game would present a much more difficult challenge: FC Bayern were the visitors to Celtic Park.
Bayern were the better side, but a 3-0 scoreline flattered the visitors. Celtic had more possession, more shots at goal and generally controlled the game for the majority of the game. It wasn't until Firmino broke away for his 2nd goal that Bayern started to take control of the game, and the Costa goal was the only one they scored which was deserved. We were very unlucky in this one, but it gave us belief that we could give Benfica a real run for their money in the race for 2nd place.
Before that game, we travelled to St Johnstone (3-1 win) and Motherwell (0-0) to keep up our good form in the league. We came out of both games unscathed, in injury terms, and were able to field a full-strength side against Benfica, when they visited Parkhead.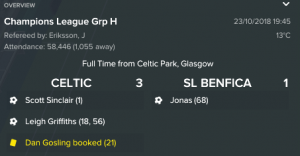 This one was never in doubt. 60% possession and 20 shots at goal were the backdrop for a convincing victory for Celtic. Scott Sinclair and Leigh Griffiths got us off to a great start, and Griffiths' 2nd after the break ended the tie. Jonas' goal in 68 minutes was against the run of play, and we were comfortable for the remaining 20 minutes or so.
More importantly, the result moved us into 2nd place with 6 points from our first 3 games. Bayern continued to dominate – winning 4-0 against Fenerbahce to go with their 3-0 wins in the first two games. Benfica sat in 3rd on 3 points, with Fenerbahce matching expectations as the whipping boys of the group.
Before the return leg in Portugal, we faces St. Johnstone in the League Cup Semi Final. At half time, we were 3-0 down, so we used all of our subs to try and get back into the game. Liam Cooper, Luke Garbutt and Sam Gallagher were replaced by Baily Cargill, Charlie Taylor and Leigh Griffiths, which produced phenomenal results. Taylor set up two goals for Leigh Griffiths and Callum McGregor scored to level things at 3-3 and take the game into extra time. McGregor scored another in extra time to complete the comeback, and we were through to the final 4-3.
We followed up that disappointing performance with disappointing draws against Hibs and Inverness, which completed our less-than-ideal preparation for the trip to Portugal.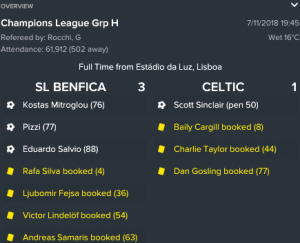 With 20 minutes to go, we were getting excited about moving on to the next stage of the Champions League, but then everything fell apart. Substituting Jack Hendry, Stuart Armstrong and Charlie Taylor on 70 minutes proved to be a disastrous plan, and Benfica scored three times to steal the victory – and cancel out the head-to-head advantage. It meant that we would need to perform better against Fenerbahce and Bayern in the final two games than Benfica, against the same teams.
Domestically, we needed to get back to winning ways and we did that with victories against Kilmarnock (3-0) and Hamilton (4-1). It was excellent preparation for the visit of Turkish giants Fenerbahce to Parkhead. Before that, though, we had some huge news from Downing Street:
Article 50 had been triggered and, amidst a golden age of European football in Scotland, we were officially leaving the European Union. Our decision to go all-British was ultimately not necessary, as 17 foreign players would be allowed in the squad and any existing foreign players would be given special dispensation to be included as non-foreign players.
The Brexit rules gives us the opportunity to relax our all-British rules if we so wish, but I would like to keep going with our plans to dominate European football with a fully British side.
And speaking of European football…
A boring first half ended with Souza – sent off in the first game between the sides – being stretchered off, and that again proved to be the catalyst to Celtic's victory. Leigh Griffiths put us ahead early in the 2nd half and we controlled the game from then. Fenerbahce ended the game without a single shot on goal, and Griffiths' penalty to make it 2-0 gave us a deserved victory. Meanwhile, Benfica's 3-1 defeat at home to Bayern left us 3 points clear of the Portuguese side, with a better goal difference. Here's the table with 1 game to go:
We had a superior goal difference, but with Benfica likely to put at least 2 past Fenerbahce, we would head into the final group game with a lot of work to do. Defeat by two goals might be enough to shatter our dreams, if Benfica were to beat the Turkish side as expected.
Before the trip to Germany, however, we had a small matter of the League Cup Final to deal with.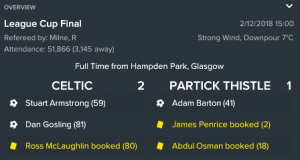 Partick Thistle took an undeserved lead just before the break, despite Celtic completely dominating the game. For the 2nd half, we switched to a more attacking, direct style of play and eventually it paid off, with Stuart Armstrong levelling on the hour. Gosling's winner was thoroughly deserved, and we were League Cup Champions for the third year in a row. Even though the board perennially couldn't give a damn about it, I was pleased to keep up our great run in the competition.
It was time to return to more important matters, however, with a trip to Bavaria.
Things started well with Dan Gosling handing us the lead early on, but Anthony Martial immediately pegged us back. Griffiths restored our lead on 23 minutes, but Firmino restored parity just a few minutes later, and we went into the break in the midst of a fascinating contest. The two goals could prove vital if Benfica were to win, as the Goals For tally could be the difference maker. We went into the 2nd half believing we could get something out of the game, but Bayern stepped up another gear. Alaba's goal on 67 minutes was fully deserved, and Martial's 2nd goal of the game on 88 minutes had us desperately wondering what was going on in Turkey.
When news came through of an 89th minute goal for Fenerbahce to give the Turkish side a 1-0 victory, we were absolutely delighted. The group stage ended with us three points clear of 3rd placed Benfica – and in the hat for the knockout stages of the Champions League!

With European football secured in the new year, we turned our attention back to the domestic game. A 5-0 win at home to Hearts and revenge at Ibrox (2-0) kept us top of the league by a point, but a 1-1 draw at Aberdeen put Partick Thistle back in control of the division as we headed to Firhill to take on our title rivals. Raheem Sterling and Leigh Griffiths both scored a brace to help us to a 4-2 win and put us back on top of the Premier League. A 1-0 win at home to Dundee guaranteed we were top of the league at Christmas, and a 2-0 win at home to Motherwell on Boxing Day meant we ended the first half of the season on top of the table by 4 points, following Partick Thistle's draw at St. Johnstone.

Overall, 2018 has been an incredible year for the club. Winning the Europa League was a phenomenal, surprising achievement, and we have continued our great European form into the new season. Getting out of the Group Stage of the Champions League was my target as soon as I saw our group, but I feel like this will be as far as we go, having been drawn against Real Madrid for the next round.
Domestically, we have been excellent. We may have lost a game this season, but this season has been by far the best since I took charge. We have converted disappointing draws into dominating victories and although Partick Thistle are still pushing us hard, I don't envisage them being anywhere near us at the end of the season.
With the January window set to open, I can't see us making any moves. We have declared Oliver Burke as our top target, but with Leipzig holding out for £30m, we have no chance of bringing him in. Liverpool and Man City have both recently sacked their managers and I have been linked with both jobs. Usually, I dismiss the links, but I have responded to the media by stating I would be interested in both jobs, when they have asked. I have no intention of leaving Celtic, but I'm hoping I can use the interest to force the board's hand on the number of coaches at the club. So far, neither side has made an approach, so it's a wait-and-see game for now.
That's about it for this half-season. It's been interesting so far, and hopefully there's another European upset on the cards…
Until next time… Don't drink and drive…