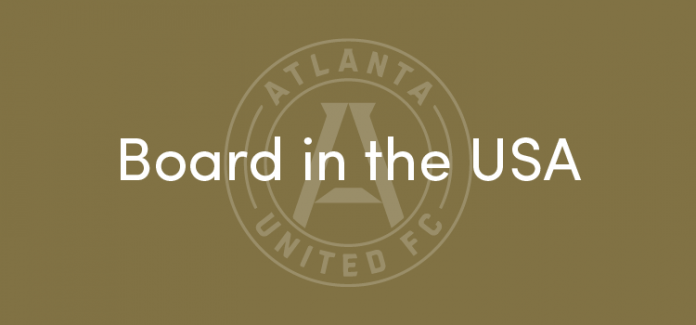 Board in the USA 11: Stopping Short
Atlanted United had made the 2017 MLS Eastern Conference Playoffs. We had finished 3rd in the Eastern Conference, which meant that we had to play the MLS Wild Card Game against 6th placed finisher New England Revolution.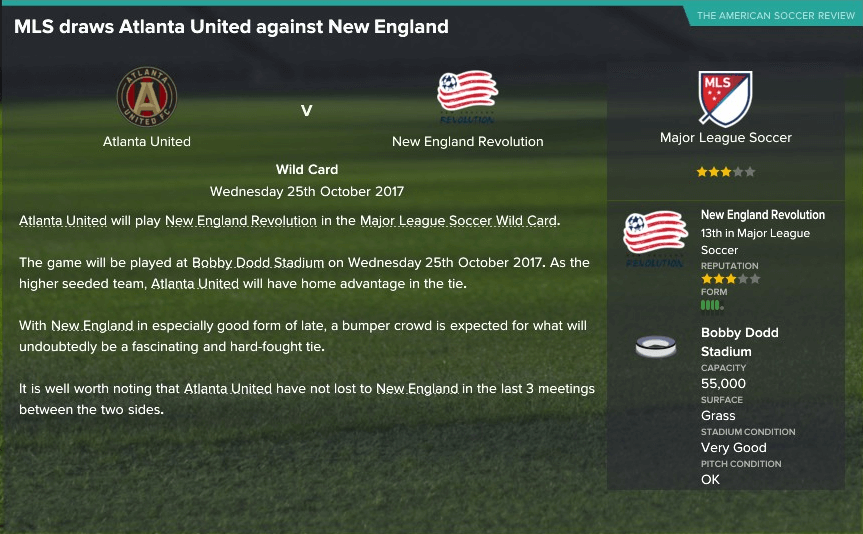 I was fairly confident in our chances. New England Revolution was a team we had been stomping on all regular season. Although we were missing our first-choice forward Ulises Tavares, I thought we had a pretty good short of taking the game to New England.
The boys did not disappoint. We were largely in control of the game, creating far more good chances than the opponent. Things were looking up for our heroes.
Our Eastern Conference Semifinals pairing was against NYCFC, which would be played over two legs. I was not confident at all going into this game; we literally have not beaten NYCFC all season, with 2 draws and a 2-0 loss. I was also still without Ulises Tavares. Mike Alcocer, my (fairly useless) backup forward had to take centre-stage. I feared for the worst.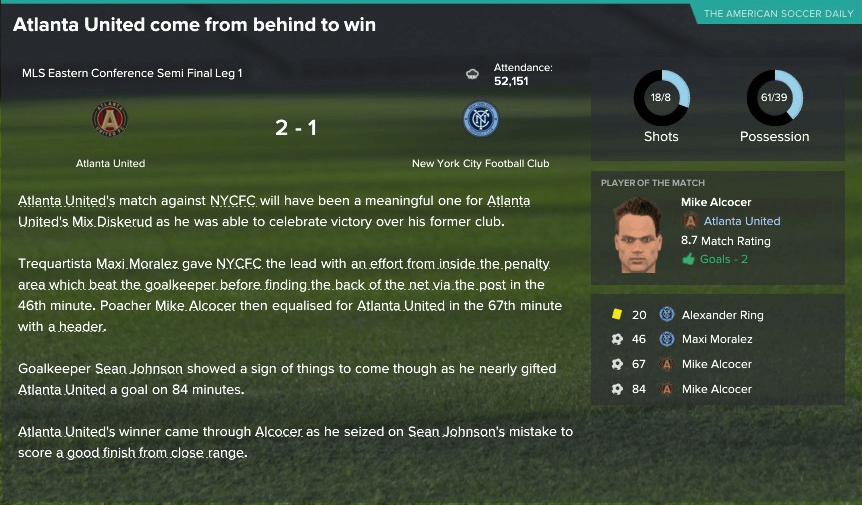 Unexpectedly, we won! My draft pick Mike Alcocer turned it on this game, scoring the equaliser and winner. I wanted to kiss him at this point. His determination and relishing of big matches really shown through. Spirits were high.
But of course, this was to be played over two legs. We had gotten the easy leg down with a win; we now had to play away, which as you know is not one of our strong suits. Even Theiler was spooked by this big game, he decided that the team's mentality should be Counter. This was literally the first time all season.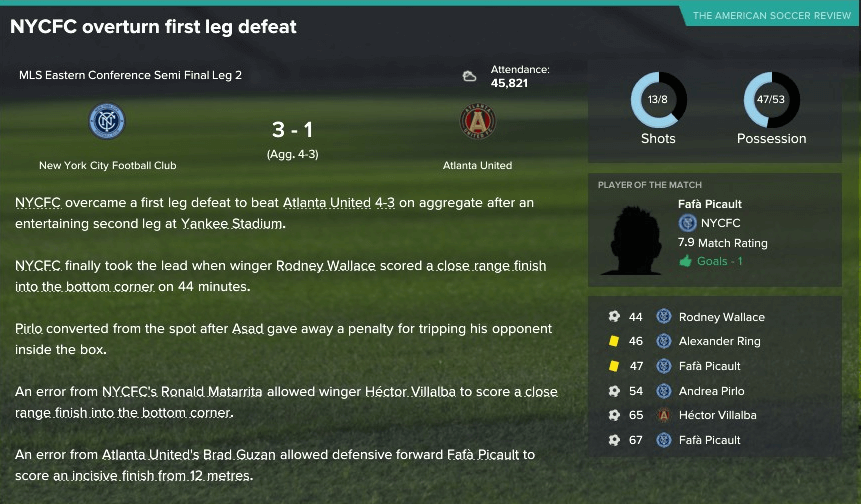 Unfortunately it was not to be. We got walloped in the second leg. Unexpectedly, Brad Guzan really dropped the ball this game (literally). He was basically the reason we lost that game, making 2 goal-costing errors. Tough result to swallow, but that's football.
Post-Season Review
As the director of this team I decided to do an analysis of Atlanta's performance through the 2017 season.
Looking at the data, it was clear our away performances have been shambolic all season. We conceded 3 times as many goals away than we did at home, and scored roughly half of the number of goals away. Away form really had to be addressed going into the next season. Theiler's possession-based systems were not cutting it in front of tough crowds.
Looking at player performances, most of the team had played fairly well throughout the season. The real standout however, was Mark Pelosi.
The man who was my throwaway last pick in the 2016 Expansion Draft has matured into a legitimate first-team left winger. His average rating of 7.08 over 30 appearances was enough to put in contention for USA Young Player of the Year. The best part of all? He was on a 1.4/week contract! This is, of course, likely to change in the coming years ahead, but a bargain bin find is still a bargain bin find.
Keegan Rosenberry also had to be another standout at right-back. With an average rating of 7.19 over 29 appearances, this man is a complete and utter steal at Senior Minimum Salary.
One guy who has been standing out for the wrong reasons is Carlos Carmona. Although he's a very solid defensive midfield player, his high aggression has endowed him with 4 red cards this season, the highest on the team. I already have Scott Caldwell and Amobi Okugo who are both first team ready, so I'm looking to get rid of the 30-year old the coming window.
I also need much better cover for Ulises in the Forward position. Mike Alcocer may have done it this time, but better backups are necessary for the team to pull ahead into next season with consistency.
That's it for this update, wrapping up my first season with Atlanta United. It has been an absolute blast, and I cannot wait to see what the next season (and the 2018 Superdraft) brings. As always, you can find me at @avery1822 on Twitter or @avery on FMSlack. Stay tuned!