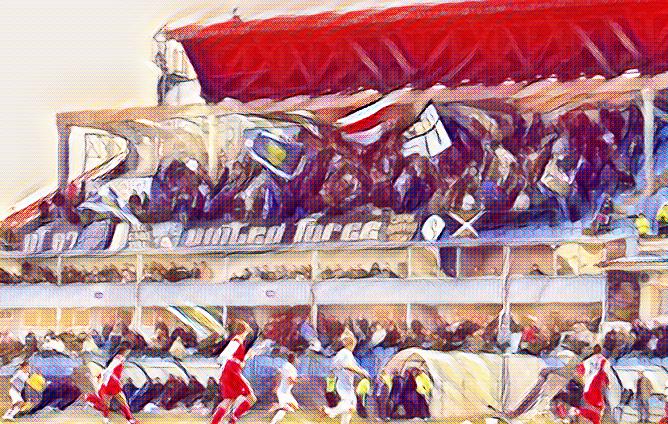 Zdravo, twenty games in and we are still flying high at the top of the Serbian Premier League, four points clear of second place but with the mighty Red Star breathing down our necks.
Since the last update, I have had a bit of a think about our formation and what we can do to improve it, what are you talking about improving it? You may be asking, well, during our magnificent run to the top of the table I have noticed a certain decrease in decent scoring opportunities against certain formations and I believe this could be the right time to address them, having only ten games left of the main season.
We have lots of the ball beating every team in terms of possession and scoring opportunities but decent shots on target are a rarity against teams playing a 4-4-2 or a 4-1-4-1 and I believe it is because we are not utilising the spaces in between midfield and attack/midfield and defence, especially in a 4-4-2, so we need to develop a new formation to use against these formations.
This is what I have come up with:
As you can see a bit of a change to our 5-3-1-1 we have been using all season long and something that could work to our advantage, using that formation for most of the season has let teams see how we play and are starting to work out how to nullify our threats going forward, so a new formation and new threats for teams to work out.
We have brought in a feature I have tried to use before, and failed, the inverted wingback, with wide midfielders providing the only width we need in this primarily narrow formation, we are getting the wing backs to play centrally when attacking and try to overload the midfield.
The defensive midfielder will act as a pivot for the team, winning the ball back and playing the ball forward or sideways, he will be a potent threat for us, especially against a 4-4-2 where he will have plenty of space to operate.
We will keep a false nine at the top as Djenic has been thriving in that role and will drop a bit deeper and link up with the central midfielders who will be attacking alongside him at every opportunity.
The roles are set so that we are controlling the play for a lot of the game and barraging the opposition with attacking runs from every area of the pitch every time we have the ball. It is a risk and could create holes that teams could make the most of, but we too can create holes and stretch the play with this dominating attacking style we will use.
Hopefully this new formation can work for us and keep us at the top of the table as the season draws to a close, find out next time to see how we fare with it, until next time, Zbogom.