Welcome back to Brexit Means Brexit.
Last time, our second summer window of this story had just slammed shut, so it's only right that we revisit the Celtic Brexit Challenge as the winter window opens. That's right – Christmas 2017 has just finished, so as Tesco start stocking the shelves with Easter eggs (other supermarkets are available), football clubs across Europe are preparing their assault on the transfer market.
With the media predicting big-money moves from some of the biggest clubs across the continent, we will be going in the opposite direction. Wheelin' and dealin' is the name of the game (or "Doing an 'Arry" – just don't call him one to his face) at Celtic, despite a relatively large transfer budget. We'll get into that in a minute, though – first, let's pick up where we left off…
… August had been a busy, exciting month, and September promised to be equally as entertaining with the Champions League kicking off properly. After a disappointing 2-2 draw with Ross County to begin the month, German giants Borussia Dortmund rolled into Glasgow, looking to put an early dent in our Champions League dream.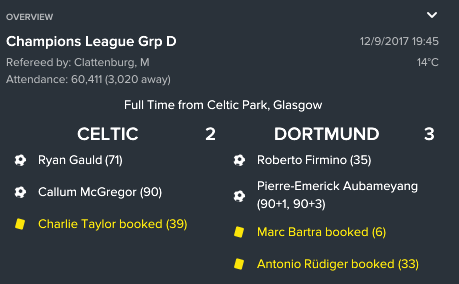 With almost everybody expecting a walkover for the visitors, Celtic almost pulled off a famous victory in what turned into a heart-breaking defeat.
Celtic were every bit equal to the German champions throughout, and were only behind at half-time because of a goal from Roberto Firmino – a drilled shot into the bottom-left corner easily bested Craig Gordon in the Celtic goal, and that's how it stayed until midway through the 2nd half.
Ryan Gauld scored the best goal of the game with a 20-yard strike into the top right corner, and we would have been happy to take a point against one of the group favourites, but the game was far from over. In the 90th minute, Todd Kane capitalised on a mistake by Dortmund midfielder Julian Weigl and played a great ball in for Callum McGregor to give Celtic the lead, and we were in dreamland! With the fans still celebrating, however, Pierre-Emerick Aubameyang immediately levelled things up and, almost inevitably, the Gabonese striker snatched victory for the visitors with one of the last kicks of the game.
It was a devastating defeat, but there were positives to be taken from the game – we had proved we could give Europe's biggest sides a challenge at Celtic Park, and further performances like that would likely be enough to beat Kyiv, at least.
The Bhoys showed their mental strength by winning their next three games against Inverness at home (3-0) and away to Greenock (3-0) and Dundee (1-0), before our next group game against Spanish giants Atletico Madrid.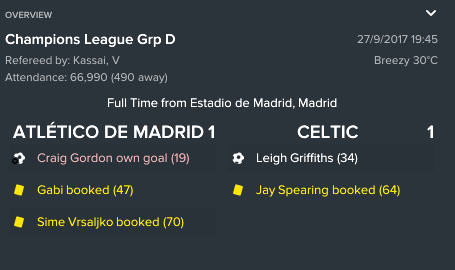 If the result against Dortmund was unfair on Celtic, then this game made up for it. Outclassed from start to finish, we had just two shots on goal, compared to Atleti's 18, but in the one are where it mattered, we managed to pick up a point. Despite his own goal, Gordon had an excellent game in goal, and we were up and running in the Champions League. One point from two games wasn't the greatest return, but considering the opposition and the performance at home, we were relatively pleased – a good result against Dynamo Kyiv would give us an excellent platform to qualify for the Europa League.
When Hamilton Academical came to Celtic Park a few days later, with The Bhoys still on a high following the excellent result in Spain, we naturally drew this one 0-0. We got back to winning ways at Ibrox with a 1-0 victory, before welcoming Dynamo to Celtic Park.
Coming into this game, we knew that a performance to match our first home game in the group stage would be enough to beat the Ukrainian side, and that's exactly what happened. Man of the Match Ryan Christie dominated the game for Celtic, and this one could have been far more comfortable – a missed penalty from Scott Sinclair keeping the score respectable for the away team.
So, half-way through the group stage, we were sat in 3rd place on 4 points, just three behind group leaders Atletico Madrid. Dortmund were just two ahead on 6 points, while Kyiv had failed to pick up any points so far. We knew that a victory in the return leg in the Ukraine would be enough to guarantee that we would please Nicola Sturgeon by staying in Europe for just a little bit longer.
There were a few important games to be played before then, though, and we finally moved to the top of the league by beating the previous league leaders, Partick Thistle 4-3 at Firhill Stadium, thanks to a Leigh Griffiths hat-trick. We followed that up with a 2-0 victory at Hampden Park against Kilmarnock to put ourselves into the League Cup Final for the second year running, before beating Hearts 2-0 with a heavily rotated side.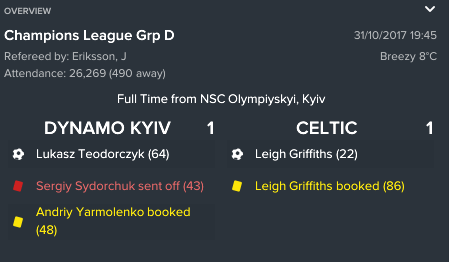 The first team players rested for the game against Hearts returned to the side for the trip to Kyiv, but we were disappointing throughout. Despite taking the lead, we were second best for most of the game and if it weren't for the hosts being reduced to 10 men, we could have easily lost the game. Atletico's 4-1 demolition of Dortmund put us within a point of qualifying for the next stage of the Champions League, however, so spirits remained high, with Europa League qualification almost secured.
Following a disappointing 0-0 draw at Kilmarnock, we looked to regain some momentum with a 3-2 win at Dundee United, before a crucial visit to North Rhine-Westphalia.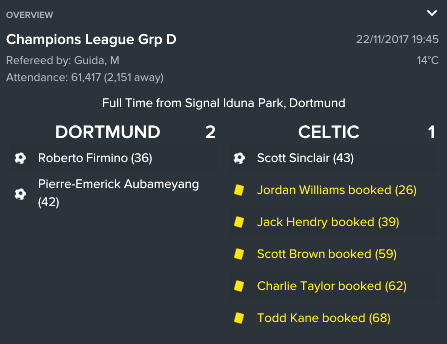 It was a bittersweet result for our 2,000-plus travelling fans, as defeat to the far superior German side ended our hopes of qualifying for the next round of the Champions League. Defeat for Dynamo Kyiv in Spain, however, guaranteed our participation in the Europa League and probably made Nicola cream her pants…
The celebration continued domestically, as we dominated Motherwell to win the Scottish League Cup. A 2-0 victory thanks to goals from Adam Armstrong and Conor McAleny had our fans celebrating our first silverware of the season, before we resumed our league campaign.
We, were facing Motherwell again and this time we weren't quite as successful; sharing the spoils in a 1-1 draw. We followed that up with a 2-0 win at Ross County, before falling to a 2-1 defeat in our final Champions League game of the season at home to Atletico Madrid, leaving Group D looking like this:

All in all, it was a respectable campaign in a group containing two teams that would be expected to go far in the competition. We can be proud of our performances overall and hopefully build on them in the Europa League.
Victory at home to Aberdeen (2-1) and away to Inverness (2-0) followed, before a 0-0 draw at home to Dundee left us 2nd in the league at the half-way point, despite being undefeated so far – regardless of what the form column in the table said…!

Partick Thistle have been excellent this season, mostly thanks to the combined efforts of Steven Lawless (7 assists) and Adebayo Azeez (8 goals), as well as Tomas Cerny's excellent performances in goal, keeping 10 clean sheets in 19 games.
Much like last season, it was disappointing to find ourselves 2nd at this stage of the season, but 45 points from 19 games isn't a bad return, so we needn't be too disheartened, and with a game against Partick Thistle still to come before the turn of the year, we had every reason to be confident that we could reclaim 1st place.
As it happened, we didn't need to wait until the Partick Thistle game to return to the top of the table. A 3-2 win at Hamilton, while Partick lost 5-3 to Dundee, meant we were top ahead of the game against our title rivals. We won that game 3-0, putting us top by 5 points at the end of the year.
There have been a few standout performers across the first half of the season for Celtic. Following the departure of Moussa Dembélé, the pressure was on Leigh Griffiths to step up, and he has certainly done that.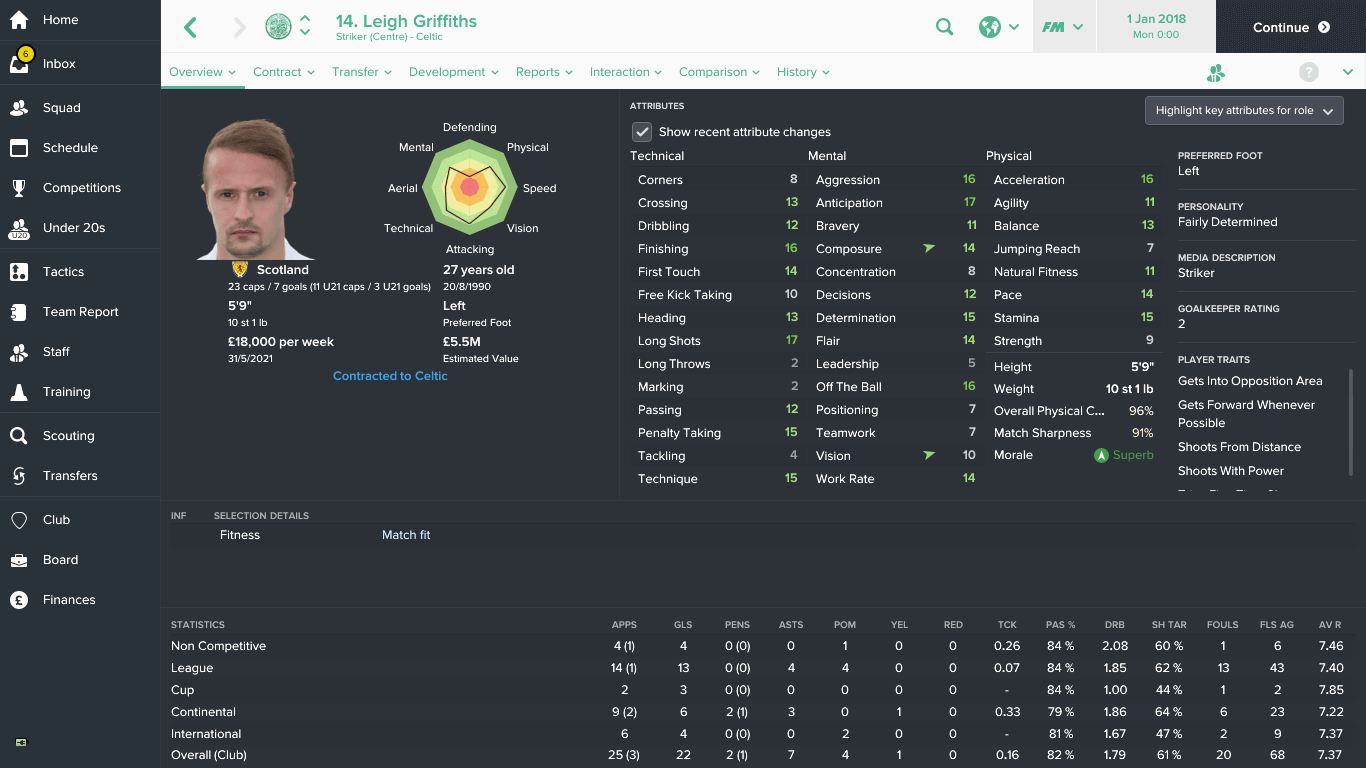 13 goals in 15 league appearances have helped us maintain an unbeaten record, and 22 goals in 26 appearances overall is a fantastic record. With 7 assists to his name as well, it's clear that he has been invaluable so far.
Both Charlie Taylor and Todd Kane have been excellent in the full back position, chipping in with 11 assists each. Newcastle are sniffing around Taylor, and I expect I'll have to fend them off during the window. Hopefully, the lure of European football will be enough to keep him happy, but it will be tough to keep him if a bigger club comes in. Kane is valued at £6.5m, and with £12m available to spend, we might make a move for him to join permanently.
Scott Sinclair and Stuart Armstrong have been great in midfield, with Sinclair contributing 14 goals and 8 assists so far. Armstrong has 5 goals and 7 assists to his name.
Looking towards the transfer window, I'm quite happy with what we've got, so there won't be much activity. Kane and Gauld would be excellent additions on a permanent basis, but it's doubtful that we can afford both or even one of them. Instead, we will probably concentrate on Bosman deals to join at the end of the season – Darren Fletcher is out of contract, but won't currently listen to any offers. The same is true of Conor Coady, however initial contact with Welsh duo Tom Lawrence and Jonny Williams has gone well, so hopefully we can bolster our already-stacked midfield.
Other than that, we're going to keep our eyes open and see what happens. Most importantly, we need to keep hold of our best players, otherwise, we will never improve our performances in Europe – speaking of which, the board expect us to qualify for the 2nd Knockout Round. Standing in our way of doing that?

Great… Well, it's possible, I suppose – we'll give it everything we've got and see what happens.
Until then… Don't run with scissors.