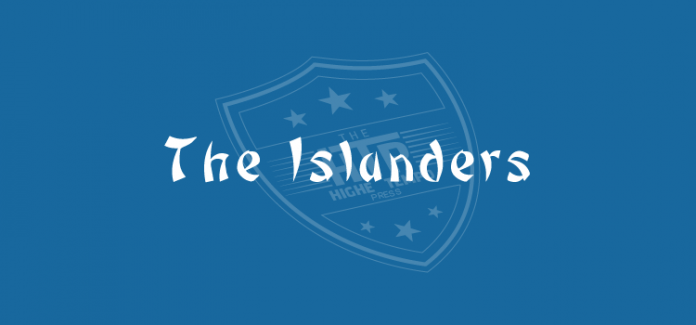 The FC Ryukyu players sunk to their knees, every last drop of energy drained in the previous 94 minutes of football. Their season was over, there was nothing more they needed to give, even if they could. The tiny team from the island of Okinawa had made history, their history. They may have just lost in the Emperor's Cup Semi Final, the first time the club had been so far, but they had silverware in the cabinet for the first time. The League Cup was theirs and complimented a second place in the J1 perfectly, for Ryukyu were to play continental football for the first time in 2023. 
The fans, all 20,000 of them, gave Sakaguchi and his men a standing ovation, cheering their name all round the cavernous International Stadium of Yokohama. Their victors, Marinos, had slipped away quietly, their minds already on the upcoming final. Ryukyu manager Chris Darwen walked on to the field, taking in the ovation and shook everyone of this players by the hand. This was a momentous season, and despite the disappointment of the day, a moment to be remembered. He knew this would be the last time some of the players would represent him and the island, as several would return to their parent club or be moved on, but he told them how proud they had made him. Eventually, after sharing a song with the fans, FC Ryukyu bid the travelling support "Osu" and retreated to the sanctuary of the dressing room.
"My team, we have achieved great things this season. But rest assured, those of you that remain, we have only taken another step forward on this great journey. For some of you, take great pride in the fact you have been part of this, and we may well meet again. For some of you others, this is your final destination so be proud that you made it this far. You are champions, each and every one of you. Well done".
What a season. Seriously, I do not know where to begin. In my previous update I was telling you how close I had been to jacking in the save as the passion was going, and then we end up here. "How?" you would be right to ask. Well, I have to thank the collaboration with uMAXit and Lee Scott (@fmanalysis) for breathing life into all this. For it was the switch from the #ArgSt17 (which had, in fairness, made a solid start to the 2022 season) to the Nagelsmann that changed our football fortunes.
For those of you who have not seen the uMAXit project that Tempo is doing – check it out below.
Anyway, @fmanalysis and I worked on this tactic and following its initial success at Napoli in the video (top of the table after about ten games) and then Lee winning Serie A in the first season with Atalanta I felt confident that it would be good enough on the island. The only problem was, well, we play strikerless innit. And now we needed some strikers!
Fortunately, Ren can play up top. And so could new signing Kono. It suddenly meant that Yang was rendered completely redundant, as were most other attacking midfielders but I was confident this was the shape to see us move on to the next level. And boy was I right.
That back seven gave us the most incredible foundation from which to build upon. Reverting to now club legend Otsubo in goal was, if I may say, an absolute masterstroke.

The young man conceded a mere 24 goals in 48 games, keeping 29 clean sheets. I like that. I like that a lot. With Tomi playing the more aggressive stopper role, Bing and Ikenoya finally started to come into their own and the two full backs were incredible. Sadly, they are both unlikely to return on loan. They both played so damn well that their parent clubs are going to give them first team football next season. Cho Sang-Jin was also excellent in the DM role, initiating so many attacks and often being the out-ball.
Although we were becoming tough to beat, we were struggling to break teams down.
Sakaguchi and Nam Do-Hoon were becoming a formidable pairing in the middle of the park, but we were struggling to find a rhythm in the front two. Ren played as the DF quite often before the summer transfer window, but didn't really hit it off with Kono as the DLF. I tried Yang as the DLF and he did OK in some games and badly in others. I knew I was going to have to do something I had not done since I found myself in Japan. I was going to have to sign a striker or two.
I don't often get to put any kind of "StS" kind of process in place, so I was very excited to go shopping.
I set up a search on the following criteria.
Over 7.00 average rating
More than 10 appearances (to provide a decent sample)
Over 50% shots on target
Filtered on number of goals scored, most to least
From memory, this brought up about ten players. So I did this…
An initial scout report on each
A follow up scout report from my assistant manager
Drilled down into the stats on each player – which led me to believe in the two I signed
You see, both these lads were right at the bottom of league goals scored this season on that list I brought up. Yet, they were hitting the average rating and shots on target % I desired, so they had something. Further investigation told me they were both banging in goals for their reserve teams and most of their first team appearances had been from the bench. The scout report was positive, the second opinion was good, they weren't going to cost loads so I felt they were worth the gamble. And, as often is the way, one came really good and one didn't quite.
Akasaki delivered this for me…

I'll take that all day long – because his partner in crime (eventually) was Kono up top.

It took Kono a while to get going, but he was very decent for us.
Shibuya may not have scored the quantity of goals, but his double in the Emperor's Cup Quarter Final changed the game – and I think he is a decent option to have.

So, the Nagelsmann took this tiny little football club from the island of Okinawa to the League Cup and a second place finish in the J1. Not bad, right?
The League Cup was one hell of a run. We were, on paper, the side most likely to finish bottom of our group but we sneaked through. We were superb against Osaka and Sanfrecce and the final was one of the most nerve wracking FM matches I have ever been involved in. We were superb, they did not have a shot on goal, but we could not find a way through ourselves. I never win penalty shoot outs, never, so it was nice to win my first proper silverware that way!
The J1 season was amazing.
Just look at that defensive record! 18 goals in 34 games. Superb! And we beat Kashima 2-0, which was fun. The last few games were crazy tight and, as you can see, we could have easily finished 6th. We lost 1-0 to Tokyo in the penultimate game so it was vital we beat Omiya Ardija in the last match to ensure second place – we did it in style, 3-0. Heroes, all of them. That brings us Asian Champions League football next season.

As I said, we were built on a solid defence.
For two of our players to be in the top three places is incredible as well.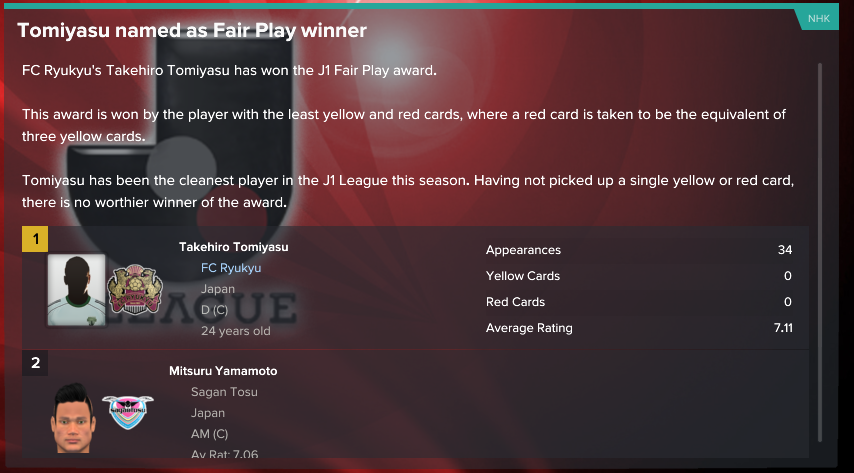 It's always nice to win awards too.
But, these are the things that I really love to see…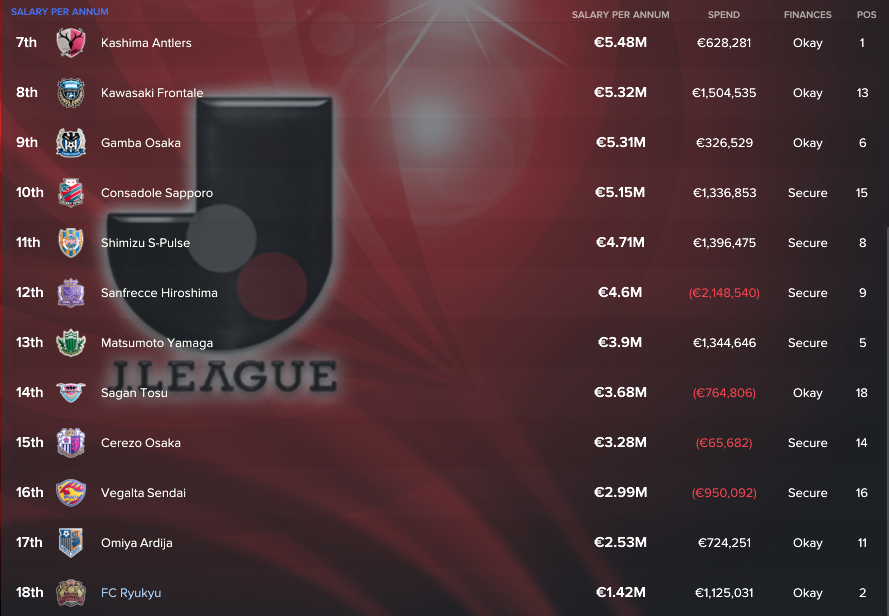 I just love having the smallest wage bill. It gives me a weird sense of almighty pleasure.
So where will we go from here? The obvious answer is "win the J1" and I actually do think that is possible. None of these "bigger clubs" are that much better than us on the pitch, and I think with sensible recruitment over the winter we could be right in there. When I look at the squad, I am happy with the goalkeeper, the central defensive options, the defensive midfield options and the central midfield starters. I am also happy with the attacking options, but I do need new full backs, probably on loan, and another central midfielder, again probably on loan.
In terms of keeping the club moving forwards, I want to try and improve our youth coaching side of things. We are not attracting much in the way of youth intake currently, so it might be time for a few changes behind the scenes in that regard. I do like to freshen up the backroom team every so often, and I have not done this for a while, so maybe this will be the winter.
What are the aims for next season? Well, I'd love to qualify for the Asian Champions League once again and be in a proper title race rather than clinging on to second. I'd like to get to the Emperor's Cup Final. In terms of the ACL, it is a complete unknown to me so we will just take that one game at a time initially.
I sense good things happening on the Island – this save could go on and on….
OSU!