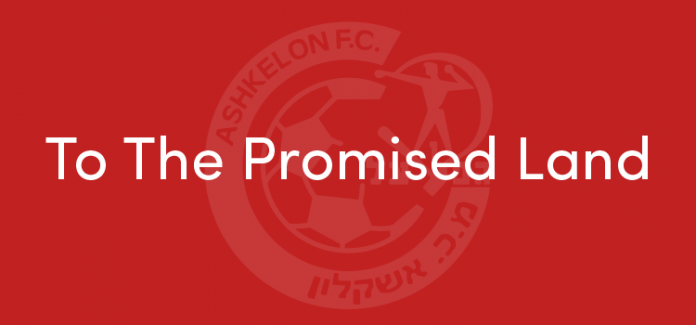 Each season, after each team has played each other twice, the Israeli Premier League divides into two. The top six compete in a mini-league to decide who qualifies for Europe.
In my second season with Hapoel Ashkelon FC, as in the first season, we made the top six. And, again as last year, we then finished sixth out of six in the mini-league.
Though the outcome was the same, the experience was very different. Last year, the tally for our ten matches in the mini-league was: goals for, 9; goals against, 11. This year it was: goals for, 16; second season, 22.
I'm sure the neutrals loved it.
The proliferation of goals was the result of our adoption of the 'Mighty Magyars' tactic developed by Josh on his FM Pivot blog (fmpivot-dot-wordpress-dot-com) in a post entitled 'Aranycsapat ─ The Mighty Magyars in Football Manager 2015' (do Google it and have a read!).
To begin with, I imitated Josh's tactics lock, stock, and barrel. We played not only with his 'MW' formation, but with his tactical settings too. On the rare occasions that I adopt someone else's settings, I tend to begin by imitating them slavishly.
The thinking is that, if you imitate them unselectively, you'll capture whatever it is about their tactics that works. Then, when you've had a chance to observe, you can introduce modifications. Whereas, if you start to modify straightaway, the risk is that you simply re-impose your own style and lose whatever is valuable about the tactical innovation you've imported.
So I let them play Josh's way for four matches and then began to modify, making the style of play less extreme.
I changed the team instruction from very fluid (which I don't recall ever using before for any save, not for a minute) to fluid. And, despite the name of this blog, I changed the tempo from high to normal. And I stopped instructing players to run at their opponents. Both of these changes were because our players weren't up to the demands on such aspects of their game as first touch, dribbling, positioning, off-the-ball movement, and decision-making.
I also changed some of the roles. The complete forward became a target man. (If there are any complete forwards in Israel – at least, any who we could realistically acquire – ours scouts have yet to locate them.)
And the deep-lying playmaker in the defensive midfield (DM) position became a half-back.
Introducing a half-back made us tighter defensively. Our 17 year-old DM, Asefa, proved adept at dropping back when needed to become in effect a third centre-back.
As a result of these changes, we did improve.
It's been fun experimenting. The tactic certainly introduced a new style of play. When going forwards, our formation often resembled the ancient pyramid system (i.e., 2-3-5); when defending, it tended to become a 5-3-2 — the wing-backs and half-back dropped into defence and the shadow striker dropped into midfield.
With the new tactic came a new mentality. Before adopting it, I'd worry if we went a goal down: would we create enough to get one back? With it, I felt that even if we went two down, we were still in it.
But the ratio of goals for:against is obviously unsustainable. In the mini-league, it hasn't mattered: once you make the top-six, you can't finish lower than that, no matter how the results go after that. But we won't be able to ship goals like that when the 14-team league resumes next season.
I think the main problem is that, despite assistance from the half-back – and from the sweeper-keeper, who I think is a crucial part of the mix – the demands on our centre-backs were too great. Nathan Smith, in particular, fell apart and had to be dropped: but he's a good player, almost ever-present since we acquired him, so evidently the problem is tactical.