A Kolnoscopy Challenge

The Bundesliga Tale: Season 5: 2
Extract from the Managers diary:
'A dark room with mahogany features, dim lighting and leather furniture could mean only one thing…therapy. At the age of thirty I'm contemplating my life, my work and my future. Expressing my doubts, my anxieties and my failings.
'I left Scotland as an Emperor leaving his glittering empire, forgetting the past and looking forward to the conquests still to come.'
'Mmm.' My therapist.
'During my three years there I managed two titles and four cup wins. A wonderful achievement. Spectacular some said.'
'Mmm.'
'My reputation was growing so large and so quickly that big clubs took notice and made enquiries about my availability.'
'Mmm, okay, yeah.'
'I then joined Koln with the simple expectation of managing to survive relegation. Which I did, comfortably.'
'Mmm.'
'And during my first full season in charge, we beat the clubs record tally in the Bundesliga.'
'Mmm, yeah, interesting.'
'So why do I feel so empty?'
Nothing.
I glanced around to see my therapist look up from his phone and notice me staring, startled, he hastily shoved his mobile phone away. 'I'm sorry, what was that last bit?'
'Oh fuck off.''
So with my first full season in charge, what sort of damage could I cause on the reigning champions Bayern and the scintillating Dortmund? After closing out the first half of the season in 3rd, could I climb the ladder further and/ or challenge in the German Cup?
Transfers:
After what was a hugely busy summer of in's and out's, I was given several months of re-assessing the first team squad. For the most part I was happy, as my new attacking players Klipper and Roberts in particular were proving to be quality signings. However, my defence was frustrating me beyond belief. We were conceding goals for fun and it was doing my fucking head in. Every time we looked like switching to cruise control by dominating the scoreline the opposition would score and suddenly we would be back to battle stations once again. I set my scouts the task of finding me players to improve two positions, centre-back and half-back/defensive-midfielder. They identified a number of players but I went ahead with three.
Incomings:
Benedikt Howedes – CB: At 32 I knew this would be a short-term fix but for a tidy fee of £2.1 million I felt it was important to bring in a player of his vast experience.
Mauricio Lemos – CB: At 24, Mauricio is definitely one for the short-term and future. The highly rated player cost me a pretty penny, with me having to cough up £11 million to Las Palmas for him.
Danilo – DM: You know a player is going to be good when they have only one name. At 24 the Brazilian is somewhat of an animal and provides the quality my current DM's were offering. Danilo also cost me a large sum of £11 million from Gremio. He's worth it though.
Total Spend: £24 million.
A lot of money I know. The thinking behind it was, during the summer I was looking for bargains. Yeah, I got some, but I also got a thin squad and one that lacked quality in important positions, i.e. defence. To make sure I achieved what I wanted to this season I felt compelled to spend big, something I've been totally against beforehand. See, the problem is Bayern are just so dominant I'm not sure I could overthrow them without spending top, top money. That's not to say it isn't possible, just that if I wish to do it quickly, it will cost me a premium. Believe me when I tell you, I was sobbing my way to the bank each time I caved to the other clubs demands.
Fixtures and Results:
So, being Germany all of the teams are given a short-break over Christmas to get fat, recharge the batteries and spread STI's around the local red-light districts. It is therefore important to have a number of friendlies prepared for their return so they are ready to get straight back into action in the Bundesliga. I hand picked the opponents myself (to enhance my pension pot). I wanted a good quality of opposition so picked Boca and Racing Club. That'll give my lads a lift when we twat them everywhere, I thought.

Shit.
So much for the confidence boast. Ah well, friendlies mean fuck all. Onwards and upwards.
Schalke were up first. Playing away, I knew it was going to be a tough game but was disappointed when we left after a 2-1 defeat. At this point I'd kept my new lads out of the team because I was worried about unbalancing the squad with newbies. Fuck it, I thought, when Bochum rocked up to our stadium the following week. Time to unleash the beasts. I threw Lemos and Danilo into the team and with their quality and added grit I saw not only our performance improve but in turn our results too.

Four games unbeaten, three wins and one draw. Sure none of them were big teams, but thats 10 points from 12 and with Leverkusen breathing down my neck every little helps. Next up, Bayern. I was dreading this. Against Dortmund I feel like it's down to the best team on the day – a simple slug fest. A good ol' toe-to-toe war of attrition where the winner takes all. But Bayern? I'll admit that seeing them appear on my screen with a day by day count down sends a chill down my spine, with every hit of the space button the brown stain in my undies grows ever bigger. Unsurprisingly that fear transcended down to the team and a comprehensive defeat followed. 4-1. Ouch. My bum feels sore. Ah well, on to the next game, hey? We can regroup and… oh. Bayern. Again. This time in the German Cup quarter-finals. Another defeat, this time 3-1. No cups for the second year in a row. Moving swiftly onwards…
'Shite this lads. Two defeats in a row. One in the league and the next knocking us out of the German Cup. That was our only chance of silverware. Now we've got fuck all to play for but pride. And who the fuck cares about pride?'
Needless to say, my boys did. Twelve games, eight wins and four draws. The scoreline's were just as impressive. 5-1 against Dortmund. A second time in two years. Me and Tuchel have built up something of a competitive relationship. He beats me, I beat him. He sleeps with my wife, I beat him up with a spade. Y'know, the usual give and take. A whooping 8-0 win over Leverkusen pretty much put an end to any competition of our 3rd place position. And to Jurgen Klopp's cheeky media mind-games. It was an incredible game really, we absolutely destroyed them. I'm not ashamed to say I gave each of my players a firm handshake and pat on the back after the game with a squirt of massage oil on their shoulders too. So then, with the season all done and dusted, how did the table look?
As mentioned beforehand, we finished comfortably in 3rd place, with 70 points, 8 more than our compatriots and victims, Leverkusen in 4th. In doing so, we broke a club record, with the previous record being 68 points. Wonderbar.
So, with some big scoreline's, what was our goal difference for the season?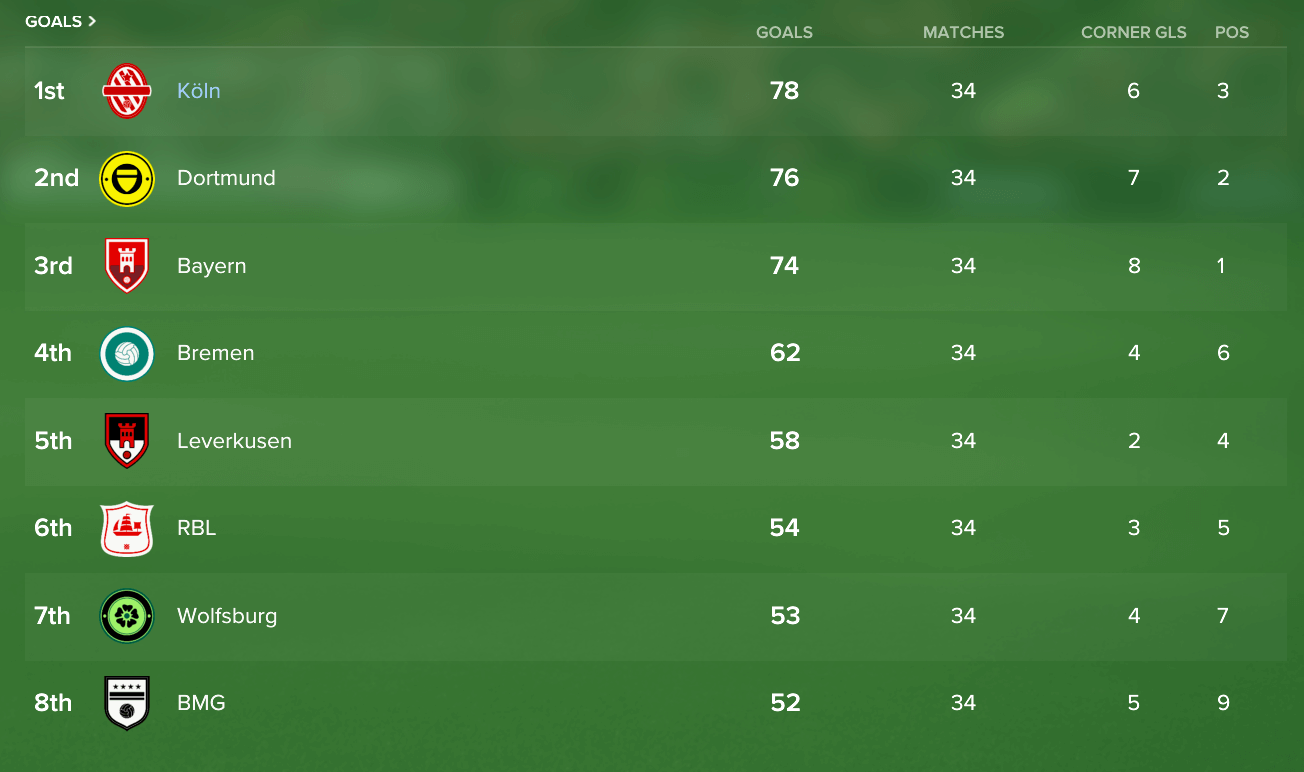 78 Goals for the season from 34 matches. Not bad. Well, pretty good actually. We finished top of the goal scoring league, beating Dortmund (2nd) by two goals. Very good. I like my teams scoring goals so the fact they are doing that more than anyone else is very pleasing indeed.
How about goals conceded then?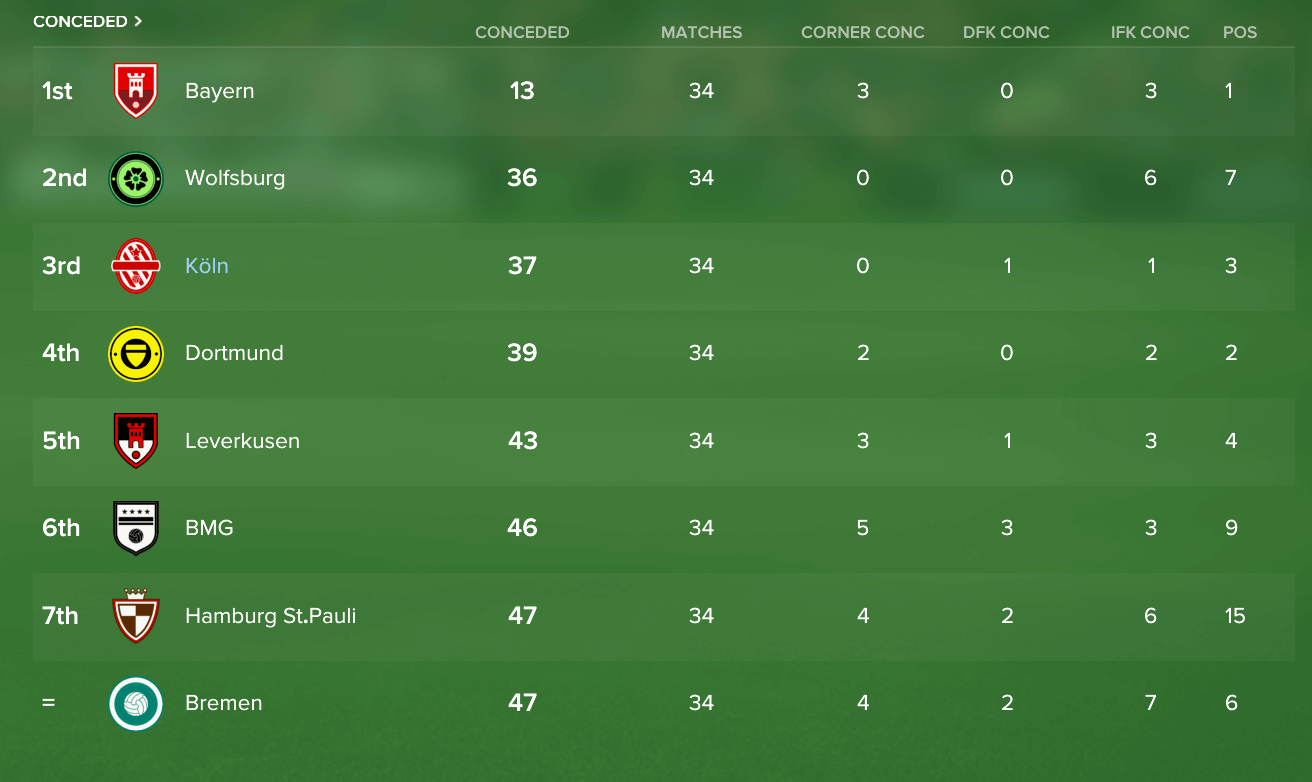 Last time we checked this we sat uncomfortably in 6th place having conceded 24 goals from 17 games. It was pretty grim reading as Bayern had conceded 8 goals from the same amount of games and that's what forced me into spending a lot of money to improve my defence. Clearly it worked, as we've jumped up from 6th to 3rd, trailing 2nd by only a single goal. Better, much better. From the final 17 games we conceded a much more respectable tally of 13 goals. Still, Bayern conceded that same amount over the duration of a full season.
Bastards. Plenty of work left to do then.
Bayern's Domination:
Feeling intrigued I looked into the past few seasons. Bayern have won it for the past nine years. Astonishing really and very frustrating for the rest of the country. No one likes to see one club dominate continually and nine years is incredibly selfish and brattish of them. How about sharing the love Bayern? In 2016/17 they won the league with 84 points, in 2017/18 it took them 86 points, 2018/19 – 89 points, 2019/20 it was 85 and this season it was 84. The very definition of consistency. What a bunch of twats. I'm no mathematician but my count in order to win the league I have to aim for around the 85 points mark. That would mean gaining a further 15 points more than my record breaking point tally in a very successful season. Basically I have to win an extra five games over the course of the year. A very difficult task. As with Celtic, I can also hope they come undone due to complacency, but as I've shown, it wouldn't appear that Bayern want to lose their title willingly. They shall have to do so kicking and screaming then.
Assistant Manager Scandal:
Another day, another assistant manager heartbreak. My french was improving vastly, my cultural references were no longer simply joking about eating snails, yet even still, my assistant manager Valerien Ismael decided he no longer appreciated my baguette/ cock jokes and left. In fairness to him he was offered a managers role at Bielefeld, a German 2nd division team, so there was some solace in that. Still, why don't they want to be my friend?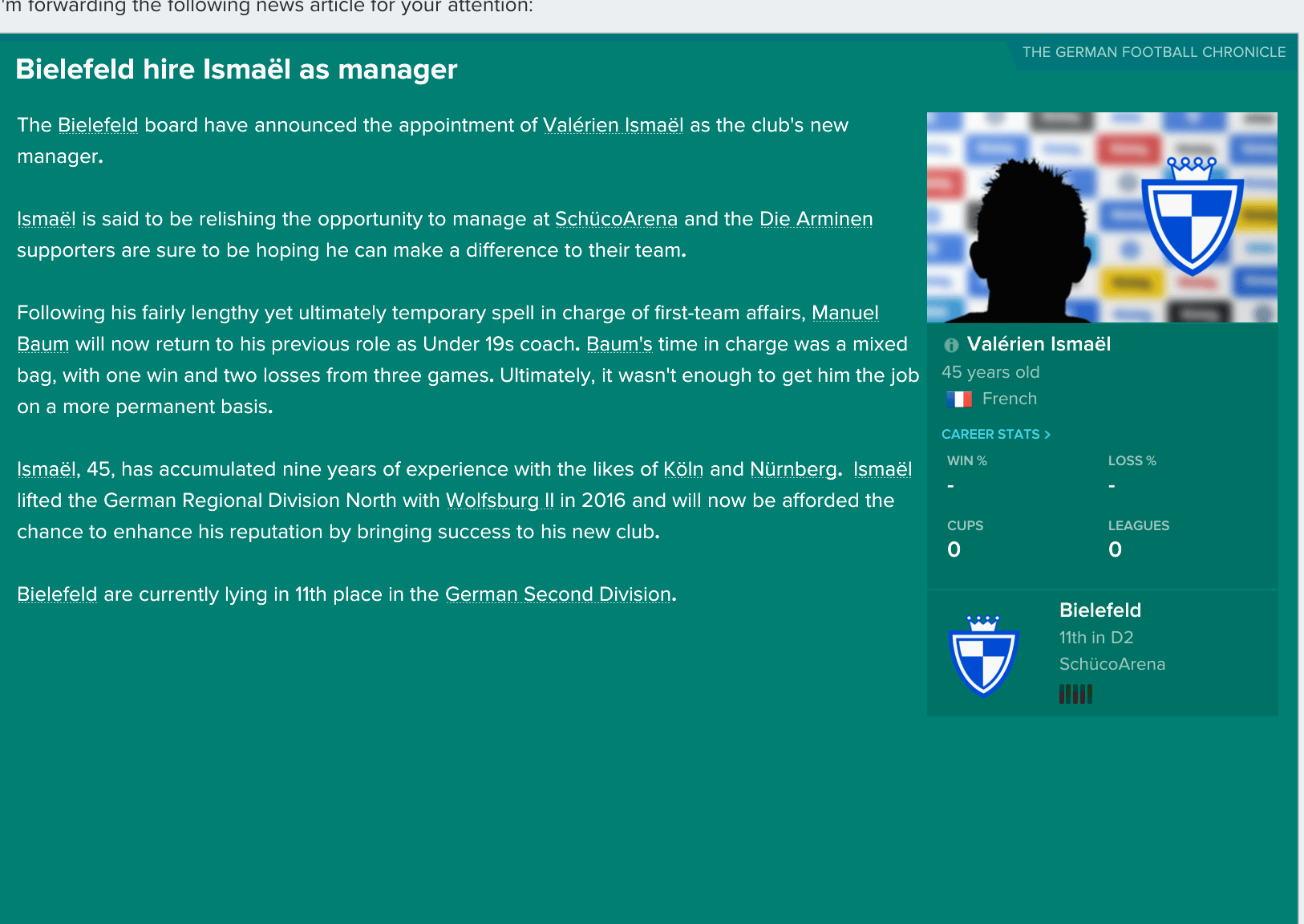 The search was then on. I took my time, not wanting to rush the decision only to appoint the wrong guy. I soon remembered a English Coach called Frankie Bunn and felt he fit the bill. I made an approach and of course he was over the moon to become the assistant to the greatest manager alive.

Individual Performances:
End of the season awards time. Who shone bright like a diamond? Who stank the gaff out after a night of curry and lager?
Mauricio Lemos CB: Brought in during January and made an instant impact. Excellent all-rounder and potential captain candidate. 88% tackle completion and an average rating of 7.25 means he was up there with the best. Hopefully he can continue at this level.
Jonas Hector LB: I like my wingback's to assist and score goals but Hector only managed two assists and no goals this season. So why is he getting spotlighted as a top performer? With 80% passing accuracy and 79% tackle completion and 266 interceptions he is what you'd consider a Mr Consistent. Always working hard for the team, always fighting to the death, it's why I'm such a big fan of the guy.
Patrick Roberts LW: 10 goals and 8 assists out of 22 games. I'm a simple man, and scoring and providing goals at that sort of rate makes me happy. Very, very happy. No, don't worry, that's just a roll of coins in my pocket.
Marko Grujic CM: 6 goals and five assists doesn't properly relay the sheer aptitude of his work rate and the impression he makes on the team as a whole. He is the perfect centre-midfielder, his passing completion for the season was 89%, he won 80% of all headers he competed for and 79% of the tackles. He's the sort of player that covers every inch of the pitch. His performances have been so impressive in fact Barcelona tried to steal him away in January and both Barca and Bayern are annoyingly admiring him in the media now. Twats. He's mine, fuck the lot of you.
Joel Campbell RW: Bit of a funny one this. I contemplated selling him in the summer but no decent bids came in. Out of the 22 games he played he scored 10 and assisted 8. His pace and power make him a top player on his day. And his day came more often than not, with his worst performance garnering a respectable rating of 7.44. Fair fucking play, Joel, my son.
Glauco Klipper ST: So, Klipper. The 18 year old Brazilian was brought in to cover the more experienced strikers at the club. I intended to use this season to blood him slowly, adapt him to our style and look to build his experience over the next two years. Vincent Aboudakar started the season where he left off last term, and within his first 23 games he had scored 17 goals and assisted 6. Yet, for some reason he tailed off massively. So much so I was forced to throw my young Brazilian into the team. He took to it like a duck to water. 19 games, 16 goals and 8 assists. What a debut season it turned out to be. He's too young to be totally relied upon in the future, but he definitely has a big future here.
Summary:
A good season. We have Champions League next year so I shall have to bring in a handful of good players to fill the squad but for the most part I'm happy with the team. The target is to put more pressure on Bayern at the top but I still feel there's a gulf in the quality in our sides but we'll see. Big year next year really, two seasons without any silverware, not a statistic I'm enjoying.
Nur ein Karnevalsverein.
Up the Billy Goats.