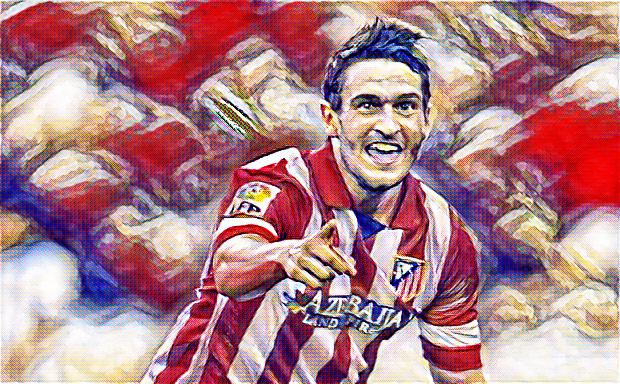 While my last role piece was about the Poacher, a role that most people are probably somewhat familiar with because of real football, this one is about a role that does somewhat exist in real football but most people would probably struggle if they had to describe what exactly a Wide Playmaker is. This piece tries to explain what the Wide Playmaker is doing in FM and support it with stuff from the real world.
What does the Wide Playmaker do?
When I first used the role of Wide Playmaker it was after I just watched Atletico beat Real 1-0 at the Bernabeu. One of the key men for Atletico that day was Koke. He was playing on the left of the four in the midfield but he wasn't – and still isn't – your typical winger.
To provide you some context, here are his passes received and attempted from Atletico's 3-0 win against Valencia at the Calderón.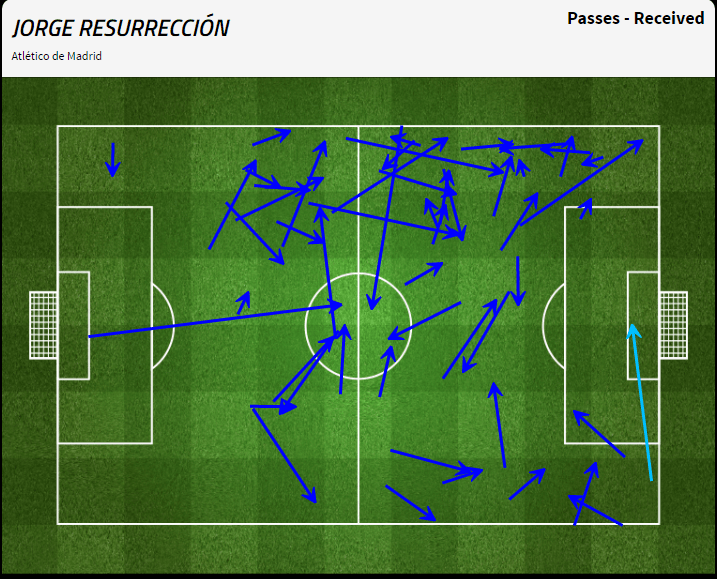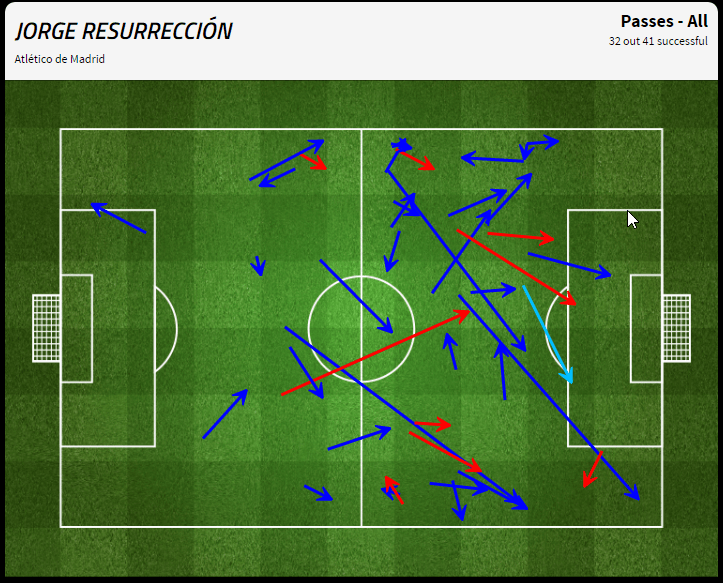 You'll notice that he receives the ball out wide a lot more than he does in central areas. His passes, especially the longer one's and the one Assist are more spread out though.
Some things about how Koke plays that can help us understand the role in FM better: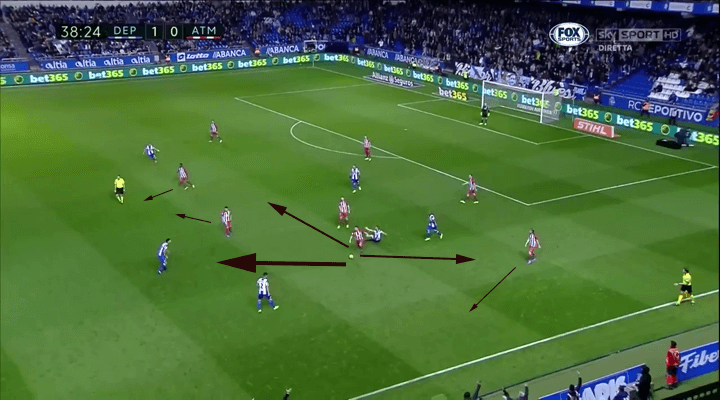 Here, Koke wins the ball back fairly deep in the own half, highlighting his defensive contribution. Now he has several options. He can either play it back to Filipe Luis, play it short to any of the midfielders or he can cut inside to dribble through the middle thus opening space for other players. He goes for option number three and I'm sure if I fire up Football Manager 2017 now, and put him in the same position he would do the exact same thing.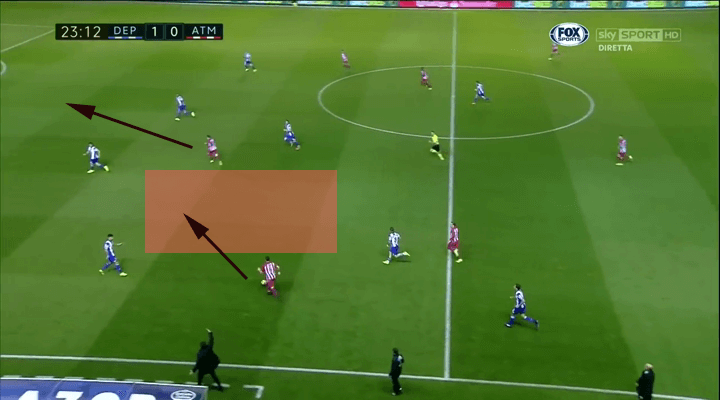 Here we have yet another example of Koke doing things a Wide Playmaker in the game would do. The Spaniard receives the ball at the halfway line and drifts into space in the middle. In this case, Filipe Luis isn't overlapping so the Depor full back can tuck in to prevent loads of damage but Koke is very good at playing intelligent balls to players who are making runs in behind so he still managed to play the ball through to the striker in this situation.
Wide Playmaker in FM
The role description is always a good starting point if you want to understand how a certain role works because unless the role is bugged like the IWB was for a long time. According to this, the Wide Playmaker will "act as the team's primary source of creativity drifting inside to find space from which to play the killer ball and create chances". It also states he might be unmarked due to him coming inside from wide positions.
The role has some Player Instructions that are pre-set and that you can't change. Let's just go through them all (I picked the Attacking duty in this case because it has one more):
Cut Inside with Ball – Probably the most obvious one. The WP drifts inside whenever he has the ball. That way he avoids the packed central midfield and draws opposition wide players out of position.
Sit Narrower – Again, fairly obvious. You don't want your Wide Playmaker to hug the touchline when he receives the ball. This also helps when you are defending.
Dribble More – You want your WP to beat players when he cuts inside to create space for both himself and other players.
More Risky Passes – At the end of the day, the Wide Playmaker is still a Playmaker. You want him to play the killer ball and pick out the pass that unlocks a packed defence and this includes high risk/high reward passing.
Cross Less Often – As I explained earlier, the WP isn't a standard winger. You don't want him to cross a lot and he's not going to get into the situation to put a cross into the box that much anyway.
Shoot Less Often – Again, the Wide Playmaker can be a very important player in your Attack but due to his nature as a Creator you don't want him to shoot much because he is not the kind of person who is going to get into positions with high finishing chances very often.
Roam from Position – The WP is a mobile player. He needs to cover the left half space in both attacking and defending phases and you want him to find the right space to receive the ball.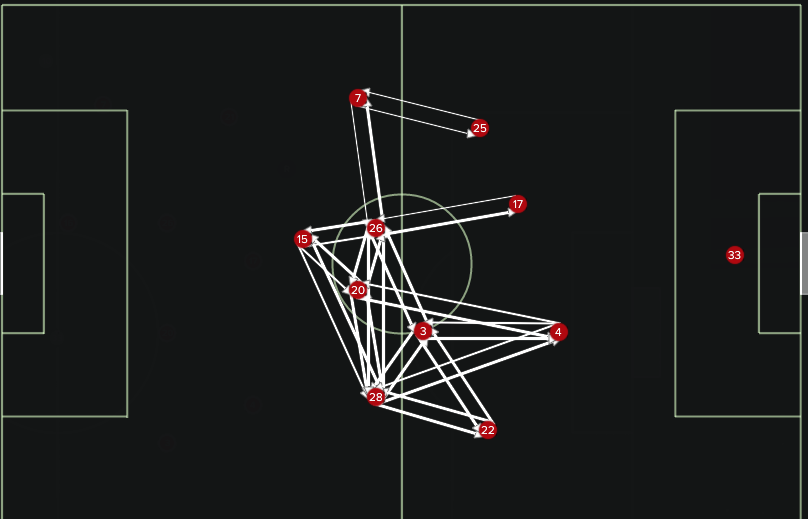 I wanted to highlight the impact the Wide Playmaker has on my team. To do that I deliberately chose a game where we didn't do very well. But you can still see just how involved the WP (our number 28) is. With 61 he got the most pass combinations out of any of our players on the pitch and he linked very well with the rest of team around him. You can also see how he sits just that bit narrower than the Wide Midfielder (number 7) we play on the right side. At the end of the season, he had about 70 completed passes per 90 minutes and only got trumped by one of my CMs who ended up with 75.
Now, let's highlight some of the typical moves that involve the Wide Playmaker in my 4-4-2 system. His style of play and his movement and impact obviously varies slightly from system to system but there are a couple of teams that use a Wide Playmaker in real life (Leicester with Riyad Mahrez, Atletico) that play 4-4-2 as well.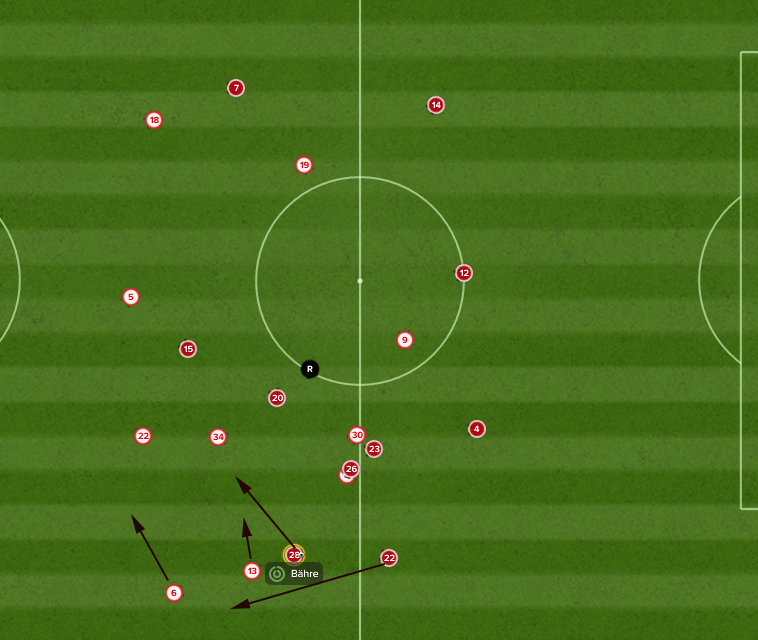 In this one, Mike-Steven Bähre, who was my Wide Playmaker that season receives the ball with his back to goal. Instead of just going for the save option that would be playing the ball back to the left back, he turns and moves inside opening up the passing lane to our number 20 who receives the ball with a quite risky pass.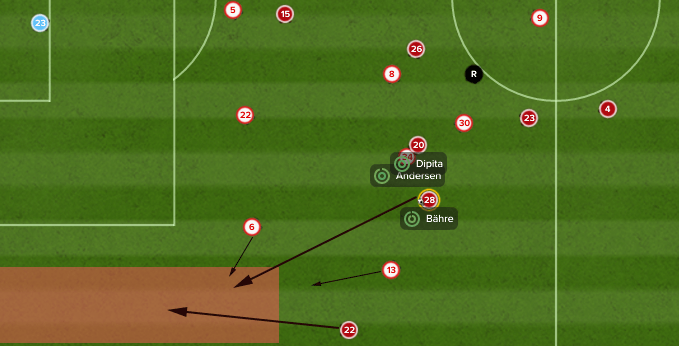 He now got the ball back and you can see that there is a lot of space opening up on the left. Their number 13 is No-man's-land because he can't decide between tracking Bähre or the left back. Bähre recognizes sets and immediately plays the ball out wide. Our left back now gets closed down by both of their wide right players, leaving Bähre in acres of space to receive the ball in the half space.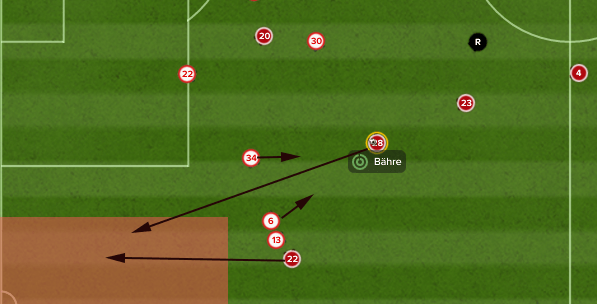 With their Central Midfielder Number 34 not marking Bähre tightly because Bähre is a wide player he can now just wait a few seconds until even more space opens up for our left back who then crosses in for the third goal of the day. Apart from the usage of a Wide Playmaker as a way of creating space by a) vacating it and b) dragging around players and as a way of escaping marking schemes we also learned what kind of full back he works with best: An Attacking One. It doesn't necessarily need to be a FB (AT) or a WB (AT) but you probably want a Full Back with good attacking attributes and some pace behind the Wide Playmaker so he can make these overlapping runs into space.
Key Attributes
This is the part where it gets a bit tricky because you might not be able to find a Wide Playmaker if you are managing a team in a lower division. This is because the Wide Playmaker role requires a diverse skill set that is different from any sort of a) normal winger or b) normal Central Midfielder. These are the key attributes for any Wide Playmaker, no matter what kind of playstyle you are playing:
– Passing
– Vision
– Composure
– Decisions
– Technique
– Teamwork
– Off the Ball
– First Touch
– Dribbling
Unlike a normal Winger, you don't care too much about pace or acceleration because the Wide Playmaker is not going to run in behind the opposition defence. You also don't necessarily need the defensive attributes that you probably want on any Central Midfielder or Wide Midfielder like Marking and Tackling. However, these are obviously always nice to have. Finishing and Long Shots don't really matter at all because as I alluded to earlier, your WP is very rarely going to find himself in a scoring position.
You mainly just want a good Playmaker and if you play him with the Attack duty you also want a guy who can dribble but you don't really need very good physicals but the mentals are even more important. When I managed in a lower league I often had to teach a player to play in that position because you don't find a lot of players who are wide players with these kinds of attributes and this is probably part of the reason why most Wide Playmakers tend to be suited to a Central Midfield role. Some useful PPMs would be: Cuts Inside, Tries Killer Balls Often, Dictate Tempo and Plays One-Twos. Depending on the style of play things like Dictates Tempo can also prove to be very useful indeed.
As always, If you want to hit me up, talk to me or ask me anything I am in the FM Slack or you can follow me on the Socials that are on my profile.