OSU!
I am back with news from the island of Okinawa. How are my Japanese japes going? Well folks, it is the end of the third season and our first in J2.
A reminder – we were predicted to finish bottom by a mile. We are spending a mere fraction of every other club in the division when it comes to wages. We have the smallest attendences imaginable for a team that really isn't that bad. We have a team of children that really should be still at school or something. But can they put us in a corner? Can they make us feel inferior? Can they send us back down to J3 and tell us to stop thinking we belong here? Can they bollocks.
At the end of the last update we sat in 6th place after 16 games or something. Sure, the playoffs were a dream but pretty unrealistic. I won't drag this out. We didn't stay in 6th.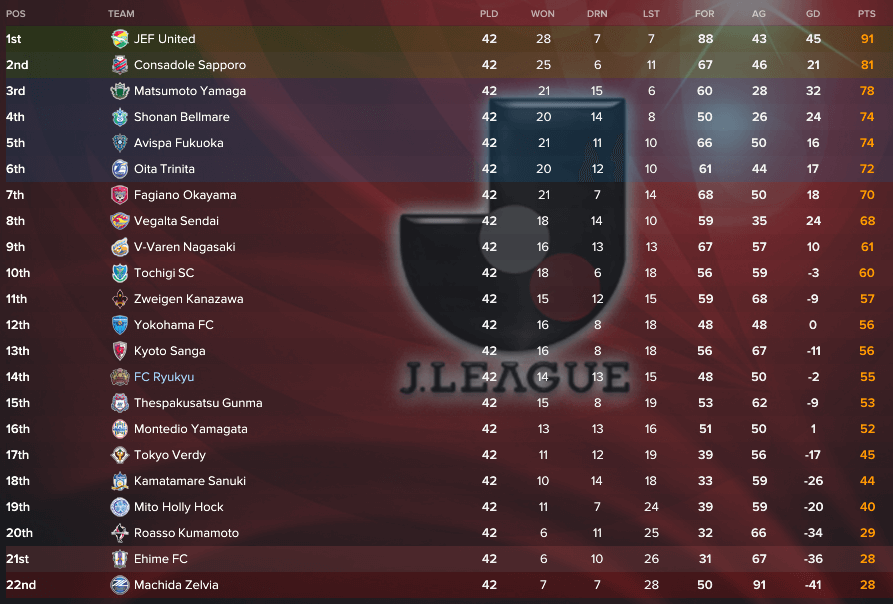 14th though, I'll take that. We were never in danger of going down and every so often looked like we might push on and trouble the playoffs again.
That screenie tells the story really. We were capable of going on mini-runs where we would gather points, but then drought would kick in and it would be tough. But hey, we have massively defied to odds so we should rejoice!
I'm also proud to have the best player in the league.


We did have one *incident* during the season where Ren didn't turn up to a big match because he was still in the bar. Meh, I would forgive him that. Sadly though, I dropped a clanger with Ren. His contract is up this season, and I should have tied him down at the start of the year. He wants to play with better players, which upset Talent a bit seeing that he has played 72 key passes, many of which led to Ren getting chances to score goals. But anyway, it looks like a player that I could have sold for €500k is going to walk away for nothing. Honestly, I'd sack me for that.
I'm not going to get all deep and meaningful with my analysis of this season. We did ok, I am content. But I am never content for long as I want to see progress every season.
And how am I going to get that progress? I need to review each part of what we are doing.
For me, what makes a successful football club? In no particular order, Tactical Identity, Player Development, Player Recruitment, Financial Stability, Coach Development and probably a few other things too.
Let's have a look at each part, briefly.
Tactical Identity: The #ArgSt17 is still serving us very well. I am 100% confident that the tactic is working, it is unique and it defines us as a club. As the players improve, results will too. No need to change anything here.
Player Development: I've gone through each player in the few days since the season has finished and looked at them long or hard. As I want the club to push forward, I need to decide whether players who are currently in the first team picture are still the best players to be in the first team picture. Are they still developing? If not, why not? If not, would it be wise to drop them back into the academy picture for a while and see if they push on again? If that's not a wise option (maybe age or position they are natural in) can I sell them on? If they are developing the way I want (lesson learned from Ren) am I comfortable with their contract? The miser in me still has to accept that if I want to nurture the talent and keep the talent, at some point they are going to want to earn more than €150 a week and I am going to have to put my hand in my pocket. Following this review I drew a conclusion on three players who have been regulars for me.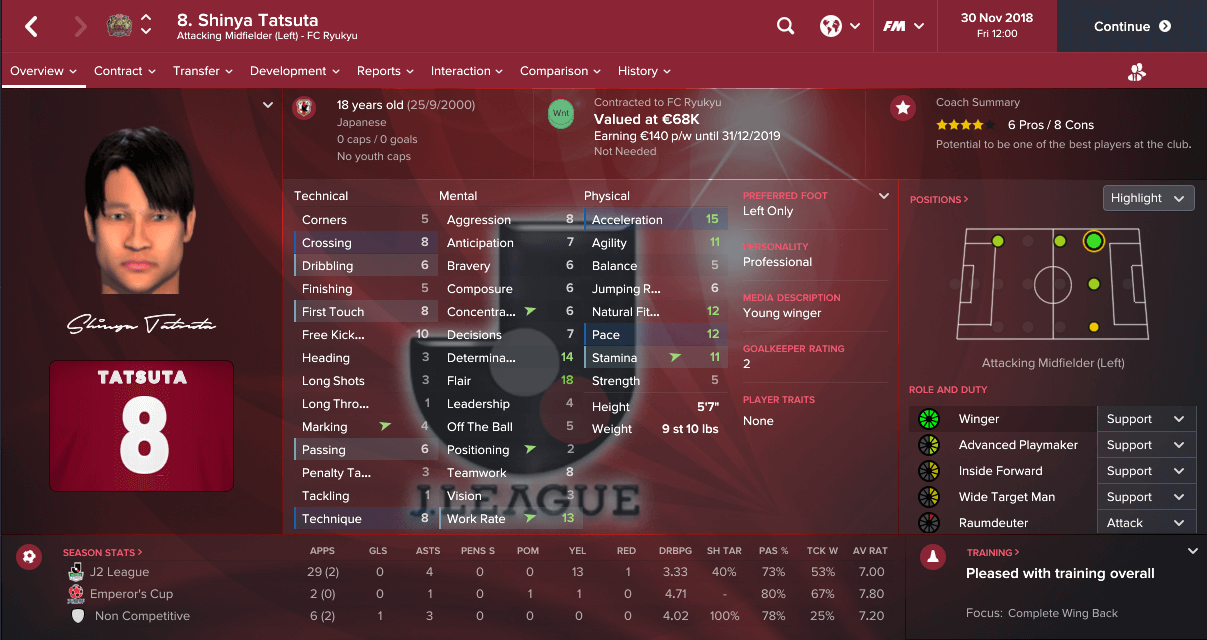 Tats has been training to be a left back, although he is naturally a left winger. The lad has not had a shocking season at all, but his form declined towards the end. Another kid, Tanaka, stepped up from the Academy and played well and will more likely be my first choice next season. Now, I believe that Tats could fetch a decent fee if I sell him, so I have made a judgement call. Although he is a great asset going forward and was one of my better players in the J3 promotion season, he has stalled a little this year. For much of the year he had lots of orange negative arrows on his profile, and he was constantly on the bad boy list for training. I have listed him for €200k, although I would consider anything from €100k upwards to be honest. If I can get that, I will move him on. If not, then I think I will move him into the reserves for next season and see if he sorts himself out. I'll cross the contract bridge when I come to it.
Although Kods has played almost every match since I got here, I don't feel he is progressing enough. His attributes are not improving and his performances are static. More importantly, his KPI's are on the decline. Despite his tache, I think Kodera is one to move on now. There are better DM options out there, I hope. If I can get €75k I will be happy.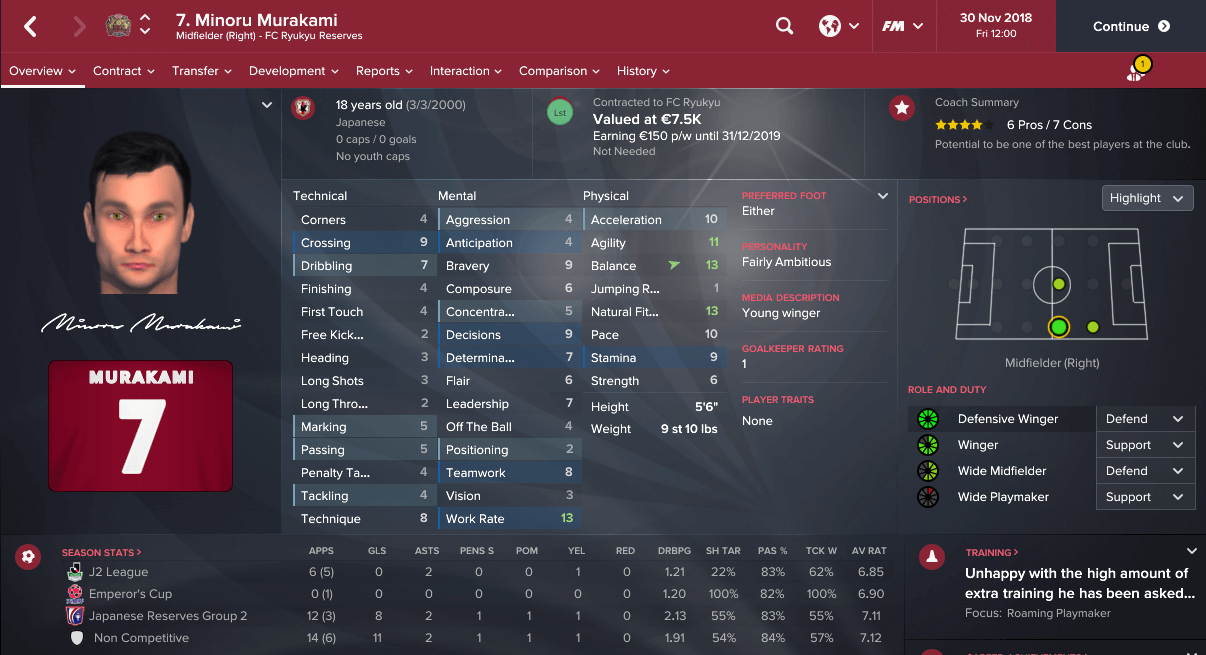 Mura was on the fringes of the first team for most of the season, often an unused substitute. However, better central midfielders have come through the ranks quickly and I think it is time to shift him on. I am not fussed on the fee, he deserves a career where he can play in his preferred position.
Generally, I am happy with the progression of the players and we have some talent coming through the two academy sides. I might get round to a post that looks at them in more detail.
Player Recruitment: Without bigging it up too much, I would say the player recruitment has been pretty fucking good since I rocked up. We had no players to begin with, and now we are comfortable in the mid-table of J2. But, thinking longer term, am I happy with my structures for player recruitment? FMAnalysis has done a fine piece on Tempo about creating a recruitment model and it did get me thinking whether my mix is right. I employ two scouts, which will do me for now. They monitor Japan on an ongoing basis and I check in weekly to see who the new faces on the reports are. I filter the reports removing anyone who plays as a striker, winger or wide midfielder and I sort them on date order so the new faces always sit at the top. I doubt I am going to miss anyone in Japan that is a realistic target and fits our profile. I also keep an eye on the player list regularly, seeing if anyone "partially" Japanese who is not based in Japan but is in Asia (meaning we can scout them) appears. We will always run the rule over them too.
In terms of then moving from prospect to genuine target, I still follow my usual processes which I will, I promise, update for FM17 once the data is getting truly relevant. In short though, it looks like this.
Check their performance stats where possible – depending on their position, are they delivering KPI's that match or improve what I already have?

What do the scouts think? I then scout until full knowledge. I take in the reports and make a judgement call on what that report is telling me – this might not be the same each time, meaning I won't always rule out someone that "is susceptible to injuries" or "inconsistent" etc if the performance data (if available) tells me otherwise. Before we make a move I will always get a second opinion from my assistant manager. Sometimes, and you need to be able to follow your gut from time to time, I overrule all the evidence in front of me and crack on anyway.

Attributes – these are, genuinely, the last things I check if I have performance data to hand. If I don't I rely on what the scout is telling me and factor in their attributes as well. Typically, I prefer to focus on the mentals and physicals, but if they have the obvious technical skills in place already that helps. But, I repeat, for me it is performance data first, scout opinions second, attributes third – ideally, all three would be nice if the cost is still small.
In summary, I believe our recruitment model is still fit for purpose considering we are massively in profit when it comes to our transfer dealings and that we have made significant process on the pitch.
Financial Stability: This is how we end Season Three financially.
I tell you now, to end the season a mere €30k in the red? That is a right result!
I've talked you through my financial modelling enough, I won't repeat myself. But, as part of the review I do need to check whether anything massive has changed on the income/outgoings side of things.
Income: We made €180,000 on gate receipts, meaning I was over €130k out on my estimate. Attendances stayed the same. We had six more home games than the previous year, but I had factored that in. This is either a glitch or the ticket prices have gone through the roof. It has confused me to be honest, he only have about 100 non-season ticket holders turn up to the game and paying on the gate which, in theory, generated €8500 per match. So what, they are paying €850 per ticket? No wonder we have small crowds. Clearly something isn't right, but hey. I've forecast €150k for 2019. Matchday income was €15k my prediction and we made €150k on player sales, predominantly from add ons. Everything else remained as is.
Outgoings: Travel was up €82k, above my estimate, because I forgot to factor in extra away games. Player and staff wages were still the big hitters, even though we run at a fraction of everyone else's costs. Non football costs came in at €150k AND I STILL DON'T KNOW WHAT THESE ARE! I will put them in next season's budget though. The cost for the scouting and academy grew by €50k, annoyingly. Everything else was what I expected.
For me, this is a useful process as I look towards the next season knowing a few players will want pay rises. The very early projection is that we will probably lose about €200k next season unless I can sell some players. That isn't too shabby, we have been in worse positions.
Coach Development: This is important to me. I need the coaches to develop so the players develop.

Each coach has a better qualification than when they arrived, and several are in the middle of further courses. The plan is to promote from the U18 coaching pool each time a 1st team coach moves on, then recruit into the U18 coaching team. Frustratingly, they are not sending me on a course currently as they feel it might make me attractive to other clubs.
So that seems to be that for 2018 at FC Ryukyu.
I do have some aims for the close season and next season.
Decide on a replacement for Ren, presuming that he does move on

Improve the quality in our DM strata

Top ten finish

Third round of the Emperors Cup

Generate €200k in transfer revenues
Join us soon for the update from the Island.
OSU! And, sayonara. We'll be back soon…