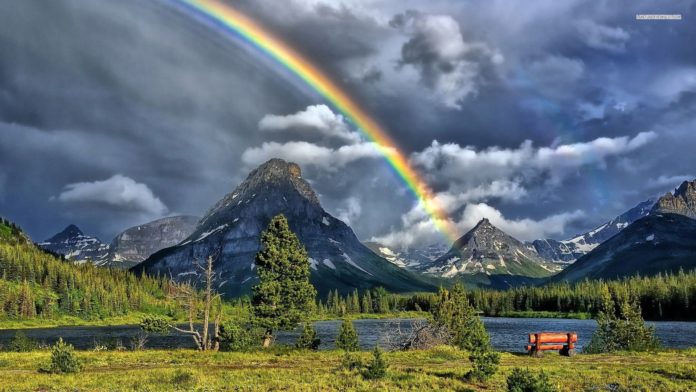 Part 6 is here! Which means another episode of me trying to learn the modern game, with "trying" being the optimum word. Last time out I couldn't win at home and fell out with all the players over Jesus Gamez. They all hate me, but we showed a strange resilience to beat Man City in the League Cup to reach the Quarter finals, and followed that up with a Dwight Gayle hat-trick at Wigan to restore some pride. To make part 7, I'm going to need a tremendous run of form…
It looked like my wretched home form was going to strike again but a late salvage job gets us all three points and moves us within a point of the playoffs with a game in hand.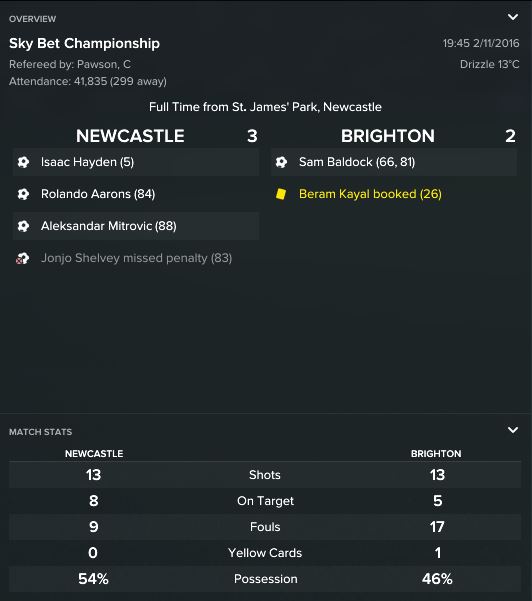 After an away draw at Ipswich, it looks like I've turned a corner as we look set to win three home games in a week. Blackburn are dispatched 2-0, Aston Villa we beat 2-1 and we take an early lead against Birmingham, before inexplicably stopping and going on to lose 3-1. We did nothing unusual, the team wasn't dissimilar to the previous two but we got done completely.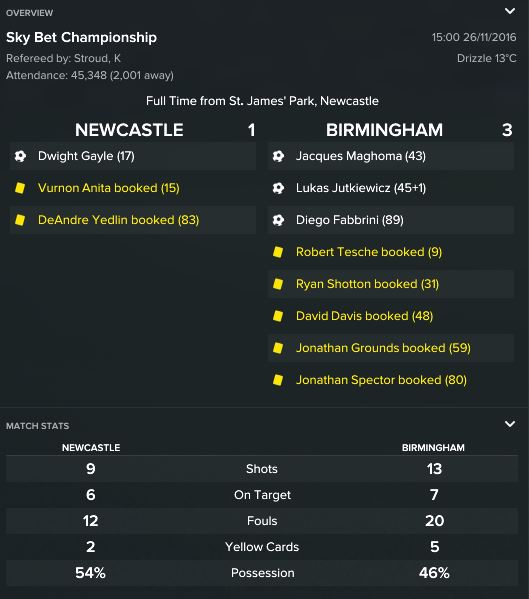 It's a remarkable 4th home game on the spin up next as we welcome Burnely for an EFL Cup Quarter Final. A first half red card for Burnley's James Husband leads to Perez netting a second half winner, setting up a two legged semi final with Watford, who kindly knocked out Manchester United. The other semi final sees Bournemouth battle WBA, so there's going to be an unusual name on the trophy this season. Could it be us?
On current form, that seems unlikely. Away draws with relative also-rans QPR and Leeds drop us out the playoffs, but we're back in with a win over high flying Derby. Then comes a 0-0 at Reading where we register 12 shots on target, which is basically a theme of our season. Chancel Mbemba decides to boot off that we're not very good and Juventus are sniffing around him. I tell him to shut up and get on with his job. He doesn't like that. I feel another mutiny coming on.
Christmas is here! More importantly, so is Boxing Day, and Rotherham are dealt a knockout blow from Dwight Gayle who scores two in a 3-0 win. That puts us 5th, 7 points behind 2nd but with only one loss in 15 there's enough positives to take with half of the season to come. My mood is slightly dampened by the news that Atsu, Lazaar and want-away Mbemba are off to the African Nations Cup soon, but a 3-1 win over Barnsley is the perfect New Year's Eve celebration. Two days later we win at Brighton and that's us 4th, before our attention turns to the cups.
Back to back trips to the South Coast are nobody's perfect start to the year but their manager, Ryan Giggs, tries to get under my skin. We thrashed them in the league game and I tell him I'd love to do the same in the cup. Shouldn't have got involved.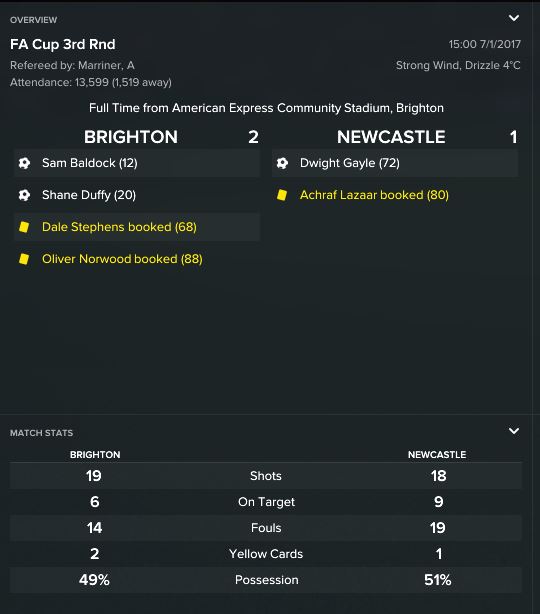 It was a frighteningly open game but it's not the worst thing to be out. We have a two legged EFL Cup semi final against Watford…we're two games from Wembley.
The first leg is a disaster. We concede twice from corners and one from open play in a 3-1 loss, Matt Ritchie giving us hope by reducing arrears to 2-1 but we've got it all to do in the return leg. We throw everything at them but can't find a way through. We're out, and it's Watford vs WBA in the worst League Cup final of all time.
Stop the press, I've spent £8m. On Steven Caulker. With Mbemba set to leave, Caulker is the best I can do. His first match is away at league leaders Wolves, which is pretty close to being my darkest day in football.
Let's talk about this. We lead from an early corner off the training ground, though I didn't instruct it, so the players have gone rogue. Ritchie played it low to the edge of the box and Atsu smashed it in. Then Wolves had Conor Coady sent off for two yellows, so at this point I'm loving life and Wolves are looking lost. They bring on this Prince character and within minutes he'd gone in two footed, and he's off two. So we're up against 9 men with a 1-0 lead. Half time gets here and with Hayden on a yellow, I want nothing stupid and bring on Anita and switch to control. We'll pass the ball about against 9 men and we will win. Right? Wrong. Wolves equalise on the counter from another of our corners, and I put my head in my hands at the stupidity of conceding to 9 men. Little did I know what was to follow. So, I switched to attacking and we scored on 52, 53 and 54 minutes. Easy this management lark….except it's not. Well not for me it isn't. A cross deflects off Lascelles and in, no biggie. Still 4-2. Another counter attack, 4-3. Uh oh. Injury time, a cross and Ola John is UNMARKED on the back stick and it's 4-4. Why is he unmarked? We have two more players than they do. At this point, I'm like Kevin Keegan at Anfield in the first 4-3 all those years ago. What the hell, lads? From kick off we saunter up the other end and Perez smashes in a winner. I can barely muster a celebration.  On the one hand, we've won away at the league leaders and it's a massive result for us. On the other hand, I deserve to be sacked for this afternoon alone. Woeful.
Steve Clarke is Wolves manager. He sticks the knife in.
Typically, we finish the month with a 0-0 at home to Paul Lambert's Cardiff. End it all now.
We'll finish with transfer deadline day. Out go Mbemba and Gamez, Mbemba fetching £16m and Gamez £2.3m. The players are booting off about a lack of squad depth, so I recall Sammy Ameobi. That'll show them. I also have deals in the pipeline for Iorfa from Wolves and Cyrus Christie from Derby. The Christie deal is done but Derby can't find a replacement. Is that my problem? Apparently it is. He's going to cost £6m, just give me him you tits. Iorfa will cost £15m, I can't afford both but either one will do. Iorfa accepts but the money is tied up in the Christie deal. Don't do this.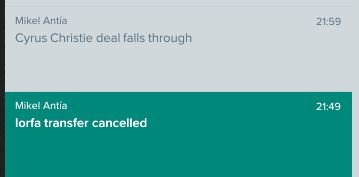 An awful ten minutes, where we get neither target. So you can add transfers to the list of things I can't do.
There's been a lot of negatives in this post – the two cup exists, conceding four to 9 man Wolves, only signing Steven Caulker, the players still being rightfully sceptical of me as a human, but in spite of all of that, we're right in the promotion mix. Somehow.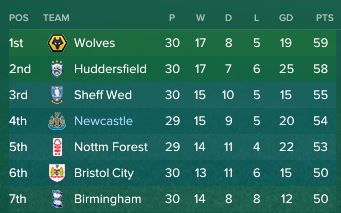 Winning that game in hand would be pretty useful. The Nations Cup boys will be back soon and Steven Caulker…might help? Either way, I'm going to try and get the season finished in the next update to put you all out of your misery. It's going to the wire!