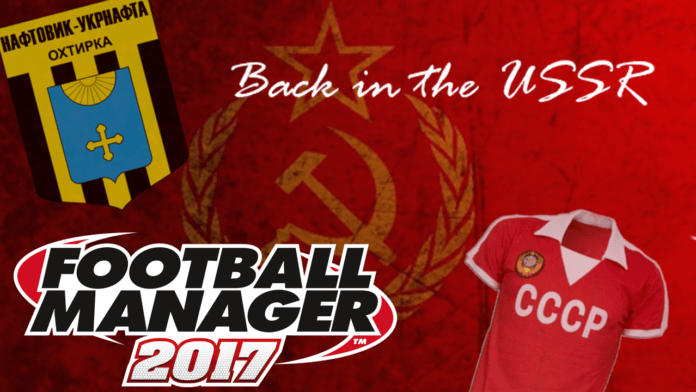 You know that feeling when you're halfway through something that seemed like a good idea when you started?
You've taken up all of the floorboards downstairs to deal with the draft and suddenly you're sitting in a room, without a floor, but with the realisation that you've actually no idea what you're doing, why you're doing it and you know that the wife will home in 20 minutes and is almost certainly going to batter you to death with a loose plank and bury you under the floor.
Actually, I don't have a wife. This is probably a good thing considering I'm standing, shivering, in The Ukraine – Okhtyrka to be more precise, after accepting a job offer from local side FC Naftovyk-Ukrnafta Okhtyrka. I'm not sure I could convince any woman to accompany me here. The prospects of finding love in Okhtyrka look bleak too; when Mccartney wrote "…the Ukraine girls really knock me out" in Back In The USSR I've a feeling he was being entirely literal.

Anyway, I'm here now, slipping behind the old iron curtain and seeing how well I fare as a manager in the lesser known part of the world. I won't go into the reasons why I felt the need to escape several personal problems relocate; I'm here and I'm ready to get down to business.
First things first, FC Naftovyk-Ukrnafta Okhtyrka: it's a bit of a mouthful isn't it? And I was startled to find out that this plucky Ukranian First Division outfit has no nickname. That simply wouldn't do, I'm going to struggle to pronounce the players' names, so I need something that'll slip easily off the tongue. What's that? The team is owned by an oil and gas companay? Brilliant: The Oilers, next.
On to the team then.
The Team, Christ. It's sobering looking at the list of players at my disposal. How, I wonder aloud to no one in particular, we were ever going to compete without a single left back is anyone's guess. There are gaps in key positions and the standard is far below what I am normally used to. I need to dive into the transfer market and see what I can find.
With 50k at my disposal, it's not an impossible task to entice players to the club. We are restricted, much like in England, by requiring a certain amount of home-grown players which limits my wild spending a little. Still, after an hour or so of searching and scouting, I'm pleased to unveil a number of lads who I think will make the difference. Firstly, we've addressed the issue at full back and signed Sergiy Vovkodav – a versitile full back, who can play either side, and Sergiy Semenyuk* who looks decent, even if his work rate means occasionally I'll have to remind him to chase after the ball, rather than roll a crafty fag at the side of the pitch.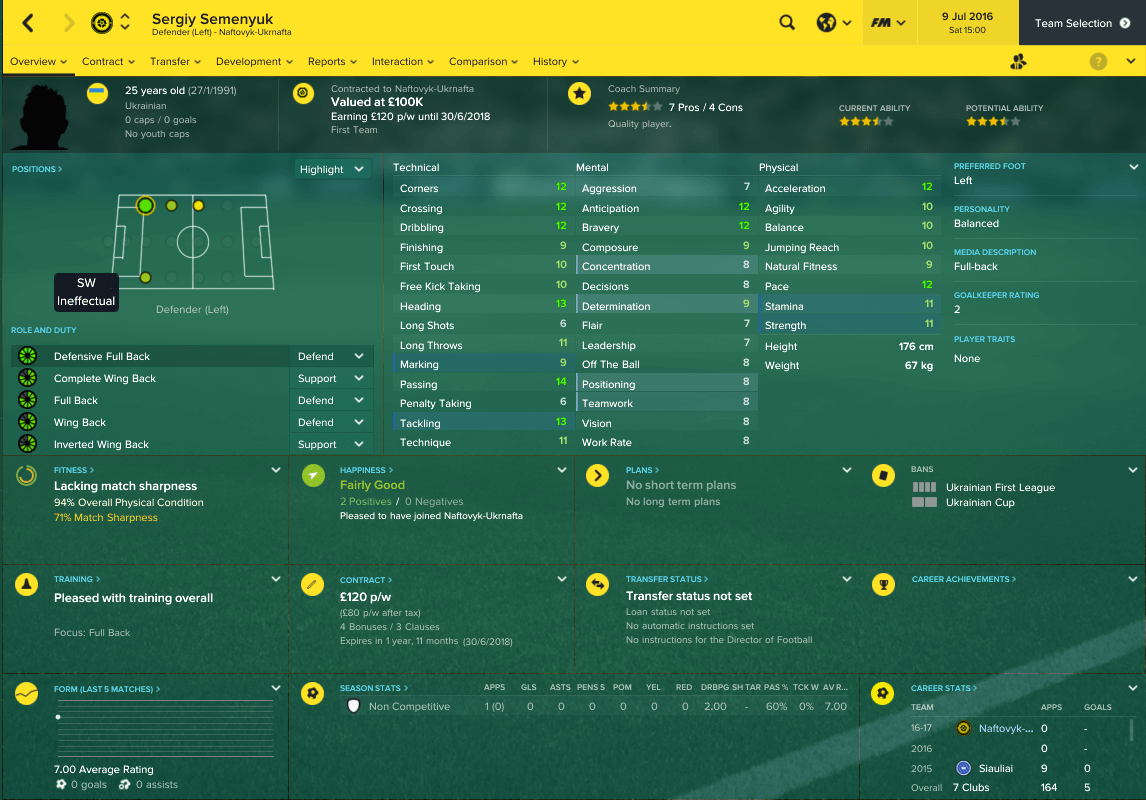 Our midfield was a little light and I thought I should at least make it look as though I wasn't planning on instructing the players to lump it forward as hard as they could. I picked up Vadym Malyuk, Andriy Topchevskyi and Andriy Savchenko  who can all offer some creativity in the center of the field. Savchenko certainly wasn't signed because I hoped someone would misprint his name in the local paper, leading to a swell of interest in the club. Well, that wasn't the *only* reason.
My best purchase though was wonderfully named Yuriy Chonka, who strengthened our left wing position and when I say strengthened, I mean replaced this:


With this: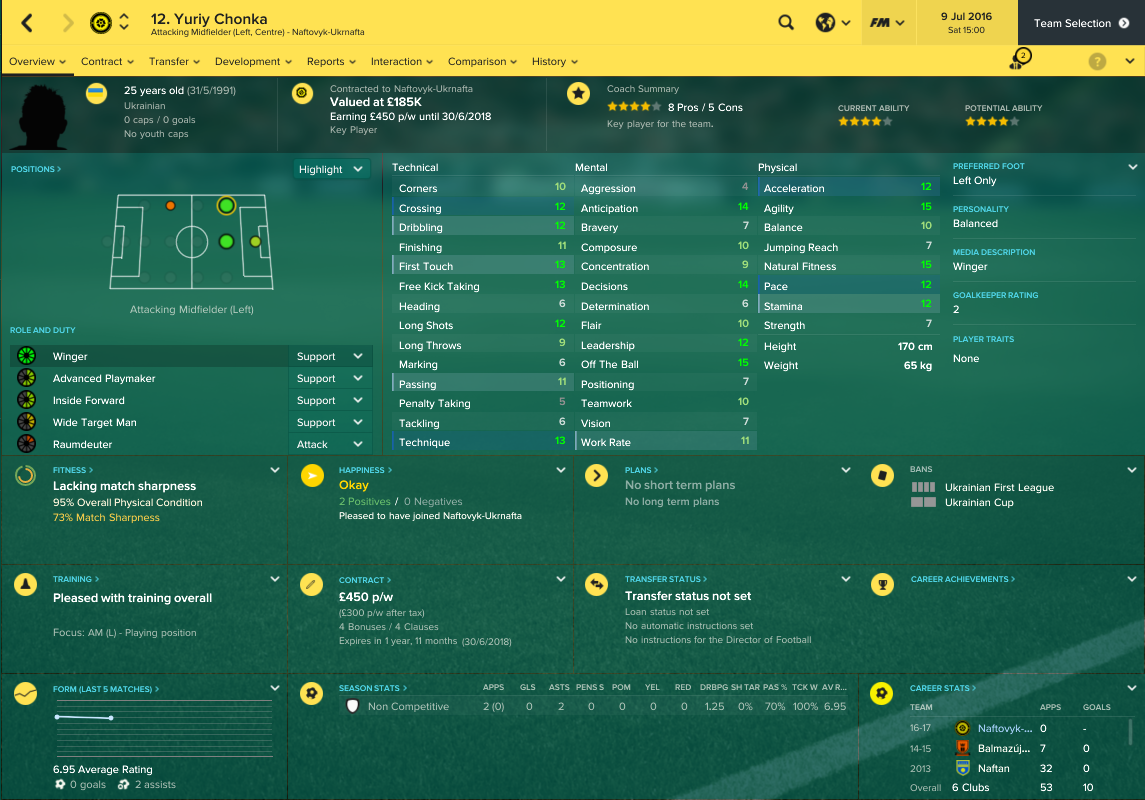 Plus, I can shout 'a thronker from Chonka' if he ever makes use of his 12 rated long shots, which would be nice. All in all a happy transfer window.
We all know that football management extends beyond simply buying players with hilarious or misleading names, I've got to weigh up the strengths and weaknesses of my team and develop a formation which is best suited to my players. As a fresh face at the club, I'm looking towards my assistant manager, a man who has managed in this division before and who has been at the club for the past 18 months for some tactical guidance.
Oh for fu…
Brilliant, well I'm on my own then. With Chonka on one wing, and Twin brother of Eugene Pasich, Gennadiy on the other, I'd be foolish not to utilise their pace and crossing ability. My best striker: 6'4″ man-mountain Kostyantyn Cherniy's aerial ability means that we want to get as many crosses into the box as possible. I settle for a 4-5-1 with a defensive midfielder to break up play and two high wingers to exploit the channels. My new full backs have decent crossing ability, so I instruct my team to exploit the flanks, while keeping narrow to allow the full backs space on the overlap.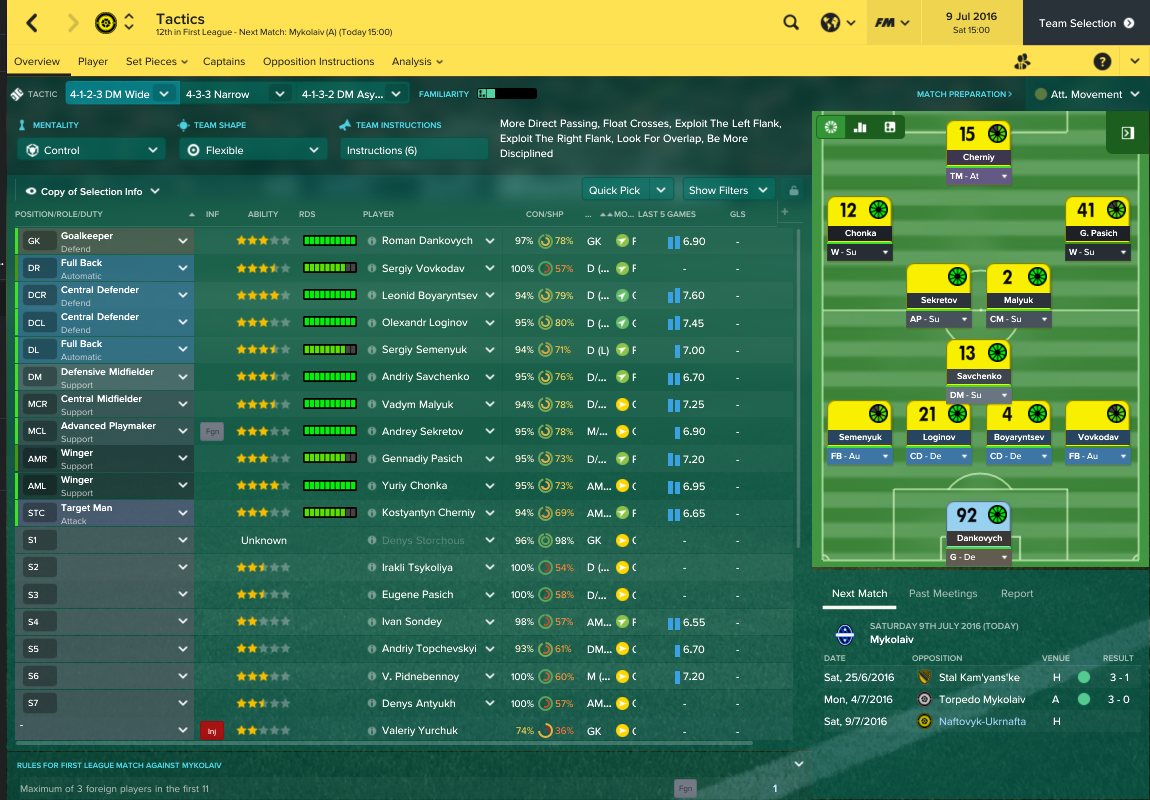 I am, as always, perplexed at how a group of professional footballers can have no familiarity whatsoever for any combination of formation and instructions, almost as if they've just been doodling cocks on their note pads during every team meeting in their, for some, 20 year careers. I mean, most of this side have played together for the last five years; surely they must know roughly how each other plays?
Don't you?! Do you even know each others names?
Stop drawing on the table, I'm talking to you!
Due to an oversight on my part (I blame getting to know the area, settling in to a new club and searching for new players and ineptitude from my assistant manager; I blame the fact that he's bloody useless), we only played 2 pre-season friendlies. We won them both though, so everything will probably be fine…
The season kicks off tomorrow against MFC Mykolaiv. They finished 7th last season and they too only played two friendlies. I suspect this will be a game of great quality…
*Yes, Semenyuk….Semen Yuk. Right, have we got that out of out systems (stop it)? Good, let's get on.
====
Like what you read? You can follow me on Twitter even if you don't, follow me anyway. You can still hurl some abuse. You can also read the same piece again and, in time, some other content over at The Mazy Drivel.
This blog and the decision to head into the unknown was, in part, due to YouTuber Cultured Left Foot's NK Maribor series