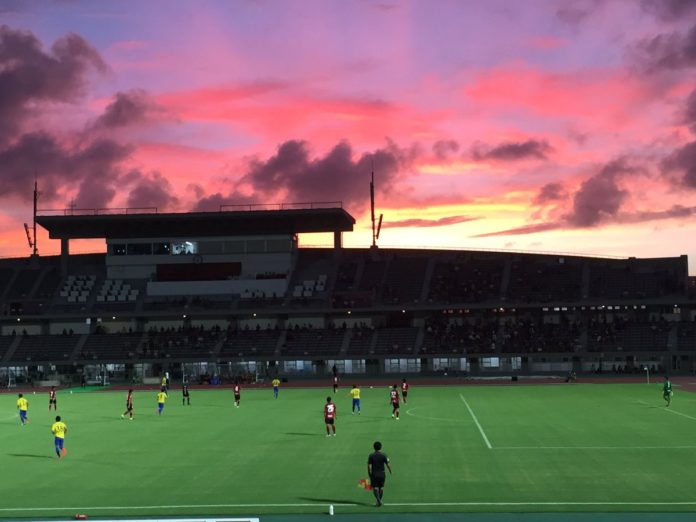 The tricky second season.  Sometimes known as a syndrome.  Someone should write a book on that.  Considering I have self-butchered my squad following a semi-successful first season, how will I fare?  I have no idea, and I doubt the bookies do either.  Well, they have us at  66/1 to win it so our odds are improving!  We're actually tipped to finish 11th, but that would be incredibly disappointing to me.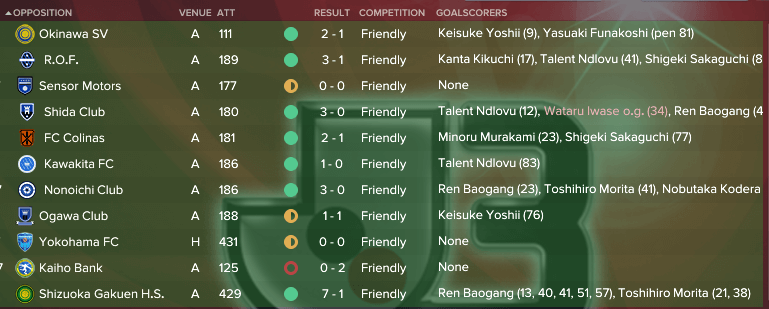 So the friendlies were predominantly matches on the local parks against other amateur teams on the island, which we won all bar one.  The match against a J2 team was arranged off the back of selling them one of our players and the fans didn't exactly rock up in their droves.  Therefore it was a bit of a pointless clause!  Still, I do hope our new stadium comes with built in support as I cannot believe there are only 700 football fans on this beautiful island.  Having 700 turn up and having 24,300 seats around them empty is depressing.
The games served a purpose though, patterns were starting to form and I was able to see where our weak points were.  There is no doubt we are even greener than last season, and the last minute decision to sell all three goalkeepers might come back and bite me.  We shall see.  Ren impressed in pre-season, scoring 5 in the final game.  He seems to deal in goal gluts from what I've seen.
Anyway, I am babbling to the point that I really want to talk about.  FC Ryukyu at the half way point of our second season.  Feast your eyes on the following screen shots.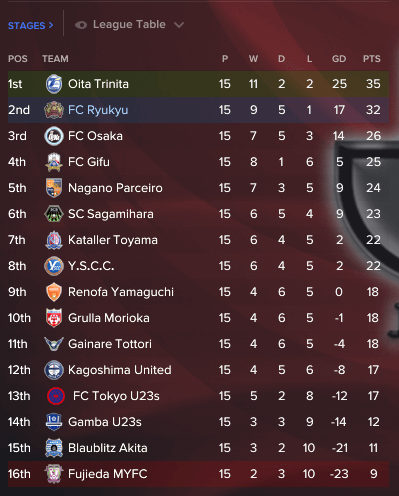 I'd have taken one defeat in the first fifteen games had you offered it to me.  Very much so.  Add in nine clean sheets and you are getting zero complaints from me.  Sure, we have drawn a few too many and that is the reason we are 2nd, but if we repeat this level of performance in the return fixtures we should have a very successful season.  Don't forget, we are far from the favourites to go up or anything like that and our average age is 17.  Yes, 17.  I hadn't realised it was actually that young, so we're doing alright!
The squad view shows the lads filtered on most minutes played.  A few of them have played every minute so far, which is great for their development.  The stars of the show to date are these boys.
What a start Ren has made to life on the island.  The eagle eyed among you will have noticed that in our 15 matches so far he has scored one brace, one hat-trick and one four-goal-haul (is there a correct term for such a thing?) in his 15 games and in our most recent match laid on a hat-trick for his false-strike-partner Talent Ndlovu.  I am delighted with the lad from China, and his attributes are improving too.
Shinya was a gamble, I signed him on the distant hope that I could get away with playing him at left back.  Yeah, he was 1 for tackling but I looked at what he could potentially do rather than what he probably couldn't.  How Harry Redknapp of me.  Anyway, 10 matches played and three MOM awards.  Whilst learning a completely new position.  He's doing alright.  Mind you, the lad that came in whilst Shinya was injured has an average rating of 8.47 after completing 4 matches.  It's good to have options.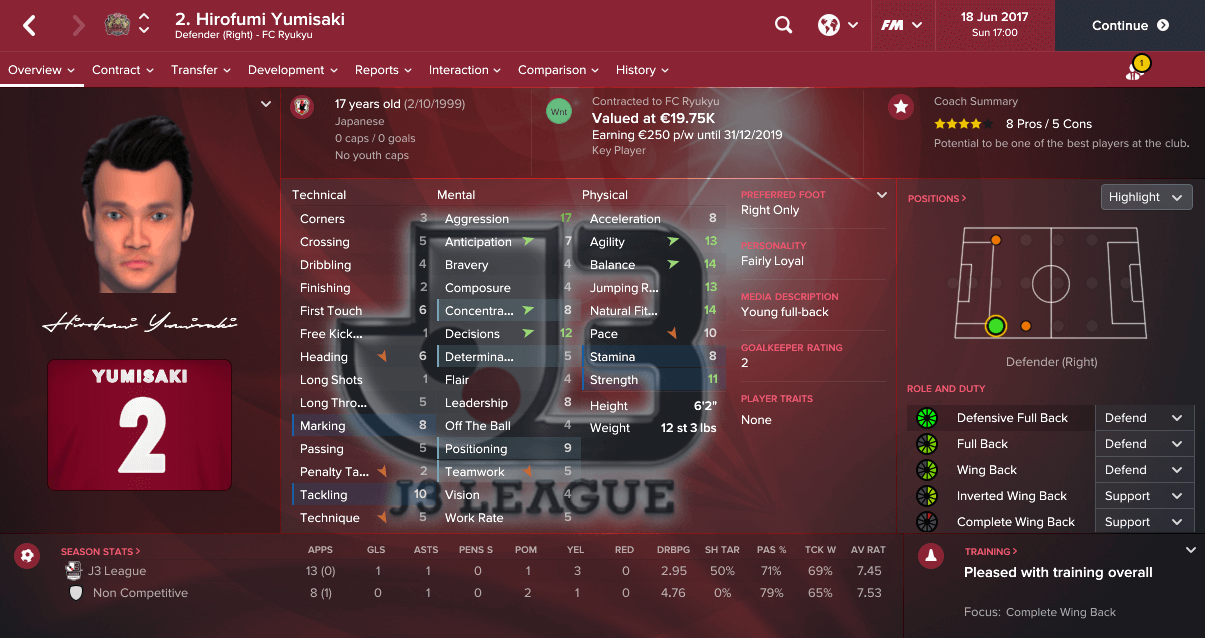 Yumi might be a crap trainer but he is doing alright on the pitch.  He was wanted by several clubs in the winter, but they didn't offer me the right amount of yen so he stayed.  He is 17 but already one of my more experienced players having worn the shirt 30 times.  Crazy.
Having a centre-back called Ryo gives me confidence.  The guy is a giant and he is our leader.  He is getting better every week and again, at 17, is one of our more experienced boys having played all 45 league games since I have been here.  I might be wrong, he may have played every single minute too.  He is starting to fall into that category of "will never sell" as he could become a club legend.  To keep him, we will need to progress as a club pretty quick I feel.
As we look ahead to the final 15 games it is clear what we need to do.  If we can maintain the same form again I reckon we win automatic promotion, but the next game is crucial.  We have Oita who are the biggest side in the division, with a stadium of 40,000.  They don't fill it, of course, but it shows the resources they have as a club.  They are the league favourites and we were probably fortunate to get a point in the opening game against them this season.  Still, they have lost more than us so I am hoping we can do them at ours.
Other things worth reporting are that the club is in rude health financially.  My iron grip on wages is working and the player sales over the winter gave us a massive head start – so much so that I am looking at a couple of players in the next transfer window that will cost us actual money.  Not much, don't be silly, but still represents a step forward as a club.  In the boot room, the coaches are doing good work as the players are developing.  I've completed my next badge, and I am trying to get the board to let me do the next step.  Oh, and I nearly forgot.  
Completely out of the blue they told me that we were investing €450k in new training facilities.  The new stadium is still very much in the planning stages, but the next couple of seasons seem to be quite exciting.  Personally, I wouldn't have spent €450k on facilities just yet, seeing that we turned in a loss of €550k last season, but hey.  
I'm loving life on the island and I hope I can report back at the end of the season with news of a promotion play off at the very, very least.
Sayonara!