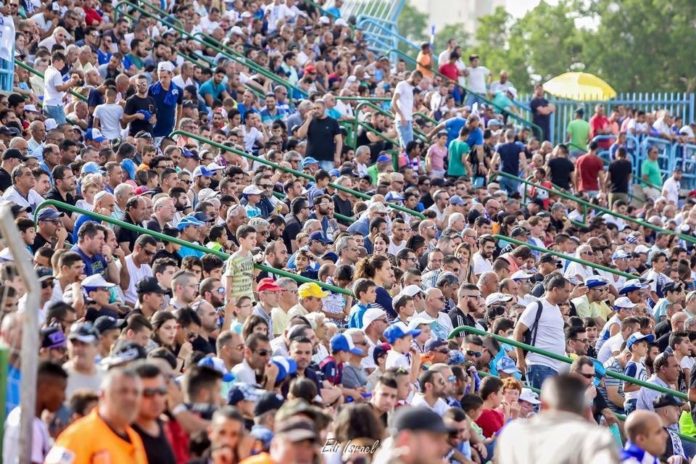 Whenever a new edition of FM is published, the first thing I do is load up the Scottish 4th tier (Ladbrokes League 2).
Why? Because Berwick Rangers play in that league. Why do I care about Berwick? Because our household legend plays for them and I want to check his attributes.
So, ladies and gentlemen, please allow me to introduce Mr Darren Lavery.
When Jonty, the older of my two sons, introduced me to FM with FM14, he was managing Berwick – a club with which he conquered Europe. The hero of the early days of their rise to fame was Lavery – as has been the case with each subsequent edition of the game.
When with FM14 I started exploring the lower divisions of England with Plymouth Argyle, my first really successful save, I took Jonty's hint and brought Dazza south of the border. By then, he'd moved to Airdrie and I had to fork out £20k. He rewarded me by becoming runner-up for the Sky Bet League 2 goalscorer award, helping to get us promoted.
Since then I've brought him into pretty well every lower league team I've managed. When I start a save I always take care to load up Scotland, so that I can sign him.
Evidently Dazza (as we affectionately refer to him) enjoys life on Greek islands as much as I do, so he came to Episkopi (Greek National B Division goalscoring award), Kissamikos, and Zakynthos. And many other places too – Volendam (Holland), for example – though not South Africa: by the time I was managing FC Cape Town on FM16, Berwick were asking too much money.
The way I picture it is this: when I'm about to find a job, I send him an alert so that he and his partner can start packing. Then, as soon as I'm appointed, I sit down in my office and pick up the phone. As soon as the call's over, his partner asks him, 'So where is it this time, Daz?', he tells her, and she says, 'I'll miss my mum and dad, but at least it's warmer there than in Berwick' and he says, 'You see: you stick with me and you get to see the world' – and then they log on to the Ryanair site.
I don't know what Dazza does IRTW, but I like to think of him driving a delivery truck for the Co-op (even though the Co-op doesn't deliver and I think the branch in Berwick-on-Tweed has closed) – it makes it easy to get time off for away games. He doesn't mind it but when he's offered the chance of few years on the Med, he's never going to refuse.
Looking at his profile, it would be easy to underestimate the man. Here he is in his pomp, i.e. on FM14: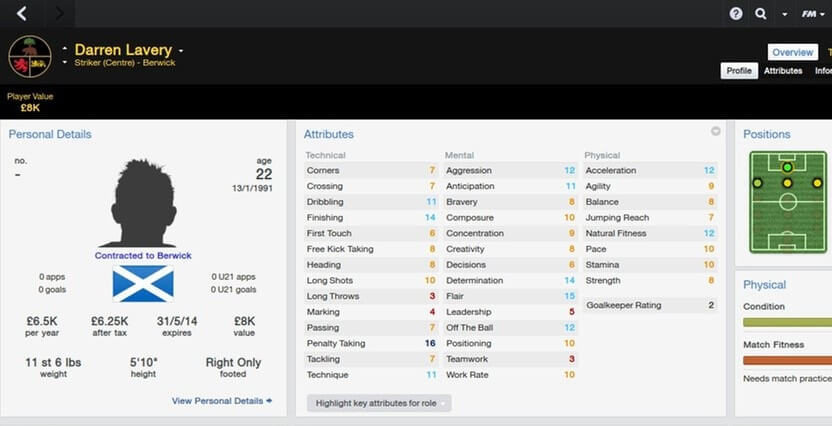 The atrributes are good, but I don't think they'd lead me to suspect that he's a goal machine. The stand-out features are obviously his penalty-taking, finishing, and flair. But it's how his attributes combine that really accounts for his performance.
His anticipation may not be world-beating, but it's good enough for lower leagues. Combined with his acceleration and off-the-ball, it's enough to get him into goal-scoring positions. Many Lavery goals are deceptively simple – the result of simply being in the right place and the right time.
Lavery's Achilles heel is probably his long shots. He's good enough at them to score the occasional wonder goal (he likes winning goal-of-the-week awards), but that encourages him to try long shots too often, so I often have to ask my coaches to encouyrage him to refrain.
Goals scored ITRW but typical of Lavery on FM are archived on YouTube here: https://www.youtube.com/watch?v=cFf0Fb4taHM.
Dazza's very much a lower league man. He's played a few matches in the Eredevisie and the Greek Super League, but he couldn't cut it. But in the lower league he scores for fun and makes a few too. My other son, Simon, found the same when he brought him to the Vanarama Conference and the Welsh League.
Club supporters have legends; I don't see why FM managers shouldn't have them too. Darren Lavery is undoubtedly my most-signed (I've signed him more than 'arry's signed Kranjar), most prolific, player. Its feels odd not having him in the Hapoel Ashkelon FC squad.
On each successive edition since FM14, Lavery's attributes have been a little weaker. When I looked at them on FM17 I decided, with great reluctance, that he didn't merit an approach from Ashkelon. Sorry, Darren, it's back to the van. I may, though, have been over-cautious: Jonty tells me that Lavery's first two seasons for Berwick on FM17 yielded 50 goals.