After an article about interesting players in the Czech highest division I decided to put together also players from Slovak league currently know as the Fortuna liga due to a sponsorship arrangement with bet company.
As you maybe know the highest Slovak football league was formed in 1993 following the dissolution of Czechoslovakia. The record for most titles with eight wins is held by Slovan Bratislava.
To be honest it was much more difficult to choose so I decided to select only five players instead of ten like in the article with Czech players.
The Slovak national team is very good at this time but it's because the best players are based in foreign competitions. From Hamšík and Kucka in Italy to Martin Skrtel in Fenerbahce or Peter Pekarík and Ondrej Duda in Hertha.
The most valued players at the start of the save in June 2016 are these three – František Kubik from Slovan Bratislava (475k), Martin Mikovic from Spartak Trnava (475k) and Jakub Holubek from MŠK Žilina (450k). Any of them I would recommend you to sign.
But who I would recommend to you?
Ivan Schranz (22 years old) – FC Spartak Trnava
I knew this player very well as he was on loan in Sparta Prague for a couple of months and he tried to earn his place in the starting XI very hard but he played only for youth team and he got very small amount of playing time for first time.
And I think it was very bad decision in that time but time flies and Ivan is back in Spartak Trnava. He was a captain of the team in some matches and he really like his team. In FM17 he can play as striker with Poacher or False Nine role but his main position is the Winger.
I really recommend this player for nations like Poland, Austria, Czech or 2. Bundesliga for example. If he will work enough he could develop into decent winger.
Robert Pillar (25 years old) – FK Senica
If I would manage in the same nations I named above in part about Schranz and I would like to sign central defender I would definitelly consider to make offer for Robert Pillar.
He has very good attributes for Defensive Centre Back role – 16 Heading, 13 Marking, 14 Tackling or 15 Jumping Reach.
He played for youth categories of Partizan Bardejov and Senica. He was also on loan at Czech side Hradec Králové or other Slovak club FC Nitra. He played more than one hundred league matches for Senica before the 2016/2017 season and he could be very solid defender for your side.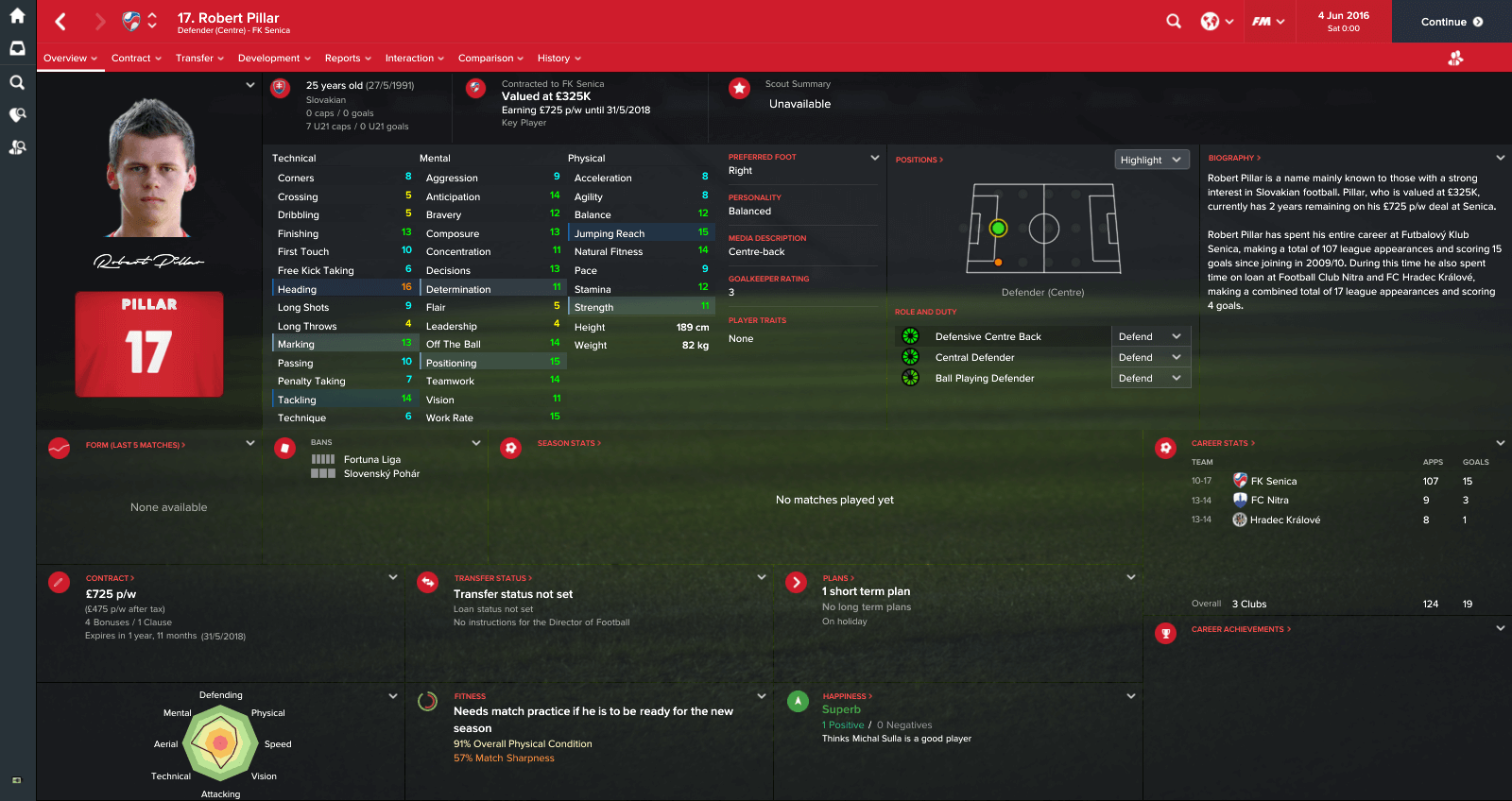 Akos Szarka (25 years old) – FK DAC 1904 Dunajska Streda
I wanted to choose one decent striker as well for this list and I decided to include Akos Szarka from Dunajska Streda. Thanks to his attributes (16 Jumping Reach, 15 Strength or 13 Heading) he is the ideal player for Target Man role.
He played also for Senec or Slovan Bratislava in the past but he had not much luck in these teams and he scored not too many goals. But he is the main striker of DAC and he scored 18 goals in 55 matches for DAC.
His main weak is Determination attribute so that could be the main reason why you will not want to sign him.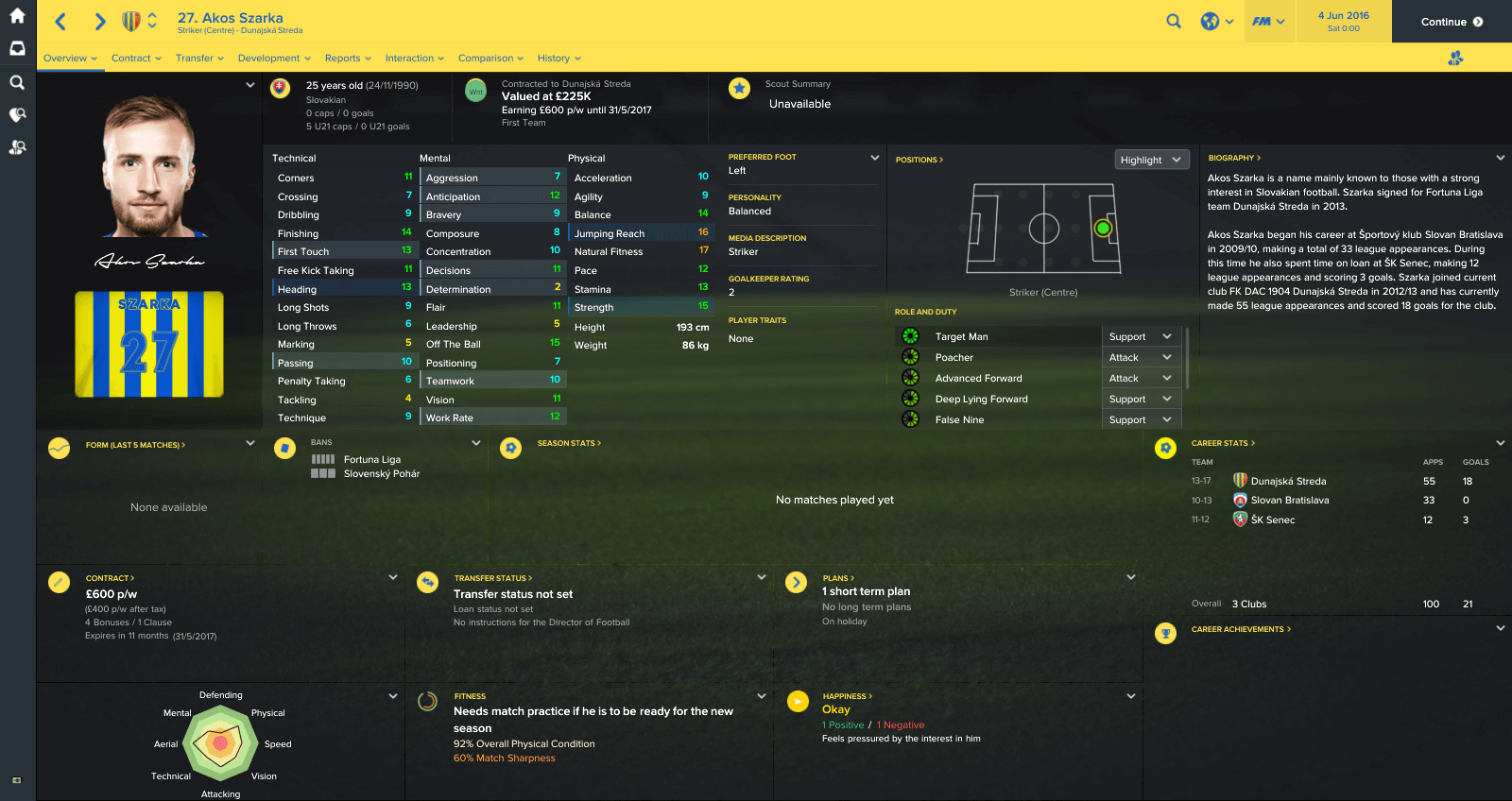 Martin Sulek (18 years old) – AS Trenčín
The youngest player I selected to this list is the right defender Martin Sulek who is 18 years old and his best rated role in FM17 is Defensive Full Back.
I selected him for one reason – he is the perfect example of player which I would give a lot of playing time and I would hope he will develop in very good defender. He has some potential to bet he main right defender of his national team.
Probably same as the rest of the players in this article he is very well suited to nations like Czech Republic, Poland or Austria but nobody knows how far he can go.
Adrian Chovan (20 years old) – AS Trenčín
The last player I selected is goalkeeper from AS Trenčín who also plays for Slovak Under 21 national team. He has to work on some of his attributes like First Touch or Reflexes but I think he could be good keeper for sides from foreign lower leagues.
If you start a new save and you load players with Slovak nationality you can discover very good players in their senior and youth national teams but if will watch carefully you notice that many (if not almost all) are based in nations outside of their home nation.
Bonus player – Jakub Paur (23 years old) – AS Trenčín
Is someone want versatile player? I have one for you. His name is Jakub Paur and he is 23 years old. He grew up in youth categories of MŠK Žilina and he spent his first season in senior football on loan in FC ViOn Zlaté Moravce. After one season he joined MŠK Žilina again where he spent next four years and played more than one hundred competitive matches.
Paur joined AS Trenčín the club who won the Slovakian first division twice in a row as replacement for Matuš Bero who moved to Turkey in the summer. Paur is central midfielder and his best rated roles are CM with defend duty or Advanced Playmaker with support duty. But as you can see on the screen that's not all what he can offer to you…
He is able to play also both sides of the pitch and in big crissis he can play also as defender, wing back, winger or striker.