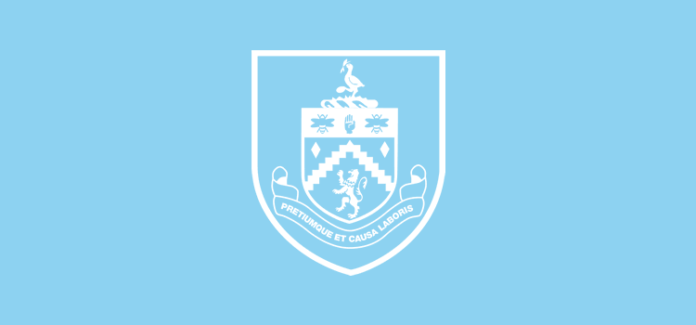 Thanks for coming back to the final part of our second season together. No quote to start us off this time, I want to avoid setting the tone for this update, it will appear later. If you want to catch up fully please do so HERE but a short summary follows.
When we last met we had hope of survival. After 6 points in 6 games we had our best run of the season and now sat just 5 points from safety. We were due to play both of our relegation rivals in the coming weeks, so getting points in these games was important. First up though was a real Top v Bottom clash at our home Turf Moor, as Arsenal came to town.
Just five minutes into the game and we have an attack deep in their half, Gray squares to Lansbury but he fires straight into the Arsenal keeper Cech. It was a golden chance, the kind you miss when you lose a lot of games. That gave us a good platform to build on however, and even going into half time 1-0 down, we still had a hold on the game. Our grasp slipped just 20 seconds after the restart though, Icardi dancing through our defence, making it 2-0. As he tried to stop the goal, Heaton injured himself, so it was reserve keeper McDonald off the bench. The confidence we had had all but evaporated as first Sanchez, then Xhaka, then Sanchez again made it 5-0 to the visitors. We were outclassed; my only hope now was that Heatons injury wasn't too bad.
Its good news, just a sprained wrist so only 10-12 days sidelined, but it would take in our important game against QPR. Fortunately it is on TV so he can watch from the Physio room. Our moral is terrible, and heads drop even further when, after just 11 minutes, Dean Marney lunges in and gets a straight red card. He would eventually receive a four match ban, keeping him out for the remainder of the season, and at 34, may not feature again for us. The hole in our midfield is clear for all to see and just a few minutes later, there is confusion at a corner and Bendner puts the London side 1-0 up. We cannot sit back and put 10 meant behind the ball now, we need something from this. After 21 minutes Amiri plays Hennings in from the wing and he is through on goal, he shoots, "it beats the keeper…" but also beats the cross bar and is collected by a steward before it disappears into a concourse. In the 20 minutes either side of half time I play around with the tactics, trying to force an opportunity for us but to no reward. In the 65th minute Bendtner doubles his tally and we are all but out of the game. Our defeat is confirmed after over committing at a free kick leaves us short at the back and we go three goals behind. We have let 16th get away, but 17th is still only six points ahead after Huddersfield drew. With only 12 points left on offer, defeat to them in the next game would leave it almost impossible to survive.
And so to possibly the most important game of our season. Had we picked up more points earlier this might have not been so significant, but this is the situation we are in. A win and we are within striking distance of 17th, anything else and it's a mathematical nightmare to try hold onto hope. For the first half hour we are on top, plenty of shots but most are not troubling the net. 27 minutes in and Torowski attempts a back pass to the returning Heaton but leaves it short. The Huddersfield attack latches on and is able to round the keeper easily to score. At the worst possible time our mistakes creep back in and hurt us in a big way. We still couldn't find a way through, and in the 53rd minute left back Lafferty hits the post with a rare shot and sees the rebound cleared from the line. We are actually controlling the game well, passing is good and we have some quality chances. 13 minutes from time however, Poyet is caught in possession and Huddersfield run through to make it 2-0, we are masters of our own downfall once again. We go all out, at this point we are all but relegated, we might as well go down fighting. 3 minutes from time and Hennings makes it 2-1, we have a way back in. We couldn't actually do this, could we?
"You think 'okay, I get it, I'm prepared for the worst', but you hold out that small hope, see, and that's what f**ks you up. That's what kills you."
Well no, it was too late, we lose 2-1 and although not yet officially relegated, I'll let the quote for this episode dictate the tone from here. The board confidence is low, they feel we should be doing much better, and I can imagine the handyman taking down the name plate to my office door. Squad harmony is well and truly shot, we are into the red. Mathematically we can save ourselves, but the odds on us beating Manchester City, West Ham and Wolves by a clear 26 goals is unlikely at best.
We do take the lead though, after just 24 minutes Osbourn crosses for Barnes to drive it home. As so often has happened this season however we are too late to react to a change in the opposition. Just before half time, a shot from De Bruyne strikes two of our players and trickles into the net. A draw would have still relegated us but Man City can't even let us have that, Aguero scoring the winner with half an hour to go. 2-1 the game finishes and now our relegation is confirmed. I expect to see an email from the chairman inviting me for a meeting, but instead it is just my assistant alerting me to some relegation release clauses. 'Don't worry pal, it might not be my problem anyway' I think to myself.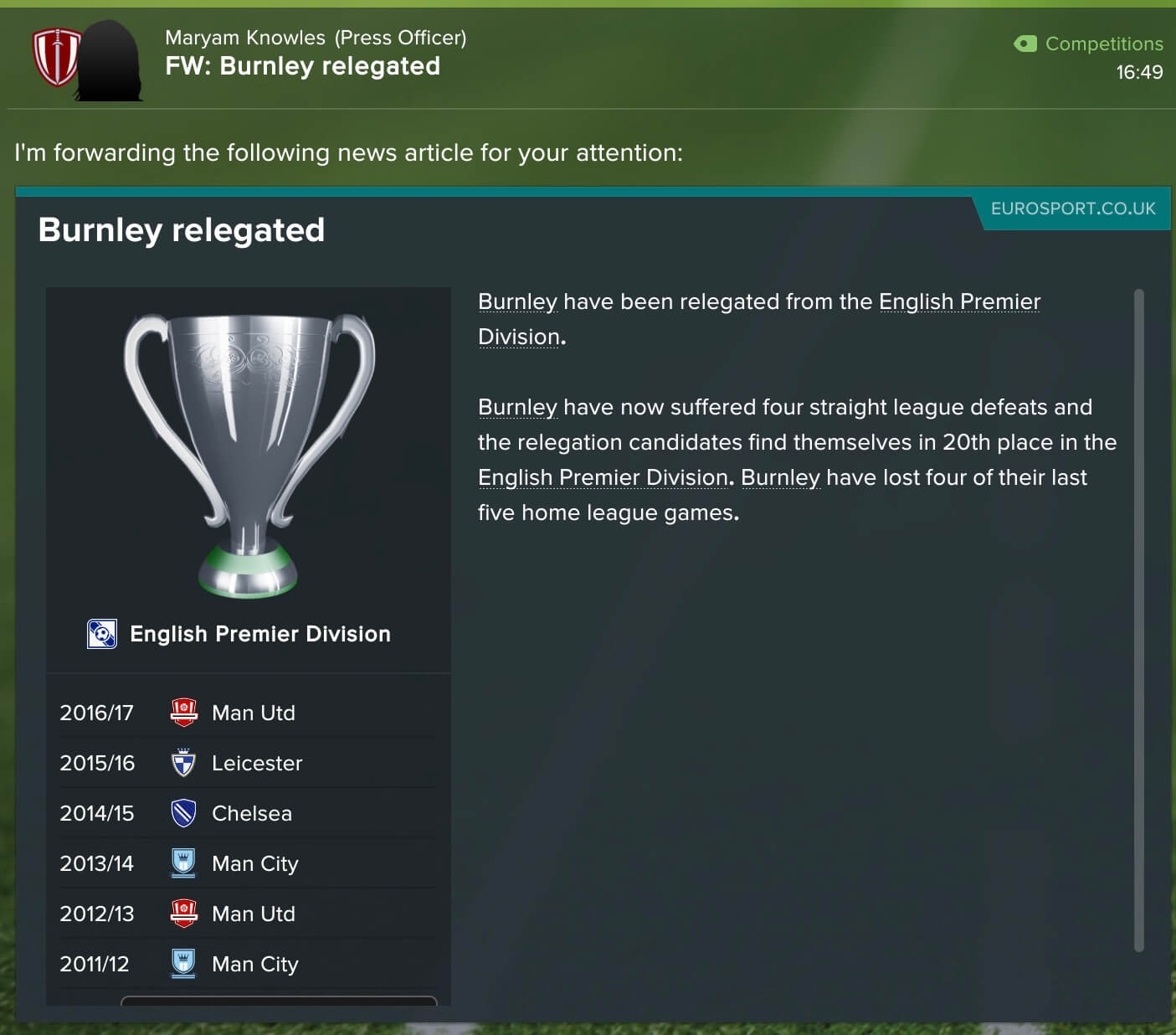 The last two games I will spare you the details. Against West Ham away we actually play well but still lose 3-2. A game full of touches of brilliance and mistakes alike, it really summed up our entire season. Final game of the season was a dull 2-0 loss to high flying Wolves in which we were behind after one and a half minutes.
The season closes, Arsenal win the league, ourselves bottom with West Brom and Huddersfield joining us in the Championship next season. Sunderland doing a better job at surviving that us, doing so on the last day thanks to a better goal difference. Perhaps I should have written about them!
Season negatives
6 wins and 4 draws is far below what I expected and what we achieved last season.
28 goals scored all season, that's a rate of 0.74 goals per game. The fact our 'best win' was 1-0 does say a lot.
77 goals conceded, at a rate of 2.03 per game, means that we would have had to score 3 on average to get maximum points.
From checking a few stats at the end of the season it is clear to see why we were in the situation we were in. 9 of the top 10 player mistakes were a Burnley player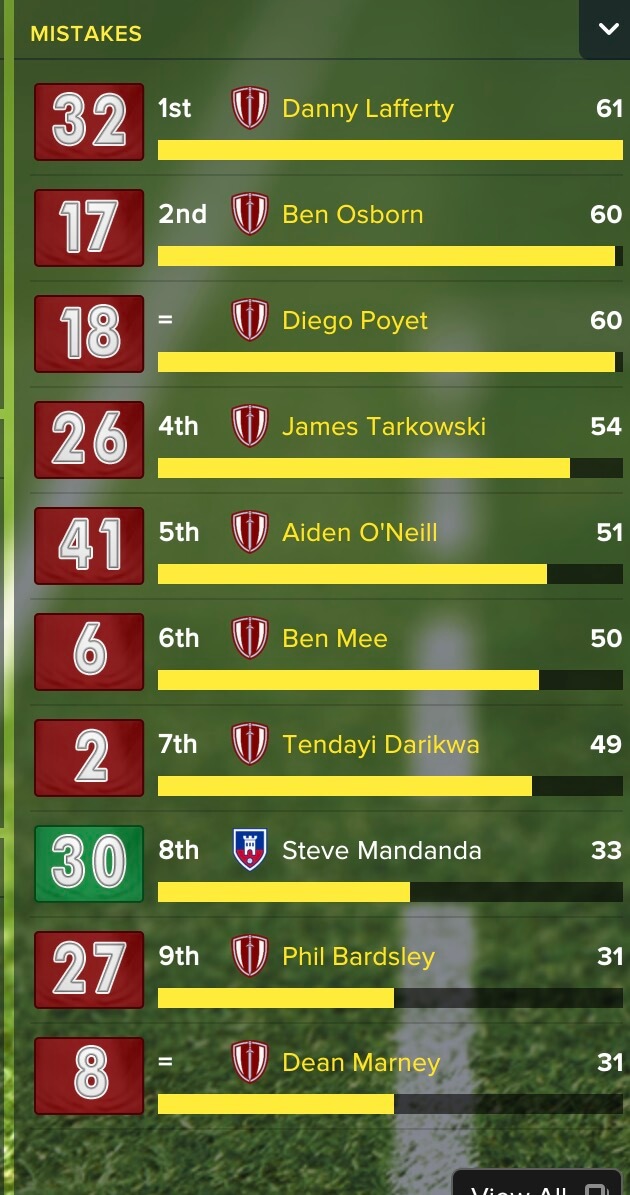 We also had one of the worst disciplinary records, receiving 10 red cards all season, that's over 1 in 4 games. The next worse was 6, almost half the amount. That amount of game time with a man less paints a picture of why we struggled to keep it tight.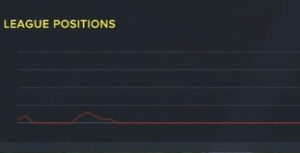 In a season full of negatives we did have some good areas, and our player of the season Aiden O'Neill was the shining light. If we can keep hold of him he could really turn into our best player, creating and scoring goals, hopefully able to drag us back up. It will not be easy to keep him though as work permit restrictions require him to play more international caps before it can be granted.
What next I hear you cry, as if you hadn't had enough already. Well, I still have a job, and so we will be looking to bounce back at the first time of asking. I expect a huge turn around in the squad. The vultures of the Premier League will pick us clean of any assets worth having, so we must rebuild for the future.
I will be back with a season preview of the championship and our hunt to return to the Premier League.
If you enjoyed this then please let me know, every kind word genuinely means the world to me. Please comment below or find me on Twitter @accordingtofm
I am also on FM Slack if you want to just chat about things come and find me there!