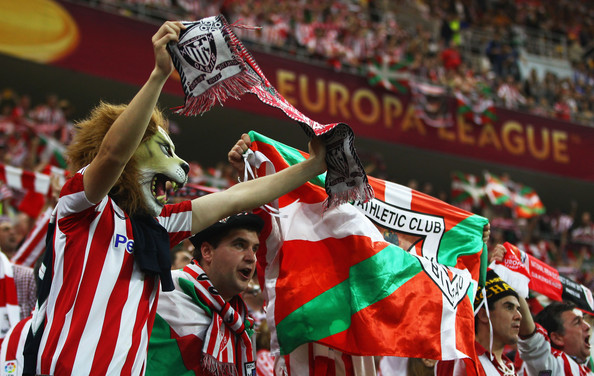 "Lads, we need to put in the kind of shift today that means the gaffer won't leave us in the summer!" said my captain, Odei Onaindia before the final match of the season.  My Basque is far from perfect, but I assume that is what I heard. To be fair to the centre back, he didn't need to be a mind reader to notice my frustrations at Athletic Club B in the second half of the season.  Being overlooked for the top job hurt, considering there were a mere 8 league places between the two sides at the time Paco was removed from his post.  Rafa Benitez has far from set the San Mames on fire since occupying the main office.  Odei had noticed my far from subtle "come and get me plea" to Mallorca when questioned about their vacancy in one of the last press conferences of the season.  "They have no money?  No problem!" was the basic premise of my answer.  
The team, many of whom should have been finishing the season playing for the cantera side turned on the kind of performance that got me thinking, "well if I just add him, him and him to that side then we might win the league next season."  We were almost faultless as the Spanish U19 international Hernández scored our goal of the season in a comprehensive 3-1 win, meaning we ended the season unbeaten in our final three games.  With Garai starting to play the central winger role in an effective, if not different to Seguín, kind of way and the DM3 of Dulce, García and Pérez looking far more experienced than their combined 53 years the potential was clear for me to see.  Against the odds, Athletic Club Bilbao B finished in 10th place in LaLiga2, far exceeding the initial expectation of bravely battling relegation.  But what next for me?
Football is an emotional game as we all know, and FM has the capability of bringing out the same ups and downs.  I have had enough ups and downs for one season, I can tell you.  When I talked to you yesterday, I did wonder what the final nine games of the season held.  Would you like to find out?  I thought so.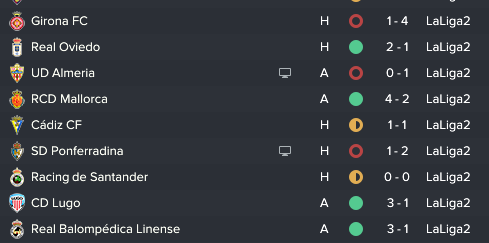 As I alluded to on Twitter yesterday morning, we were 3-0 down at half time against Girona and I was seriously fearing the worst.  Incredibly, we beat Oviedo 2-1 and were magnificent in the very next game.  We were very, very unlucky against Almeria but it looked like we might be able to claw our way back up into the top ten by the end of the season.  And we did!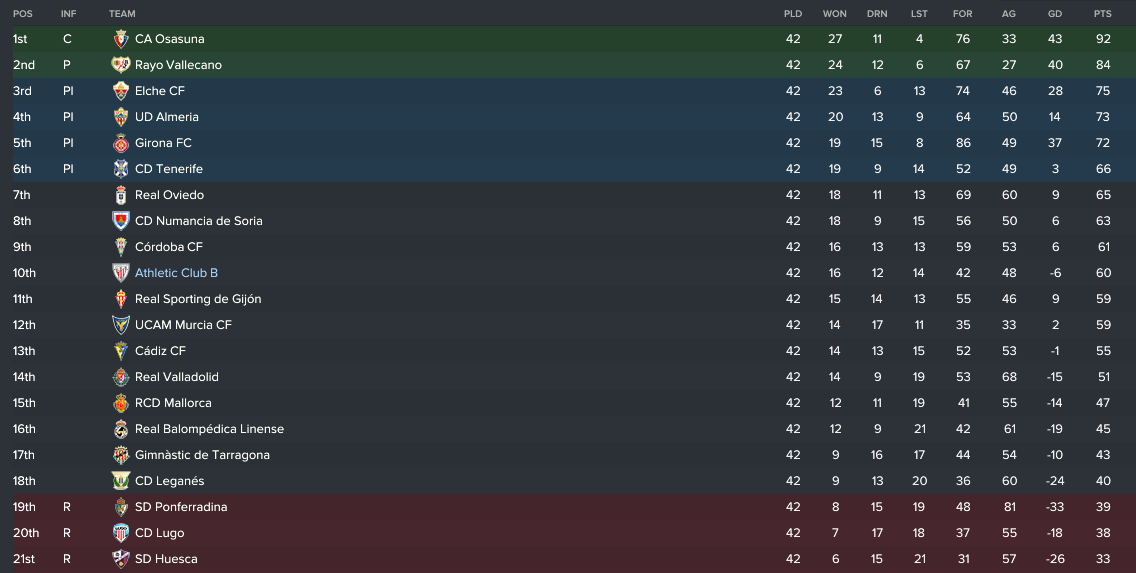 All things considered, we did incredibly well to finish just six points off the play-off places.  Some of these boys have had to grow up very quickly indeed.
The star of the revival was undoubtably this young lad, Hernández.
Originally I had him earmarked to play as the central winger and he was coming on for 20 minutes here and there.  Then I had to throw him in as enganche and suddenly we looked dangerous.  He is retraining to be a CM right now, and I am reluctant to change anything as it is working!  Six goals in nine starts though, brilliant.
When Rafa sanctioned the loan move of Seguín to Real Oviedo, it left a huge hole in the central winger role.  As the last few games went on however, this lad started to understand how to play it in his own way.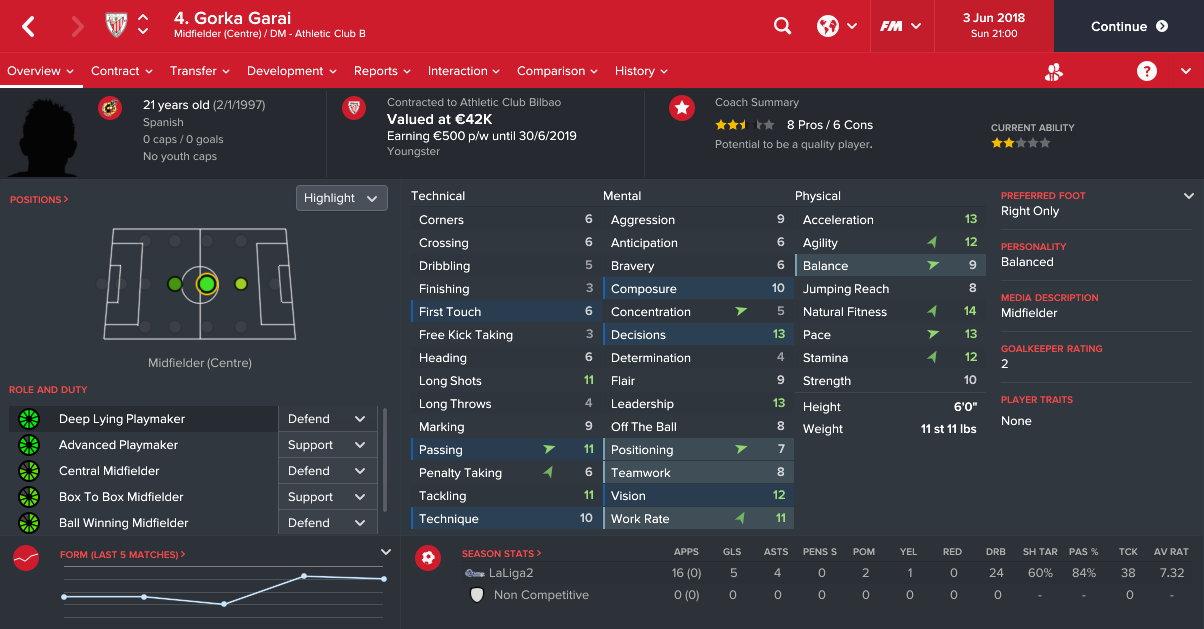 Garai got all three assists in the final game of the season, he has potential.
This lad was promoted straight into the B squad, and it was easy to see why once I gave him a start.
Vesga was our regista and the second most experienced player in the squad after Onaindia.  However, he was banned for a game and Pérez stepped in and played it like Pirlo in his prime.  He started every game thereafter and is a nailed on first team star of the future.
Suddenly things feel interesting for next season.  I've had no concrete offers from other clubs despite rumours flying round, but with our solid finish to the season I have confidence for a third season in Bilbao.  Am I crazy?
Quite probably.  Rafa has listed four of the existing squad as they are, I assume, above 21 and unlikely to ever play for the first team.  In return I have given him a list of transfer targets to hopefully secure.  The eight or nine lads that went out on loan will return as well, so if five of them join the squad that finished this season then I am actually going to have a very decent squad.  Of course, there are still many variables – players may get released, players may get sold.  Others might get taken by the first team, others will get loaned out at inappropriate times.  It is impossible to know exactly what the side could look like at the start of next season, let alone as the New Year draws in.
Do I fancy putting myself through it all once again?  Well, unless a superb offer comes in I think I will.  I'm about to complete the A license, which will build more credibility and my name isn't being linked to the bigger jobs in the second tier yet, so I would like to really step up rather than sideways or backwards.  That said, I am very aware I could really enjoy the first half of the season and then be tearing my hair out again in the second half.  But, we have unearthed some more young talent, which is really cool.  
So I think I am staying put.  I think I am.  I mean this save is a complete lottery, I never know what is going to happen next….