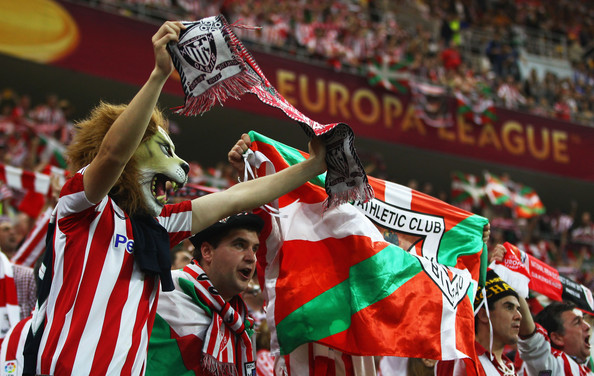 The phone rang.  It was one of the local journalists letting me know they had given it to Rafa.  I hung up and immediately dialed the President.  "First you let that idiot transfer list most of my squad, then you sack him," I started.  "Then you don't even put me on the shortlist.  And then you sanction the loan, not the sale, the loan of eight of my players to teams in a lower division.  Remind me, why am I here?"
To be fair, the one year extension to my contract did calm my temper a little, but still.  I have a fair point.
That's right folks – in the last post I told you how Paco had turned wacko, clearly feeling the pressure of Bilbao only being 16th in La Liga.  The guy that Granada sacked after a month in real life had decided to transfer list twelve of my squad before getting the chop.  When he left I felt I had a decent shout of getting the job, I mean there were only eight league places between the first team and my B team at that exact moment and, let's be honest, I was showing I could do quite a decent job with one hand tied behind my back and someone standing on the other one.

But no, in their infinite wisdom they chose to bring Rafa Benitez back from Newcastle.  And to make my week even better, players started leaving the club.  Not sold, oh no.  Loaned.  Yes, my seniors decided that it would be better for some of the talent that launched us up to 4th place in LaLiga2 to play first team football in Segunda Divisíon B.  Genius.
Forget the craziness at selling Kepa, a future Spanish number one, but look at the eight I have lost!  To then add complete insult to injury, Rafa called up Markel Exteberria, Nola and Oteo to the first team squad leaving me absolutely bereft of any moderately experienced players in the B team.
I don't think we will be finishing 4th.
Clubs must have started to sense my discontent.

Would I move to Lugo if they actually offered me the job?  Realistically, probably not.  They are far from a bigger club, punching above their weight by even being in LaLiga2.  But, on the flip side, if I did go there I would have control of my destiny back and could build an #ArgSt17 side that could challenge for promotion to La Liga.  As it stands, I cannot do any of my "StS" recruitment, something I am starting to miss.  I am certainly starting to think that two seasons in this job, which will involve winning promotion and avoiding relegation, might be enough and it could be time to spread my wings elsewhere – with the longer term view of returning to Bilbao one day to manage the first team.
I'll come back to more on that in a bit.
Would you like to meet the current Bilbao B team?  Of course you would.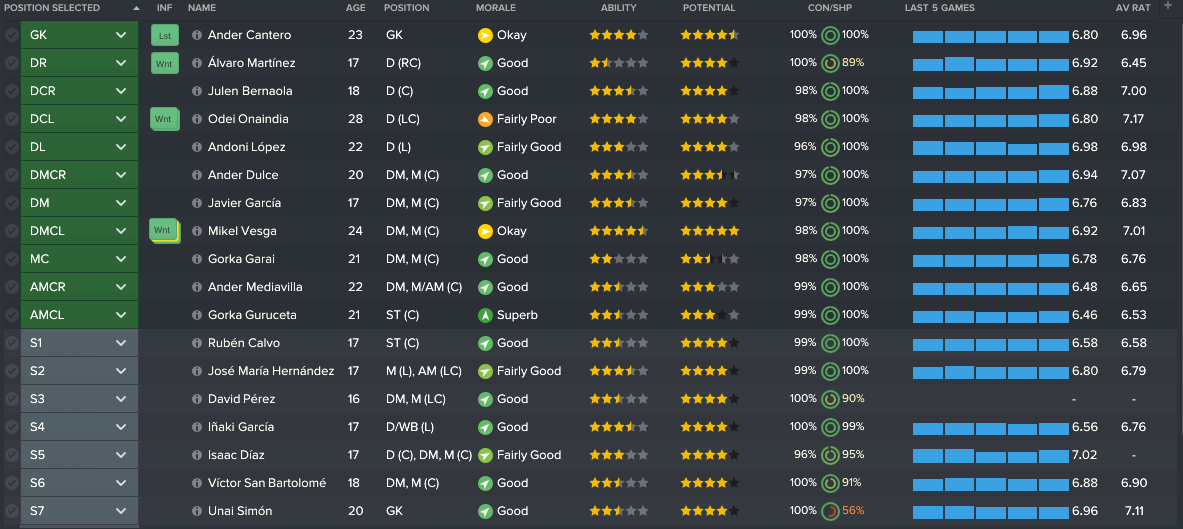 Paco's parting gift was buying me Cantera from Villarreal to play in goal.  Rafa promptly listed him when he turned up.  Right hand, left hand, no knowledge of what each other are doing.  Sillero normally plays at right back but is banned currently.  At least I still have Berny and Indi to play in the middle at the back, but they have been slightly overworked in recent weeks as you will see in a second.  Lopéz is still developing at left back and doing ok.  The midfield couldn't be more different.  Actually, that is a lie.  If they had loaned out Vesga as well, it would be 100% different.  Dulce and Vesga flank a Javier Garcia who, at 17, is a real prospect.  In all honesty, the back four and DM3 do not concern me in the slightest.  It's the fact that we have stopped scoring goals because we do not have the attacking talent that is the problem.
Garai starts the games in the CM slot, and a 17 year old kid called Hernández comes on for the last twenty to run at them.  The kid is retraining from a winger to play in the central winger slot and will be awesome in a couple of seasons.  The problem is, I need him to be awesome now.  Mediavilla is an average player and would be better suited playing in the DM3, but has been forced to play as an enganche.  Alongside him is Guruceta who would probably be a very promising young striker if I played with strikers.  Instead he is a shadow striker having to learn his trade quickly and has been unable to find the net in his seven starts.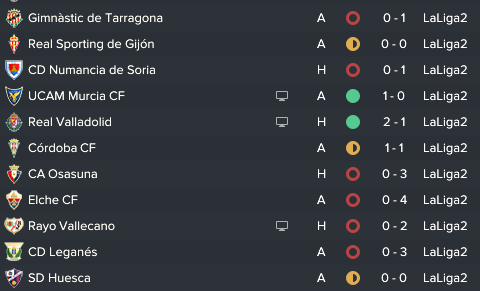 I think the first game on that list is when the madness all started.  I feared the worst, but then we turned it round with wins at UCAM and Vallodolid.  The draw against Cordoba was full of spirit and I was full of positives again.  Osasuna, Elche and Vallecano occupied the top three spots when we played them, and it was this run of fixtures earlier in the season that stopped our unbeaten start to the season, so I wasn't panicking.  But, the heavy defeat at Leganés was a huge worry – would we win again?  The rot got stopped with a 0-0 draw with Huesca, but they are right down the bottom.  We are struggling to score big time.  Chances are being created, but the lack of quality is hurting us.
What can we do?  Realistically not much.  In the words of Pep, I would rather retire than change my beliefs.  The #ArgSt17 works when I have players with a little bit more about them, so it will work again soon.  We have enough points to stay up, so we have actually achieved our mission for the season.
I guess I am at a mini crossroads.  I might have options at the end of the season, clubs might be interested in me especially if I load up a couple more countries.  I'm thinking maybe Portugal and Norway, yes Norway.  But, stopping me from 100% committing to that road is the fact that at the end of the season all the players return from their loan spells and it might be different next season.  Rafa might not do what Paco did and we might genuinely challenge for the LaLiga2 title.  Plus, some of these kids that are getting game time now might develop quickly and I could have a tremendous squad next season.  All it needs is Seguín, Oteo and Nola back and I would finish in the play-offs this year for sure.
So, yeah.  I am a little torn.  I have accepted I am unlikely to get the first team gig without moving away first.  But part of me is enjoying the pain of this save, even though losing so often in the last few matches is hurting me.
Nine games left, we have the 45 points that normally means you stay up.
I have no idea what I will reporting back to you next.  I want to finish in the top ten, but that might be out of my hands!