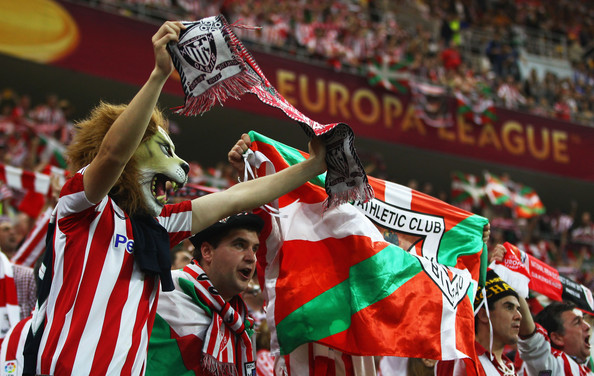 The first day of pre-season.  It's a special day at a football club no matter what level you are at.  The smell of the grass, the fact it is normally a damn sight warmer than it's going to be mid-season, new faces and if you are really, really lucky, some new balls.  For this post we are going to be looking not at the new bag of Adidas sitting in the corner, but the new faces in the Athletic Club B squad.
Actually, I fib slightly.  You're going to get introduced to all of them as we have completed pre-season and I know what players are going to figure this season.  I jest of course, I have no idea who the players are that will finish the season, but I know who I have just registered for the time being.
What you are going to get in this slightly hurried post (slightly hurried as I really want to crack on and get the season underway) is a bit of what happened over the summer and then my squad list with links to players you may not be familiar with.  Seem fair?  Excellent, then we shall begin.
When you have a season like last season, you would be mad not to take some learnings from it.  I learned that the right blend of players that belong to me could, if I have enough of them to hand at the end of the season, do some serious damage in LaLiga2.  I mean, we finished 10th having been 4th, and we played the second half of the season with pretty much a Tercera side mixed in with the cantera.  I deserve a bloody medal for getting us that high.  But, these boys gained match experience and we have some talent.  
What I gleaned from all this was I needed, somehow, to get enough bodies in the squad so that when Rafa decided to sell, loan or call up 50% of them I still had enough in the locker room to continue our crusade.  My previous recruitment tactic had been to give the first team manager a list of transfer targets, but after Rafa failed to secure me any I decided to see if I could convince a few to sign.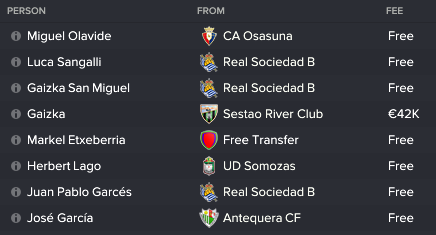 The boy did good.  
Olavide came in from promoted Osasuna on a free.  Rafa had failed to secure his signature, but I managed it.  I earmarked him to play enganche.  However, Rafa as already nabbed him for the first team squad so I am unsure as to whether I will actually get to play him.
Sangalli came in from Sociedad.  He managed a couple of pre-season games before picking up an injury.  I see him as a central midfield option.
I persuaded Exteberria to come back and play for me after Rafa released him.  A great move I felt until, you guessed it, Rafa called him back up to the first team.
I am quite pleased with getting Garcés.  We struggled to score goals at large points of last season, so I am hoping having him as an option will be very useful.  
Rafa signed the rest, I've put them all in the farm team.  To make a point?  Hell yeah.
Naturally there has been outward movement too.


Plus a couple of others have just disappeared, so I presume they have been released too.
Everyone returned from their loan spells, some have stepped up to the first team.  Honestly, it is hard keeping track of it all so if there is a particular player you want to know about give me a shout.
After our friendlies, below, I chose what I feel will be my squad.  Players unknown to you will have their profile linked.

Goalkeepers:  Simón, Felipe, Etxeberria, U.
Right backs: Óscar Merino
Centre backs:  Bernaola, Gaizka, Díaz
Left backs: López, Garcia, I.
DM:  Peréz, Dulce, García, J, Bartolomé, Aguado
CM:  Hernández, Sangalli, Garai
AM:  Sola, Iturraspe, Garcés, Jóse García, Santamaría, Guruceta
It's a more experienced squad this time, and the experienced won't neccesarily be the first choice players.  But they are there if I need them, which is a bonus this season.  Having players like Aguado and Iturraspe on the bench can only be a good thing.  I am expecting more movement, as always.  Seguín may not make the grade in the first team, Etxeberria might return to put pressure on the young right back.  A couple of lads who played regularly last season have been moved back down to CD Baskonia, so I can always call on them in January if needs be.  Fingers crossed, unless Rafa really messes me about, I have all bases covered.  
My concerns are mainly based around the shadow striker role.  Nobody has owned it yet.  Guruceta played there at the end of last season, but only scored twice.  Santamaría looks like an upgrade on Iker from our first season, but he has failed to score in any of the pre-season games.  I might gamble on Garcés in the first game.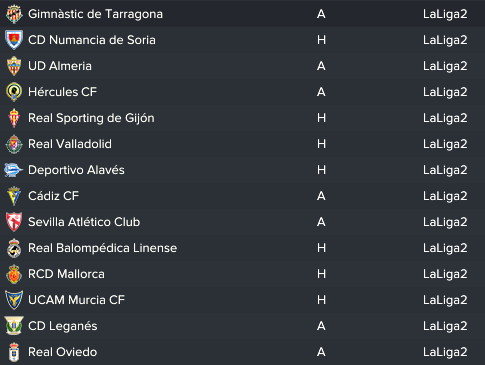 That's our first 14 games.  Maybe I am crazy, but the only side in there I will 100% accept losing to is Alavés who were relegated from La Liga.  Almeria and Cadiz away from home will be tough, as will Oviedo.  That said, on our day, we should be able to beat all of them.  The bookies think differently of course, they are tipping us to finish 22nd.
Players to look out for this season in our ranks.  Hernández has a very bright future, as does Bernaola.  The young regista Peréz is very classy and Rafa bought Sola and gave him to me.  Maybe he feels bad.  I haven't seen Sola in action so he is a complete unknown.
I'd like to achieve a top four place this season.  To do that, I think we need to be leading the way, or at the very least a good second come the turn of the year.  If I can get out of the January transfer window unscathed, we have a chance.
Quite a few of you have been trying to persuade me to stay at Bilbao a bit longer.  I am definitely committed to until at least the new year.  But, this was always going to be a career save.  The ideal first route was B team to first team, but that is looking unlikely unless I do something crazy like win LaLiga2.  I said at the very start of the save that I would be open to moving away if that felt like it would get me closer to the first team job longer term.  That is still very much on the table, but I will not go hunting down jobs.  If someone wants me, they know where I am.  Probably banging my head against a wall somewhere as Rafa takes yet another piece of my jigsaw and throws it in the bin.
Anyway, time to start the season.  No doubt we will speak soon.
=======
Last minute edit – and so it begins, on matchday one Rafa accepted loan bids for the left back López.  Yay.