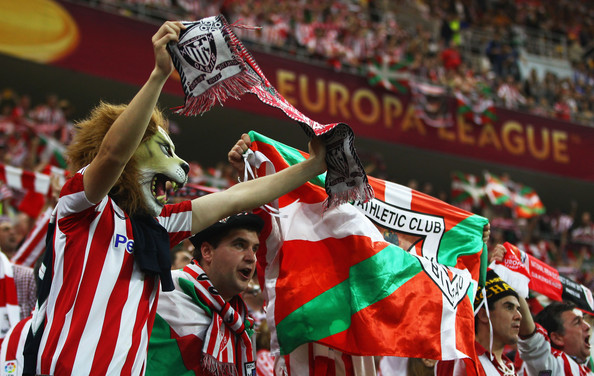 As I lay on a beach in Torrevieja in very early November, the warm sun tanning my skin and the iced mineral water tasting delightful my mind wandered to what the future may hold back up in the Basque region where my Athletic Club Bilbao B side was likely to look a little different to me when I returned to the save.
In the previous update I talked you through some of the planning and informed you of the players that were allowed to walk through the gates, never to return.  I did try to re-sign them but, understandably, they wanted wages that only the first team manager could offer.  It's frustrating, as they would come back to the club.
At the juncture, it is probably worth reminding myself, and you guys, of the some of the aims of this journey.
"What does initial success look like?  The board have made their demands clear – I will be judged on avoiding relegation and developing players for the first team squad.  I am going to push myself a little harder than that – by the end of season one I want to finish in the play-offs and have seen at least two players move up to the first team squad permanently." 
– The Boys of Bilbao 1.1
Avoided relegation – tick.  We won it, didn't we!  Developing players for the first team – well, Kepa and Villalibre were moved from the B squad to the first team squad permanently last season.  Kepa, he played enough for me for me to consider him "my player."  Villalibre didn't play for me at all as I was retraining him to play as a shadow striker – so half a tick I think.  On a personal level, I am days away from finishing my B license, which is a good step forward for the longer term career path.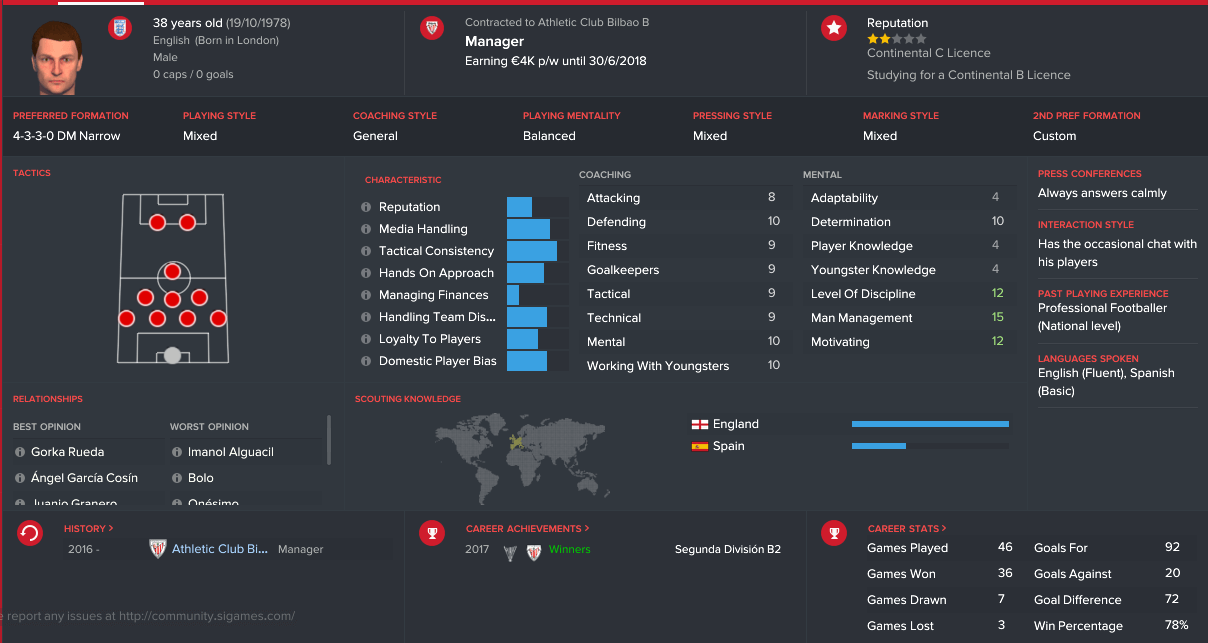 We returned to pre-season with nine friendlies lined up against clubs in and around us last season.  A lot of time was spent trying to work out what I have squad wise.  Of the boys that returned from their loan spells Gil, Remiro, Lopez moved straight up to the first team squad.  Although I am trying to be very "promote-from-within" focused in this save, my initial thoughts on the players available to me were that we might be a little short of talent this season.
I had a huge concern around a lack of a regista to replace the departed Undabarrena.  However, this was calmed by the shower-time brainwave of moving Iturraspe back there – beats him sitting on the bench which is where he was likely to start the season if I thought of him as an enganche or central midfielder.
I thought I would put our first team manager to the test, to see what young Basque players he felt the club should be signing.  I had completely forgotten about the ability to create a list of transfer targets and let someone else deal with it, so I thought now would be a good time to try it out.  I shortlisted the 15 or so "star" potential Basque lads we had been monitoring, added them as transfer targets and sat back to see what Paco Jemez would magic up.  He got me Jon Ander Felipe to provide competition to Símon for the goalkeeping jersey.  There maybe more to follow, but he has failed with most.
Of the guys that returned to Bilbao following loan spells away, Iriondo and Etxeberria are good additions to full back, but are both wanted by lower level La Liga clubs – so there is every chance they will be sent out on loan again.  Therefore, I was initially reluctant to plan with them in the side but as the start of the new season drew nearer and they were still with me they started to figure.
Other than a small question mark over those two boys, and a slight run of injuries, I have a pretty clear idea of the core of my squad for the season.  Click on the name if you are interested in seeing a screen shot of the player in question.
Goalkeepers
Unai Símon – finished last season as first choice, will probably keep the shirt despite the board being disappointed with me persisting with him
Jon Ander Felipe – free transfer in, currently injured for month so will probably end up as back up
Unai Etxebarria – promoted from farm team, 3rd choice
Defenders
Defensive midfield
Centre midfield
Aitor Seguín – again, very surprised he is in my ranks.  If he gets injured there will be some reshuffling.  Probably Gorka Iturraspe moves forward
Attacking midfield
So that is the squad.  My first choice line-up as we head to the opening day against CD Tenerife would probably be:
Símon; Etxeberria, Yeray, Onaindia, Irionda; Aguado, Santamaría, Iturraspe; Seguín; Oteo, Nolaskoain
Actually, that's not a bad side. I think we might have a decent season.
Pre-season results were favourable.
This is how we will be kicking off proceedings.
I can't go into a new season without setting some aims.  The media believe we relegation certainties, and the board would once again like us to survive.  This season we are the only B team in the Segunda Divisíon, and I think that will make things tough.  Sporting Gijón, Rayo Vallecano and Osasuna are the favourites to go up, and we will also be challenging the likes of Elche, Cordoba, Valladolid, Almeria and Oviedo.  All these teams will expect to see themselves in the top flight.  Now, remember, we cannot get promoted.  But that does not mean I do not want to try and win the division!
Aims
Play off places
Be in a position to be offered a La Liga job
Keeping it simple this year.  At the end of the season, I might consider loading up some other countries to increase my chances of a job that might lead to top flight or European football.
As I presume we may have to do a bit of defending this season, one of the next posts will look at the #ArgSt17 from a defensive point of view.  No doubt things will occur this season that lead to a focused topical post.
As ever, feel free to ask questions.