Football Manager 2017 is just around the corner now. So close we can almost touch it. However, for those of us that have pre-ordered the game, we've had early access to it through the beta version.
There's a few different approaches that us content creators take to the beta. Some start their planned saves straight from the off, while others prefer to hold off and wait for the full fat version of the game dropping. In previous years, I've done a bit of both, but this year as I double clicked that icon for the first time, I really wasn't sure what I wanted to do.
I'd always planned to step away from my comfort zone of Scottish football for my full blown save I'll be blogging about over on Occasional FM, but that wasn't to say I couldn't head to my homeland for the beta. So I dived straight in and went for (the in/famous, delete as appropriate) Glasgow Rangers and here are my lessons from the beta.
It can be a cruel mistress
The board at Rangers expect the team to win the league in their first season back in the top flight of Scottish football. Just a tad optimistic in my opinion, but I was happy to take on that pressure. It's great to see the newly revamped Betfred Cup in-game, which gives those of you not playing as one of Scotland's participants in European football a chance to play in some competitive football early on in the season. Or in other words, some glorified pre-season friendlies. Nonetheless, it meant that my start to life as manager of Rangers looked like this.

Don't let this fool you though. False hope.
The league started with a 1-1 draw at home to Aberdeen, which was probably fair on reflection. Then, before you knew it, I was out of the Betfred Cup already. Nadir Ciftci of all people hit a double for Celtic to knock us out. If you thought that was cruel, just look at our form at the start of the season.

Some more false hope with our first league win, over Killie at home. But that was our only win in the first 11 league games. After the Killie win, we went 6 games without scoring a goal, which I think is one of the worst runs of form I've ever had on any CM/FM game, ever. It's never a pretty sight seeing a row of that many none's. We eventually did score as we went 2-0 up on Hearts, but they clawed us back and went on to win 3-2. Typical.
Like I said, Football Manager can be a cruel mistress.
Take a step back
So what now? We couldn't hit a barn door with a banjo and, I'm embarrassed gearing up to type this, I was sitting bottom of the league. 6 points from 11 games put us 12th in the Scottish Premiership. Something had to happen otherwise I was about to be escorted out of Ibrox quicker than Joey Barton.
It was time to take a step back.
I'd started the season trying to imprint a version of my really successful FM16 tactic onto the team. I'd stuck the matches on key highlights and proceeded to keep smashing the space bar on my keyboard. That might be all well and good when you're years down the line and have already tasted success, but it wouldn't do for this horrific run of form.
Where were we going wrong? I'm always the first to admit that I'm not the most tactical or analytical FMer out there, but if you have even the most basic of understanding of football, you should be able to spot some important areas you're going wrong on the game. An isolated front man up top, wasn't getting any service from the midfield, who also weren't getting forward quick enough to support. Attacking wing backs might have been my go-to on FM16, but they were constantly being caught out and it was costing us big time. Watch games back, look at what's happening at key points of the match.
My biggest tip and what I feel has helped me the most so far? Get your highlights of the game on extended, at the very least. Key does no one any favours when you're not performing.
Back to basics
I mentioned that I'd basically taken my FM16 tactic and tried to get it going again on the beta. The early wins over lower quality opposition in the Betfred Cup masked it's failures. It was very quickly found out when facing teams of a similar or better quality to us.
It didn't have all of the team instructions in the world active in the first place, but what I did was strip it right back. Simplifying it will only help you understand things better in the long run. The team are instructed to pass it out from defence, play shorter passes, and play much wider. Pretty simple sounding, right? Watching the game on extended highlights too enables me to tweak here and there as I see fit. That includes with my formation and roles.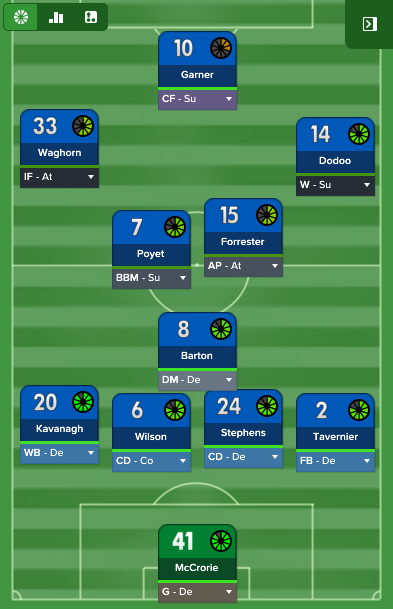 My swashbuckling attacking wing backs have been made much more defensive-minded. They don't get up and support as much as I'd prefer them to, but I'm choosing to prioritise defensive solidity. Please rest assured Joey Barton doesn't play every week, this was just from a recent cup game! Previously both my wide men were inside forwards on attack to make way for my oncoming wing backs to fire crosses into the box which they'd get on the end of. I've changed that by making my right sided wide man, an out and out winger on support. It's been a really positive change so far, and keeping the left sided player as an inside forward just brings a bit of variety to our attacks. The lone striker has changed from a deep lying forward on support, to a complete forward on support. I wasn't really seeing what I wanted to from the DLF role so far, he seemed to be either operating too deep, or be too isolated up top. The switch to the CF has been far more positive so far.

Maybe positive was an understatement. I have, of course, included that Ross County 0-0 in this screenshot too because draws can be negative on a winless run, but positive on an unbeaten run. Since that 3-2 defeat against Hearts, we've gone on a 19 match unbeaten run. What a turnaround! It's taken us from bottom of the league to 3rd, just 9 points behind leaders Partick Thistle (say whaaat!?).
At the time of writing, I've got Celtic up next, so I've probably just jinxed myself.
Get involved in your save
This might be because I'm planning to really dig deep and completely immerse myself into my planned main FM17 save, but I've very much treated being at Rangers in the beta as unimportant. I've signed a few players, but I haven't done anything at all with the coaching side of the game, or looked to get any of my young players on plans to better themselves.
I haven't sent my scouts on any assignments, or used my time at Rangers to scope out who's good or not on this years game.
I mean, I'm not saying get yourself so involved that you read what your fans are saying about you in the social feed every time you do something…but if you're going to play the beta, at least play it properly. I haven't, but will I regret it going into the release of the full fat version?
I've included a few links to my site along the way, but if you fancy reading anymore of my FM writing check out my profile below.