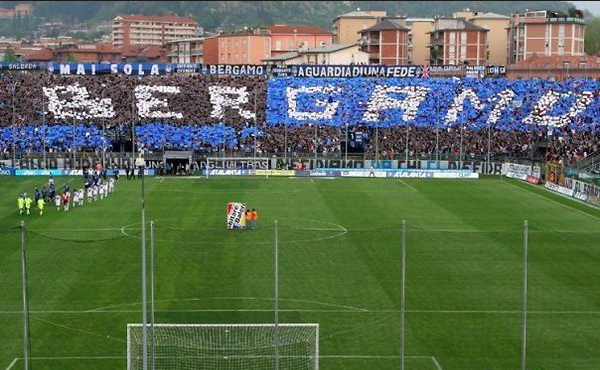 An unbeaten September saw La Dea lie in 4th place heading into October.  The back five was now settled and the starting midfield slots rotating nicely between Poyet, Kurtic, Timor, Besic and Susic.  Further ahead of them, Gómez had returned to create a front three of him, Paloschi and D'Alessandro.
During our last two games of October, goals and chances created had become an issue.  I was hoping the return of Susic and Gómez would rectify this as we headed into a winnable home game against a mid table Sampdoria side.  There was then a break for internationals before tricky games against Europa League chasing Milan (A), the officially renamed Joe Hart's Torino (H) and a hit and miss Bologna (A), now managed by former Atalanta legend, Roberto Donadoni.

04.10.2015 – Serie A – Sampdoria (H)
In between the Lazio and Sampdoria game I made a change to the midfield.  I liked the deep lying midfielder but felt they were currently too passive.  I decided to bring in Jasmin Kurtic as a regista.  This would continue to give us the protection in front of the back four but also encourage us to win the ball back a bit more aggressively and push forward when the moment was right.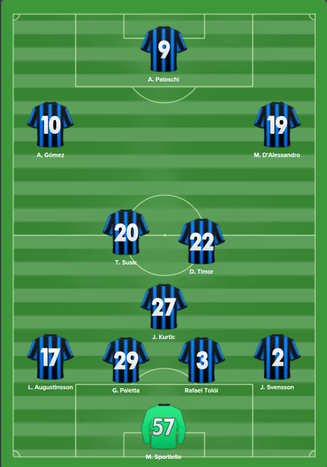 A third 0-0 was not what the doctor ordered.  For what it's worth, I'd have serious doubts over any medical practitioner offering football score lines as remedies for any ailment.
It was a drab affair – both sides huffed and puffed, we decided to try and kick Samp off the pitch and D'Alessandro got sent off.  Who's up next?  Milan at the San Siro you say?  Oh, wonderful.
18.10.2016 – Serie A – AC Milan (A)
Heading into this Lombardy Derby we had dropped down to 6th and Milan sat threateningly behind us in 7th.  They had failed to win away from the San Siro all season but had racked up three successive home wins.
We had also been struck by an injury/suspension crisis (Gómez and Susic injured, Kurtic lacking match fitness and D'Alessandro suspended), forcing me to play the below phallic monstrosity.  Essentially this was getting as many players as possibly between Milan and our goal before lumping it long to Pinilla and Paloschi and hoping to nick something.  Oh, and lots of lots of prayers.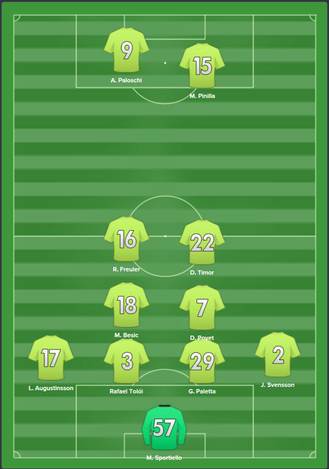 Well there you go, prayers do get answered sometimes.  Milan pulverised us 0-0 but we stood firm.  It was another goalless draw but unlike Palermo and Samp, I was delighted with this one.  We defended resolutely and actually had two clear cut chances compared to their one.
Our fourth draw in a row also meant we were now unbeaten since the second game of the season (also winless in four, but shut up).
24.10.2016 – Serie A – Torino (H)
Joe Hart's Torino visited the Atleti Azzurri d'Italia in relatively poor form but had won their last game at home to Empoli.  Worryingly, from our misfiring team's point of view, Hart had also kept a clean sheet for Il Toro in the 2-0 win.
On the other hand, we were back to something representing full strength and could even play both wingers.  Wonders never cease.
PLEASE. SOMEONE FOR THE LOVE OF GOD, PLEASE JUST SCORE A GOAL.
28.10.2016 – Serie A – Bologna (A)
After a very public breakdown at the final whistle of the Torino game,  involving running into both goals to ensure there was no perspex covering them and then being talked out of phoning Barry Fry for advice by my assistant Bollini, we headed to Bologna.
My tear stained, snivelling team talk contained one simple request.  Just score a bloody goal.
The grey skies cleared.  Birds sang.  Warring factions across the globe united for one brief beautiful moment.  And I knelt on the technical area at Renato Dall'Ara, my face twisted into a perverse scream, both thanking and cursing the gods – think of Andy Dufresne in Shawshank Redemption once he escapes jail, though I didn't stink of shit like he did.
Atalanta had only gone and scored a goal.  Jasmin Kurtic you beautiful, beautiful man.  He unleashed a vintage Bobby Charlton-esque howitzer right into the top corner on 34 minutes and the curse was broken.
It's so good it's deserving of the first, and possibly even only, video of the blog.
[youtube https://www.youtube.com/watch?v=iK0Wzwx4TMU&w=560&h=315]
After the three hour parade and ensuing victory speeches had finished, we resumed the game and Paloschi only went and got another.  London buses and all that.
In the midst of the adulation over finally scoring it can easily be overlooked we'd now gone and incredible seven games without conceding and were propelled back up to 4th in the table.  The top half finish promised to the board is surely all but confirmed.  I'm so glad I didn't resort to pissing in the corners of the ground.  What were you thinking Barry?!
Serie A Position: 4th
Results/Next Month's Fixtures
Be sure to look out for more Atalanta updates, and my plans for FM17, on my personal page SeenThemGivenFM and on Twitter @SeenThemGivenFM.
STGFM