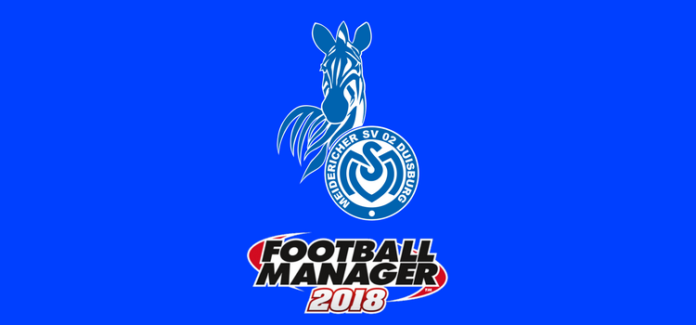 Guten tag! Welcome back to Dirk van Oortveld's quest to survive in the Bundesliga with MSV Duisburg and get them into the upper echelons of European football teams! If you want to catch up on what's happened previously, check out this link here.
The 2019/20 preseason has been wrapped up, and we've got a bit of stuff to share! As I said in the previous post, we had a nice transfer budget to supplement our team before we started our second season in the Bundesliga. I have spent most of the money, but I made 7 signings to the team to replace players that I don't think will make the cut in the second Bundesliga season.
Before I get into that, I want to say that we smashed our way through a semi-professional team in the first round of the German Cup, and now we're drawn against Borussia Monchengladbach in the second round. Good thing the board's expectation was only to reach the second round because this is one of the harder teams that we could have drawn against! It will be a tough battle for us, but at least we have the advantage of having a home draw!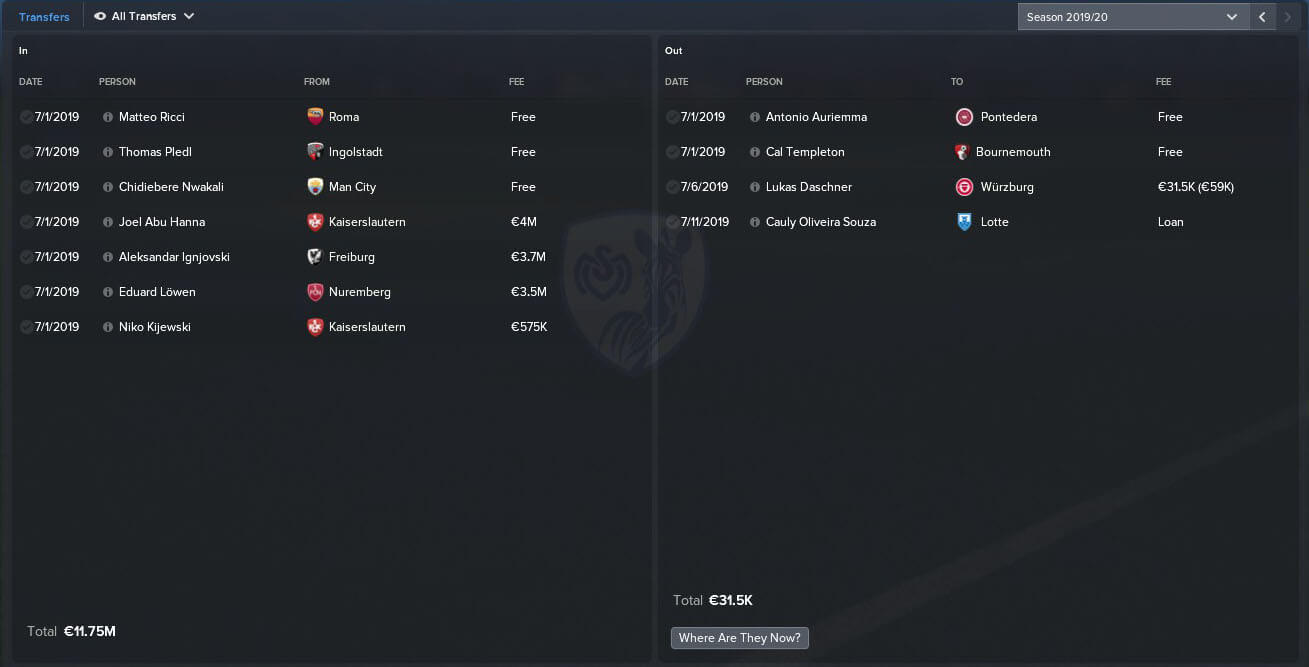 I had the squad trimmed down to 23 players last season, which ended up being a little thin for as many challenging matches as we had, so I only transferred out the absolute garbage players, and I've opted to hold onto my main starters and rotation players but supplement the team with additional signings. To that end, we've made seven transfers into the team for almost €12m of the €13m that we had to spend.
While some of these players aren't massive game-changers, I feel like each player has the potential to do better than the player he's going to play ahead of, so it should be good for us this season.
I'm going to briefly mention our four outbound players before going into the incoming players, which will take up the bulk of this post. Going out on free transfers to Pontedera and Bournemouth are Antonio Auriemma and Cal Templeton. Both players never really found regular game time with me over the last season, and I couldn't see their performances as indicative of them being regulars in the longer-term. They weren't bad players when they were on the field, but they weren't the kind of players who would be able to step up when we started getting into the higher end of the Bundesliga.
Lukas Daschner spent all of the last season complaining because I wasn't giving him enough regular football and he was forced to hang with the youngsters. He was sold off because I promised him that I would do so in the transfer window, and I made sure the contract had easy to hit incentives because the club he wanted to join couldn't pay me everything I wanted up front. But, assuming he hit every target in the contract, I'll be able to recoup a good 90% of his overall value at the time of sale, so it's not that bad of a loss for a player who almost never appeared for me.
Lastly, Cauly Oliveira Souza went on loan for a second consecutive season to Lotte. He's got a bit of time left on his contract, and I can't be bothered to outright terminate him. He's not quite at the level I want for a low-end Bundesliga player, but he's still a solid 2. Bundesliga player, so after we stepped up, I put him up for loan, and he had a great season helping Lotte promote from 3. Liga. Now he's back again to join them in the second division.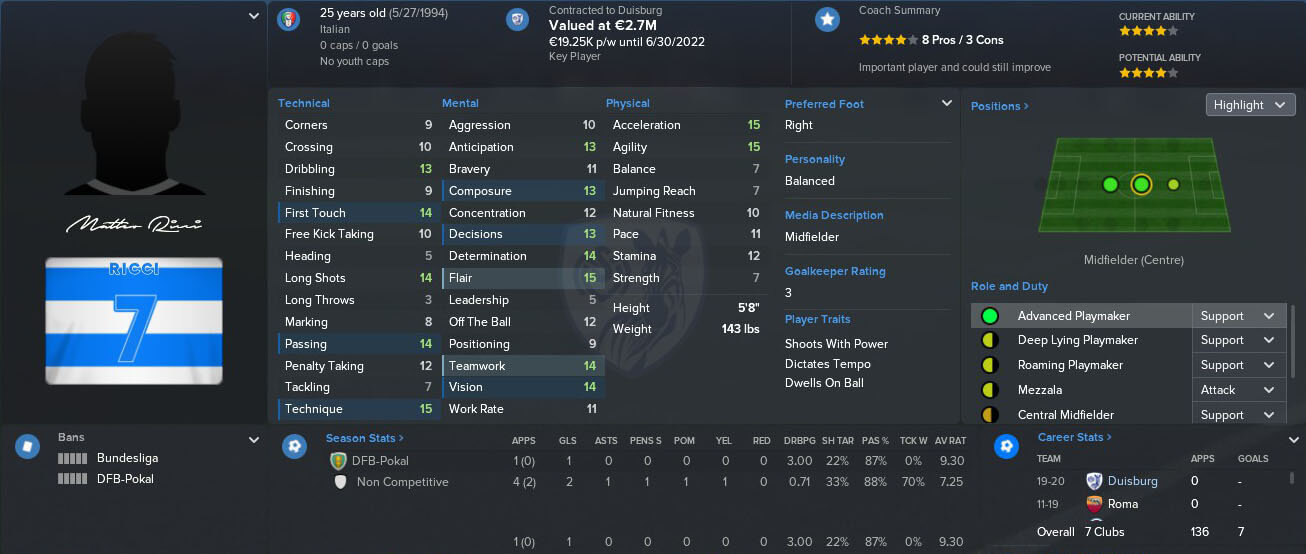 Our first signing is one that I made at the end of the January transfer window, but he only just joined the club. Matteo Ricci is joining us from Roma. During his time with Roma (2011-19), he never appeared for the club and was out on loan a lot. He's not a bad player, but he's not Roma quality. I do feel like with his attributes, he should be a solid addition to a lower-end Bundesliga team though, and I brought him in on a free at the end of his contract.
Joining the club for €3.7m is the versatile Serbian from Freiburg Aleksandar Ignjovski. He's a natural right-back and was brought in for that position, but I do like versatile players, and he's very well suited to positions on both flanks and up the middle, so he's a regular first team option for nearly any position on the team.
Coming in on a free from Ingolstadt is Thomas Pledl. He's not quite as versatile as other players, but he's going to be a good option for any forward attacking position. I plan on changing up the tactic and using wingers this season instead of wingbacks in an attacking position, and he's a good starting option for either wing since I don't have very many players left in that winger position at the moment.
Next up is centerback Joel Abu Hanna, a 21-year-old kid that I took off of relegated Kaiserslautern for €4m. He's young and he still has room to develop, but he's already there and is being classed as a top 2. Bundesliga player who probably isn't far from being a regular low-end Bundesliga player. He's well on his way down the road to proper development, and he should be a solid, yet still upgradable younger option to join alongside our previously mentioned older players.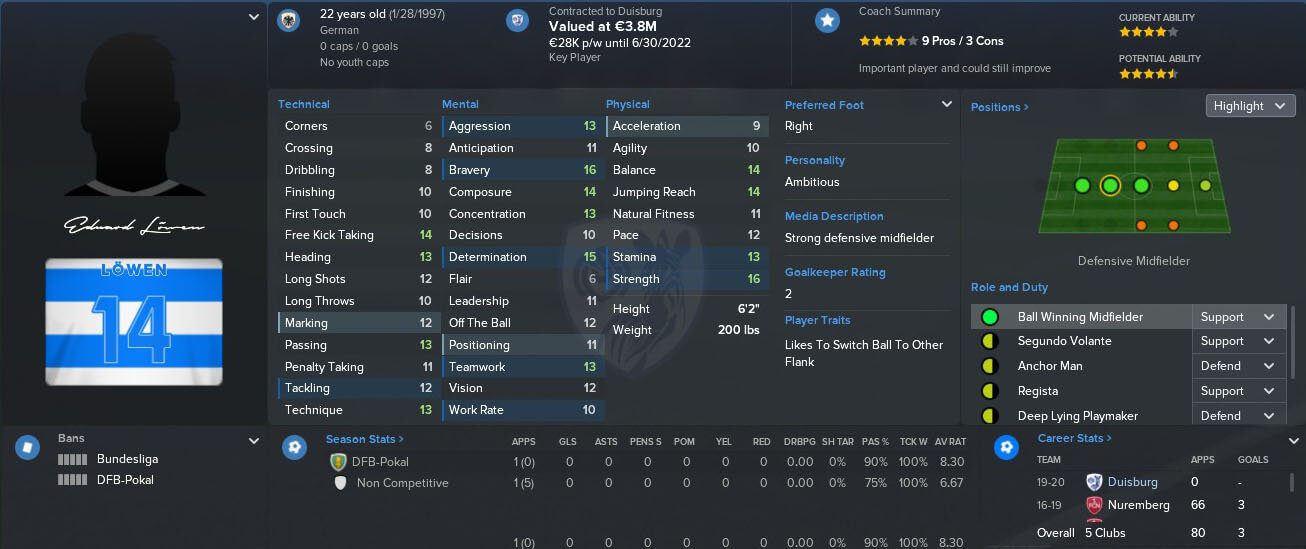 We also spent €3.5m to bring in Nuremberg's Eduard Lowen. He's someone that can be used all the way up the middle of the pitch from centerback to striker. He's probably going to be a regular starter bouncing between centerback and midfielder.
Our penultimate signing is Niko Kijewski, who was also picked up from Kaiserslautern. He's joining us for €525k. That was a bit more than I wanted to pay because it's a bit past his current value, but if he's able to help us stay afloat this season, he's going make back my money. He's 23-years-old and still a bit rough around the edges, but I'm optimistic for him.
Last, but not least, is Chibidiere Nwakali. He's not a new signing necessarily, because I had him on loan for all of the last season, but he did put in some excellent performances last season. He started almost every match of the season in various positions and he didn't disappoint me, so I was actually surprised that Manchester City was willing to part with him and that he was willing to join us on a free transfer.
I'm not going to go into a lot of details on him, because we know who he is, but I wanted to mention that he was an official member of the squad now.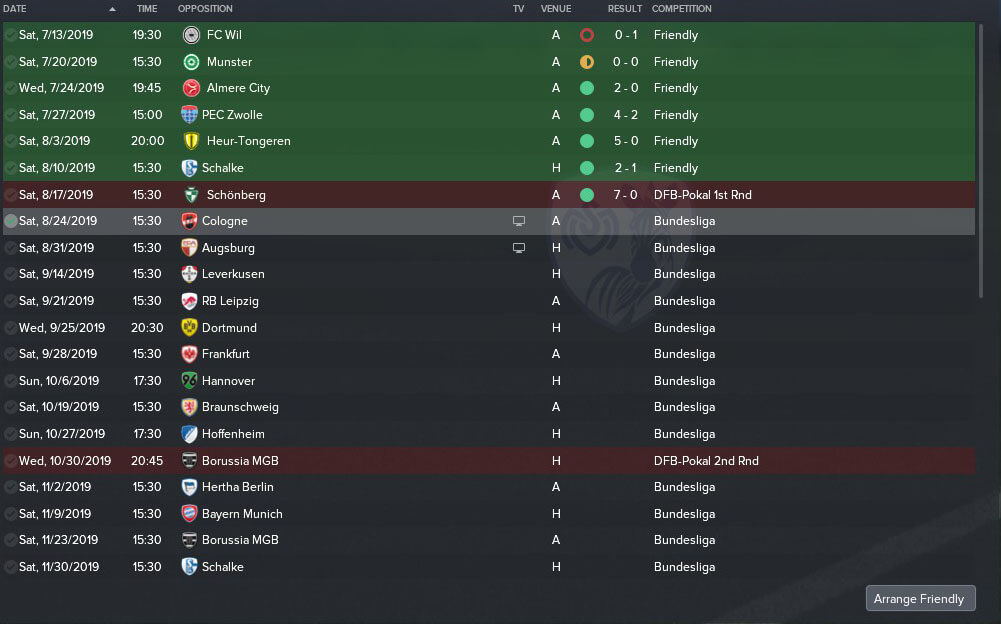 This is our preseason schedule and all of our competitive matches leading up to the end of November. We had a good run in the off-season and everyone is fit or just about fit, and we're ready to go!
With four of the first five games being against Cologne, Bayer Leverkusen, Red Bull Leipzig, and Borussia Dortmund, I'm seeing a really rough start to the season this year, but with the signings I've made, I'm hoping we can finish this year above our last-season finish of 15th, though the board will still be happy with just merely avoiding the two automatic relegation spots.
It was a busy off-season for us, but I think we're about as ready as we can be for the start of the season. In the next update, I'll get back to you all when we're further into the season, and we'll go over what's been happening.